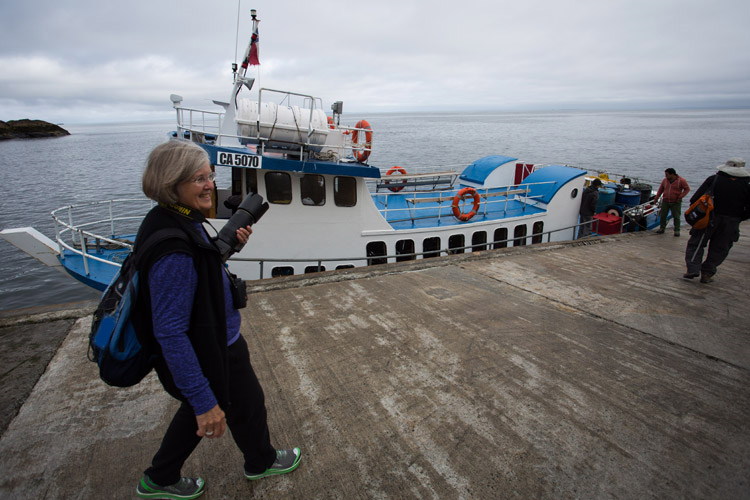 A day dedicated to the newly discovered diminutive seabird, the Pincoya Storm Petrel. Photo credit Giovanna Fasanelli
With eagle-eyes we were able to spot a few individual Pincoyas flying back and forth in the distance. Photo credit Giovanna Fasanelli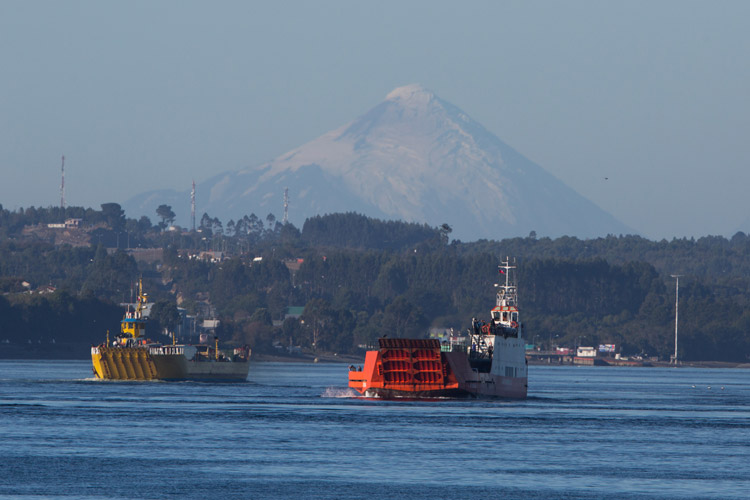 A ferry with a view as we head to Chiloé island. Photo credit Giovanna Fasanelli
Terrific sightings of a Blue Whale just off shore. Photo credit Giovanna Fasanelli
A pair of Black-necked Swans. Photo credit Giovanna Fasanelli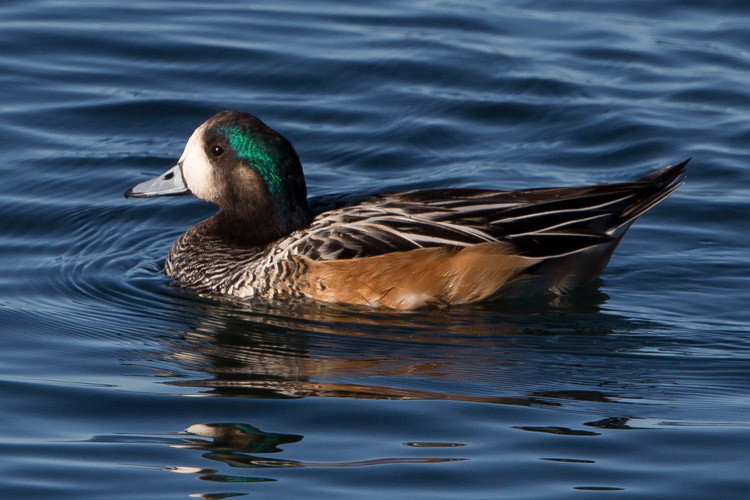 Chiloé Wigeon on the coastal waters of southern Patgonia. Photo credit Giovanna Fasanelli
Cruising around coastal rocks we saw feeding Marine Otters. Photo credit Giovanna Fasanelli
Red-legged Shags nest on the rocky islands. Photo credit Giovanna Fasanelli
A traditional Chiloén lunch known as "Curanto." Photo credit Giovanna Fasanelli
Torres del Paine's Guanacos amble through the picturesque landscapes. Photo credit Giovanna Fasanelli
The typically elusive Puma was outsmarted by Apex. Photo credit Giovanna Fasanelli
Outstanding views of Puma were enjoyed by all. Photo credit Giovanna Fasanelli
Field Journal: Patagonia Chile Tour 2015
Apex Patagonia expedition: 4 renegade leaders. 2 countries. 4 targets.
Read Part 1 of this odyssey in Argentina: Patagonia Adventure
Apex's Patagonia expedition continues here on the Chilean side with our world seabird expert, Peter Harrison, rummaging through a dumpster outside a restaurant in the quaint fishing town of Puerto Varas. He and our local guide, Jeroen, were on the hunt for fish scraps, a critical ingredient in the chumming mixture needed to lure in our target #2: a newly discovered diminutive seabird, the Pincoya Storm Petrel. Having only recently discovered it in 2011, Peter was excited to be sharing this incredible development with our group. We set out on a local boat in utterly breathless conditions; so still was the air that the odor of our smelly concoction was unable to find its way into the nostrils of distant tubenose seabirds. But with eagle-eyes we were able to spot a few individual Pincoyas flying back and forth in the distance, only to have them disappear like the phantom goddess of their namesake.
And then…as we ferried across to Chiloé Island, a great fortune was bestowed upon us: the unexpected and dramatic arrival of our third target, the largest animal ever to have lived, the Blue Whale. We watched this leviathan feeding in the channel and all along the adjacent shoreline! What great views we had of its massive form and characteristic mottled blue skin. After an hour of terrific photography in perfect afternoon light we had to drive away, leaving it feeding happily in the shallows, mere meters from us!
This fortuitous, premature encounter freed up our following day, which instead saw us cruising in a small boat around coastal rocks sprinkled with Marine Otters, Red-legged Shags, Blackish Oystercatchers, Kelp Geese, Chiloé Steamer Ducks and both the Magellanic and Peruvian Penguins! This delightful morning on the water was topped off with a traditional Chiloén lunch known as "Curanto", where layers of meat and shellfish are stacked on top of one another and steamed under giant rhubarb leaves and super-heated rocks. Unforgettably delicious! 
It was soon time to head south over the Patagonian Ice Field, the third largest ice expanse on Earth, after Antarctica and Greenland. Our three day stay at the foot of the majestic Torres del Paine massif could not have been more perfect, with yet more heavenly weather showcasing the arresting beauty of this natural wonder of the world. Pristine alpine lakes mirrored the mountain landscape, sunlight catching the famous granite towers, whilst Guanaco herds ambled through the frame and Patagonian Grey Foxes hunted for invertebrates. Our final target was none other than the elusive Puma. Hopes were dampened by a thick blanket of fog that coated the park in the morning as we set off. But by mid-morning, the veil had lifted and a resting Puma was spotted on a distant mountain-top, purveying the land far below, lying like a sphinx atop her vast and ancient kingdom. Whilst scope views were more than satisfying, an intrepid handful decided to follow Jonathan up the slopes in the hope of better views. And so began the close encounters of the day… 3 individual Pumas in total, with astounding views of them all. The third cat, the sister of the first and the daughter of the second, was found by our experienced local puma tracker who knew these cats as though they were his own. When we connected with our tracker, this two-and-a-half-year-old female, who was without a long tail from the time she was a cub, was sleeping soundly in the grass, which allowed the whole group time to quietly assemble nearby, ready to photograph her as she woke up, yawned and stretched. As if following a script, this is exactly what she did, before slowly ambling through the grass and onto the rocks where the camera-clicking became deafening! We walked with her, at times within a mere few feet, as she nonchalantly made her way towards Guanacos on the distant ridge. This hour-long encounter was truly out of this world, certainly the most intimate wild cat interaction any of us had ever enjoyed. The next morning we found her again, allowing us the chance to wish her farewell.
So ends this wild and wonderful quest for four enigmatic creatures, from the world's biggest to one of the smallest. In the end, we walked away having seen three of them, but if you include the plethora of bonus wins we must conclude that the Apex team, whilst recklessly ambitious, have thrown a fantastic shindig in 'Partygonia'!!
Learn more about our Patagonia Chile Tours.
More blog posts from our Patagonia expedition:
Field Journal: Patagonia Puma Sightings
Field Journal: Patagonia Argentina Adventure 2015
Patagonia 2015: In Images
Patagonia Chile Tours: One Guanaco; Two Guanacoes??