Tanzania: Southern Serengeti & Mahale
Up to 500,000 Wildebeest calves are born in February and March each year, at the beginning of the rainy season. Calves learn to walk within minutes of birth.
After humans, Chimpanzees are the most intelligent of our planet's primates. Like us, they use numerous gestures, facial expressions, and vocalizations to communicate. © Jonathan Rossouw
When first born, Lion cubs are kept safely hidden by their mothers for up to six weeks until they are old enough to follow the pride. © Marco Tonoli
Native to the savannas of Tanzania, the Masai Giraffe is not only the largest giraffe, but also the highest terrestrial animal in the world. © Jonathan Rossouw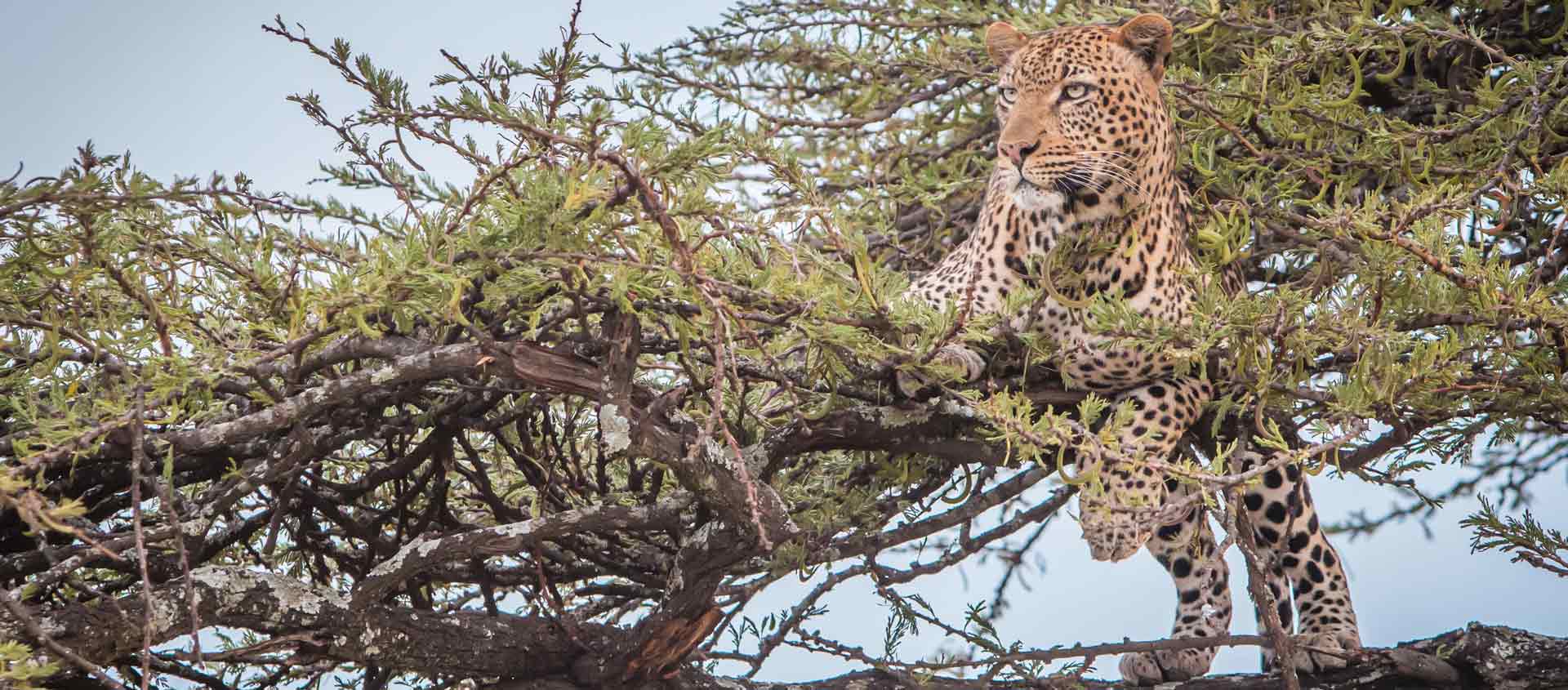 Leopards are skilled climbers and will carry their heavy prey up into the trees to protect their meal from scavengers. © Marco Tonoli
Tanzania Safari: The Serengeti and Mahale
The combination of iconic wildlife spectacles and staggering scenic diversity leads us to believe that this is the very "Best of Tanzania"! Photograph Savanna Elephants and Fringe-eared Oryx among the statuesque baobabs of Tarangire. Experience giant Tuskers and countless Lions in the world-renowned Ngorongoro Crater. Stay in the Southern Serengeti's only permanent tented camp to witness the timeless drama of the synchronized birthing of thousands of wildebeest and zebra. And track Chimpanzees in the fabled Mahale Mountains, for intimate, once-in-a-lifetime insights into the lives of our closest genetic cousins. Join Apex as we take in the full circle of life on this Tanzania safari of the Serengeti and Mahale.


Destinations
Travel by Air
Travel by Road
Travel by Boat
Travel by Bullet Train
Travel by Rail
Travel by Dog Sled
Tuesday, January 31: Arrive Arusha

Arrive at Kilimanjaro International Airport, Tanzania's safari gateway. Transfer into the town of Arusha for an overnight stay at Villa Maua, nestled among lush, tropical gardens. Gather this evening for a welcome dinner and briefing by your expedition leaders to prepare you for the exploration that lies ahead. Overnight at Villa Maua.

Wednesday, February 1: Arusha / Tarangire National Park

After breakfast, set out for Tarangire National Park, situated within Tanzania's spectacular Manyara Region. This expansive park is a must for elephant lovers, with up to 3,000 individuals in the park at times. Good numbers of Eastern White-bearded Wildebeest, Plains Zebra, Masai Giraffe, Cape Buffalo, and Thompson's Gazelle also use the area as a dry season refuge. Tarangire is equally appealing to keen birders, boasting a broad array of avian denizens of the Great Rift Valley, from hornbills and bee-eaters to bush-shrikes and widowbirds. Three Tanzanian endemics, the colorful Yellow-collared Lovebird, Rufous-tailed Weaver and Ashy Starling are all numerous here. Our camp, Honeyguide Tarangire, is situated in the northern corner of the park, offering a secluded and authentic African bush experience, with animals regularly passing through camp. Dinner and overnight at Honeyguide Tarangire Camp.

Thursday, February 2: Tarangire National Park

In addition to being home to a full complement of the charismatic megafauna of East Africa, Tarangire is among the few places in Tanzania where arid country antelope such as Fringe-eared Oryx and long-necked Gerenuk can be seen. Africa's smallest carnivore, the elusive Dwarf Mongoose, is also regularly encountered. This scenically spectacular area is equally renowned for its landscape of magnificent baobab trees, with breathtaking views over the Masai Steppe and the wondrous Eastern Arc mountains to the south. Explore by foot on a walking safari, or by vehicle, with game drives ending in spectacular sunsets. Dinner and overnight at Honeyguide Tarangire Camp.

Friday, February 3: Tarangire National Park / Karatu

After breakfast, head towards Karatu in the green hills of Tanzania's northern highlands. Along the way, stop at a local Masai village to browse the bustling marketplace, sample beer at a local brewery and enjoy lunch. This afternoon, arrive at Gibb's Farm, a historic 80-acre organic farm and coffee plantation located on the eastern flank of the Ngorongoro Crater. Overlooking the centuries-old Great Rift Valley, Gibbs Farm is an ideal base for exploring Ngorongoro Crater. Dinner and overnight at Gibb's Farm.

Saturday, February 4: Ngorongoro Crater

Rise at dawn for an adventure into one of the world's most spectacular wildlife sanctuaries, the Ngorongoro Crater. The 100-square-mile crater floor is an ecological microcosm of East Africa, with forests, lakes, grasslands, swamps and rivers that together support a staggering 30,000 large animals. Huge concentrations of Serengeti White-bearded Wildebeest and Plains Zebra are accompanied by smaller numbers of the crater's famous Giant Tuskers, Cape Buffalo, Hippos, Topi, and both Thomson's and Grant's Gazelles. Predators like Lion, Cheetah, Leopard, Spotted Hyena, Bat-eared Fox, and both Golden and Black-backed Jackal are regularly encountered. You may even be lucky enough to spot the critically endangered Black Rhino. Birders will not be disappointed—see rafts of Lesser Flamingos on Lake Magadi, Ostrich, Kori Bustard, flocks of majestic Grey Crowned Cranes, Lilac-breasted Roller, and raptors like the unique Secretarybird and peculiar Long-crested Eagle. Return to Gibb's Farm for dinner and overnight.

Sunday, February 5: Karatu / Southern Serengeti

The Serengeti is Tanzania's oldest national park. Its name means "endless plain" in the Masai language, which is fitting, as the park is comprised of 5,700 square miles of plains, open woodlands, and rivers. The park is a veritable wildlife feast, offering a host of resident mammals and simply superb birds, with over 550 species having been recorded. Today, experience one of the most dramatic transitions in all of East Africa, as you travel from the well-watered highland forests into the arid thorn bush country of Olduvai Gorge, one of the world's most important paleoanthropological sites. The gorge was vital in establishing the African origin of humankind and in turn, why it is referred to as the 'Cradle of Mankind'. Continue your journey as a game drive into the vastness of the southern Serengeti to Sanctuary Kusini Camp for dinner and overnight.

Monday – Wednesday, February 6 – 8: Southern Serengeti

This expedition is centered around this exact time of year, at the very epicenter of the wildebeest birthing area. Our days are spent on game drives that put us in position to witness huge concentrations of wildebeest and zebra being born and taking their first wobbly steps across the short grass savanna. These treeless plains also provide perfect habitat for Cheetah, who have made this region their permanent home. In addition, several smaller, but no less spectacular, species of cats such as the elusive Caracal, Serval and African Wild Cat, are also relatively numerous here. Ungulates abound, and in addition to the ever-present wildebeest and zebra, Cape Buffalo, Masai Giraffe, Common Warthog, Thomson's and Grant's Gazelles, Impala, Topi, Kongoni, diminutive Kirk's Dik-diks, Oribi, Defassa Waterbuck, Bohor Reedbuck and Eland may also be seen. Birding is also spectacular at this time of year, with European winter migrants augmenting the resident avian icons of the African savanna, such as Bateleur, the aptly-named Beautiful Sunbird, and the stunning Blue-capped Cordon-bleu. Dinners and overnights at Sanctuary Kusini Camp.

Thursday, February 9: Southern Serengeti / Mahale Mountains National Park

Enjoy one last morning game drive before transferring to the airstrip for a flight to one of East Africa's premier Chimpanzee-tracking destinations: Mahale Mountains National Park. A complete change of scene from Southern Serengeti, Mahale has an idyllic setting of sandy, forest-lined beaches lapped by the transparent waters of Lake Tanganyika and backed by the forested peaks of the Mahale Mountains. After landing at the airstrip, a traditional sailing dhow takes you to your lodge, the stunning lakeshore Greystoke Mahale for dinner and overnight.

Friday – Sunday, February 10 – 12: Mahale Mountains National Park

Tracking Chimpanzees—humanity's closest living genetic allies—is the main activity at Mahale. The forests here support a healthy population of almost 1,000 wild Eastern Chimpanzees, including the 60-strong Mimikere Community. First habituated by Japanese researchers in the 1960s, the Mimikere group now barely acknowledges the presence of humans, providing visitors a unique opportunity to walk in the midst of these intelligent, sociable and thoroughly fascinating creatures.

No less than eight smaller primate species have also been recorded here, with Yellow Baboon, Ashy Red Colobus, and Blue, Red-tailed and Vervet Monkeys all frequently encountered close to camp. Superb all-round birding is boosted by several charismatic forest species—among them Narina Trogon, Ross's Turaco, Blue-breasted Kingfisher, Trumpeter Hornbill, and Crested Malimbe. Between walks, take a refreshing dip or snorkel in Lake Tanganyika, which stands at an altitude of 2,536 feet on the Rift Valley floor, below the forest-clad slopes and wild crags of the 8,070-foot Mahale Mountains. Home to more than 500 fish species, this magnificently-scenic inland sea ranks as the world's longest and second-deepest freshwater body, and is also credibly claimed to be the least polluted lake on the planet. Enjoy sundowners on the beach, and dinners and overnights at the stunning Greystoke Mahale.

Monday, February 13: Mahale Mountains National Park / Arusha

After a final morning in Mahale Mountains National Park, enjoy lunch overlooking Lake Tanganyika before transferring to the airstrip for your flight to Kilimanjaro International Airport to connect with flights home.
Have a question? Call us at 206.669.9272 /
800.861.6425

. Prefer online?Get in Touch

More Than a Lot in Common
The Chimpanzee is our closest relative, sharing about 98% of our genes. They are highly social animals, living in communities that can number anywhere from 10 to more than 100 individuals. Like humans, Chimpanzees communicate with facial expressions, gestures, and sounds. They also touch each other a great deal by kissing, embracing, patting on the back, and touching hands. These intelligent creatures have opposable thumbs and a firm grip, allowing them to pick up objects to use as tools. Twigs can be shaped and used to fish termites from their nests and leaves are bunched together to hold drinking water.