Chestnut-crowned Antpitta. Photo credit Giovanna Fasanelli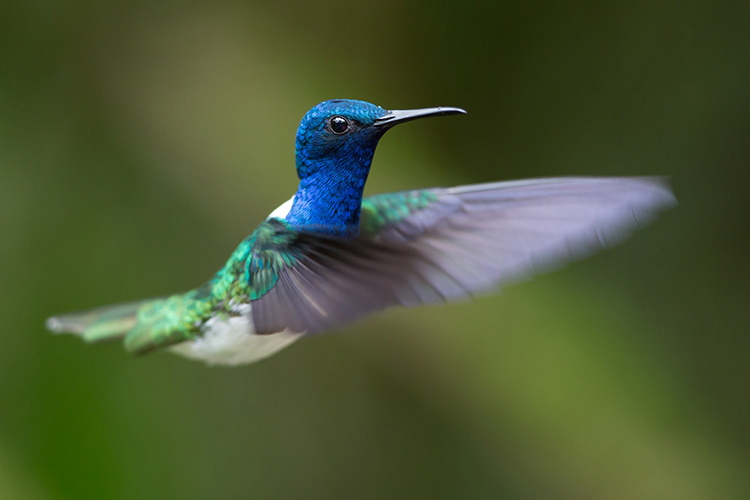 White-necked Jacobin in flight. Photo credit Giovanna Fasanelli
Toucan Barbet. Photo credit Giovanna Fasanelli
Green-crowned Woodnymph. Photo credit Giovanna Fasanelli
The recently described, carnivorous Olinguito. Photo credit Giovanna Fasanelli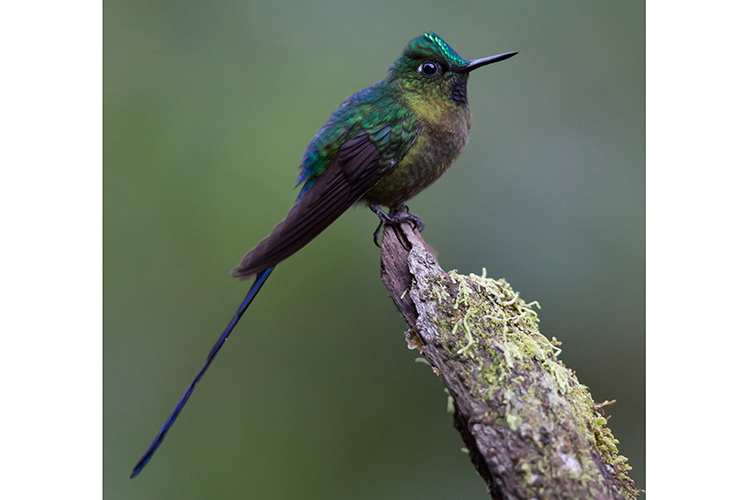 Violet-tailed Sylph. Photo credit Giovanna Fasanelli
Crested Quetzal. Photo credit Giovanna Fasanelli
Western Emerald. Photo credit Giovanna Fasanelli
Field Journal: Ecuador Tour
As one of the all time best places to revel in the splendor of the wild world, Ecuador has not been disappointing! All the verdant forests we've visited since departing Quito have been delivering some of their most spectacular denizens, from the impossibly gorgeous Plate-billed Mountain Toucan, the glorious Golden-headed and Crested Quetzals, and the coloring-book-colorful Toucan Barbet to all the bright tanagers and the amazingly animated hummingbirds. It is Day 5 and the Apex Expeditions' Ecuador travel adventure is off to a buzzing start, with no fewer than 300 bird species to date. The hummingbird feeders have been a crazy carnival of color and motion, as hundreds of these high-speed fairies jostle for their turn at the sugar trough! And the "Angel Paz Show" treated us to incredible encounters with the ordinarily phantom-like forest sprites, the Antpittas. Angel, an Ecuadorian blackberry farmer who once made a living cutting down the forest, now protects it, having habituated these shy birds by feeding them earthworms every morning, and inviting birdwatchers to enjoy great views! From sassy "Shakira", the tiny Ochre-breasted Antpitta who wags its derriere like its namesake Colombian pop-star, to "Angelito", a Chestnut-crowned Antpitta who is the latest addition to Angel's lineup, we enjoyed soul-satisfying encounters with a rash of these subtly hued but strikingly attractive animals! And the traditional Ecuadorian breakfast that followed was hard to beat, as we greedily munched on bolones con aji and empanada de vientos, all while watching an eye-level tree canopy coated in tanagers and visited by a pair of stunning Crimson-rumped Toucanets!
Our night at the legendary Bellavista Lodge, perched atop a cloudforest ridge that overlooks the pristine Tandayapa Valley northwest of Quito, yielded not only superb birds but brief glimpses of the most recently described carnivorous mammal, the Olinguito! One of our guests was also delighted by a sighting of the shy Tayra, a large tropical member of the weasel family. And our wildlife tally climbs as we seek out every creature great and small, from endemic glass frogs and Hippy Anoles to outrageous Cock-of-the-Rocks!
Now that we have peeled back the veil on the diversity of the Andes' western slopes, we head eastwards towards the Amazon basin, to savor the richest terrestrial ecosystems on Earth! Stay tuned…
See our trip details page to learn more about our Ecuador tour. Have a question? Send us a message using our contact page.