Zimbabwe
September 20 – October 3, 2023
As daylight hunters, Cheetahs benefit from stealthy movement and a distinctive spotted coat that allows them to blend easily into high, dry grasses. © Imvelo Safari Lodges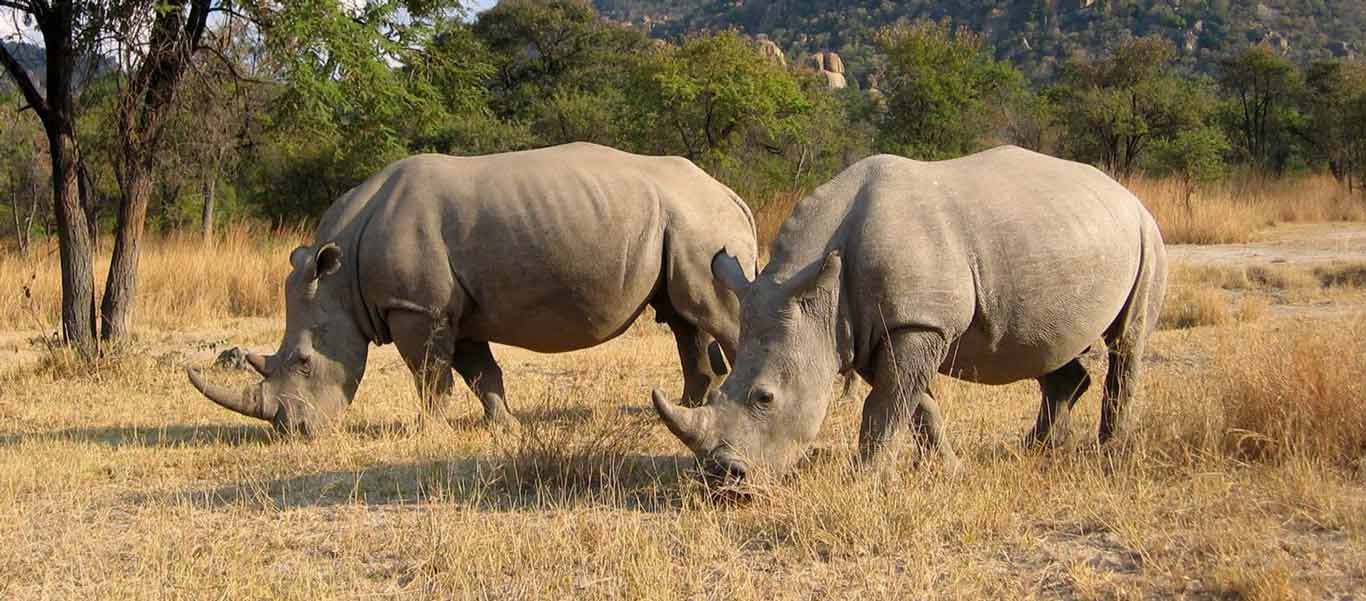 Once thought to be extinct, the Southern White Rhino's numbers have rebounded to as many as 21,000 following a century of conservation efforts. © Amalinda Lodge
Nestled beneath towering baobab and Acacia trees, your lodge at Malilangwe Wildlife Reserve is perched atop a sandstone ridge overlooking Malilangwe Lake. © Singita Pamushana Lodge
Leopards are the most elusive of the big cats. They are also the strongest, and able to climb trees, even when carrying heavy prey. © Marco Tonoli
Hippos move slowly and purposely in the water, but on land, they can gallop at speeds of up to 18 mph. © Marco Tonoli
Zimbabwe Tour
Zimbabwe may have been Southern Africa's "forgotten" safari destination, but its renaissance is in full swing! In the heart of Zimbabwe's best-known national parks stand a host of small private lodges and camps, established to further protect the area's rich diversity of big game. Join Apex on a Zimbabwe tour well off the beaten path, exploring deep into the best parks and reserves, bursting with wildlife. See ancient rock art in the rugged Matobo Hills, elephants digging for water in the natural seeps of northern Hwange, Hippos basking above magnificent Victoria Falls, and track highly endangered Black Rhinos near Gonarezhou National Park. Explore the most pristine corners of this richly varied land, and experience it as in the days of Livingstone, Oswell and Mzilikazi Khumalo, the first Ndebele king.


Destinations
Travel by Air
Travel by Road
Travel by Boat
Travel by Bullet Train
Travel by Rail
Travel by Dog Sled
Wednesday, September 20: Arrive Johannesburg, South Africa

Arrive in Johannesburg. Meet your expedition team and fellow travelers at a welcome dinner at your hotel, the InterContinental Johannesburg O.R. Tambo Airport Hotel.

Thursday, September 21: Johannesburg / Bulawayo, Zimbabwe / Matobo Hills

After breakfast, return to the airport for a flight to Bulawayo, Zimbabwe. Drive south to the legendary Matobo Hills, a UNESCO World Heritage Site comprised of 1,200 square miles of ancient granite hills and wooded valleys. Matobo translates to 'bald head' in the Ndebele language, and it is no wonder, as massive rocky outcrops lie bare, sculpted by the elements to create huge, exposed "whalebacks" and bizarre balancing formations that appear to defy gravity. Settle into your lodge, nestled among the boulders in an ancient Bushman shelter. This afternoon, explore the property on foot, watching for the regal Sable Antelope in the valleys, Greater Kudu in the woodlands, and the agile Stevenson's Klipspringer on the rocky outcrops above. Enjoy sundowners overlooking one of the most dramatic landscapes in all of Africa, then dinner and overnight at Amalinda Lodge.

Friday, September 22: Matobo Hills

Take the day to explore this magnificently varied landscape, including some of the 3,000 known San rock paintings etched into the overhangs and caves in the surrounding hills. The region's rocky terrain, surrounded by well-watered Miombo woodland, boasts spectacular faunal diversity, its density of hyraxes and small antelope supporting the world's highest concentrations of both Leopard and majestic Verreaux's Eagle. Track endangered Black and White Rhino on foot in the national park. Visit the burial site of the first king of the Ndebele people, Mzilikazi Khumalo, as well as "World's View," the panoramic final resting place of arch-imperialist Cecil John Rhodes. Dinner and overnight at Amalinda Lodge.

Saturday, September 23: Matobo Hills / Hwange National Park

This morning, embark on a half-day drive northwest to Hwange National Park, the oldest and largest national park in Zimbabwe. Hwange lies on the ancient animal migration routes towards Chobe and is renowned for its abundance and diversity of wildlife, including over 100 mammal and 420 bird species. However, the area is particularly famous for its population of elephants—some 44,000 strong. The southern two-thirds of the park are ecologically defined by deep ochre-red Kalahari sands, scattered with seasonal "pans" but with no natural watercourses. Northern Hwange, where your lodge is located, is distinctly different, being dominated by Mopane woodlands drained by the Lukosi and Deka Sand Rivers. Settle into your lodge and relax after the long drive. Late this afternoon, take a game drive to explore the surrounding area. Dinner and overnight at Nehimba Lodge.

Sunday – Tuesday, September 24 – 26: Hwange National Park

Enjoy three full days exploring the wildlife paradise of Hwange on game drives or guided walks. Nehimba is situated on the ecotone between the Mopane woodlands and Kalahari sandveld, so the full spectrum of Hwange fauna is close at hand. A fascinating feature of this area is the presence of much-coveted natural seeps, where elephants dig for water as the San people once did. The famous elephant-hunting Lions of the area are often seen at the seeps at this time of year, as well. Birds are prolific here, including a fabulous array of raptors, from massive Martial Eagles to tiny Red-necked Falcons, alongside such spectacular avian "specials" as Burchell's Sandgrouse, Racket-tailed Roller, and Bradfield's Hornbill. Take advantage of the lodge's viewing platform, situated overlooking a watering hole close to camp, where a steady throng of wildlife comes to drink throughout the day. Night game drives are equally rewarding, providing an opportunity to encounter an array of nocturnal denizens, such as Spotted Hyena, Cape Porcupine, African Civet, Common Genet, and if you're lucky, perhaps even a Leopard on a hunt. Dinners and overnights at Nehimba Lodge.

Wednesday, September 27: Hwange National Park / Victoria Falls

After breakfast, transfer to the nearby airstrip for a flight to Victoria Falls. Take in the grandeur of the falls, called Mosi-oa-Tunya (The Smoke That Thunders) in the local Tonga language, en route to Old Drift Lodge on the banks of the river overlooking the magnificent Zambezi National Park. The park is frequented by elephant, buffalo, and herds of Sable Antelope, Common Eland, zebra, giraffe, kudu, waterbuck and impala. This evening, board a sundowner cruise to relax after your travels and look for Hippos and Nile Crocodiles. Listen for the grunts of Hippos as you drift off to sleep tonight. Dinner and overnight at Old Drift Lodge.

Thursday, September 29: Victoria Falls / Mana Pools

After an early breakfast, head to the airport for a flight down the Zambezi, to Mana Pools National Park in the heart of the Zambezi Valley. Mana means 'four' in the local Shona language, which refers to the four large pools—remnant oxbow lakes—inland from the Zambezi River, where huge populations of Hippo, Nile Crocodile and elephant congregate. Transfer to your lodge on a private concession on the western boundary of the park, overlooking the Zambezi River and shaded by a grove of mature Acacia and African Mahogany trees. This afternoon, explore the area on a game drive. The area surrounding camp is known for its large concentrations of buffalo and elephant, while apex predators such as Lion, African Wild Dog, Leopard and Cheetah are commonly seen. Birdlife is superb, with numerous local specials like Collared Palm-thrush and the gaudy Lilian's Lovebird. Dinner and overnight at Ruckomechi Camp.

Friday & Saturday, September 29 & 30: Mana Pools

Take the next two days to explore Mana Pools. 'Long Pool', the largest of the four, is a favorite for large herds of elephants and one of the many reasons this park has been given UNESCO World Heritage Site status, as well as exploring the surrounding Mopane woodlands. Mana Pools offers exceptional birding, with the river and seasonal pans attracting huge numbers of waterbirds, and an excellent mix of species in the adjacent riverine vegetation and Mopane woodlands. Look for the rare Three-banded Courser, Western Banded Snake-eagle, Arnot's Chat, Green-capped Eremomela, bat-like Böhm's Spinetail, and Meve's Starling. Take a boat cruise, or canoe along the Zambezi River for up-close viewing of wildlife drinking along the river's edge.Unusual water birds include Rufous-bellied Heron, Long-toed Lapwing, Greater Painted Snipe and African Finfoot. Dinners and overnights at Ruckomechi Camp.

Sunday, October 1: Mana Pools / Malilangwe Wildlife Reserve

After breakfast and a morning game drive, head to the airstrip for a flight south to the Malilangwe Wildlife Reserve. Covering 130,000 acres along Gonarezhou National Park in remote southeastern Zimbabwe, Malilangwe contains some of the most pristine bushland in all of Africa. Transfer to your lodge, perched atop a sandstone ridge and set amongst towering baobabs and Acacias, overlooking the shimmering Malilangwe Dam. This afternoon, get to know Malilangwe on your first game drive through the diverse Lowveld terrain. Look for not only the megafauna, but also the Little Six, a group of diminutive, lesser-known antelope which includes the rare Livingstone's Suni, Sharpe's Grysbok, Transvaal Klipspringer, Southern Oribi, Steenbok, and Grey Duiker. Dinner and overnight at Singita Pamushana Lodge.

Monday, October 2: Malilangwe Wildlife Reserve

Today, immerse yourself in Malilangwe's rugged terrain with game drives, a sundowner boat cruise, and an excursion to ancient San rock art sites. The area still contains high concentrations of endangered Black Rhino, as well as a healthy population of the highly charismatic and endangered African Wild Dog. Dinner and overnight at Singita Pamushana Lodge.

Tuesday, October 3: Malilangwe / Johannesburg, South Africa / Depart

This morning, savor your last game drive before breakfast, then head off to Buffalo Range International Airport to board your flight to Johannesburg, to connect with your international flights home.
Details
September 20 – October 3, 2023
Leaders

Liam Rainier & Richard Visser
$25,520

Per Person Rate

$28,370

Solo Rate

14 days

Trip Length

12 guests
Johannesburg

Start/End
The Fine Print

Call us to reserve your spot on this exciting expedition!
Have a question? Call us at 206.669.9272 /
800.861.6425

. Prefer online?Get in Touch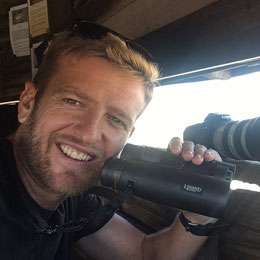 Liam is excited for the abundance and diversity of mammal and bird species you'll find on this in-depth safari.
Richard looks forward to tracking White and Black Rhinos with you and observing the elephants of Hwange.

The Remarkable Rock Art of Matobo Hills
Matobo Hills, a UNESCO World Heritage Site, has one of the highest concentrations of rock art in Southern Africa, dating back at least 13,000 years. The large boulders found here provided abundant natural shelters and the canvas for the rock paintings of the San (or Bushmen) people, one of the oldest cultures on Earth. These original hunter-gatherers painted images of men hunting with bows and arrows, as well as rhino, cheetah, giraffe, and zebra in remarkable detail. Red in color, the paint was made by grinding red oxide into a powder and mixing it with a binding agent such as blood or egg white. The motifs were then painted onto the rocks using brushes made from animal hair, sticks or feathers.