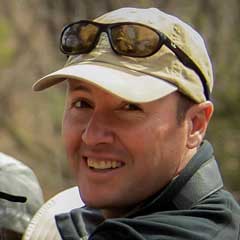 Marco Tonoli
We live in an extraordinary world that is worth sharing, and there is no greater joy than seeing the expression of wonder on a person's face when they experience or witness something extraordinary for the first time.
From the Malay word "pengguling," meaning rolling up, the Ground Pangolin (Manis temminckii) is covered in a layer of keratin scales that protect against predation, water loss and act as camouflage.
One of the only social cats on earth, Lions' (Panthera leo) social behavior allows for the species to be a dominant apex predator in its habitat.
Hiking the Cederberg Mountains in the Cape Floristic Kingdom, which is home to more than 9,000 vascular plant species, is a favorite way to explore the area's astonishingly high diversity and endemism.
The ever alert and vigilant Meerkat (Suricata suricatta) ensure safety from predators by always having members of the family unit on "sentinel" duty.
A rare find of a usually subterranean inhabitant. This Damaraland Molerats' (Fukomys damarensis) incisor teeth are large and protruding, with folds of skin behind them to prevent ingesting soil while using their teeth to dig.
An endorheic basin in the heart of the Kalahari Desert is fed the life-giving waters drained from the Angolan Highlands, forming the Okavango Delta, a biodiversity hotspot in northwestern Botswana.
Expedition Leader Marco Tonoli
Marco organized and headed his first expedition into the Drakensberg Mountains at the age of 13 for a group of close friends, which ultimately led to an unquestionable love for exploring and sharing the natural world. As soon as he was of legal age, he was on the first plane out of his home country, South Africa, to discover the cultures and environments of the Middle East, Far East and Europe. This love of the world's wilderness areas and the people within it, led him to pursue what turned out to be an adventurous 16-year career as a naturalist guide throughout Southern and East Africa. Basing himself within various national parks and wilderness areas throughout the sub-continent allowed him the opportunity to discover, study and share the huge diversity of ecosystems throughout the region.
His love of ethology and species adaptations and their survival in harsh and extreme habitats took him to the Kalahari Desert, where he led and trained a team of specialist guides, as well as lived and worked closely with the region's best Botswana trackers. In due course he developed a passion for the art and science of tracking and spent four years conducting desert Black Rhino walking safaris.
To pursue another dream, Marco took a small break from guiding to study wildlife filmmaking and photography in the pursuit of documenting the natural world, which has allowed him opportunities to work on productions by National Geographic and Discovery Channel, as well as having images appear in notable natural history publications.
"Marco is simply one of the most knowledgeable guides I've ever come across, and I've come across quite a few! I highly recommend Marco to anyone wanting guiding of the highest caliber."
-Alex W., United Kingdom
Marco's Expeditions
India (March 7 – 21, 2024)

Search for Bengal Tiger, Asian Elephant and Greater One-horned Rhino, while also experiencing the incomparable cultural and scenic diversity of this ancient land.
Green Botswana (April 2–15, 2024)

Experience Botswana's pristine wilderness at its most luxuriant, from the Kalahari Desert to the prolific wildlife of the legendary Okavango Delta.
Tanzania's Serengeti (May 6–18, 2024)

The great migration is a spectacle to behold, but to witness it first-hand from the finest tented camps, set in the heart of the action, is unbeatable!
Uganda (May 21 – June 2, 2024)

Chimp tracking and Nile wildlife watching are combined with Bwindi Impenetrable Forest's endangered Mountain Gorillas on this comprehensive exploration.
Secret South Africa (August 10 - 23, 2024)

An insider's guide to the best South Africa has to offer: dramatic scenery, outstanding wildlife, endemic flora, and fascinating cultural history.
Namibia (September 1–15, 2024)

A land of striking scenery and abundant wildlife, from towering red sand dunes and the isolated Skeleton Coast to the wildlife-packed waterholes of Etosha.
Madagascar (October 4–15, 2024)

Arguably the best wildlife destination on Earth. See a remarkable diversity of habitats—home to lemurs, chameleons, endemic birds and fascinating flora.
Ask Marco a question about his upcoming expeditions?
Get in Touch

Survival, it's in our nature…
Ecology … the branch of biology that deals with the relations of organisms to one another and to their physical surroundings. Throughout the world's many ecoregions, we have a richness of species all battling for survival. Each and every one morphologically adapting and applying behavioral strategies to best survive in its specific environment. From the bitterly icy Antarctic to the sweltering heat of the Kalahari, there is life… and how it survives is awesome.