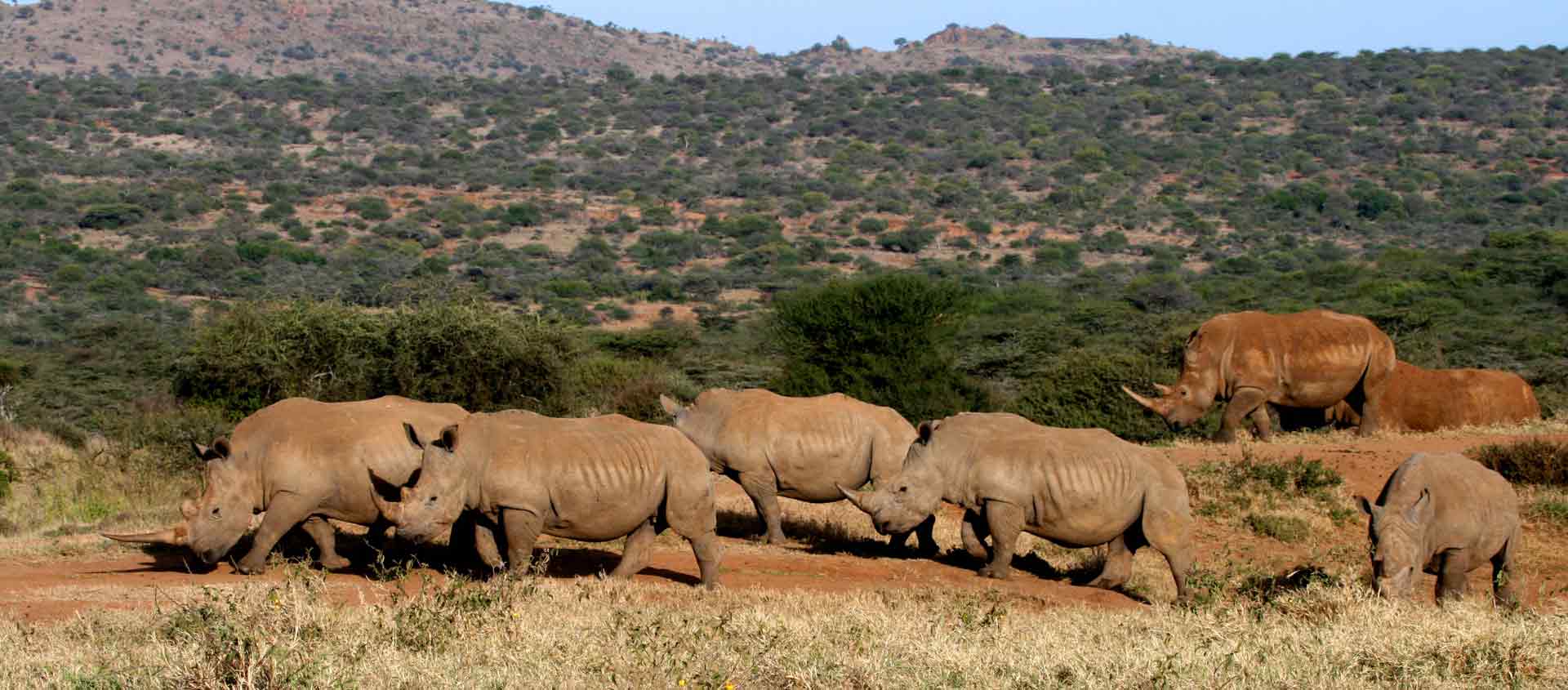 White Rhinos are more sociable than Black Rhinos and can be seen grazing in large groups of seven individuals or more.
The exquisite Mara Plains Camp inside the Olare Motorogi Conservancy is nestled in lush forest on a bend of the Ntiakitiak River.
Male Lions start to grow their manes around the age of two. The size and coloration of the mane are signs of the male's dominance and fitness.
Explore Kenya's "Wild North" by helicopter, flying over the lush Laikipia Plateau and into the Suguta Valley to marvel at the desolate landscape.
Enjoy an overnight at the iconic Giraffe Manor in Nairobi where the curious residents may decide to greet you in a most unusual way.
See abundant wildlife and some of the most dramatic landscapes on the African continent at Ol Jogi Wildlife Conservancy.
Kenya Private Wildlife Reserves
Kenya is the original birthplace of "Safari". Lying on the Equator, and straddling Africa's Great Rift Valley, it's varied landscapes and wildlife riches are unmatched on the continent. Sadly, this same diversity and accessible location to Europe has made it something of a victim of its own success, its legendary wildlife reserves often choked with zebra-striped safari vehicles and selfie sticks. Fortunately, true wilderness awaits the intrepid explorer. Join Apex on an ultimate air safari through four of the country's most remote private game reserves and exclusive concessions. Explore from the Masai Mara's endless plains to the impossibly rich thorn savannahs at the foot of Mount Kilimanjaro, the shores of fabled Lake Turkana to the Laikipia Plateau, where Black and White Rhinos still roam free. Kenya private wildlife reserves promise you the full majesty and mystique of a true "Out of Africa" experience.


Destinations
Travel by Air
Travel by Road
Travel by Boat
Travel by Bullet Train
Travel by Rail
Travel by Dog Sled
Thursday, December 2: Arrive Nairobi

Arrive in Kenya's cosmopolitan capital city and transfer to the leafy suburb of Langata to overnight at Giraffe Manor, the now-iconic sanctuary created by the late Dame Daphne Sheldrick. Settle in and stroll the stately grounds. At your welcome dinner, meet your fellow travelers, along with the resident Rothschild's Giraffes, who may poke their heads through windows to see what you're eating! Overnight at Giraffe Manor.

Friday, December 3: Nairobi / Olare Motorogi Conservancy

Share breakfast with the giraffes before transferring to Wilson Airport for a private charter flight due west to the Olare Motorogi Conservancy, a 33-square-mile private expanse abutting the famed Maasai Mara Reserve's northern boundary. The wildlife spotting begins before you touch down, and continues on your drive to camp. This verdant savannah provides habitat for a diverse range of herbivores, from Masai Giraffe and Plains Zebra to Kongoni and Warthog, supporting a phenomenal density of predators. Lion and Cheetah are particularly conspicuous, as well as Spotted Hyena and three species of jackal. Arrive at the exquisite Mara Plains Camp, nestled in lush forest on a bend of the Ntiakitiak River. Enjoy lunch, before heading out for an afternoon game drive. Dinner and overnight at Mara Plains Camp.

Saturday & Sunday, December 4 & 5: Olare Motorogi Conservancy

Enjoy two days exploring this perfectly preserved swathe of rolling wilderness. There are no set schedules at Olare Motorogi—game drives and walks maximize the wildlife-viewing opportunities, with meals frequently taken in the field. A number of seasonal streams run across the savannah, fringed by stretches of gallery forest that provides cover for Cape Buffalo, Zambezi Bushbuck, Olive Baboon and a plethora of birdlife. Visit a Maasai village, to learn about the customs and culture of this ancient tribe, or take an optional Hot Air Balloon Safari for a bird's eye view of the northern Serengeti's endless plains. Drift silently at sunrise, appreciating the sights and sounds of the waking savannah below. Meals and overnights at Mara Plains Camp.

Monday, December 6: Olare Motorogi Conservancy / Chyulu Hills National Park

After breakfast, head to the airstrip for a flight southeast, to the Maasai-owned Mbirikani Group Ranch, comprising 275,000 acres of arid Masai thorn country bordering the Chyulu Hills National Park. Arrive at Ol Donyo Lodge and enjoy lunch with magnificent views out over the plains towards the towering, snow-capped peak of Mount Kilimanjaro. This afternoon, head out for your first game drive through the savannah, with sundowners in the reserve. Dinner and overnight at Ol Donyo Lodge.

Tuesday & Wednesday, December 7 & 8: Chyulu Hills National Park

Maximize your two full days in this private concession, chalking up the many and varied activities that Ol Donyo has to offer. Exploration by open safari vehicle happens every morning and afternoon, as well as spotlighting after dark, but you may also choose to leave the vehicles behind and head out on foot. The area is home to Lion, Leopard, rhinoceros, and Cape Buffalo but is particularly known as being home to some of Africa's last remaining big Tuskers, and we make a special effort to see and photograph these incredible leviathans. The arid savannahs also support healthy populations of Cheetah and Fringe-eared Oryx.

In addition to its "charismatic megafauna", Kenya is justifiably renowned for the sheer diversity and abundance of its avifauna. At the lodge, take advantage of a well-appointed hide, or "Log Jam", eye-level to the water, to experience this first-hand. Especially during the afternoon heat, a steady procession of birds, from large raptors, bustards and francolins to brilliant bee-eaters, starlings and waxbills, visit to slake their thirst. Mbirikani is a community conservation initiative, owned and run by a group of Maasai tribespeople. Visit their village to talk to them and learn about the inspirational conservation work ongoing here. Dinners and overnights at Ol Donyo Lodge.

Thursday, December 9: Chyulu Hills / Samburu National Reserve

After breakfast, enjoy a last game drive, then board your private charter north to Samburu National Reserve, in Kenya's Northern Frontier District. Spanning 64 square miles, this private reserve is more arid, and even more remote than Chyulu Hills. It is also spectacularly scenic, with rocky hills that host an astounding array of wildlife, most notably the Samburu "Special Five": desert-adapted Grevy's Zebra, striking Reticulated Giraffe, statuesque Beisa Oryx, long-necked Gerenuk and Somali Ostrich. Transfer to Sasaab Lodge, located on the banks of the Ewaso Ng'iro River, to enjoy lunch while looking out across the Laikipia Plateau towards the jagged peak of Mount Kenya. Relax at the lodge, then take an evening game drive. Dinner and overnight at Sasaab Lodge.

Friday, December 10: Lake Turkana and the "Wild North"

Rise early for an "Out of Africa" experience second to none: a full day's exploration of Kenya's "Wild North" by helicopter! Fly over the lush Laikipia Plateau towards Mount Silali, the Great Rift Valley's largest volcano, and touch down on the crater rim for coffee. Next, descend into the Suguta Valley to marvel at the desolate landscape, full of ancient fossils and granite rocks perched atop eroded ash stacks, known as "hoodoos." Land at the "Painted Valley," layered with contrasting strata of rock and ash, for a picnic breakfast. Continuing northward, the valley opens onto arid savannahs, before giving way to miles of sand dunes. Disembark to take in the utter silence. Continue north over Lake Logipi, a vital breeding ground for vast flocks of pink Lesser Flamingos, then land for a dip in legendary Lake Turkana, known as "The Jade Sea" for its rich turquoise color. Heading back south, drop down for lunch and a swim at Desert Rose, then circumnavigate the rugged Matthews Range, a "sky island" covered in lush tropical forest. Watch for shaggy Black-and-White Colobus Monkeys as you walk among the endemic cycads here. Make one final stop at the world-renowned Reteti Elephant Sanctuary, before returning to camp to reminisce over a day replete with safari memories. Dinner and overnight at Sasaab Lodge.

Saturday, December 11: Samburu National Reserve

Samburu is a strikingly scenic reserve, its arid thorn bush dissected by the Dhoum Palm-fringed Ewaso Ng'iro River. Take a guided half-day walk along the banks, watching for giant Nile Crocodiles and Hippos in the water, or explore the savannah by quad bike or camel. Birdlife is prolific, including a plethora of kingfishers, hornbills and barbets, along with iconic species typical of the Somali-Masai region like the bizarre Vulturine Guineafowl and jaw-dropping Golden-breasted Starling.

In the cool of the afternoon, visit a village of Samburu tribespeople to marvel at their striking body adornments, unchanged in centuries, and learn how their traditional pastoral existence has adapted to 21st century challenges. Dinner and overnight at Sasaab Lodge.

Sunday, December 12: Samburu National Reserve / Ol Jogi Wildlife Conservancy

After breakfast, take a short flight west to Ol Jogi Wildlife Conservancy in the Laikipia National Reserve, sandwiched between the forested slopes of Mount Kenya and the northern deserts. Dinner and overnight at Ol Jogi.

Monday & Tuesday, December 13 & 14: Ol Jogi Wildlife Conservancy

Renowned as one of Africa's premier private safari areas, Ol Jogi Wildlife Conservancy protects 104 square miles that is home to abundant wildlife. Of particular significance are large breeding herds of Savannah Elephants, Grevy's Zebras, and healthy populations of three species that are highly threatened elsewhere: African Wild Dog, Black Rhino, and White Rhino. Explore the well-watered savannah and gallery woodland on game drives and bush walks, and experience these iconic animals in some of the most dramatic landscapes on the African continent. On the last evening, toast to the adventure at a farewell sundowner by the campfire, under the pristine night sky. Dinners and overnights at Ol Jogi.

Wednesday, December 15: Ol Jogi Wildlife Conservancy / Nairobi

After a final morning at Ol Jogi, fly to Nairobi and transfer to Hemingways with panoramic views of the famed Ngong hills. Enjoy lunch and day room use, before a late afternoon transfer to the airport for your international flights home.
Details
Leaders

Jonathan Rossouw & Marco Tonoli
$37,980

Per Person Rate

$39,870

Solo Rate

14 days

Trip Length

12 guests
Nairobi

Start/End
The Fine Print

Call us to reserve your spot on this exciting expedition!
Have a question? Call us at 206.669.9272 /
800.861.6425

. Prefer online?Get in Touch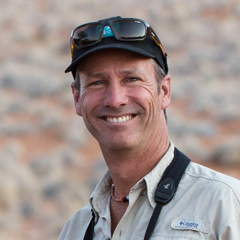 Jonathan is excited to show you the remote, wildlife-packed private conservancies selected for this itinerary.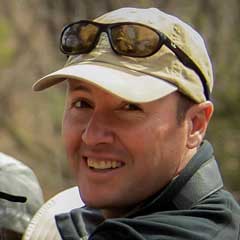 Marco will share his expertise, and valuable photography tips, as you seek Kenya's abundance of wildlife.

How to distinguish a Black Rhino from a White Rhino
On our Kenya safari, you will likely see both species so it's valuable to know how to tell them apart. First, Black Rhinos are smaller and more compactly built, versus the substantially larger, barrel-shaped White Rhino. Black Rhinos have two horns that are close in length, while White Rhinos have a long front horn with a much shorter second horn behind it. Their upper lips differ as well. Black Rhinos have a pointed upper lip to help them pull leaves from trees whereas White Rhinos, often seen with their heads hanging towards the ground, have a square-shaped upper lip perfect for grazing. The White Rhino's more pronounced shoulder hump is yet another way to tell the two species apart.