Madagascar
October 10 – 25, 2022
The Coquerel's Sifaka is a sight to behold, either dancing on land or flying mid air. © Jonathan Rossouw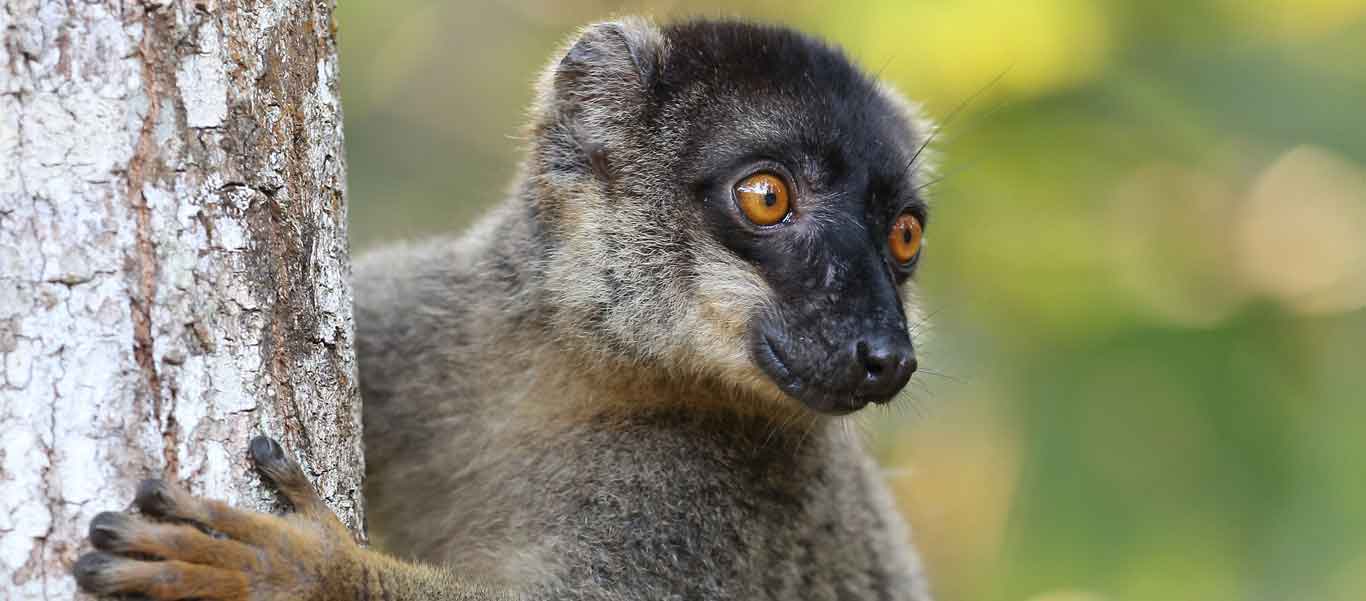 The Common Brown Lemur spends 95% of its time in the upper layers of the forest and a mere 2% on the ground. © Jonathan Rossouw
Male Panther Chameleons, in a form of sexual dimorphism, are more brightly colored than the females. © Jonathan Rossouw
Ring-tailed Lemurs inhabit the gallery forests of southern Madagascar and are often seen sitting upright facing their thin white belly fur towards the sun. © Jonathan Rossouw
Restricted to the northern tip of Madagascar, the Northern Sportive Lemur is arboreal and nocturnal, clinging to trees with pads on their hands and feet. © Jonathan Rossouw
Uroplatus phantasticus. The Latin name says it all: Fantastic Leaf-tailed Gecko. Sometimes called the Satanic Leaf-tailed Gecko, it is one of many remarkable endemic reptile species in Madagascar. © Giovanna Fasanelli
Berenty Reserve's deciduous gallery woodland is justly famous for the ease with which its lemur species, like these Ring-tailed Lemurs, can be seen and appreciated. © Giovanna Fasanelli
Madagascar Safari
Madagascar is home to one of the most unusual wildlife assemblages on Earth, its exceptional fauna and flora having evolved over millions of years of isolation. This Madagascar safari reveals a remarkable diversity of habitats, on an island often referred to as "The Eighth Continent."Madagascar's legendary uniqueness is reflected in its mammals, with every one of its 150 native terrestrial species being found nowhere else on the planet! Best known as the home of the lemurs, with an amazing 100 species divided over five endemic families, the island also boasts a host of colorful chameleons, fascinating flora, and bizarre insectivores. Madagascar's endemic birds are equally renowned, with no fewer than 140 species and 5 complete families entirely restricted to this appropriately named "laboratory of evolution." Join us on this Madagascar tour and discover the world's greatest wildlife destination.


Destinations
Travel by Air
Travel by Road
Travel by Boat
Travel by Bullet Train
Travel by Rail
Travel by Dog Sled
Johannesburg

Arrive in Johannesburg, South Africa, and take the complimentary shuttle the short distance to your hotel. Gather this evening for a welcome dinner and briefing. Overnight at Southern Sun OR Tambo Hotel.

Antananarivo

This morning, fly from Johannesburg to Antananarivo (Tana), Madagascar. Crossing the Mozambique Channel, a journey of little more than 250 miles, you'll approach the western edge of the "Big Red Island" en route to the capital. Driving into Tana one is struck by the stark differences from the African continent: rice paddies, worked by men and their Zebu ox-drawn ploughs, flank the city, with the architecture a combination of French colonial and traditional Merina, all of which imparts a strangely Asian feel to an island so close to the African mainland. Dinner and overnight at the Relais de Plateaux on the outskirts of Antananarivo.

Antsiranana / Amber Mountain National Park

Make an early departure to the airport for your flight to Antsiranana, or Diego Suarez as it's still commonly known, a natural port on Madagascar's extreme northern tip. Upon arrival, transfer to a convoy of four-wheel-drive vehicles for a short drive southwards into the highlands of Amber Mountain, to one of the country's most famous national parks. Montagne d'Ambre was set aside as a protected area during the colonial period, both to act as a water catchment area for Diego Suarez and as a forestry research station. Today, this scenic park protects one of the most accessible and rewarding areas of montane forest on the island, home to a rich array of wildlife, some of which is found nowhere else on Earth. Foremost on the agenda will be finding the lemurs, including the localized Crowned Lemur and the striking Sanford's Brown Lemur. Almost two-thirds of the world's chameleon species occur on Madagascar and are found nowhere else. With careful searching you'll try to locate a bewildering array that ranges from the attractive Amber Mountain Chameleon to the tiny Brookesia Stump-tailed Chameleon, once considered the world's smallest vertebrate animal. The cool forests of the park also offer excellent birding, with specialties such as Pitta-like Ground-Roller and the highly localized Amber Mountain Rock Thrush. Overnight at Domaine de Fontenay.

Ankarana National Park

Amongst Madagascar's most celebrated land formations are its areas of limestone karst, known locally as tsingy, which literally means "the place one cannot walk without shoes" in Malagasy. Journey south today to the Tsingy of Ankarana. Winding through attractive countryside, you'll stop frequently to appreciate the passing pageant of rural life unfolding at the roadside, small villages of grass-thatched huts, Zebu-drawn carts and verdant green rice paddies, before arriving at Ankarana. Overnight at Ankarana Lodge.

Ankarana National Park

The tsingy is world famous, a landscape of razor-sharp pinnacles and eroded canyons and sinkholes. The geology is reason enough to visit, but the park also protects rich deciduous forest that is home to a fantastic array of wildlife, from the endemic Ankarana Sportive Lemur and dapper Ring-tailed Mongoose to a plethora of reptiles. Chameleons are well known for their camouflage but here are totally outclassed by one of the most cryptic creatures on the planet, the bizarre Fimbriated Leaf-tailed Gecko, whose resemblance to tree bark beggars belief! Groups of the beautiful White-breasted Mesite, a bird family entirely endemic to Madagascar, pick their way slowly through the dry leaf litter, often followed by dashing Madagascar Paradise Flycatchers. In the late afternoon, appreciate the soft, changing light on the other-worldly limestone karst landscape. Overnight at Ankarana Lodge.

Antananarivo

After a final morning spent exploring Ankarana, return to Antsiranana in time to catch an afternoon flight back to the capital, Tana. Dinner and overnight at Relais des Plateaux.

Berenty Reserve

After breakfast, board your charter flight to Ifotaka, then transfer to Berenty Private Lemur Reserve. On the transfer to Berenty, you'll notice that the native vegetation has been replaced by extensive sisal plantations, stretching as far as the eye can see. Berenty Private Lemur Reserve is an island of natural habitat in this sea of cultivation, and one of Madagascar's most legendary wildlife sanctuaries. Berenty is justly famous for its lemurs, not only because its deciduous gallery woodland is home to six species but particularly for the ease with which they can be seen and appreciated in the wild. Undoubted favorites are the Ring-tailed Lemurs and Verreaux's Sifakas. The bands of cat-like, quizzical Ringtails are often the first to steal any visitors' hearts but their appeal is easily matched by the strikingly-patterned Sifakas, with their soulful expressions and bipedal locomotion. In addition to these two diurnal lemur "super-stars", Red-fronted Brown Lemurs also occur in large numbers in the woodland. Overnight at Berenty Lodge.

Berenty Reserve

Although Madagascar is most famous for the spectacular lemurs that have adapted to a daytime existence, a number of species of these primitive primates remain denizens of the night. On spotlighting walks in the "spiny forest" adjacent to your lodgings, search for White-footed Sportive Lemurs and two species of Mouse Lemurs. A further highlight at Berenty is a roost of Madagascar Flying Foxes, where over 300 of these impressive fruit bats, sporting four-foot wingspans, spend their day jostling for position in the treetops. Amongst the birds, the pheasant-like Giant Coua is often encountered stalking along the paths, whilst both the camouflaged Madagascar Scops-Owl and the handsome White-browed Hawk-Owl are commonly found asleep at their day roosts in the gallery woodland. Reptiles are well represented by the bizarre Three-eyed Lizard and huge Warty Chameleon. Overnight at Berenty Lodge.

Antananarivo / Andasibe-Mantadia National Park

After a final morning at Berenty, return to Ifotaka and board your charter flight back to Tana. On arrival, turn eastwards for the drive across the open landscape of the Horombe Plateau, which offers insight into the traditional lifestyle of the highland Merina people. Terraced rice paddies, tall earthen houses with thatched roofs, and roadside markets displaying a wide variety of farm produce, are all set against a backdrop of golden-yellow grasslands and bare granite inselbergs.  By the afternoon, you'll arrive in the small town of Andasibe, or Perinet as it's still commonly known, gateway to the magical Andasibe-Mantadia National Park. Your accommodation for the next two nights is a delightful lodge, located overlooking a lake at the edge of the forest. Wildlife is often right on your doorstep: fluorescent green day geckos scuttle on the walls of the chalets, Madagascar Wagtails flit along the paved walkways and if you are very lucky, you may hear the eerie calls of Indri right from your cabin. Overnight at Vakona Forest Lodge.

Andasibe-Mantadia National Park

You'll have two full days in the superb Andasibe-Mantadia National Park, which protects a large expanse of some of Madagascar's most pristine primary forest, a sanctuary for the richest assemblage of birds and other wildlife on the island. Though it has only relatively recently been opened to the public, the slightly higher-altitude Mantadia sector is now an essential destination on any trip to Madagascar, having gained a reputation as an excellent site for a handful of scarce forest-dwelling lemurs. Not least amongst these is the exquisite, gentle and highly localized Diademed Sifaka, although you will also be searching for the more widespread Black-and-white Ruffed Lemur, Gray Bamboo Lemur, Red-bellied Lemur and Common Brown Lemur. The Andasibe-Mantadia area is also a rewarding site for nocturnal exploration, with such charismatic nocturnal lemur species as Eastern Woolly Lemur, Furry-eared Dwarf Lemur and the diminutive Goodman's Mouse Lemur all possible, along with a plethora of chameleons, geckos and frogs. Overnight at Vakona Forest Lodge.

Andasibe / Antananarivo

This morning, make a special effort to see the park's most famous resident: the huge, singing Indri, largest of all extant lemurs. Standing beneath a family group of these magnificent creatures as they issue their peculiar, Humpback Whale-like songs is one of Madagascar's most unforgettable wildlife experiences. While the rainforest lemurs are the undoubtedly highlights of your time in the Perinet area, you will also be on the lookout for a profusion of smaller evolutionary oddities, like the peculiar Giraffe-necked Weevil, the impossibly cute Lowland Streaked Tenrec, the seriously weird Sikora Leaf-tailed Gecko, Madagascar Tree Boa, and the giant Parson's Chameleon, heaviest chameleon species on Earth. Andasibe-Mantadia also offers the best rainforest birding in Madagascar, and you can expect to see such avian jewels as Blue Coua, Blue Vanga, and Madagascar Cuckoo-Roller. In the afternoon, retrace your route to Tana, overnighting at the Relais de Plateaux.

Anjajavy

Fly northwestward to your final destination in Madagascar, the magnificent wilderness of Anjajavy, for a three night stay at Anjajavy Lodge.

Anjajavy

Situated on the island's northwest coast, in the so-called Sambirano Domain, this 1,000-acre private reserve covers a ruggedly beautiful area of secluded bays flanked by baobab-studded semi-deciduous forest. Wildlife is abundant, with the ethereal Coquerel's Sifaka, boisterous troops of Common Brown Lemur and flocks of brilliant-green Grey-headed Lovebirds resident right in the grounds of your comfortable lodge. Nearby caves in the limestone karst boast the fossilized remnants of a long-extinct lemur, as well as an impressive collection of stalagmites and stalactites. Spend time along the forest trails, where Collared Iguanas loaf in sunny spots and Madagascar Plated Lizards scuttle through the leaf litter. With luck, you may locate the goblin-like Milne-Edwards's Sportive Lemur at its day roost in a tree cavity. Explorations after dark are equally productive and may reveal the eye-shine of a darting Golden-brown Mouse Lemur, Madagascar Nightjar hawking for insects or perhaps a sleeping Warty Chameleon. Overnights at Anjajavy Lodge.

Antananarivo

After a final early morning at Anjajavy, fly back to Antananarivo in time to connect with international flights homeward.
Details
$18,470

Per Person Rate

$20,580

Solo Rate

16 days

Trip Length

14 guests
Johannesburg

Start

Antananarivo

End
The Fine Print

Call us to reserve your spot on this exciting expedition!
Have a question? Call us at 206.669.9272 /
800.861.6425

. Prefer online?Get in Touch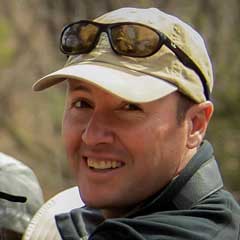 Captivated by endemism, Marco delights in the variety of mammals, birds, chameleons and insects on display.

Madagascar's Green Beauty Phelsuma quadriocellata
The Peacock Day Gecko is yet another drop-dead gorgeous creature that hails from this animal-rich wonderland. Having been widely introduced to the Florida Keys and Hawaii by reptile enthusiasts, the true origin of the luminous green lizards known as day geckos is often mistaken! Unlike the cryptic chameleons and leaf-tailed geckos, these beauties are a conspicuous feature of Madagascar's humid eastern forests. A cursory glance over any tree trunk, palm frond or windowsill is all that's required to find these cheeky parcels of turquoise, green and blue.