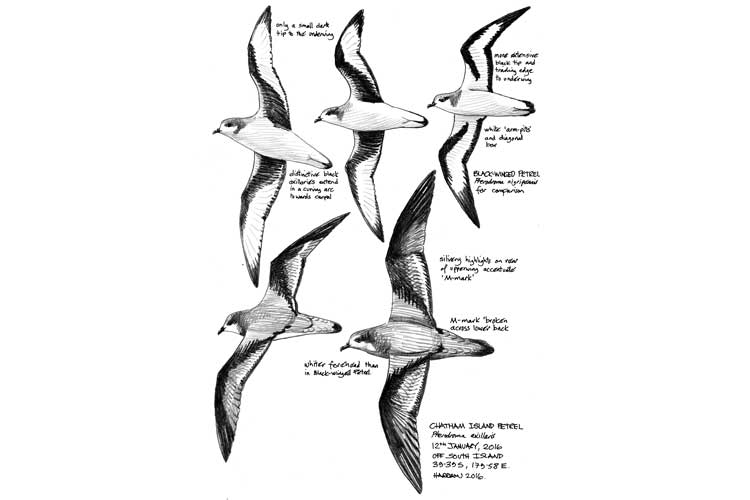 First ever at-sea field sketches of Chatham Island Petrel Pterodroma axillaris © Peter Harrison
New Zealand's Chatham Island Petrel, one of the world's rarest birds with an estimated population of just 1,000 individuals © Peter Harrison
Some of the first at-sea photos of the Chatham Island Petrel © Peter Harrison
Some of the first at-sea photos of the Chatham Island Petrel © Peter Harrison
Some of the first at-sea photos of the Chatham Island Petrel © Peter Harrison
Outstretched wing of the Chatham Island Petrel © Peter Harrison
Chatham Island Petrel © Peter Harrison
Even rarer than the Chatham Island Petrel is the Chatham Island endemic Taiko Petrel Pterodroma magenta
Listed as Critically Endangered by BirdLife International, there are likely only 120 Taiko Petrel in existence. © Peter Harrison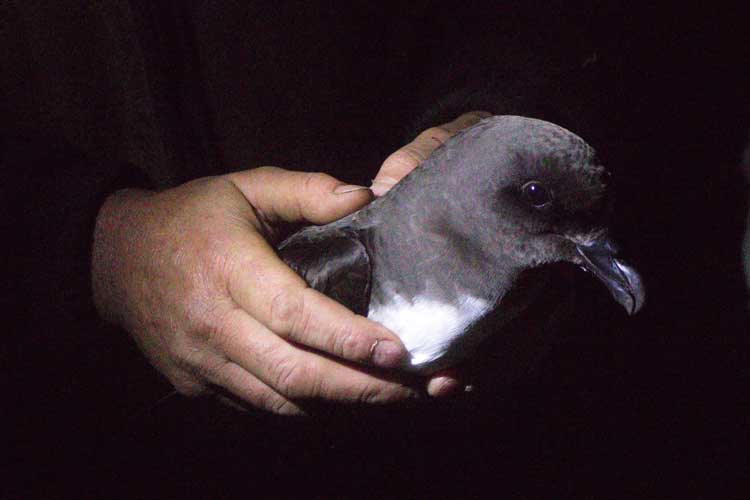 Taiko Petrel © Peter Harrison
Birds of New Zealand's Subantarctic Islands: Chatham Island Petrel and Taiko Petrel
Apex Expeditions' cofounder Peter Harrison is recently back from a month-long scouting trip to the seas off the Chatham Islands, east of New Zealand. He joined a small group of some of the planet's leading seabirders in a privately funded expedition. They were attempting to be the first observers to record and photograph, at sea, the Chatham Island Petrel (Pterodroma axillaris), one of the world's rarest birds with an estimated population of just 1,000 individuals.
Aboard the merchant vessel Claymore II, the 13-person expedition departed from Tauranga, North Island, and headed for the Chathams where they spent five days before striking out on a true pioneering adventure to become the first observers to visit the Bollon Seamount, 650 kilometers south of the Chathams. Chatham Island Petrels have recently been discovered to feed over the seamount during geolocator analysis by New Zealand researchers. Only ever glimpsed once away from its Chatham Island breeding grounds some 1,300 kilometers west of the Peruvian coast, the Chatham Island Petrel has near-mythical status within seabirding circles. Success came early and quite unexpectedly when on day two of the voyage, hundreds of miles north of the intended target search area, a Chatham Island Petrel approached the vessel at around 10 am on 12 January at 39° 39.5' S and 179° 58.9' E in 3,000 meters of water. At that point the vessel was around 102 nautical miles from Hawkes Bay, South Island, and 278 nautical miles northwest of the main Chatham Island. The bird made two passes, affording excellent views and some of the first and finest at-sea photographic images ever obtained of this rarely seen species. The accompanying sketches are the first ever at-sea field sketches of this species, which appeared close in size and shape to nearby Black-winged Petrels (P. nigripennis) with similar pronounced partial breast band but with diagnostic all-black axillaries. In total some 15 sightings of this incredibly rare bird were recorded during the 18-day voyage. Currently it nests only at two locations: most at Rangatira (South East Island) and a few pairs at the Sweetwater Reserve on Rekohu (Main Island, Chatham Islands).
Even rarer than the Chatham Island Petrel, however, is another Chatham Island seabird endemic: the Taiko Petrel (P. magenta). Listed as Critically Endangered by BirdLife International, only 28 nests (2016) are known, with at best perhaps 120 individuals. Once the most abundant burrowing breeder on Chatham Island, a handful cling to survival, nesting under dense forest cover in the southwest portion of Main Island. A highlight of the expedition was to visit the Sweetwater Taiko Petrel Reserve and to learn first-hand of the heroic work being carried out by Dave Boyle and Mike Bell and the rest of their team, to ensure the survival of the Taiko. Under the cover of darkness, the wrong side of midnight, the team enjoyed a thrilling, fog-shrouded performance of displaying Chatham Island and Taiko petrels above forested slopes, with eerie, ghoulish wails and screams, the birds eventually landing at our feet and pattering to nearby burrows. Truly one of life's great moments!
Peter's recent research in New Zealand's Chatham Islands will greatly benefit those fortunate Apex Expeditions travelers who will accompany he and Shirley Metz during the Chatham, Macquarie and Sub-Antarctic Islands of New Zealand cruise in November of this year. During that voyage Apex travelers will have the chance of seeing both Taiko and Chatham Island petrels off their breeding islands, as well as other rare birds of New Zealand's Islands, and will also visit Bounty, Enderby, Campbell, Auckland, Macquarie, and Snares islands.
Learn more about our New Zealand Sub-Antarctic Islands Cruise on our expedition details page.