Sub-Antarctic Islands of New Zealand with Macquarie Island
onboard Heritage Adventurer
December 5–21, 2023
Yellow-eyed Penguins nest under the gnarled Rata Forest and tangled shrubs of Enderby Island. © Peter Harrison
Macquarie Island has 100,000 breeding pairs of King Penguins, the third largest such colony in the world. © G. Riehle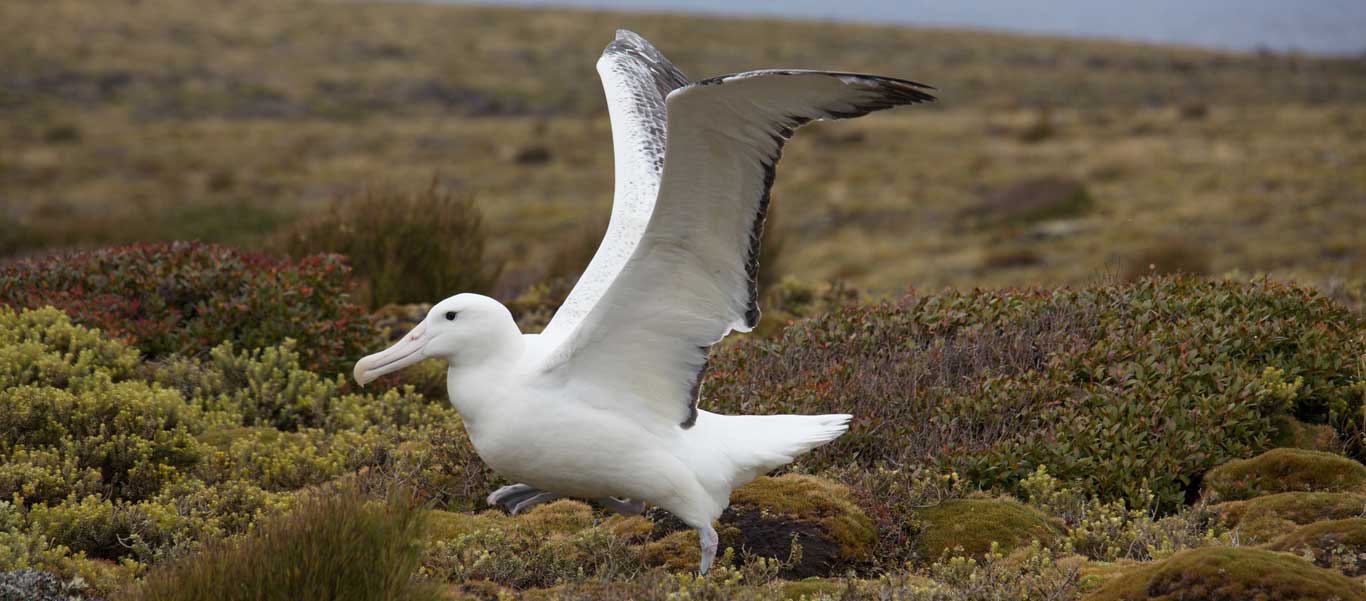 The majority of the Southern Royal Albatross breeding population is found on Campbell Island, with smaller numbers found on the Auckland Islands. © Gary Krosin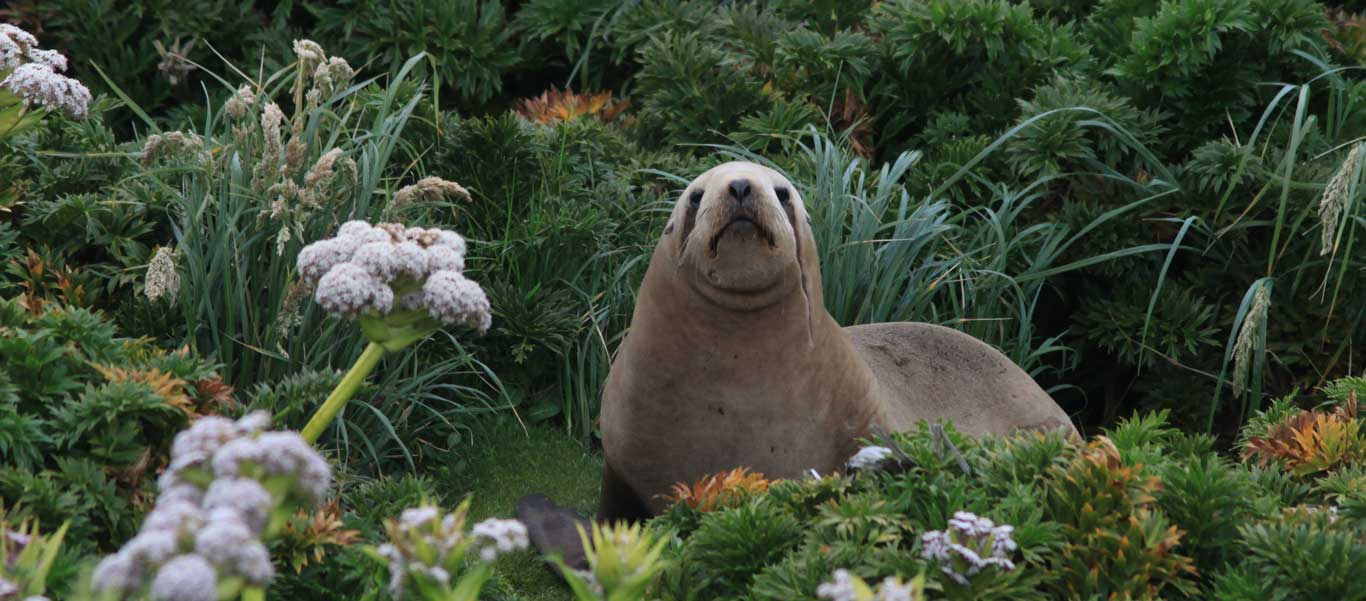 Hooker's Sea Lions, or Whakahao in Māori, is considered the world's rarest sea lion with numbers around 10,000. © Heritage Expeditions
Four species of penguin breed on Macquarie Island, including the endemic Royal Penguin with an estimated population of 850,000. © Meghan Kelly
Campbell Island abounds with botanicals, bird species and beautiful vistas. © T. Bickford
Pyramid Rock, a basalt outcrop south of Pitt Island, is the only breeding place of the Chatham Island Albatross. © Gary Krosin
Sub-Antarctic Islands Cruise
It's what pelagic bird enthusiasts see when they close their eyes—this string of islands in the Furious Forties and Fifties, known as the "Albatross Latitudes." On this cruise to New Zealand's sub-Antarctic islands, one can see ten of the world's albatross species, five of which breed nowhere but here. Petrels, shearwaters, prions, and storm-petrels are among the 40 pelagic species present, as well as seven species of penguin, including endemic Royal, Snares and Erect-crested Penguins. For non-birders, whales and breeding seals abound, as well as a wealth of jaw-dropping landscapes and mythical-looking megaherbs. All but one of the island groups is a UNESCO World Heritage Site, and they enjoy the highest conservation status, allowing for a truly staggering abundance of wildlife. Join Apex on this 17-day voyage aboard the Heritage Adventurer, sail to a wonderland of sub-Antarctic sea life that few people have ever visited.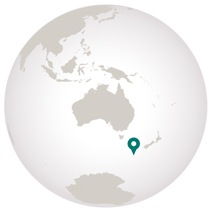 Destinations
Travel by Air
Travel by Road
Travel by Boat
Travel by Bullet Train
Travel by Rail
Travel by Dog Sled
Tuesday, December 5: Arrive Queenstown

Arrive in Queenstown located on the shores of Lake Wakatipu on New Zealand's South Island, where you will be met and transferred to the Copthorne Lakefront Hotel. There, meet your fellow Apex adventurers for a welcome drink before joining the full onboard contigent and some of the expert expedition team at an informal dinner. Overnight at Copthorne Lakefront Hotel.

Wednesday, December 6: Port of Bluff / Embark Heritage Adventurer

Enjoy a leisurely breakfast at the hotel and have the morning free to explore Queenstown before returning to the hotel for lunch, then transfer to the Port of Bluff to embark the Heritage Adventurer, your home at sea for the next 15 nights. Settle into your cabin, then join the expedition team in the Observation Lounge as you set your course to The Snares.

Thursday, December 7: The Snares – North East Island

North East is the largest of The Snares, the closest sub-Antarctic islands to New Zealand. So-named because they ensnared many a hapless ship. The Snares managed to stay pristine through the 19th century, while islands around them were virtually destroyed by the whaling and sealing industries. North East is uninhabited, and home to more nesting seabirds than all of the British Isles. As landings are not permitted, a Zodiac cruise along the sheltered eastern side of the island should reveal the endemic Snares Crested Penguin, Snares Island Tomtit, and Fernbird. Cape Pigeons, Antarctic and White-fronted Terns, and Red-billed Gulls are also well represented. There are hundreds of thousands of Sooty Shearwaters nesting on The Snares, and Mottled and Diving Petrel and Broad-billed Prion are also present.

Friday, December 8: Auckland Islands – Enderby Island

One of the largest of the sub-Antarctic groups, the Aucklands are composed of eroding volcanic remains from eruptions that occurred between 25 and 10 million years ago. Enderby Island, named for the distinguished shipping family, is one of the most beautiful islands in this group, and perhaps of all the sub-Antarctic islands, with its forests of gnarled Rata and fields of Gentians. It also enjoys a much milder climate than most sub-Antarctic islands because of its location. Today, land at Sandy Bay, one of three breeding areas in the Auckland Islands for the rare Hooker's or New Zealand Sea Lion. During your day ashore there will be several options, including longer walks, shorter walks, and time to spend enjoying the wildlife. Stroll the boardwalk beyond the beach and see Bellbirds, Red-crowned Parakeets, and Tomtits. Yellow-eyed Penguins, arguably the world's rarest, nest in the forest and under the tangled shrubs of the plateau. In the more open country, see nesting Southern Royal Albatross and the endemic Auckland Island Banded Dotterel. There is also a good chance of spotting the Subantarctic Snipe.

Saturday, December 9: At Sea

Enjoy informal lectures today on the biology and history of the sub-Antarctic islands, especially the upcoming Macquarie Island. Be sure to spend time on deck as you can expect some of the best pelagic birding sailing through the Furious Fifties. Keep a watch for Royal, Wandering, Shy, and Campbell Albatross, as well as White-chinned Petrel, Common Diving-petrel, Little Shearwater, storm-petrels, and numerous prion species.

Sunday & Monday, December 10 & 11: Macquarie Island

This is Australia's prized sub-Antarctic possession—a small sliver of crustal rocks supporting one of the highest concentrations of wildlife in the Southern Hemisphere. Millions of penguins of four different species—King, Eastern Rockhopper, Gentoo and the endemic Royal—breed here. At Lusitania Bay, rusting condensers are grim reminders of a time when King Penguins were slaughtered for their oil. Now, their offspring have reclaimed this territory, and a quarter of a million of them populate the beaches and swim in the waters of the bay, where you'll Zodiac among them. Go ashore at Sandy Bay where the Royal Penguin rookery teems with feisty little birds—all three million of the world's Royal Penguins breed on Macquarie Island. Between large numbers of breeding King Penguins, groups of Southern Elephant Seals slumber on the beaches, while younger bulls spar in the shallow water. Other wildlife includes fur seals, and four species of nesting Albatross—Wandering, Black-browed, Grey-headed and Light-mantled Sooty—as well as redpolls and Imperial Shag. Visit the Australian Antarctic Research Base at Buckles Bay to meet with scientists and base staff.

Tuesday, December 12: At Sea

Today, you will be northbound and hopefully running with the prevailing weather, which should make for a comfortable sail. Keep a keen eye out for cetaceans, albatross and petrels today, and enjoy more lectures by the expedition team.

Wednesday, December 13: Campbell Island – Perseverance Harbor

Campbell Island is New Zealand's southernmost sub-Antarctic territory. In 1895, an entrepreneurial New Zealand sheep farmer stocked the island with sheep and cattle, and farming practices ravaged the land. In 1990, all livestock was removed from the island, and its vegetation is flourishing. This includes the spectacular flowering "megaherbs", endemic to these islands and described by the great English botanist Joseph Hooker as "a floral display second to none outside the tropics". Broad bays, vertical headlands, and surf-washed beaches will serve as our backdrop as we enjoy the Southern Royal Albatross, which nest here in large numbers, and search for Southern Skua, Antarctic Tern, Dunnock, New Zealand Pipit, endemic Campbell Island Teals and Shags, and, with luck, the elusive Campbell Island Snipe.

Thursday, December 14: At Sea

This is a day for pelagic birding. Albatross species commonly seen in the area include Wandering, Southern Royal, Black-browed, Campbell, Light-mantled Sooty, Salvin's, and Grey-headed. This region of the Southern Ocean is one of the few where Fairy, Fulmar, and Antarctic Prion occur together, providing a good opportunity for comparison. Also abundant are many species of petrel, which include Mottled, White-headed, Soft-plummaged, Grey, and White-chinned.

Friday, December 15: Antipodes Islands

The Antipodes are some of the most isolated, least known and rugged of the sub-Antarctic islands, formed from highly eroded volcanic remains. Landings are not permitted here, but a Zodiac cruise along the coast should reveal the green-headed Antipodes Island Parakeet and Reischek's Parakeet, and the Antipodes subspecies of the New Zealand Pipit. We should also get good views of the mixed colonies of Erect-crested and Eastern Rockhopper Penguins along the shore. Antarctic Terns and Kelp Gulls are often seen in good numbers.

Saturday, December 16: Bounty Islands

The incongruously named Bounties are a cluster of rather inhospitable-looking granite islets. Nevertheless, they are home to thousands of Salvin's Albatross, Erect-crested Penguins, Fulmar Prions and the endemic Bounty Island Shag, the world's rarest. New Zealand Fur Seals, which were almost hunted to extinction in the sub-Antarctic islands, are present in large numbers here. This afternoon, there will be opportunities to see a good selection of birdlife as you sail toward the Chatham Islands, including Wandering and Northern and Southern Royal Albatross; Mottled, Soft-plumaged, and White-chinned Petrel; Broad-billed Prion; and Black-bellied Storm-petrel.

Sunday, December 17: Pyramid Rock & South East Island

Look out for the Chatham Island Petrel, and even the very rare Chatham Island Taiko, one of New Zealand's most endangered species, with an estimated population of less than 150. Cruise around spectacular Pyramid Rock, a basalt outcrop south of Pitt Island. Pyramid Rock is the only breeding place of the Chatham Island Albatross. Landings are not possible, but great views of nesting birds can be had from the ship; this will be one of the great highlights of the entire voyage. This afternoon, arrive at South East Island. Landings are not permitted at this nature reserve, but you should have good views of the very rare New Zealand Shore Plover and Chatham Island Oystercatcher as you cruise in Zodiacs along the coast.

Monday, December 18: Chatham Islands – Waitangi

The Chatham Archipelago represents New Zealand's easternmost territory. Two of its islands were originally settled by East Polynesians, who quickly became isolated and developed their own distinct culture. The islands were discovered by European sealers in the 1790s, then Maoris from New Zealand, who killed and enslaved many of the indigenous people. The impact of the various settlers on the native flora and fauna was disastrous. Fortunately, a number of endemic birds survived on the offshore islands, and they are now being reintroduced on Waitangi. Today, visit a private reserve where there is a very good chance to see the endemic Chatham Island Pigeon and Warbler. Near our landing in Waitangi, you may spot the endemic Chatham Island Shag. This afternoon, cruise back along the south coast for another opportunity to spot Taiko and Chatham Island Petrel.

Tuesday & Wednesday, December 19 & 20: At Sea

En route to Bluff, cross the Chatham Rise, a nutrient-rich area where warm subtropical waters from the north meet cold sub-Antarctic water, attracting an overlap of northern and southern pelagic bird species. Expect to see Royal and Wandering Albatross, Westland Black and Cook's Petrel, and much more.

Thursday, December 21: Disembark Port of Bluff / Invercargill or Queenstown

Early this morning, arrive back to the Port of Bluff. Enjoy a final breakfast onboard before disembarking and transferring to the airport in either Invercargill or Queenstown for your international flights home.
Details
Leaders

Peter Harrison, Jonathan Rossouw, Kevin Clement, Shirley Metz & Gerald Broddelez
Rates starting from $18,400 per person Rate details

Sub-Antarctic Islands of New Zealand with Macquarie Island, 2023

onboard

 Heritage Adventurer

| Suite Categories | | Per Person Rates |
| --- | --- | --- |
| Deck 4 Superior | | $18,400 |
| Deck 5 Superior | | $18,900 |
| Worsley Suite | | $21,900 |
| Heritage Suite | | $32,950 |
| Main Deck Solo | | $21,400 |
| Deck 5 Solo | | $22,400 |

17 days

Trip Length

140 guests onboard Heritage Adventurer
Queenstown

Start/End
The Apex Expeditions rate includes, as noted in the itinerary, a welcome reception in Queenstown, with local beer and wine included; full drinks package onboard the vessel, which includes select wines, standard beer, standard cocktails, soft drinks and sparkling water; all gratuities; all landing fees; and transfers. In addition, the voyage rate includes an overnight in Queenstown on December 5th; accommodations and meals onboard Heritage Adventurer; activities and excursions as described in the itinerary; services of five Apex Expeditions leaders, as well as the full Heritage Expeditions lecture and expedition team.
The Fine Print

Call us to reserve your spot on this exciting expedition!
Have a question? Call us at 206.669.9272 /
800.861.6425

. Prefer online?Get in Touch

Macquarie Island: A Southern Ocean Success Story
Located about half way between Australia and Antarctica, Macquarie Island is a special place of exceptional beauty and unique natural diversity. It is the only island in the world composed entirely of oceanic crust and rocks from the earth's mantle. From 2007 to 2014, a massive project was undertaken to remove rabbits, ship rats and mice from the island. In April 2014, with no sign of survivors, the project was declared a success. The island's vegetation is rapidly rebounding and sea birds are returning to nest in numerous areas. Today, Macquarie is a haven for up to 100,000 seals, 4 million penguins, and numerous species of seabirds to take refuge and breed.