Sri Lanka landscape © Marco Tonoli
Sri Lankan Leopard © Jonathan Rossouw
Sri Lankan Leopard © Jonathan Rossouw
Water Buffalo at Yala National Park © Jonathan Rossouw
Indian Pitta: this image was captured with an iPhone through a Swarovski spotting scope © Jonathan Rossouw
Rhino-horned Lizard © Jonathan Rossouw
Bulb-nosed Lizard © Jonathan Rossouw
Lizard portrait © Marco Tonoli
The Rock Fortress of Sigiriya © Jonathan Rossouw
Apex travelers at Sigiriya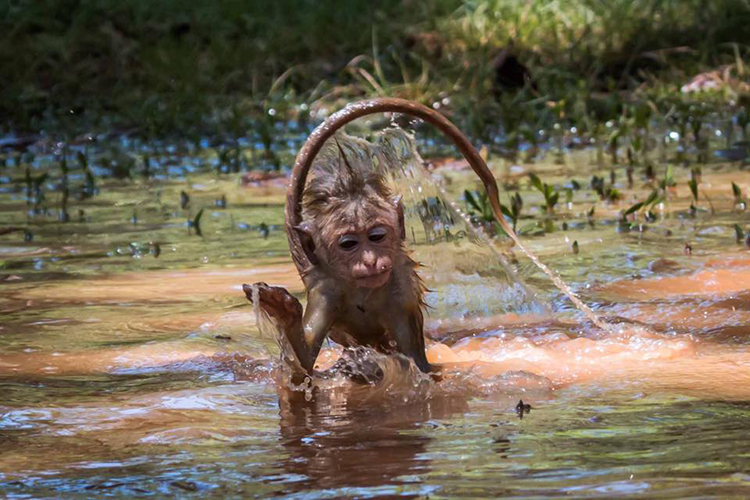 Toque Macaque © Marco Tonoli
Toque Macaque © Marco Tonoli
Polonnaruwa © Jonathan Rossouw
Polonnaruwa © Jonathan Rossouw
Blue Whale © Jonathan Rossouw
Blue Whale © Jonathan Rossouw
Chased by dolphins! © Jonathan Rossouw
Sri Lanka landscape © Marco Tonoli
Field Journal: Highlights from Sri Lanka Wildlife Tour
Expedition leaders Jonathan Rossouw and Marco Tonoli recently returned from guiding a group of Apex travelers to discover the fascinating Sri Lankan wildlife and many other treasures of this Indian Ocean gem. Read on for some of the highlights of their journey! 
Yala National Park delivered its most famous denizen!
Of all of Sri Lanka's wild areas, it is Yala National Park that is most famous, and rightly so, for it boasts a spectacular variety of attractive habitats, thronged with wildlife. Water Buffalos lounge in most of the lakes, and small herds of Asian Elephants are regularly encountered. Birds are abundant and conspicuous. But one creature exceeds all as a drawcard, and no visit to Yala would be complete without a sighting of the Sri Lankan Leopard. On our very first morning in the park, our band of Apexers hit the jackpot. After hearing the telltale alarm calls of a Spotted Deer, we located a female Leopard in a thicket. And then, predicting the waterhole where we thought she would drink, we were treated to a superb sighting of this sexiest of all big cats, casually sauntering past and surveying her surrounds with all the confidence and grace of a princess. Best of all, we had her all to ourselves! ~ Jonathan Rossouw
Spotting the Indian Pitta
Pittas are amongst the most glamorous of all birds. Denizens of the floor of tropical forests, they are also usually devilishly elusive, making them some of the most sought-after birds on Earth. One member of the tribe bucks this trend, being the most readily seen: the Indian Pitta. On an early morning birding walk on the wooded grounds of the magnificent Vil Uyana at Sigiriya, our group was treated to gob-smacking views of this jewel of a bird, ending a lifelong "pitta block" for one Apexer and making a perfect early birthday present for another! ~ Jonathan Rossouw
Finding Rhino-horned and Bulb-nosed Lizards
Rusty-spotted Cat and Grey Slender Loris, Purple-faced Leaf Monkey and White-spotted Chevrotain… we've seen some absolutely STELLAR creatures on our Sri Lanka odyssey to date. But one of the standout highlights came today, in the cool, mossy forests of Horton Plains National Park, where some dedicated searching turned up one of the island's rarest reptiles… the Rhino-horned Lizard, Ceratophora stoddartii. These peculiar beasts, sometimes affectionately known as Unicorn Lizards, are entirely restricted to the highland forests of Sri Lanka, adding yet another magical element to our many-faceted exploration of this Indian Ocean gem. We also encountered the Bulb-nosed Lizard, yet ANOTHER poorly known and yet spectacular Sri Lankan endemic! ~ Jonathan Rossouw
Climbing the rock fortress of Sigiriya
An afternoon thunderstorm was brewing upon our arrival at Sigiriya, the famous Lion Rock. We commenced the climb up the sheer face of this monolith, which rises over 600ft above the surrounding plains, only for the heavens to open with apocalyptic fury. Within seconds, we were drenched to the bone but, undeterred, our band of intrepid Apexers soldiered on, determined to reach the apex of this most iconic of Sri Lanka's landmarks. Dodging the lightning, we descended unscathed, to celebrate between the world's largest carved lion paws! ~ Jonathan Rossouw
The playful Toque Macaque
Endemic to the island of Sri Lanka, the Toque Macaque provided us with an afternoon of interesting behavior as we watched a troop deal with the mid-day heat in the best way possible. Dropping out of trees and pouncing into a nearby waterhole, they kept us entertained as they swam, wrestled in their raucous manner, and provided some fantastic photo opportunities. ~ Marco Tonoli
The magic of Polonnaruwa
At roughly the time that Europe was languishing in the Dark Ages, a Buddhist kingdom came into being in central Sri Lanka, with its capital at Polonnaruwa. A thousand years later, our Apexers wandered in awe through the ruins of this ancient city, marveling at the quality and scale of the stonework, from palaces to counsel halls, and temples to immense Buddha statues in finely grained granite. ~ Jonathan Rossouw
The Biggest Animal that has EVER lived!
Our quest to see the biggest creature that has ever graced Planet Earth was a resounding success! We sailed out from Dondra Head, Sri Lanka's southerly cape, on a gloriously calm Indian Ocean. Within half an hour we spotted the tall, columnar blow of our first Blue Whale! Over the next few hours, we were treated to close-up views of at least eight of these gentle leviathans as they lolled at the surface, exposing blue-grey, marbled skin and tiny dorsal fins, before raising their tail flukes to resume their quest for plankton. As if this was not enough, our boat was then buzzed by an acrobatic pod of Common Dolphins, followed by a few Bottle-nosed and a group of Long-beaked Spinner Dolphins. What a perfect end to our wildlife exploration in Sri Lanka! ~ Jonathan Rossouw
An exceptional Sri Lanka wildlife journey!
Just at the end of an exceptional two weeks exploring the Pearl of the Indian Ocean … Sri Lanka. 46 mammal species, 27 reptiles and 228 bird species encountered on a discovery of Sri Lanka wildlife. Another intrepid journey with Apex Expeditions! ~ Marco Tonoli
Learn more
To learn more about discovering the wildlife of Sri Lanka with Apex, visit our Sri Lanka expedition page.