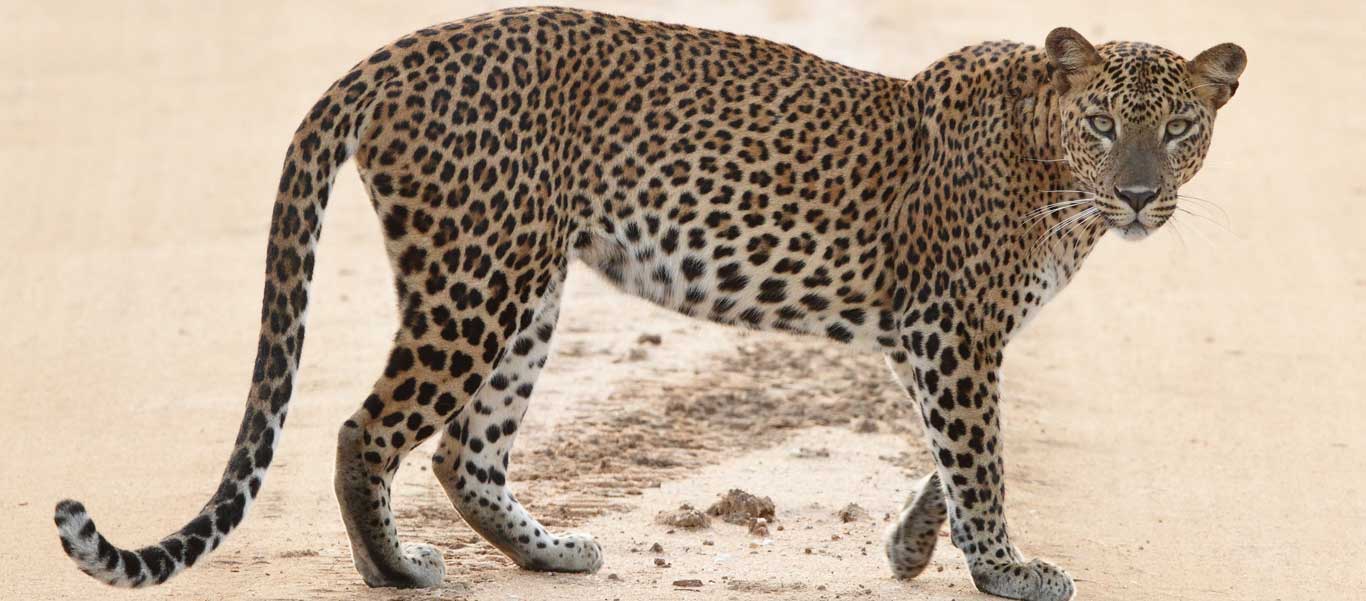 Sri Lankan Leopards hold a unique position at the top of the food chain due to the absence of the larger cats. Observations reveal them to be bolder and more social than the rest of their species. © Jonathan Rossouw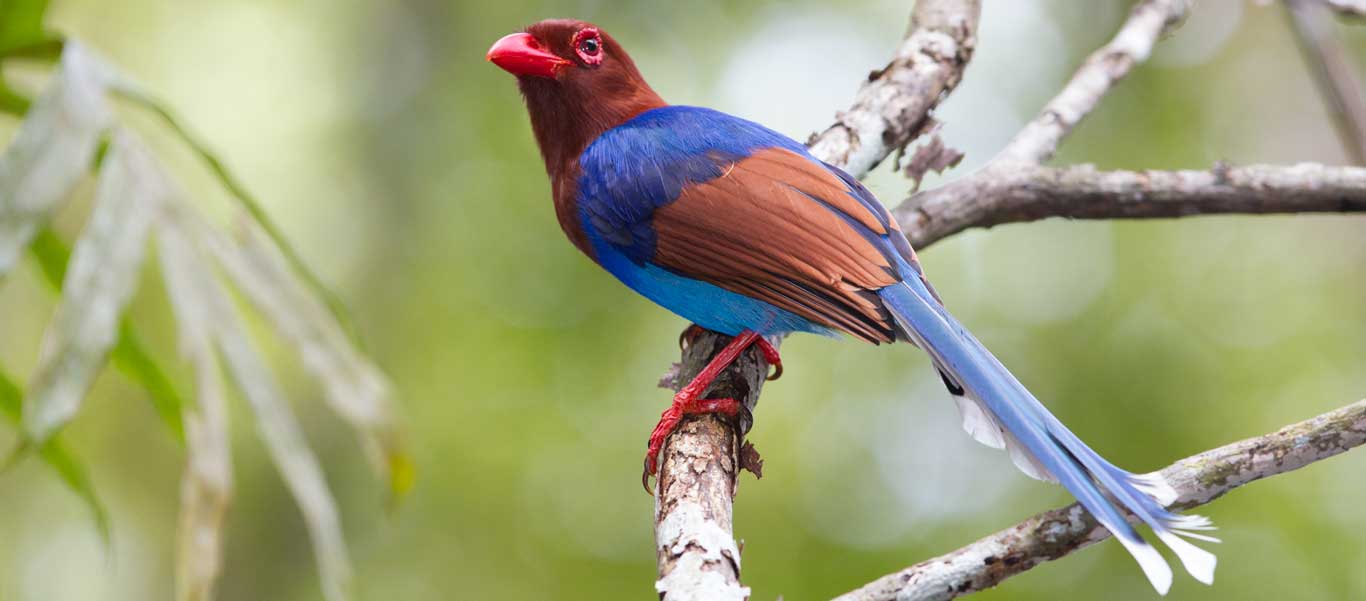 The endemic Sri Lanka Blue Magpie is easily distinguished from other Sri Lankan species by its distinctive, vivid coloring. © Jonathan Rossouw
The remains of the palace of Sigiriya, considered to be one of the best-preserved examples of ancient urban planning, sit atop a giant megalithic rock. © Gary Krosin
Yala National Park supports the largest herds of wild elephants in Sri Lanka with over 300 individuals. © Jonathan Rossouw
The shy Purple-faced Langur sports greyish-black face and not purple as its common name suggests. © Jonathan Rossouw
The rich feeding grounds off Sri Lanka's southern coast are considered the very best places anywhere in the world to encounter Blue Whales. © Gary Krosin
Sri Lanka Wildlife Tour
Sri Lanka's name among early Arab traders was "Serendib," a word that gave rise to our "serendipity." And it was fitting, as this island nation, located a mere 20 miles off the coast of southern India, is a vibrant confluence of distinct cultural history and pristine, wildlife-laden national parks and beaches. Hike to mist-shrouded Buddhist monuments, stroll through rolling green tea plantations, trek in national parks teeming with endemic fauna, and encounter Blue and Sperm Whales off the palm-studded southern coast. See Asian Leopards, Purple-faced Langurs, Asian Elephants and Sri Lanka's national bird, the Ceylon Junglefowl, amidst a jaw-dropping variety of other mammals, birds and butterflies on this 15-day Sri Lanka wildlife tour through the "Pearl of the Indian Ocean.


Destinations
Travel by Air
Travel by Road
Travel by Boat
Travel by Bullet Train
Travel by Rail
Travel by Dog Sled
Thursday, March 3: Arrive Colombo

Travel to Sri Lanka and touch down in the sprawling capital city of Colombo and transfer to your hotel. Meet up with your fellow travelers and Apex expedition leader for a welcome dinner at the hotel this evening. Overnight at the Vivanta Colombo Airport Garden Hotel.

Friday, March 4: Colombo / Sigiriya

Take a morning driving tour through the heartland of ancient Sri Lankan civilization, known as the country's "cultural triangle." Pass cultivated lowlands, a patchwork of rice paddies, and villages dotted with Buddhist temples and Roman Catholic churches, ending up in Sigiriya, or "Lion Rock", where the unforgettable rock-fortress of Sigiriya towers high over the surrounding plains. Used as a retreat for Buddhist monks and a strategic fortress by Sri Lankan kingdoms for millennia, Sigiriya boasts numerous sites of historic interest. Marvel at the well-preserved ruins of ancient royal palaces, with murals painted in natural dyes still retaining their color after centuries. Wildlife is conspicuous, too, with Bengal Monitors scuttling across the paths, troops of the endemic Toque Macaques lounging about the ruins, and birds such as Sri Lanka Grey Hornbill, Yellow-billed Babbler, and flocks of flame-colored Small Minivets.

Dinner and overnight at Jetwing Vil Uyana, with bungalows overlooking an attractive wetland of marshes and rice paddies that supports its own suite of animals, such as freshwater Mugger Crocodiles, Indian Pond Heron and Red-wattled Lapwing.

Saturday & Sunday, March 5 & 6: Sigiriya

You have two full days to explore Sigiriya, including a visit to Sigiriya Rock. Explore the magnificent ruined city of Polunnaruwa, Sri Lanka's most-celebrated historic site, where hundreds of ancient structures—tombs and temples, statues and stupas—still stand, giving a very good sense of how this World Heritage Site looked in its heyday, roughly 800 years ago. A former Buddhist kingdom, Polunnaruwa is famous for its intricately carved stonework bearing a strong Hindu influence.

A night safari spotlighting along the roads after dark is often productive around Sigiriya. With patience and perseverance you may find the Grey Slender Loris, a peculiar, nocturnal, insectivorous primate, as well as other species, such as the diminutive White-spotted Mouse Deer, Jungle Cat or even the scarce Fishing Cat. Dinners and overnights at Jetwing Vil Uyana.

Monday, March 7: Sigiriya / Kandy

After breakfast, visit the Dambulla cave temple, the best-preserved in Sri Lanka, then drive through the Knuckles Range to Kandy, in the northern part of Sri Lanka's hill country. Approaching the hills, the landscape becomes progressively more lush and well-watered, and you'll stop to visit a plantation of spices and Ayurvedic medicinal plants.

Kandy is the country's cultural capital, with a rich history centered around scenic Kandy Lake. Foremost amongst the city's attractions is the Temple of the Tooth, an immensely important Buddhist pilgrimage site harboring a tooth alleged to have belonged to Buddha himself. Dinner and overnight at Cinnamon Citadel Hotel.

Tuesday, March 8: Kandy / Nuwara Eliya

Visit the Peradeniya Royal Botanic Gardens, once the exclusive domain of Kandyan royalty, but transformed, during British colonial times, into a 125-acre garden boasting over 4,000 species of tropical plants. Birds may include the endemic Sri Lanka Hanging Parrot, Layard's Parakeet or the glamorous Crimson-fronted Barbet.

Afterwards, drive higher into "Hill Country", experiencing the crop that has so shaped Sri Lanka's history and become almost synonymous with the island: tea. Verdant plantations stretch out in every direction, set up by such well-recognized personalities as Thomas Lipton and John Murray. Stop to investigate one of the colonial-era tea factories, and savor a cup of "Ceylon's finest", before heading on to Nuwara Eliya in the central highlands. Known to some as "Little England" for its rosy village feel, Nuwara Eliya was a hill station set up by the British as a retreat from the heat and malaria of the lowlands. During its heyday, it was home to over 200 British families, with their trappings of colonial homes, sports clubs, a horseracing track, and even a golf course that is still considered one of Asia's finest. Dinner and overnight at the Grand Hotel.

Wednesday, March 9: Nuwara Eliya

In the mountains to the east of Nuwara Eliya lies Horton Plains, a grassy highland plateau studded with rhododendrons and surrounded by cool, mossy forests. Here, wild Water Buffalo and Sambar Deer, the largest in Asia, graze the grasslands. Hike through the forests keeping watch for the impressive Grizzled Giant Squirrel and the endemic Purple-faced Langur, or Leaf Monkey, known locally as the "Bear Monkey" due to its particularly shaggy coat. Avian endemics such as the attractive Yellow-eared Bulbul and Sri Lanka White-eye are fairly conspicuous, although perseverance will be needed to locate the attractive Sri Lanka Whistling Thrush. Return to the Grand Hotel in Nuwara Eliya for dinner and overnight.

Thursday, March 10: Nuwara Eliya / Sinharaja

Today, drive west to the Sinharaja Forest Reserve, a designated Biosphere Reserve and UNESCO World Heritage Site. Sri Lanka's single most important conservation area, Sinharaja protects the largest remaining area of tropical forest on the island, spanning an altitude from 1,000 feet to the cool heights of the Hinipitigala Mountain. An incredible two-thirds of the plants here are found nowhere else on Earth, and all but one of Sri Lanka's bird endemics also call the forest home. Dinner and overnight at the beautifully-positioned Rainforest Edge Resort, overlooking a tea plantation at the edge of the forest.

Friday, March 11: Sinharaja

Enjoy a full day exploring this scenic park, traversing a track through the forest in the pursuit of such spectacular creatures as Sri Lanka Junglefowl, the national bird, Yellow-fronted Barbet, bizarre Red-faced Malkoha and the exquisite Sri Lanka Blue Magpie. Tall Dipterocarp hardwoods tower overhead, pitcher plants and orchids line the track, and scanning the vegetation carefully may produce peculiar Rough-horned and Hump-nosed Lizards.

A feature of Sinharaja is the "bird wave" phenomenon, in which large feeding flocks, of multiple species, sweep through the forest, invariably led by the noisy, endemic Sri Lanka Crested Drongo. A special effort will also be made to locate a day roost of the rare Serendib Scops Owl, a rare forest owlet only very recently described to science. Dinner and overnight at the Rainforest Edge Resort.

Saturday, March 12: Sinharaja / Yala National Park

Drive eastward today, descending into the lowlands of the "Dry Zone" to Yala, Sri Lanka's most celebrated national park, for a three-night stay. Dinner and overnight at Jetwing Yala Hotel.

Sunday & Monday, March 13 & 14: Yala National Park

The jewel in the crown of Sri Lankan national parks, Yala consists of nearly 500 square miles of thorn scrub and coastal wetlands, and is home to healthy populations of wild Water Buffalo, Asian Elephant, and, notably, the highest density of Leopard in Asia. Herds of Spotted Deer are an attractive feature of the park, and form the Leopard's main prey base, the elusive Sloth Bear is sometimes found ambling along the dirt tracks, while smaller predators, such as Golden Jackal, Ruddy Mongoose and the scarce Stripe-necked Mongoose, may also be encountered.

Travel a short distance to the Tissa Wetlands, eight square miles of beach, lagoons and scrub boasting over 150 species of birds. The Spot-billed Pelican is a globally endangered species, as is the Lesser Adjutant Stork, and both are found here in healthy numbers. Other birds of note include Black-necked Stork, Greater Thick-knee and Eurasian Stone-curlew. Dinners and overnights at Jetwing Yala Hotel.

Tuesday, March 15: Yala / Bundala National Park / Mirissa

Rise early this morning and head to nearby Bundala National Park, an area of freshwater marshes, salt pans and scrub jungle famous amongst bird enthusiasts for its sheer numbers and concentration of waterbirds. Resident Painted Storks and Grey-headed Fish Eagles are joined by migrant shorebirds, terns and Ospreys, while the surrounding thorn bush, reminiscent of African savannas, support Chestnut-headed and Green Bee-eaters, Sri Lanka Woodshrike, and the glamorous Black-naped Flameback woodpecker. Both Mugger and the larger Estuarine, or Saltwater, Crocodile are also found in Bundala, with smaller but no less spectacular reptiles including Water Monitors and colorful Garden Lizards. After lunch, enjoy a drive along the shore to the sleepy beach town of Mirissa. Dinner and overnight at Mandara Resort.

Wednesday, March 16: Mirissa

The waters of the Indian Ocean south of Sri Lanka have recently been discovered to be one of the very best places anywhere in the world to encounter Blue Whales, the largest creature that has ever lived on Earth. Small numbers of these leviathans, along with Sperm Whales, Long-beaked Spinner Dolphins and, occasionally, Baird's Beaked Whales, appear to be attracted to the rich feeding grounds off Sri Lanka's southern coast. This time of year is a high point for sightings, and the hope is to get up close and personal with a few pods today on an offshore cetacean-spotting excursion. Dinner and overnight at Mandara Resort.

Thursday, March 17: Mirissa / Colombo

Spend a few hours this morning watching for more Blue Whales, before heading to the nearby city of Galle, with its must-see fort, a UNESCO World Heritage Site, dating from 1663, showcasing Dutch colonial rule in the area. The fort juts out over the ocean and consists of 89 acres of well-preserved walls and structures. It is a "living museum," as it remains a working community, with administrative offices, courts, and businesses. This afternoon, return to Colombo, where day rooms have been booked at the Vivanta Colombo Airport Garden Hotel. Enjoy a festive farewell dinner before you transfer to the airport in the late evening for your international flights home.
Have a question? Call us at 206.669.9272 /
800.861.6425

. Prefer online?Get in Touch

The Elusive Leopard
The Leopard is the quintessential cat, famous amongst wildlife enthusiasts for its power and feline grace. What's less well known is that it also holds the distinction of having the widest distribution of any terrestrial mammal, ranging throughout Africa and across Asia to Sumatra and Far Eastern Russia. Though widely distributed, they're always elusive, and Sri Lanka's Yala National Park offers one of the very best opportunities to experience this exquisite apex predator in the wild.