Boana Dancers at the Annual Tumbuna Sing-sing © Kevin Clement
Man at Sing-sing with Cuscus Headband © Kevin Clement
Bearded Huli Wigman © Kevin Clement
Tribesman © Kevin Clement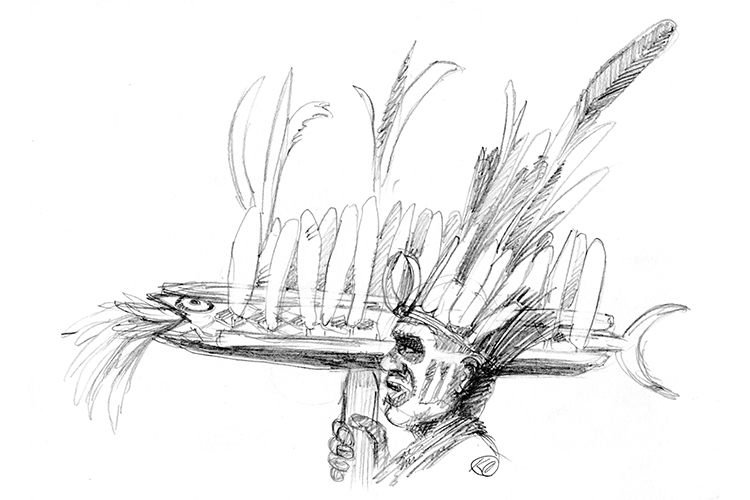 The Fish Dance at Yimas II Village © Kevin Clement
The Bamboo Band at Karawari Lodge © Kevin Clement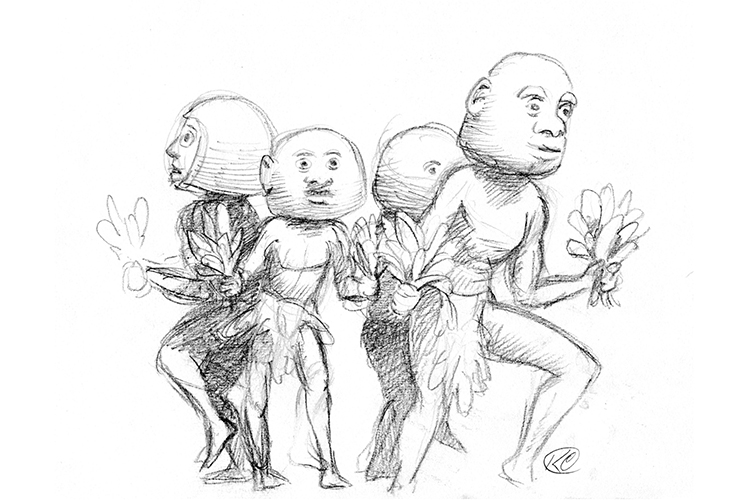 Asaro Mudmen Dancers © Kevin Clement
Whistling Kite © Kevin Clement
Sago Processing on the Karawari River © Kevin Clement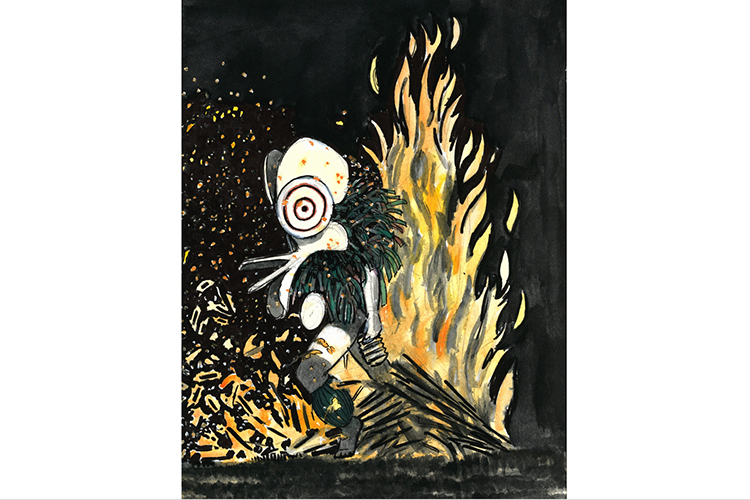 Baining Fire Dancer © Kevin Clement
Papua New Guinea Images: An Artist's View
Apex co-founder and expedition leader Kevin Clement finds inspiration for a new set of Papua New Guinea images on our recent 18-day expedition. 
Papua New Guinea Images – a Visual Paradise
Ask anyone who's been there, and they will tell you that New Guinea is a paradise for photographers. With the greatest cultural diversity of any comparable area on earth, the extravagant displays and outrageous ornamentation of the island's native peoples rival (and, interestingly, parallel) the extravagance of its endemic birds of paradise.
On our just-completed journey through the hinterlands of Papua New Guinea, we had ample opportunity to collect stunning images. We started the trip at the annual Tumbuna Sing-sing, which brings together many of the disparate tribes of the country for a dancing competition that is beyond colorful. From there we moved on to both highland and lowland locations, visiting many villages, and eventually racking up a list of over 200 bird species, including 13 birds of paradise.
Traveling with my Sketchbook
Something that may not occur to many people, but which I am here to testify, is that New Guinea is also rife with artistic opportunities. For someone who travels with a sketchbook, as I do, the subject matter is endless, varied, exotic, and compelling. I don't get many chances to pull it out when I'm leading a trip, but when I do, inspiration is always right there in front of me. On this trip, I had exactly seven such opportunities, and the results are here. To round out the collection, I've also included three from previous trips.
See New Guinea with Your Own Eyes
I hope you enjoy the images presented here, and the photographic ones you'll find elsewhere on our website. But as you do, bear this in mind: pictures are just pictures. However beautiful, they convey only a fraction of the full experience of being there. So, if you get the chance, go to New Guinea, see the people and the birds with your own eyes, and collect some amazing images of your own.
Learn More
Find out more about Kevin and perhaps join him on one of his upcoming expeditions.