Kevin Clement
The thing that I love is wild country—exploring it, learning about it, drawing it, and helping others discover it. Working in expedition travel, I get to do all four.
Campbell Island, part of New Zealand's sub-Antarctic archipelago, is wild, rugged, remote, inaccessible, and harbors an amazing collection of endemic flora—my version of paradise.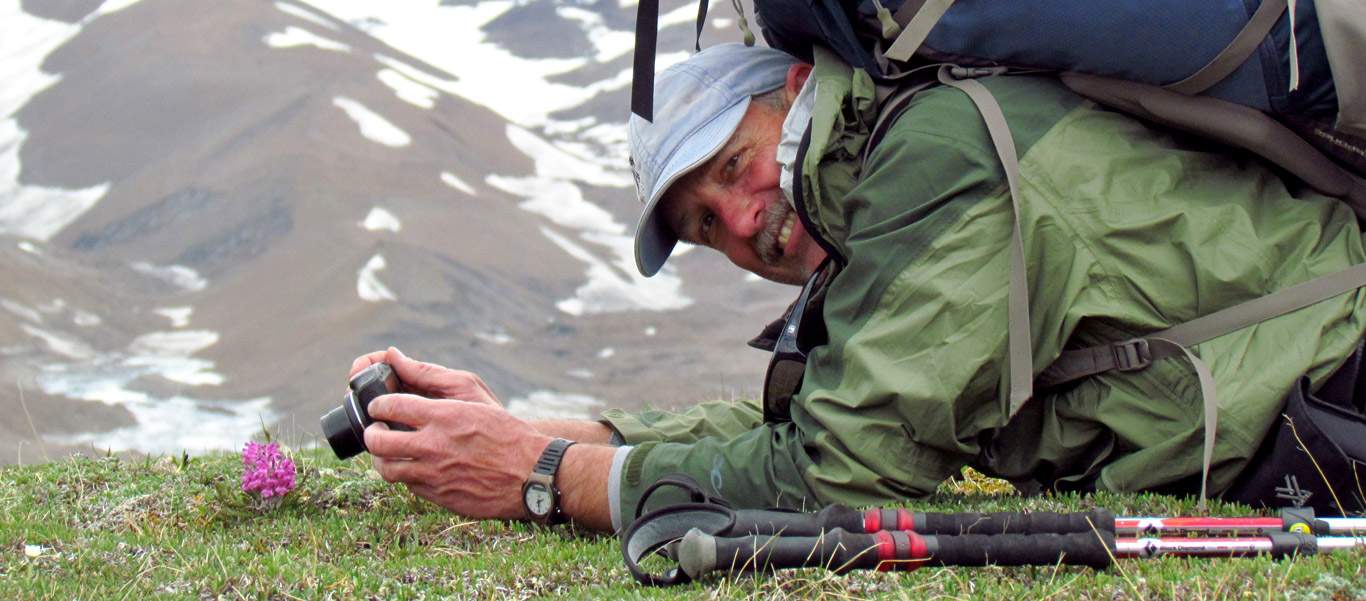 A typical picture of me in every way—backpacking in the Alaska Range, lying on my belly, taking a macro photo of a lousewort.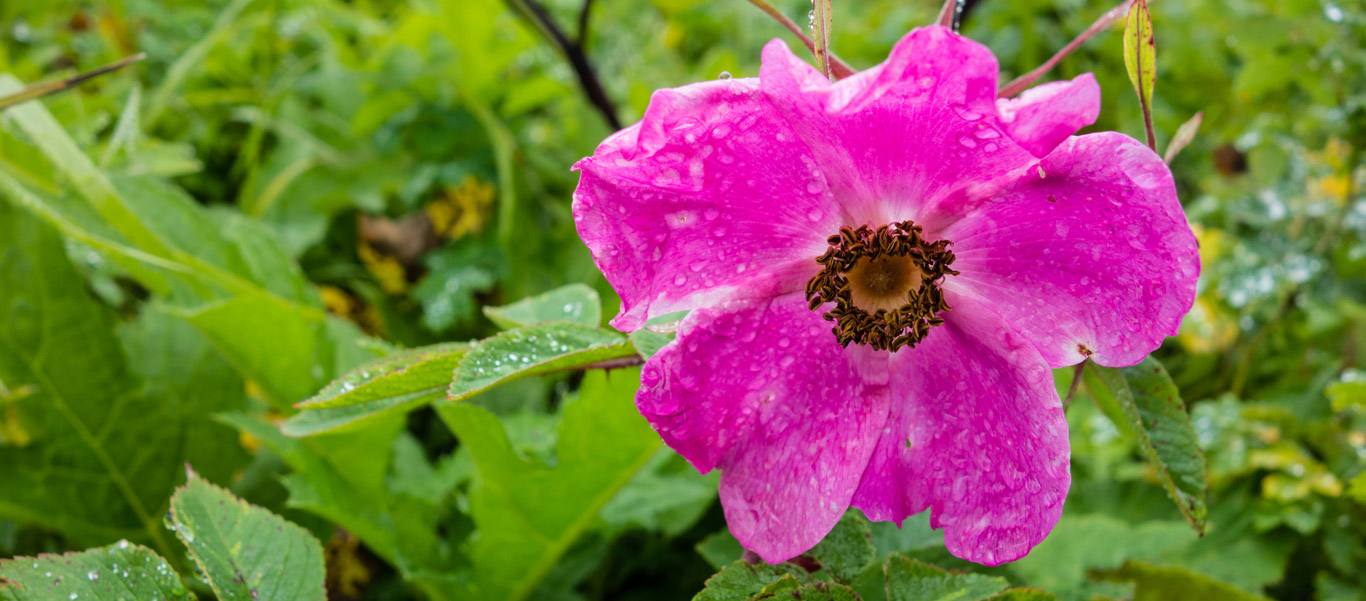 For a few weeks each summer, the boreal forests of Canada and Alaska light up with the blossoms of the Prickly Rose (Rosa acicularis).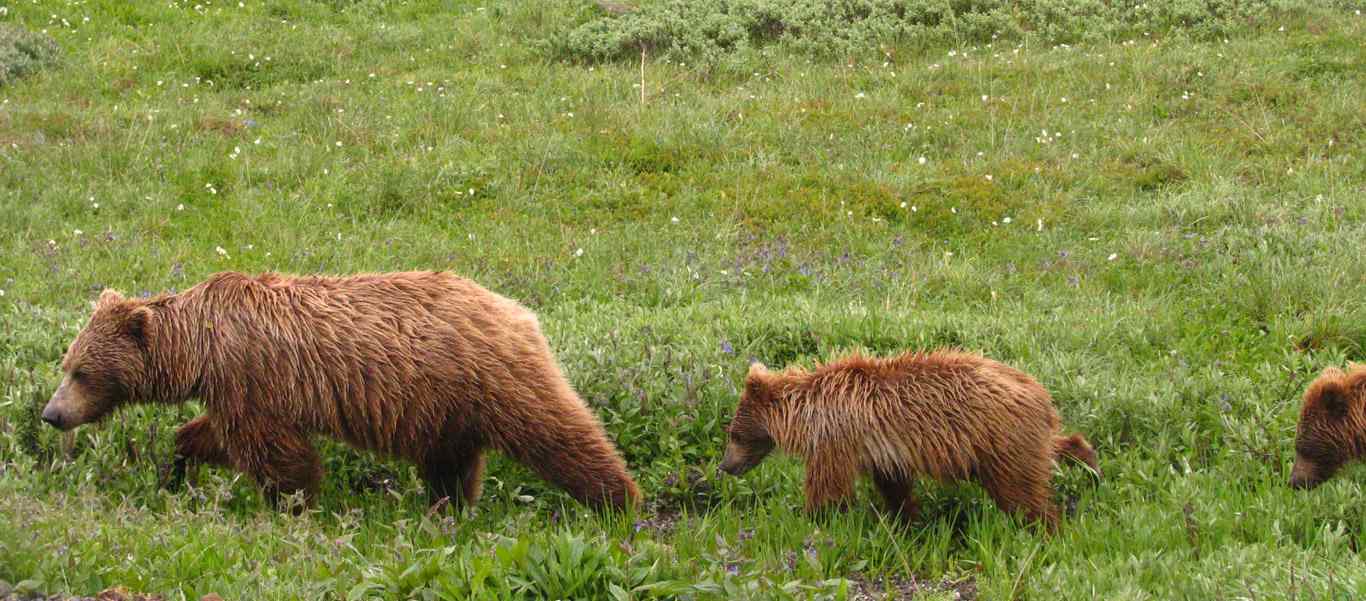 A Grizzly Bear cub (Ursus arctos) may spend three years with its mother, learning the complex skills it will need to survive in a demanding environment.
Emperor Penguins (Aptenodytes forsteri) are curious creatures, and will approach any foreign object they see on the ice—for example me, lying there with my sketchbook.
The tundra that lies beyond the northern tree line is itself a kind of miniature forest, and many of the "trees" turn colors in the fall.
Expedition Leader Kevin Clement
Not many people can say they live year-round inside Alaska's Glacier Bay National Park (the actual number is about 10), but Kevin Clement is one. He also lived for many years in Denali National Park. Nowadays, however, he spends most of his time guiding ecotourism and adventure travel trips on all seven continents.
Kevin has served as the Denali Foundation instructor for natural history and as a boat operator in Glacier Bay's wilderness waters. For several years he worked with the sled dogs of Denali, rebuilding sleds in the summer and patrolling in the winter. As a Certification Instructor for the Wilderness Education Association he led month-long outdoor leadership courses under the auspices of the University of Alaska. He has lived in several other national parks and has guided groups in whitewater rafts, on cross-country skis, by dog sled, and on foot, earning certifications in scuba diving, swiftwater rescue, and wilderness medicine, as well as a Coast Guard Master's license. Most recently he's been coordinating and leading sea kayaking excursions in Antarctica and the Arctic. Kevin is also a veteran of Central and South America, designing expeditions to Nicaragua, Panama, Uruguay and Paraguay for Apex.
And as he always has, he still draws and paints. His first career was as an illustrator, and his work has appeared in various juried art shows, several times winning juror's or people's choice awards. He never travels without his sketchbook. Or his sense of humor.
"Kevin is the consummate Renaissance Man, possessing a poetic and artistic take on the world that adds a fascinating dimension to his interpretation as you explore alongside him."
-Judy M., Hawaii
Kevin's Expeditions
Chile to Tahiti (March 17 – April 10, 2020)

A South Pacific odyssey with awe-inspiring scenery, world-class snorkeling, huge concentrations of seabirds, and fascinating history at both Easter and Pitcairn Islands.
Amazonian Brazil (May 1–17, 2020)

Cruise deep into the heart of the Amazon from Manaus to Santarém at the peak of the annual flood, searching for rare and sought-after primates and birds.
Sea of Okhotsk (June 17 – July 6, 2020)

Untouched landscapes and wildlife encounters, including bears, rivers choked with salmon and clouds of birds that move across the sky like swarms of locusts.
Coastal Alaska (July 13–25, 2020)

Explore wildlife-rich waters, lush rainforest and vibrant cultures in an intimate way that few visitors ever do, in the company of a resident: Apex co-founder Kevin Clement.
Hudson Bay, Baffin Island & Greenland (August 4-22, 2020)

Start from the famous Polar Bear town of Churchill and continue the quest for Arctic wildlife—Belugas, Narwhals, Muskoxen, and more—among the islands of the Far North.
Western Mongolia (September 24 – October 10, 2020)

Witness the magnificent Golden Eagle Festival, stay in traditional ger camps, search for wild horses, and track Snow Leopards in the lower-altitude Altai Mountains.
China: Sichuan & Tibetan Plateau (October 13–26, 2020)

Search the bamboo forests and alpine grasslands of China's Sichuan province for Red Panda, Pallas's Cat and fabulous pheasants.
Spice Islands, Raja Ampat & West Papua (January 5–19, 2021)

Stroll colorful spice markets on historic, rarely-visited islands, swim with graceful Whale Sharks, snorkel over vibrant coral reefs and seek the Red Bird of Paradise.
Ask Kevin a question about his upcoming expeditions?
Get in Touch

Ursus arctos
The Grizzly Bear is the largest land carnivore on earth. The biggest males may weigh over a ton. Despite its massive size, on a short haul it can outrun a racehorse. Or give the best human sprinter a 60-yard head start in a 100-yard dash, and still win. To see an animal that big move that fast is a shocking experience.