The white "spectacles" of the Spectacled Bear are highly variable in extent, often being asymmetrical, and are individually specific. © Jonathan Rossouw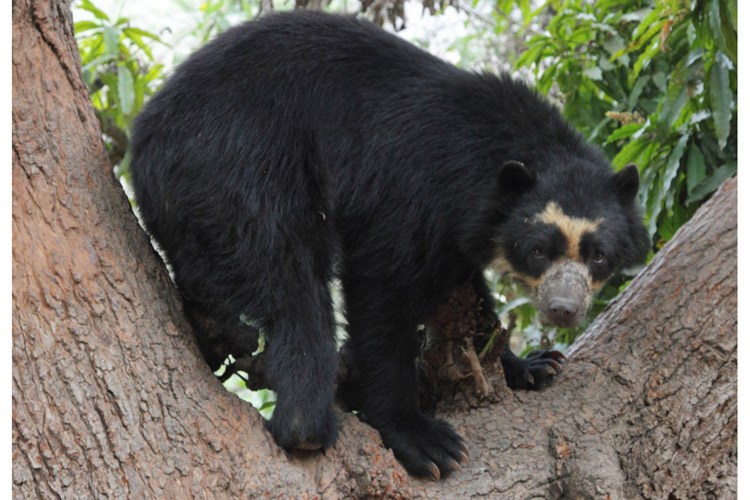 Spectacled Bears are excellent climbers, using their skills to forage for bamboo shoots, flowers and fruits in season. © Jonathan Rossouw
"Our" bear is spotted foraging in the damp paramo grassland of Cayambe-Coca National Park. © Jonathan Rossouw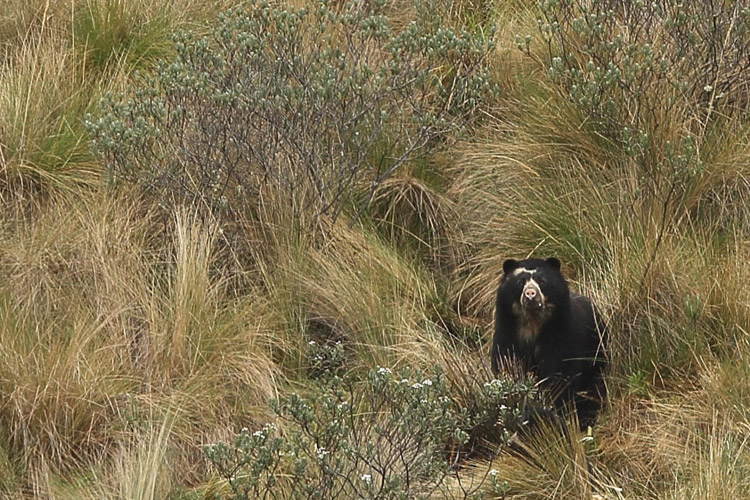 The female peers at us from the steep tussock grassland. © Jonathan Rossouw
We managed excellent views of the family foraging in the paramo, while still keep a reasonable distance to avoid disturbance of any kind. © Jonathan Rossouw
Bromeliads, both terrestrial and arboreal, form a key part of the Spectacled Bear's diet, and these 6 month-old cubs seemed already to have found them to their liking! © Jonathan Rossouw
The cubs were still nursing and their mother would periodically pause in her foraging to allow them to suckle. © Jonathan Rossouw
Field Journal: Reclusive Spectacled Bear on our Ecuador Tour
It's no surprise that safaris started in Africa. The open thorn savannas, with their legendary abundance of large mammals, are the perfect primer for wildlife-viewing. Not so for South America. Although it boasts more species of mammals, birds, reptiles, amphibians, insects, flowering plants, indeed, everything, than any other continent, South America does not surrender its riches easily. It requires a serious, dedicated naturalist with patience, perseverance and a healthy dose of luck to start digging out its rarer biological treasures, which make those treasures all the more precious, and none more desirable than a large, charismatic mammal!
Having spent over a year doing fieldwork in the Andes and working as a naturalist guide in Amazon lodges in Ecuador in the late 1990s, I've been lucky enough to spend time observing many of the country's birds and mammals but one creature that had always eluded me, despite much searching in suitable habitat, was the Spectacled Bear. This handsome animal, slightly larger than a Black Bear, sports a dense, ebony coat with variable white "spectacles" around the muzzle, and derives from an ancestral species of bear that crossed the Middle American land bridge into South America. A scarce denizen of Andean habitats, from dense deciduous forest through bamboo-choked cloudforests to soggy paramo grasslands above treeline, it lives a mostly solitary existence and is very rarely encountered, even by naturalists spending large amounts of time in the field.
This is definitely not the kind of animal that one ever expects to find on a short trip but we had nevertheless included a day in our Apex Ecuador expedition that was loosely dedicated to searching for this near-mythical animal. No one really thought we had much of a chance, least of all me, but we were prepared to give it a good shot. We commenced our search just below Papallacta Pass, on the main access road between Quito and the Amazon, where we knew that bears had occasionally been encountered grazing on the abundant ground bromeliads that dot the high paramo grasslands on the slopes of Volcan Cayambe. Despite intermittent rain and swirling mist massively reducing visibility, we soldiered on, and hit jackpot when we located a slope whose ground bromeliads showed evidence of recent grazing, in fact very recent grazing! Careful scanning of the surrounding paramo revealed nothing, so we hiked further along a high ridge, which afforded better visibility. We'd all but given up when I noticed a distant black spot moving slowly along the valley bottom! A quick check with binoculars confirmed it: a female Spectacled Bear, accompanied by two large cubs! Quickly descending the ridge, we moved into position overlooking the head of the valley, finding the female napping quietly at the edge of a grove of high-altitude Polylepis while her rambunctious kids play-wrestled and shimmied up and down the trees above her! She eventually woke from her nap and sauntered up the grassy slope to a bromeliad, which she proceeded to munch on like a huge artichoke, before sitting back on her haunches to allow her two cubs to nurse. After almost three hours, the family finally clambered up into dense cover and out of sight, leaving us all with a deep sense of privilege at having experienced so intimate an insight into so shy and reclusive an animal.
And last night at our Ecuador adventure tour farewell dinner in Quito, when the group came to vote for the wildlife encounter of the trip, we achieved a unanimous result!
Visit our Ecuador Adventure Tour page to learn more about this expedition.