A male Western Lowland Gorilla in the forest near Ngaga Camp. Photo credit Giovanna Fasanelli
An excited group of Apex-ers on their way to Odzala National Park, Congo. Photo credit Giovanna Fasanelli
Through the forest to view the Western Lowland Gorillas of Odzala National Park. Photo credit Giovanna Fasanelli
The regal, namesake Silverback of the Neptuno Group. Photo credit Dan Kaufman
A Western Lowland Gorilla perched in a tree near Ngaga Camp. Photo credit Giovanna Fasanelli
Western Lowland Gorilla from the Neptuno group. Photo credit Giovanna Fasanelli
A young Western Lowland Gorilla gazes skyward. Photo credit Dan Kaufman
A Western Lowland Gorilla female and baby from the Jupiter group. Photo credit Jonathan Rossouw
A beautifully-colored Blue-breasted Bee-eater near Ngaga Camp. Photo credit Giovanna Fasanelli
Strolling through the forest. Photo credit Dan Kaufman
Jupiter group, female Western Lowland Gorilla with baby. Photo credit Jonathan Rossouw
Mother and baby from the Neptuno group. Photo credit Dan Kaufman
An amazing variety of Congolese forest fruits. Photo credit Jonathan Rossouw
Colorful insects against the green forest backdrop make excellent macro photography subjects. Photo credit Giovanna Fasanelli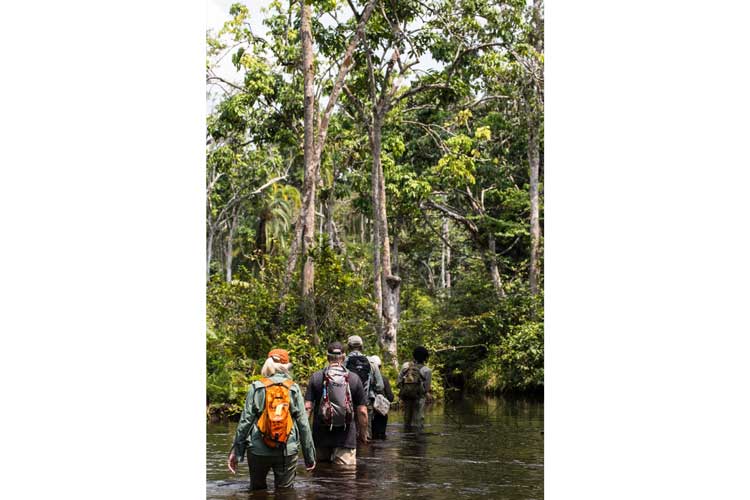 Our intrepid explorers on a swamp walk near Lango Camp. Photo credit Giovanna Fasanelli
A Forest Elephant encounter during the Lango swamp walk. Photo credit Giovanna Fasanelli
Forest Buffalo herd wades through the Lango bai. Photo credit Jonathan Rossouw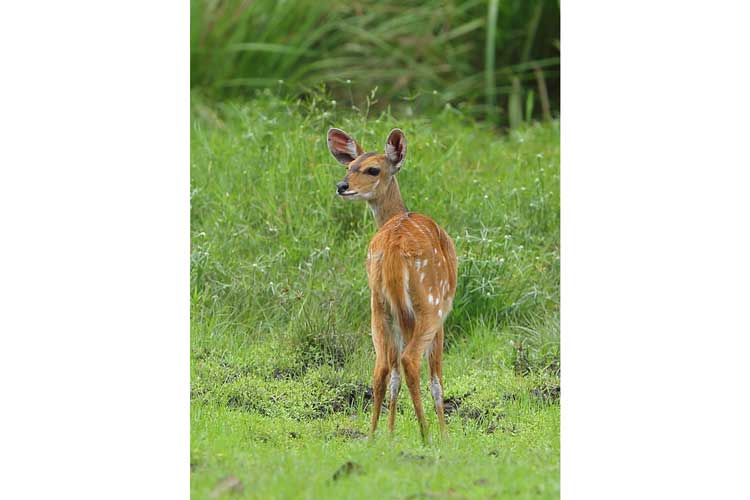 A Harnessed Bushbuck peers over his shoulder at our appreciative group of onlookers. Photo credit Jonathan Rossouw
Birding at Lango's legendary bai. Photo credit Jonathan Rossouw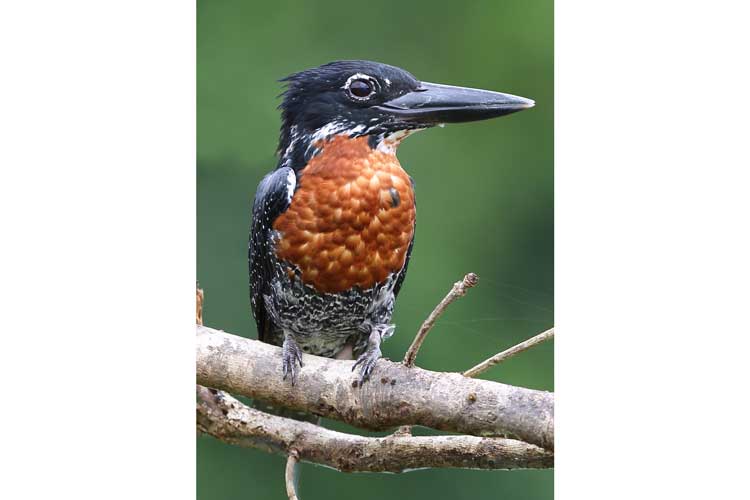 A Giant Kingfisher poses near Lango Camp. Photo credit Jonathan Rossouw
Happily exploring through the tall grass near Lango Camp. Photo credit Giovanna Fasanelli
A flock of African Green Pigeons bursts up from the bai. Photo credit Jonathan Rossouw
Having a tranquil paddle on the Lekoli River in search of wildlife. Photo credit Jonathan Rossouw
Forest Buffalo in front of Lango Camp. Photo credit Jonathan Rossouw
A short break during the swamp walk to take it all in. Photo credit Giovanna Fasanelli
Even the littlest creatures pose for the camera. Photo credit Giovanna Fasanelli
Field Journal: Congo Gorilla Safari
It's hard to believe that it was only a week ago that our Congo gorilla safari began with our charter flight lifting off from Brazzaville International Airport, banking over the mighty Congo River before winging over seemingly endless forest towards the vast wilderness of Odzala National Park. We landed at the grass airstrip of Mboko, to be met by Karl and Alon, experienced guides with the newly formed Congo Conservation Company. Winding slowly towards our first camp at Ngaga, the sense of excited expectation in the group was almost palpable, a feeling heightened by the veritable cacophony of exotic sounds—hornbills, greenbuls and barbets—emanating from the dense canopy above us. Progress was slow, as first the flashy Blue-breasted Bee-eater and then its significantly rarer relative, the Black-headed Bee-eater, made an appearance, followed shortly by a family of outrageously adorned Plumed Guineafowl, another scarce Central African specialty.
There's no doubt that the main reason that keen travelers visit Odzala is to track the habituated Western Lowland Gorillas, and our two days spent with these amazing creatures will surely rank amongst everyone's most memorable wildlife encounters. The Neptuno group and its confident namesake Silverback definitely stole the show from the more reclusive Jupiter and his larger harem, with encounters ranging from the intimate to the sensational. From youngsters at play to dominance displays, termite-harvesting, and even a conflict with a wild, satellite male, we experienced the full gamut of gorilla behavior. We left Ngaga with a deep sense of appreciation for these phenomenal forest denizens and the incredible work that's being done by the primatologist, Dr. Magda Bermejo, and her team of trackers and field assistants, to study and protect them.
The camp at Lango's legendary bai was our next destination, providing an even more varied experience of the rich habitats within Odzala. From exploring the exquisite Lekoli River by kayak to watching herds of wallowing Forest Buffalo, wading waist deep through the swamp on a search for Red River Hogs in the flooded forest to appreciating Sitatungas bounding away through the sedges in the bai, these were all tantalizing insights into the fascinating world of the Congo rainforest.
Amazing what we've seen and done on this week-long Congo safari! Rwanda and its charismatic primates beckon us tomorrow… with the prospect of making this Apex trip the first to ever see BOTH gorilla species on one gorilla safari! Watch this space for an update from our Rwanda safari, coming soon…
Learn more about seeing Western Lowland Gorillas in Congo by visiting our Congo & Central African Republic page.