Congo & Central African Republic
Western Lowland Gorillas inhabit some of Africa's densest rainforests, where they find plentiful fruit, roots, and shoots for their vegetarian diet. © Giovanna Fasanelli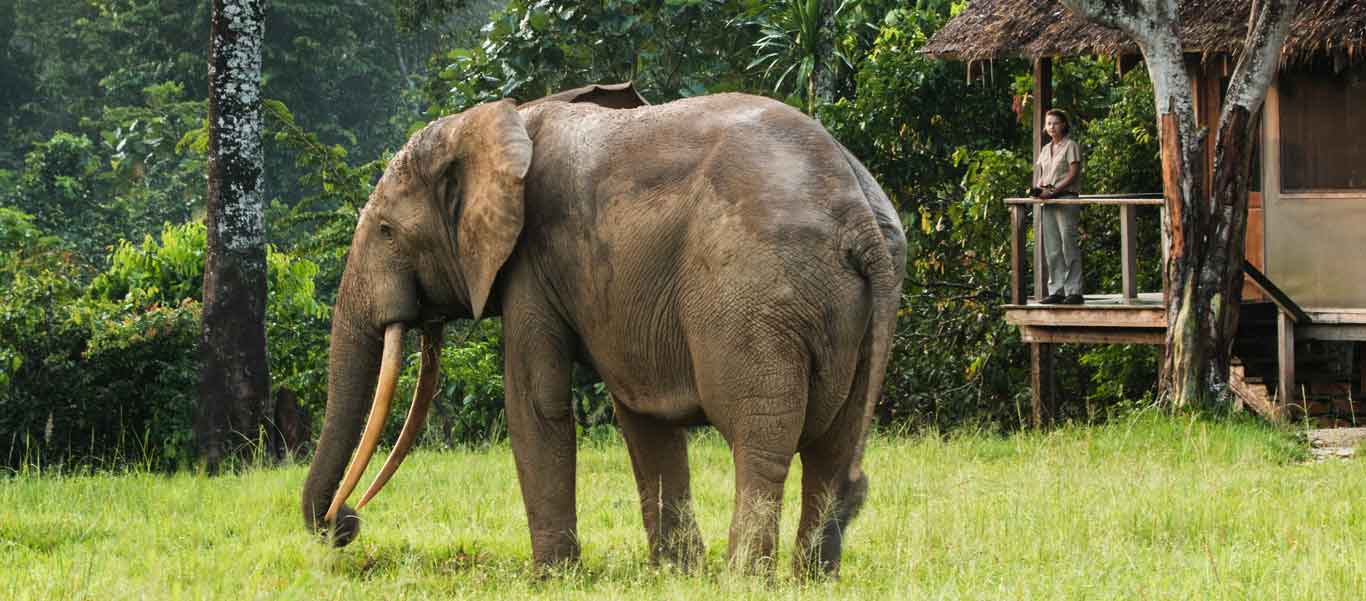 The tusks of the Forest Elephant—a common visitor at Mboko Camp—are straight, instead of curved, helping it move through dense forest with greater ease. © Odzala Discovery Camps
Kayak along the Lekoli River, watching the banks for Forest Elephants, palm-loving De Brazza's Monkeys, and scarce Red River Hogs. © Jonathan Rossouw
Dzanga Bai, a clearing in the rainforest, attracts Forest Elephants, Western Sitatunga and the elusive Bongo to its mineral-rich waters.
At Lango Bai, a clearing located right next to camp, watch Forest Buffalo or Harnessed Bushbuck grazing, and Guereza Colobus foraging overhead. © Jonathan Rossouw
African Green Pigeons eat mainly fruit, especially figs, and forage in the high canopies of fruit trees, where their green plumage provides camouflage. © Odzala Discovery Camps
Congo Gorilla Trekking and Central African Republic Safari
The geographic heart of Africa, where gorillas, elephants, and Chimpanzees still live out their lives with little to no human contact, has often been called the "last place on Earth." The vast majority of Congo is covered by virtually untouched tropical rainforest, home to the world's largest populations of Western Lowland Gorillas and Chimpanzees. Dzanga-Sangha Special Reserve in the Central African Republic is a wild and rarely-visited area, harboring some of the highest densities of Forest Elephants, as well as Western Lowland Gorillas, and numerous other primate species. Here, in the national parks and reserves of the Republic of Congo and Central African Republic, we also find a diverse array of antelopes and birds in staggering concentrations. Join Apex on this expedition through the unspoiled forests and isolated savannahs of the Congo basin, and count yourself among the very few visitors to experience this primordial Eden.


Destinations
Travel by Air
Travel by Road
Travel by Boat
Travel by Bullet Train
Travel by Rail
Travel by Dog Sled
Wednesday, July 25: Arrive Brazzaville, Republic of Congo

Arrive in Brazzaville, capital of the Republic of Congo—not to be confused with its hulking, and less politically stable, neighbor to the south of the river, the Democratic Republic of Congo. Brazzaville's past as a French colony quickly becomes apparent in its cathedrals, museums, and boulevards. Welcome dinner and overnight at the elegant Radisson Blu, overlooking the mighty Congo River.

Thursday, July 26: Brazzaville / Odzala National Park, Ngaga Camp

Rise early for your flight to Odzala-Kokoua National Park, in the northwest of the Congo. At 5,000 square miles, Odzala-Kokoua is a 'frontier forest', spanning national boundaries and harboring some of the last extensive blocks of Congolese forest. It is undoubtedly one of the most important strongholds for Western Lowland Gorilla remaining on Earth. Receiving 60 inches of rain annually, the region supports a rich diversity of habitats, from swamp and terra firme forest, to savannah and slowly meandering rivers, providing ideal habitat for over 100 mammal species, at least 400 birds and over 4,500 varieties of plants.

Upon arrival at the airstrip, drive to the southwest of the park to Ngaga Camp, situated in a sea of Marantaceae—thickets of seemingly impenetrable giant herbs in the Arrowroot family. This is the habitat favored by Western Lowland Gorillas, which you will spend the next two days tracking. If time permits this afternoon, take a forest walk along the Ngaga Stream below camp. Before dinner, join your expedition leaders for a briefing on Western Lowland Gorilla biology, and the etiquette when tracking the habituated Ngaga groups. Dinner and overnight at Ngaga Camp.

Friday & Saturday, July 27 & 28: Odzala National Park, Ngaga Camp

Wake up before dawn each morning to fully appreciate the sounds of the rainforest coming to life. After breakfast, join expert tracker-guides on foot, starting the gorilla tracking where the selected family group slept the night before. Though their home range sizes are relatively small, they can move quickly through the thick Marantaceae, and you may cover anywhere from two to five miles locating them. The dry season, from June to August, is the best time of year to spot and photograph these magnificent apes, as they spend larger amounts of time up in the fruiting trees, more exposed than when they're on the ground. Once the gorillas are found, settle in and note the sheer size and strength of the Silverback, or watch the youngsters play as their mothers forage for food.

The afternoons can be spent on a forest walk, with luck spotting Crowned and Mustached Monkeys. Odzala is also home to the highest concentration of Chimpanzees in central Africa, which, while often heard on these forest walks, are shy, elusive, and rarely seen. Birders may catch a glimpse of the outlandish Great Blue Turaco or one of the Congolese 'specials,' such as the immense Black-casqued Wattled Hornbill or Bare-cheeked Trogon. Return to camp to enjoy a sundowner on the main deck overlooking the forest canopy and Ngaga Stream. As the nocturnal sounds of the Congo forest denizens rise after dark, be sure to take advantage of a spot-lighting walk in search of Southern Needle-clawed and tiny Demidoff's Dwarf Galagos, also known as bushbabies. Also, keep watch for the bizarre, gliding Lord Derby's Anomalure, or perhaps even Milne-Edwards' Potto, a bizarre slow-moving primate known locally as the "softly-softly." Dinners and overnights at Ngaga Camp.

Sunday, July 29: Odzala National Park, Ngaga Camp / Lango Camp

Following breakfast, load up the vehicles for a game drive to Lango Camp, located on the edge of the forest by the Lekoli and Mambili Rivers. Pass through a mosaic of closed-canopy forest and tall savannah, where hornbills chatter overhead and Forest Buffalo are commonly encountered at roadside mud wallows. This afternoon, stretch your legs and take in the sights and sounds of Lango on a walk around the camp. Dinner and overnight at Lango Camp.

Monday, July 30: Odzala National Park, Lango Camp

One of the unique aspects of Odzala is its numerous clearings, or 'bais', that offer the rare chance to view shy, forest-dwelling wildlife. Lango Bai, located right next to camp, provides the opportunity to watch Forest Buffalo or Harnessed Bushbuck grazing, and Guereza Colobus foraging overhead, while enjoying your morning coffee. For birders, Lango Bai harbors rare species such as Hartlaub's Duck and Forbes's Plover, but it's often the sheer numbers of Grey Parrots and African Green Pigeons, gathering to feed on minerals, that impress visitors most.

After breakfast, take a guided forest walk in search of the area's astonishingly high number of diurnal primates, such as the shy, but numerous, Grey-cheeked Mangabey and the Putty-nosed Monkey, as well as rare antelopes such as Bongo, Western Sitatunga, and Black-fronted Duiker. After dinner, take a night walk on the camp's wooden boardwalks, offering a close view of fascinating nocturnal wildlife. Spotted Hyena are frequently seen and, with luck, you may even encounter the rare Water Chevrotain, a cat-sized ungulate also known as the Fanged Deer. Dinner and overnight at Lango Camp.

Tuesday, July 31: Odzala National Park, Lango Camp / Mboko Camp

Enjoy an early breakfast, savoring the sunrise over the primeval forest, watching to see what animals make an appearance in the bai today. 4x4s provide a game viewing transfer, followed by a walk on raised wooden pathways through marshland, to nearby Mboko Camp, situated in an area of lush savannah on a tributary of the Lekoli River, where hundreds of towering termite mounds create an otherworldly effect. After lunch, choose between a cruise on the Lekoli, looking for Forest Elephants, palm-loving De Brazza's Monkeys, scarce Red River Hogs and Slender-snouted Crocodiles on the riverbanks, or a final adventure walk in the Likeni River. Dinner and overnight at Mboko Camp.

Wednesday, August 1: Odzala National Park / Dzanga-Sangha, CAR

Bid farewell to Odzala-Kokoua and the Republic of Congo today, as you transfer to the airstrip for a series of private flights, via Ouesso to Bayanga, located in the heart of the Dzanga-Sangha Special Reserve in extreme southwest Central African Republic (CAR). A short drive brings you to Sangha Lodge, located with panoramic views of the meandering Sangha River. After lunch, venture out for a forest walk in hopes of spotting the world's only habituated Black-bellied Pangolin, a rare forest creature sometimes known as a "scaly anteater", followed by a sundowner cruise on the Sangha River. Dinner and overnight at Sangha Lodge.

Thursday, August 2: Dzanga-Sangha

Spend the day at the spectacular and historically significant Dzanga Bai. Due to its mineral-rich waters and location in the middle of the rainforest, Dzanga Bai attracts huge numbers of Forest Elephants—anywhere from 40 to 150 at a time—which made it a prime target for poachers only a few years back, during the armed conflict that ravaged CAR. On one day, 26 elephants were killed here. After that, local people, NGOs and UNESCO worked tirelessly to ensure strict protection for the region, and a renewed focus on conservation of these majestic creatures. Watch young elephants frolic in the water, and the tenderness with which their mothers attend to them. You may also see scores of Forest Buffalo, Western Sitatunga or its more elusive cousin, the shy Bongo, or sounders of Giant Forest Hogs. Observe from platforms, and even venture into the swamp and walk knee-deep through the bubbling water for a closer look. After dinner, take an evening spotlighting walk around camp in search of Thomas's Galago, African Palm Civet, or the huge Fraser's Eagle Owl and Vermiculated Fishing Owl. Dinner and overnight at Sangha Lodge.

Friday, August 3: Dzanga-Sangha

After breakfast, take the rare opportunity to venture out with a group of local Ba'aka men and women (formerly called Pygmies) on a traditional net hunt. Learn about their medicinal botany, and taste the leaves and nuts they gather for food. Listen to the women sing traditional hunting songs, as they make their way through the forest with impressive ease, positioning their nets of vines at strategic points in the forest. With luck, you will experience the excitement of a catch, one of the last great displays of traditional forest hunting on Earth, with every member of the hunting party receiving their share of the spoils. After lunch, take a boat upriver to a series of beautiful waterfalls, on top of which the extremely rare and endangered Red-headed Picathartes, or White-necked Rockfowl, has made its home for millions of years. See these beautiful birds returning to their nests for the night. Enjoy more evening spotlighting, before dinner and overnight at Sangha Lodge.

Saturday, August 4: Dzanga-Sangha

This morning, take a guided trip to Bai Hokou to see the world's only habituated group of Agile Mangabeys, medium-sized ground-dwelling monkeys that will quickly live up to their name, as they rummage through leaves and tree holes for insects, and dig up mushrooms from the ground with staggering dexterity. This group is relatively large, numbering more than 200 individuals, and the cacophony of their distinctive "whoops" echoing through the rainforest is sure to impress. Walk the raised platforms around camp in search of White-spotted Flufftail and the endemic Dzanga Robin, as well as the jewel-like Yellow-bellied Wattle-eye. Enjoy a final sunset overlooking the Sangha River, before dinner and overnight at Sangha Lodge.

Sunday, August 5: Dzanga-Sangha / Bangui

Enjoy one last breakfast and activity around camp, before departing on a flight north to the national capital of Bangui this afternoon. Exchange photos and stories of your adventure over a celebratory farewell dinner, followed by an overnight, at Hotel Ledger Plaza.

Monday, August 6: Depart Bangui

This morning, transfer to the airport for your international flights home.
Have a question? Call us at 206.669.9272 /
800.861.6425

. Prefer online?Get in Touch

The Black-bellied Pangolin—a rare and most unusual mammal
The Black-bellied Pangolin, also called the Long-tailed Pangolin, spends most of its life in the canopy. Its tail can be as long as two feet, almost twice the length of its body. With 46-47 vertebrae—a record among mammals—the tail is strong enough to support the pangolin's entire body weight while dangling from a tree. Somewhat of an oddity in the animal world, the pangolin is the only mammal with scales. While most of its head, body and tail are covered with horny, overlapping scales, the Black-bellied Pangolin's abdomen and face are covered in dark fur. The scales serve as camouflage, as well as protection—when threatened, pangolins roll into a tight ball, exposing only their sharp scales. In fact, the name 'pangolin' comes from 'penggulung,' the Malay word for 'something that rolls up'.