The group arrives in Kigali. © Giovanna Fasanelli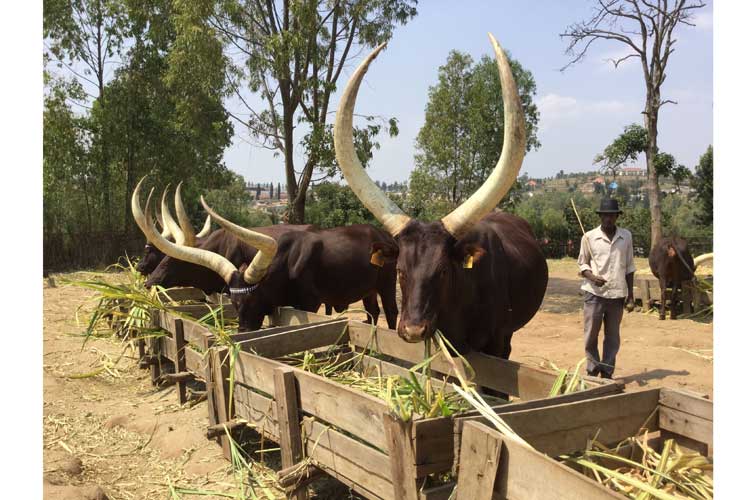 The royal cows of the bygone king at the King's Palace Museum. © Giovanna Fasanelli
A Chimpanzee squeezing out juice from the fig pulp. © Giovanna Fasanelli
It's a fig feast for this Chimpanzee in the Nyungwe Forest. © Giovanna Fasanelli
This gorgeous but venomous Great Lakes Bush Viper was spotted in the Nyungwe Forest. © Giovanna Fasanelli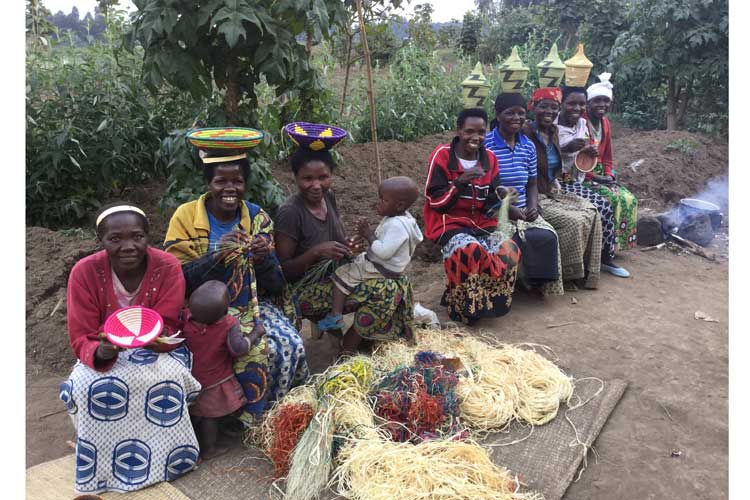 The women of Rwanda are expert basket weavers. © Giovanna Fasanelli
En route to gorilla trekking in Rwanda we spotted a Ruwenzori Side-striped Chameleon. © Giovanna Fasanelli
A member of the Hirwa group nibbling on fresh bamboo leaves. © Giovanna Fasanelli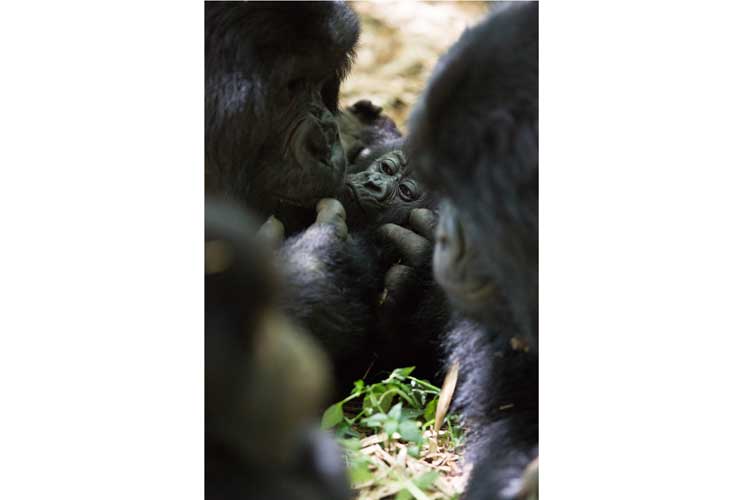 A glimpse of the Hirwa newborn. © Giovanna Fasanelli
A young member of the Hirwa group on our first day in Volcanoes National Park. © Giovanna Fasanelli
A portrait of the Hirwa Silverback. © Giovanna Fasanelli
Apex clients pose with the Hirwa group. © Giovanna Fasanelli
Our village visit after gorilla trekking was a kid-filled adventure. © Giovanna Fasanelli
Golden Monkeys in the bamboo forest of Volcanoes National Park. © Giovanna Fasanelli
Field Journal: Rwanda Safari
The special magic of Central Africa's Congo forests was still under our skin when we landed in Rwanda, everybody ready to begin the second chapter of our cutting-edge, African primate expedition. The difference in cleanliness, friendliness and order between Central and East Africa could not have been more startling. Kigali's urban scenes bustled with rush hour traffic, yet trying to find a scrap of rubbish anywhere was a significant challenge. Manicured gardens guided us through the city to our gorgeous hotel, passing orderly queues of public transport users and smiling vendors. The following day's journey wound us ever higher through endless hills crisscrossed by agricultural fields, every turn revealing more and more of this pleasing patchwork of peaceful, rural life. Our visit to the Royal Palace and National Ethnographic Museum gave us a brief look into the nation's history, when the country's identity underwent a dramatic change, morphing at the time of independence from a proud, tribal kingdom to a democratic nation.
The first chapter of our personal Rwanda safari showcased the incredible richness and pristine beauty of Nyungwe Forest, in the country's south-west. Representing the largest montane forest in East Africa, and boasting amongst the highest rate of endemism anywhere on the continent, this gorgeous wilderness did not disappoint. Our lodge, nestled at the junction of the pristine rainforest and a verdant expanse of tea plantations, was more than just a comfortable place to bed down for three nights… it was absolutely stunning! Each morning, the forest edge would burst into life, as troops of agile Silver and Dent's monkeys and the more robust Grey-cheeked Mangabeys rustled their way through the branches, whilst flocks of Black-crowned Waxbills foraged for sustenance at the edges of the path and gleaming Blue-headed Sunbirds flitted through the flowering Erythrina trees. Glorious Great Blue Turacos stole the morning's birding show, however, while the visit to the local troop of habituated Angolan Pied Colobus turned out to be an experience beyond compare. Between the cheeky youngster that entertained us at close range to the nursing mom and the white-furred newborn that clung to its mother's belly as she leapt from tree to tree, we departed from the forest saturated with memories of a truly remarkable, intimate encounter. The only activity we loved more was the late afternoon "Waterfall Hike", which was so beautiful we decided that actually reaching the waterfall would be an anti-climax! And were it not for this "easy stroll" through the valley, we would not have found that venomous reptilian beauty, the Great Lakes Bush Viper!
Due to a rescheduling of our flight back to Kigali, we found ourselves with an extra morning to spare, which we opportunistically dedicated to the tracking of a habituated group of Chimpanzees. To our great delight, our trackers positioned us on the road just in time to observe three huge males scampering by. "Why did the chimpanzees cross the road?"… "To get to the fruiting fig tree on the other side", of course! We watched in awe as these three trouble-makers stuffed their faces with figs, turning the pulp around and around in their mouths as they squeezed out the nutritious juices. As one of us found out, standing directly underneath a chimp may just mean an early morning monkey shower! For half of the group, this was their first encounter with this fascinating primate, and what a show we had.
After a long afternoon of travel to the north-west of the country, we finally found ourselves within Volcanoes National Park, at the foot of the enigmatic Virunga Mountain Range. The exclusive Jack Hanna's Cottage made for the perfect home during this second chapter of our Rwandan expedition where, around the roaring fire and cosy dinner table, we regaled one another with the "awesomeness" of our Mountain Gorilla encounters. We tracked these furry giants and their adorable families on two separate mornings, visiting the Hirwa, Umubano and Sabinyo groups. Half of our group took on the extreme challenge of tracking the Umubano group, which involved engaging "four wheel drive" and, in some cases, being carried by the magnanimous porters! But meeting the Silverback made all this effort absolutely worthwhile. The Hirwa group put on a hard-to-believe show on both days, with the gargantuan Silverback brushing against people's legs, babies being carried by juveniles, others swinging on vines, a one-week-old clinging to its mum's breast, and one of the blackbacks kicking the tracker as he walked by. The two immense leaders of the Sabinyo family, largest Silverbacks currently known anywhere, delivered yet more engaging behavior, leaving everyone filled with rapturous joy at having had such profound contact with these gentle and trusting mountain giants. The only finale suitable for such an incredible expedition was our encounter with a troop of Virungas Golden Monkeys playing in the bamboo forest, their rusty-gold and red coats glowing in the dappled sunlight as they pounced on each other in uncontained playfulness. 
Finally, we wound our way back towards the hustle and bustle of a populous Kigali city, stopping en route to visit the Genocide Memorial, which only reinforced the miracle that is Rwanda's story. It is a story of healing and acceptance, of unity and forward thinking through bold leadership, and a true inspiration for the African continent. What a country, what a trip! It was hard to believe that only two weeks earlier we were heading towards the Congolese rainforest. THREE Great Apes amongst no fewer than TWENTY primate species summed up the unique nature of our Congo and Rwanda safari… and that evening, for one last time, we raised our glasses to an expedition of LEGENDARY proportions!
To see the full itinerary that our group experienced, visit our Congo & Rwanda Gorilla Safari page.