A zebra walks through the salt pans. © Marco Tonoli
Late summer coincides with the end of the migration, which unknown to many, is the second largest migration of zebra on the continent. © Marco Tonoli
A Meerkat inspecting the land for unwanted predators. © Marco Tonoli
Marco offers a higher vantage point for Africa's most endearing creature, the Meerkat.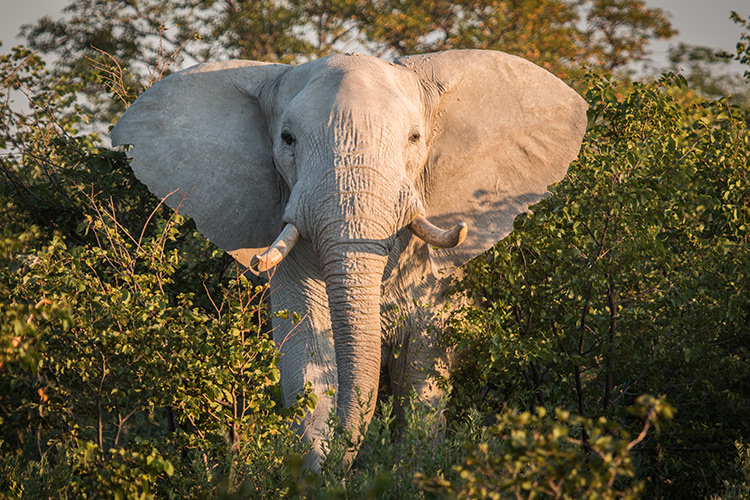 The Kalahari is home to the world's largest land mammal, the elephant. © Marco Tonoli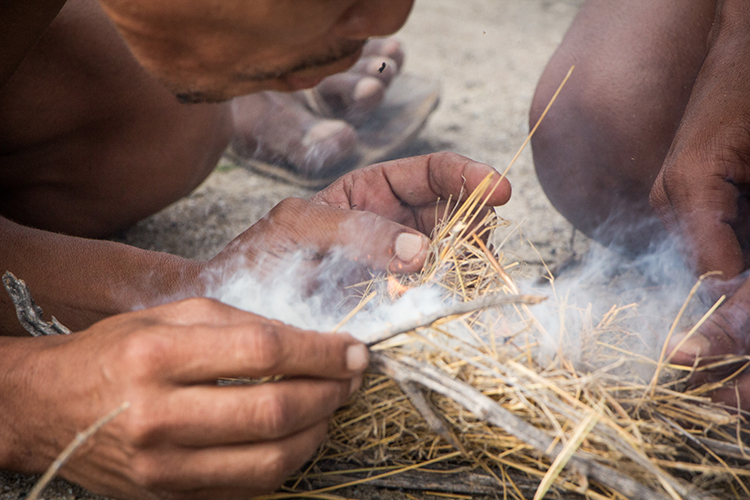 At Makgadikgadi Pans, one of our planet's earliest cultures still remains intact—the Zu'Hoasi Bushman. © Marco Tonoli
Botswana's Makgadikgadi Pans
Field leader Marco Tonoli shares these photographs and thought-provoking journal from a recent Apex expedition to Makgadikgadi Pans in Botswana.
A most striking desert landscape
Located deep in the heart of the Kalahari Desert, in an area once considered to be one of the greatest "super lakes" Africa has known—and believed by some to be the cradle of humankind—lies one of the most striking of desert landscapes, one that draws the mind deep into its imagination and summons images of a bygone era. This place is the Makgadikgadi Pans.
The word Kalahari—from the Tswana word "kgala" meaning "The Great Thirst"—is enough to paint a picture in your mind of the harsh yet strikingly beautiful landscape. This dry savanna in the north central region of  Botswana is home to spectacular biodiversity. It is here you will find a world that has been unaffected by the modern influences of mankind, where you are transported back to a time of brave European adventurers and great African chiefs.
On a long dusty runway, you disembark your light aircraft and climb into your open 4×4 vehicle for the journey to camp. You can't help but notice the sparsely vegetated land and wonder what life could possibly exist here. At the end of a sandy track, set on an ever-so-slightly raised knoll, and surrounded by a small island of acacias and wild date palms, lay a few scattered tents evoking a scene of early adventurers setting up camp along a journey of discovery. You might imagine David Livingstone himself exiting his tent with journal in hand.
Vast open plains teeming with life
Your late summer arrival coincides with the end of the migration, which unknown to many, is the second largest migration of zebra on the continent. This gives you the opportunity to view the vast open plains teeming with herd upon herd of zebra, continuously on the move, looking for green pastures and keeping a nervous eye out for the ever-lurking predators. The evening ends with a stop on the edge of the salt pans themselves, where you are encouraged to walk out alone and allow the silence to overcome you. It is a mesmerizing and thought-provoking experience. The silence draws your mind into itself, and you quickly appreciate how few places there are on Earth that can offer such precious silence.
Africa's most endearing creature
In the morning, you are introduced to one of the Kalahari's infamous characters. Hidden at night in their intricate burrows, they emerge first thing in the morning to soak up the early sunshine. You are about to meet one of Africa's most endearing creatures, the Meerkat. The morning is slightly overcast with a chilly wind, which the Meerkats did not seem to approve of. However, when the need to feed surpasses the need for warmth, they are out and about inspecting the land around them for unwanted predators. As they are not much taller than a foot off the ground, getting a higher perspective is a welcome advantage for the Meerkats.
With all of us seated near the burrow, it wasn't long before the first bold Meerkat scampered up a leg and hopped onto its spectator's head to survey the land. You certainly can't help but feel a part of the environment when treated like an old tree stump. What follows this pre-foraging behavior is always a highlight. It is feeding time and the mob of Meerkats heads out to forage. Before long, all around your feet, you have tiny burrowing machines, anxiously digging to find a hidden meal of a scorpion, or perhaps, beetle larvae.
A ghostly appearance
While this land is home to many well-adapted small mammals, it is also home to the world's largest land mammal, the elephant. It's hard to imagine that elephants could survive here. But the summer rains flood the pans and natural water holes, and adult male elephants move into the area to harvest the land's rich nutrients stored in the soils. It is a remarkable scene to witness, as they throw thick layers of white mud over their bodies, covering themselves in a crusty blanket. The ensuing scene is almost ghostly, like giants silently walking through the grasslands.
A giant in nature and in history
This afternoon, we travel out to a special place that has been used by almost all chiefs, missionaries, adventurers and great white hunters passing through this area—Chapman's Baobab. In a land with very little variation in altitude, anything over a few feet in size is bound to get your attention. So it was that this giant in nature stood out for miles as a towering beacon of life. Its shade drew the likes of James Chapman, David Livingstone and Khama the Great, to mention a few. Sadly, the great drought of 2015 was the last year this African icon was to stand tall. In the early months of 2016, after a dismal year of no rainfall, the tree split down the middle and now lies as a relic of the past. Yet even as it lays toppled over, you can envision the significant points in history that took place under its branches and what this living ancient may have witnessed in its lifetime.
Meeting the Zu'Hoasi Bushman
The next day, after an early breakfast, you are to see the Makgadikgadi Pans through the eyes of its earliest inhabitants. Pushed deep into the most remote and inhospitable lands by the encroaching African and European expansion, it is hard to believe that one of our planet's earliest cultures still remains intact—the Zu'Hoasi Bushman. You are now in the middle of nowhere, huddled around a small pile of twigs, a handful of dried grass, and a small pile of zebra droppings. Out came the sticks and the rubbing begins, all very controlled, precise and divided between all gathered. In no time the first slither of smoke appeared, onto which the crushed zebra droppings were added, and like magic the first small embers appeared. Add the grass and some air, and we have fire.
A remarkable experience
And so came the end of our journey at the Makgadikgadi Pans. One can't help but leave with a lasting impression of this seemingly inhospitable yet remarkably beautiful landscape, and a new-found respect for those who have survived its endless challenges. This is truly one of the most authentic experiences I've had in Southern Africa and one that I love sharing with Apex travelers.
Join Marco Tonoli on our upcoming Green Botswana expedition to experience Makgadikgadi Pans for yourself.