Red Lory is a commonly kept pet in the Moluccas. © Jonathan Rossouw
Wallace's Fruit-Dove #8,900 commemorates Alfred Russel Wallace, the renowned British explorer-naturalist for whom the Wallacea region is also named. © Jonathan Rossouw
A nocturnal visit to a Moluccan Megapode nesting beach on Haruku island yielded sightings of this MEGA-bird, as well as a couple of eggs harvested by the local care-taker! © Jonathan Rossouw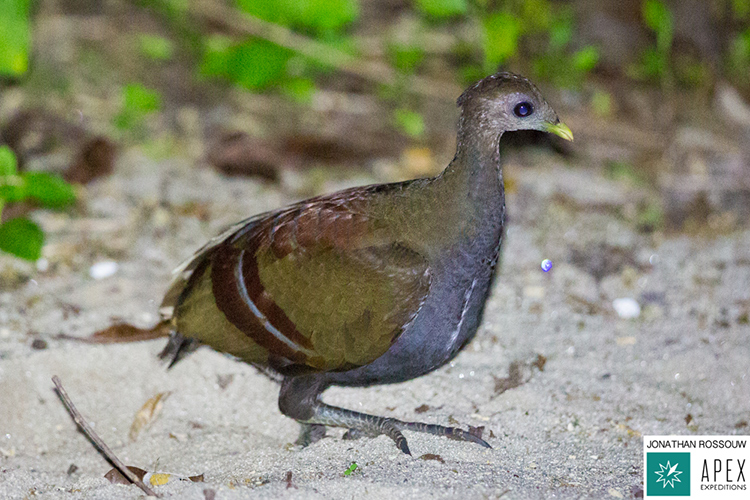 A rising full moon revealed a Moluccan Megapode #8,897 at its nesting beach on Haruku. © Jonathan Rossouw
The dapper Black-bibbed, or Banda Sea, Monarch #8,908 is a fairly common denizen of Tanimbar's forests. © Jonathan Rossouw
Tanimbar Bush Warbler #8,909 is a skulking but vocal forest denizen on Tanimbar. © Jonathan Rossouw
The dainty Tanimbar Flycatcher #8,911. © Jonathan Rossouw
Not a new bird, but a good one… or two! This pair of Pale-vented Bush-hens was an unexpected find while owling on Tanimbar. © Jonathan Rossouw
A fine pair of Tanimbar Boobooks #8,916, recently recognized as an endemic species, distinct from the Ninox owls of the southern Moluccas. © Jonathan Rossouw
The quaint seaside village of Sawai, on Seram, made the perfect base for exploring Manusela National Park's rich forests. © Jonathan Rossouw
The glorious Red Lory #8,921 is delightfully common in Manusela National Park, on Seram. © Jonathan Rossouw
Occurring only in relatively inaccessible forest at high altitude on the rugged, mountainous island of Seram, the "Seram" Island Thrush has been seen by a mere handful of ornithologists in history. "Seram" Island Thrush, Manusela National Park on Seram. © Jonathan Rossouw
Varied Goshawk of the small hiogaster race, in Manusela National Park on Seram. © Jonathan Rossouw
Chinese Crested Tern #8,941 differs from Great Crested Tern by its paler upperparts and distinctive black-tipped yellow bill. © Jonathan Rossouw
With a total global population of around 40 individuals, the Chinese Crested Tern #8,941 is one of the rarest birds on Earth! © Jonathan Rossouw
Home to a single island-endemic, the Black-bibbed, or Boano, Monarch, tiny Boano Island is a remote, sparsely populated tropical paradise lying off the north-west coast of Seram. © Jonathan Rossouw
Black-bibbed, or Boano, Monarch #8,944 has still been seen by only a handful of birders. © Jonathan Rossouw
Buru is a remote island, still largely covered in rainforest (Wamlana Logging Road, Buru). © Jonathan Rossouw
The Buru Fantail is currently considered by most ornithologists to be only a well-marked race of Northern Fantail, but it is almost certainly a distinct species endemic to Buru. © Jonathan Rossouw
The Wamlana Logging Road gives access to Buru's highland forest endemics. © Jonathan Rossouw
Buru Thrush #8,953, a shy and elusive denizen of montane forest on Buru. © Jonathan Rossouw
Moluccan Cuckoo #8,894 Wamlana Logging Road. © Jonathan Rossouw
After weeks on the completely "dry" islands of Seram and Buru, this nasi goreng washed down by a cold Bintang beer on Ambon was a perfect way to celebrate 69 new birds! © Jonathan Rossouw
Marvelous Moluccas: Bountiful Birds at the Center of Earth's Largest Archipelago!
Apex co-founder and field leader Jonathan Rossouw is on a quest to see 9,000 world birds by November 2018. This latest update finds Jonathan searching the remote forests of the Moluccas for rare and endemic birds.   
Marvelous Moluccas
My Brazilian birding bonanza had literally blown my mind: SIXTY new birds in the span of a couple of weeks! If there was one thing that experience drummed home it was that, in matters of "birds for your buck," endemism counted! So, the decision of where next to target had become blindingly obvious: the central and southern Moluccas, in the heart of the world's biologically richest archipelago.
Sandwiched between Sulawesi and New Guinea, the Moluccas were once a global center of commerce, their Sultans amassing fabulous wealth through trade in nutmeg, cloves and cinnamon. Later, in the early 19th century, the great British naturalist-explorer, Alfred Russel Wallace traversed the area, marveling at the luxuriance of its bird and butterfly fauna, while recognizing the unique blend of tropical Asian and Australasian influences these represented. Wallacea is this biogeographical region now commemorating his genius, but these fabled islands have since slipped into relative obscurity. Few Westerners have ever heard the names of Seram, Buru and Tanimbar, let alone know their location on a world map.  
So, upon completion of Apex's marine exploration of Western Australia and Komodo in November, I found myself on a plane bound for Ambon, the Moluccas' transport hub and ferry terminal for visiting its satellite islands. 
Magnificent Megapode
Before departing Ambon, however, I arranged a visit to the neighboring island of Haruku, home to one of the best-protected nesting beaches of the legendary Moluccan Megapode. As a group, the megapodes are an avian anomaly, eschewing the concept of "traditional" brooding for ingenious "extrinsic incubation", laying their eggs either in mounds of compost assembled for this purpose by the males, in areas of soil heated by volcanic activity, or even, in the case of Moluccan Megapodes, in dark beach sand warmed by the sun. Highly vulnerable to predation while egg-laying, the megapodes visit their nesting beaches only under cover of darkness. So as dusk fell on Haruku, I was guided by a community megapode guardian to a quiet cove, dark as pitch and apparently deserted. But as the full moon cast its milky light across the sand, a few ghostly figures could be seen, then a few more, and finally dozens of Moluccan Megapodes, all vigorously digging their nest burrows! This natural bounty has attracted the attention of humans since time immemorial, the eggs being harvested for sale and consumption. But with careful community management, this has proved an ecologically sustainable practice, and an awe-inspiring avitourism spectacle!
Tantalizing Tanimbar: Surprising endemism for so low an island
First of my trio of island groups was Tanimbar, politically part of the Moluccas but geographically, actually an extension of the Lesser Sundas chain. Despite not being high, volcanic islands like many of the Moluccas, their remoteness nevertheless has led to significant endemism in their avifauna, with no fewer than 14 endemic birds. I arrived on Yamdena, largest of the fifty odd islands that constitute the Tanimbar group, to discover the monsoon in full swing, with intense summer heat broken only by torrential afternoon thundershowers. I was initially concerned that the weather would negatively impact the birding but couldn't have been more wrong. The frenzied breeding activity made bird-finding an absolute breeze! Large flights of pigeons and starlings gorged in the fruiting trees. Goofy-looking Tanimbar Corellas dried off on high snags in the late afternoon light. And the glorious Wallace's Fruit Dove heralded my World #8,900. Dawn the next morning yielded a veritable cacophony of birdsong, snappy Black-bibbed Monarchs, dainty Tanimbar Flycatchers, sneaky Tanimbar Bush Warblers, and even the elusive endemic ground thrush duo surrendering before lunchtime. Tanimbar Boobook and Moluccan Masked Owl that evening rounded out what remains as one of my greatest days of birding ever… I had wrapped up Tanimbar's endemics, IN 24 HOURS. What a cracking start!
Seram and the Chinese Crested Tern
But far greater challenges lay ahead, with over half of the endemics inhabiting the remote montane forests of the central Moluccas. Only a few ornithologists have ever explored these islands, with many species being rare and barely known. As I flew back to Ambon and boarded the ferry to Seram, I realized birding these islands was not going to be nearly as easy. Basing myself at Sawai, a tiny fishing hamlet on the north coast, I spent five glorious days trekking up the island's forested, mountainous backbone in Manusela National Park, finding a slew of magnificent endemics in the process. Foremost were Salmon-crested Cockatoo and Purple-naped Lory, two parrots sadly endangered by trapping for the cage bird trade, but these lush forests also yielded a steady procession of less glamorous fantails, white-eyes and friarbirds, as well as the dashing Ultramarine Kingfisher and exquisite North Moluccan Pitta.
Amazingly, however, Seram's standout avian highlight was not a forest endemic but a migrant seabird, the Chinese Crested Tern! A couple of days prior to my visit, some birding buddies reported finding this extreme MEGA-rarity, a winter migrant to the area from its breeding island off the south-east coast of China, in a tern roost near the islet of Pulau Loesaolat. A short boat ride from Sawai brought me to a tiny sand spit exposed by the low tide, where I found myself bobbing on the waves, carefully scanning the assembled Great Crested Terns for their critically endangered cousin. Even at a substantial distance, one bird seemed distinctly smaller and paler, and as it turned its head, it revealed the telltale black tip of a Chinese Crested Tern! With a global population numbering fewer than 50 individuals, this is one of the rarest birds on Earth. What a COUP!
Beautiful Boano… and brutal Buru!
Another quick boat trip, to another of Seram's satellite islands, rugged Boano, delivered the target Black-chinned Monarch, endemic to this single island, before a crowded overnight ferry brought me to the rarely visited island of Buru. Despite boasting 20 endemics, even more than Seram, Buru is tough to explore, with the infamous Wamlana logging road offering the only reasonable access to its mountainous interior. Fortunately, dogged determination and a healthy dose of luck along the higher stretches of this road produced a mouth-watering collection of parrots, pigeons and flycatchers, and even the sought-after Buru Thrush. Once back on Ambon, cold Bintang beer in hand, I took stock of my time in the Moluccas. To my amazement, the "Marvelous Moluccas" had produced a whopping 68 new birds, out-performing even bountiful Brazil! 
With the total now standing at 8,957… 9,000 world birds seems well within reach!
Follow Jonathan's quest to see 9,000 World Birds
You can follow along as Jonathan's quest continues to unfold as he closes in on seeing 9,000 world birds. Read about it on our blog or follow Apex on Facebook or Instagram for the latest updates!
Learn more about Jonathan and his upcoming expeditions.