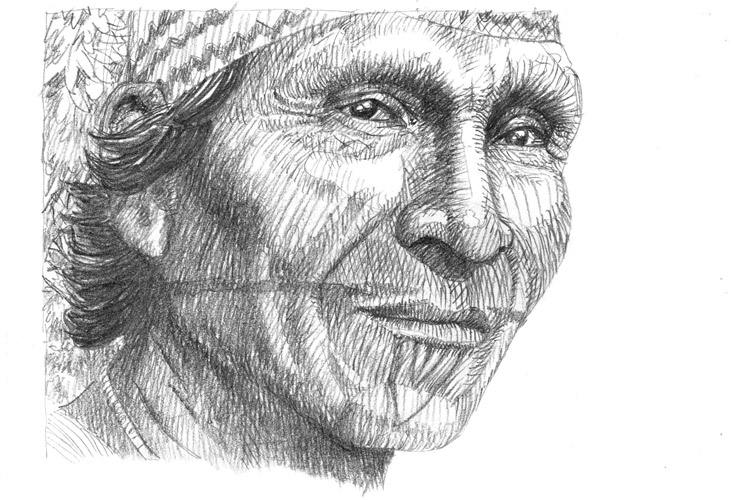 A chief of the Choco' Embera' from a village in the Darien region of Panama
A dancer in a ceremony in a village in the Asmat River region of New Guinea
My driver Rodney on the island of St. Helena in the South Atlantic
A Russian Orthodox monk at the monastery of Solovestkiy on an island in the White Sea
A Travelling Connection
A couple of months ago I was traveling in Central America. As always I had my sketchbook with me. I like to stop and draw whenever I have the chance, whenever the work of leading or guiding allows (which, on many trips, is seldom, and on some, is never). Visiting a village of Choco Embera´ people in the Darien region of Panama, I did a quick drawing of one of the chiefs. Later I spiffed it up a bit, and you can see the result here.
It got me thinking about other people, other faces I have drawn in my traveling career. I've included a few more here, from various places.
I love drawing anything, and will render a landscape just as soon as a person. But I've always considered people to be the most difficult subjects. You have to get a portrait exactly right. If you draw a rock and it's slightly out of proportion, nobody will notice. But if you draw a face and get the left eye one millimeter too high, the error will be glaringly obvious. We all know precisely what a human face should look like.
For me, doing a drawing creates a much more intimate connection with whatever I'm looking at than taking a photograph. A drawing takes longer; it's more interactive; I have to study my subject more closely; and, whether it's an object or a person, I learn more about it. I hope that you the viewer will learn something about these people that I met from these quick sketches, and maybe even feel some kind of connection.
Learn more about Expedition Leader, Kevin Clement, on his bio page.