Henderson Fruit Dove © Peter Harrison
White-bellied Storm Petrel © Peter Harrison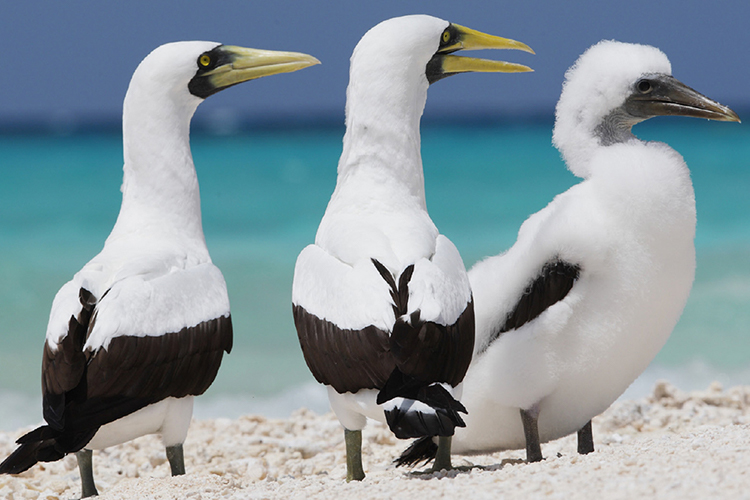 Masked Boobies © Jonathan Rossouw
Tropical Shearwater © Peter Harrison
Red-footed Booby © Jonathan Rossouw
Christmas Shearwater © Jonathan Rossouw
South Pacific Seabirding Highlights
Apex co-founder, Peter Harrison, shares South Pacific seabirding highlights for the upcoming Apex expedition sailing from Chile to Tahiti in March 2020. 
For seabirders, a voyage without equal
For the birding fraternity, Apex Expeditions' Chile to Tahiti expedition is a South Pacific voyage that is simply without equal. It has been handcrafted by Apex's co-founder and seabird expert, Peter Harrison, who first visited the area in 1983 and made landings at every one of the locations in this itinerary, including mythical Marotiri.
No island has been missed from this itinerary, and for seabirders in particular, this voyage will visit every single major seabird site in the area. The journey begins at seldom-visited Robinson Crusoe and Isla Alejandro Selkirk Islands, which hold the planet's principal breeding colonies of Masatierra, Juan Fernandez, and Stejneger's Petrels with a supporting cast of White-bellied Storm-petrels and Pink-footed Shearwaters. Ashore, land bird endemics include the Juan Fernandez Firecrown and the Masafuera Rayadito.
The islands of Sala y Gomez and Easter Island mark the eastern breeding boundaries for a wide array of petrels and shearwaters which include, but not limited to, Murphy's, Herald, Henderson, Kermadec, and Black-winged Petrels, plus Wedge-tailed, Christmas, and Tropical Shearwaters with White-bellied and Polynesian Storm-petrels.
The fabled Pitcairn Island group
Our visit to the four islands of the Pitcairn group, will be one of the great ornithological events of the entire voyage, especially to Oeno and Ducie Islands which host more breeding seabirds than any other islands in the Southeast Pacific. The sky will be blackened with all manner of petrels, shearwaters, terns, frigatebirds, and boobies. Henderson Island is also of special importance due to its four endemic land birds: Flightless Henderson Rail, Stephen's Lorikeet, Henderson Fruit Dove, and Henderson Warbler. For seabirders, however, it is the endemic Henderson Petrel which will be the most sought-after species of the Pitcairn quartet.
The rarely-visited Austral Islands
As spectacular as the aforementioned birds and islands are, it is our last group, the rarely-visited Austral Islands, that many of the birders will be with us to explore. These include Marotiri, Rapa Iti, and Raivavae Islands, the most southerly of all islands in French Polynesia and home to a wide array of petrels and shearwaters including the Rapa Shearwater and Titan Storm-petrel. Both have recently been elevated to full species level but remain as two of the rarest and least-known seabirds in the world. For seabirders, our 3-day visit to the Australs is the single most important reason to be on this voyage.
Join us
In March 2020, our Chile to Tahiti expedition sets sail. For birdwatchers, this will be one of the most important voyages of a lifetime. There will be days when the skies are filled with tens of thousands of birds; on other days, you will see some of the rarest and least known birds on the planet. Don't miss this opportunity to join Apex on this fascinating itinerary!