Chile to Tahiti
onboard Silver Explorer
March 17 – April 10, 2020
On Easter Island, see hundreds of moai, the monolithic human figures carved by the Rapa Nui people during the 13th–16th centuries. © Giovanna Fasanelli
Oeno Island, a palm-covered gem rising just eight feet above the turquoise ocean, is home to tens of thousands of nesting seabirds.
The 144-guest Silver Explorer is a luxury expedition cruise ship, designed for navigating waters in some of the world's most remote destinations.
The Red-footed Booby is one of the many seabirds you'll encounter. Its stick nest is placed in a tree or bush, where one egg is incubated by both adults. © Jonathan Rossouw
Snorkeling in the crystal-clear waters of shallow lagoons will reveal a variety of reef fish, such as this colorful Clark's Anemonefish. © Giovanna Fasanelli
South Pacific Cruise to Austral, Pitcairn and Easter Islands
Travelers, birders, snorkelers, and history buffs alike will delight in this unique and extensive 25-day South Pacific cruise that will sail from mainland Chile to Tahiti. Experience the remote Robinson Crusoe and Alexander Selkirk Islands before making landfall at Easter Island, then sail on to the Pitcairn Islands and the rarely-visited Austral Islands, before arriving in Pape'ete, Tahiti. Along the way, stop at Marotiri, and Salas y Gómez, two of the least-visited islands on the planet. This expedition follows the route of the early Polynesian explorers, as well as famed British seamen like Captain Bligh and the HMS Bounty mutineers and Alexander Selkirk, the real-life Robinson Crusoe. Snorkel in turquoise lagoons surrounded by myriad colorful and vibrant reef fish. For birdwatchers, this will be one of the most important voyages of a lifetime with sightings of some of the rarest and least-known seabirds on the planet. Join us on the elegant Silver Explorer, one of the finest and best-run expedition ships afloat, and set out on this Chile to Tahiti journey, a South Pacific offering without equal.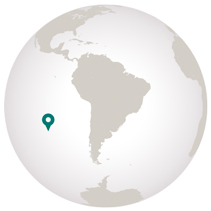 Destinations
Travel by Air
Travel by Road
Travel by Boat
Travel by Bullet Train
Travel by Rail
Travel by Dog Sled
Tuesday, March 17: Arrive Santiago, Chile / Viña del Mar

Arrive in Santiago, Chile, where you'll be met and transferred to the Sheraton Miramar Hotel overlooking the sea in Viña del Mar. The afternoon is at leisure with lunch on your own. Gather this evening with your Apex expedition leaders and fellow travelers for a welcome briefing and dinner at the hotel. Overnight at the Sheraton Miramar Hotel.

Wednesday, March 18: Viña del Mar / Valparaíso / Embark Silver Explorer

After breakfast, depart for Valparaíso, Chile's "Jewel of the Pacific." Designated a UNESCO World Heritage Site for its singular architecture and unique funicular system, this colorful city cuts quite a beautiful image against the steep hillsides on which it's built. Enjoy either a morning city tour or a birding excursion to search for such Chilean endemics as the Dusky Tapaculo. Embark the Silver Explorer for lunch and settle in to your home away from home for the next 24 days. Be on deck for a bon voyage toast as the ship casts off and sails west.

Thursday, March 19: At Sea

At sea, heading toward Isla Robinson Crusoe, join your team of expert onboard lecturers for introductory tales on the history and wildlife of this fascinating area. As this voyage traces part of the route of the HMS Bounty, the history of the famous breadfruit-seeking expedition of Captain William Bligh and Fletcher Christian will be highlighted. In between lectures be sure to join our naturalists on deck to scan for a host of seabirds as we sail the cold, nutrient-rich waters of the Humboldt Current. Many species of albatross, petrels, and shearwaters, not to mention large schools of dolphins and a variety of whales including the largest of all animals, the Blue Whale, are regularly sighted in this area. Seabird species should include Northern and Southern Royal Albatross, Salvins, Black-browed and Buller's Albatross, Pink-footed and Sooty Shearwaters, Slender-billed Prion, Masatierra Petrel, Juan Fernandez Petrel, Stejneger's Petrel, White-chinned Petrel, Westland Black Petrel, plus inshore species such as Guanay Cormorant, Red-legged Shag and Peruvian Pelican. It all promises to be an exciting day on deck, followed by a festive Captain's Welcome dinner.

Friday, March 20: Isla Robinson Crusoe

Arrive this morning to the Juan Fernandez Archipelago at "Mas a Tierra," or "Closer to Land," now known as Robinson Crusoe Island after Scotsman, Alejandro Selkirk, was marooned here and inspired Daniel Defoe to write Robinson Crusoe. Anchor in Cumberland Bay, not too far from San Juan Bautista, the only village on the island. Take guided walks to several lookout points, and see the island's endemic plants, which make up more than half of its foliage, and birds, such as the Juan Fernandez Firecrown and Masatierra Petrel, that have put Juan Fernandez on the list of UNESCO Biosphere Reserves and the tentative UNESCO World Heritage list. Hike through pine, cypress and eucalyptus forests to the cliff from which the German cruiser SMS Dresden was shot during WWI. You may also see Juan Fernandez Fur Seals frolicking in the water below.

Saturday, March 21: Isla Alejandro Selkirk

Formerly called "Más Afuera," or "Farther Away," this island was later renamed Alejandro Selkirk. It is the largest and most westerly island in the Juan Fernandez Archipelago. Besides its use as a penal colony during the Chilean independence movement, Alejandro Selkirk has long been uninhabited, but for feral goats that have been here for some 400 years. The island holds special significance for the birdwatchers as it is the only island where the endemic Masafuera Rayadito occurs, and where the majority of the one million pairs of Juan Fernandez Petrels and 131,000 pairs of Stejneger's Petrels breed. Advanced birders will also be sifting through the many thousands of seabirds for Masatierra Petrel and White-bellied Storm Petrels. Be sure to be on deck to witness the evening return of the islands breeding seabirds, a once in a lifetime opportunity.

Sunday – Wednesday, March 22 – 25: At Sea

Now begins the big push towards the west and Easter Island. The onboard lecture series continues with recaps on your island visits, plus preparation for your upcoming visit to Rapa Nui, or Easter Islands. Often claimed to be the remotest inhabited island in the world, the lectures series will introduce the world of the Long-ears and the Short-ears, the ongoing debate of how the colossal stone heads were transported across the island, and highlight the major archeological sites that we plan to visit. Between lectures scan for large schools of dolphins and Humpback Whales that are often seen in these waters.

Thursday, March 26: Isla Salas y Gómez

Be on deck this morning as we approach the tiny rock of Salas y Gómez, a mere speck of terra firma somewhere in the middle of the Pacific Ocean. Despite its size, this is an islands that can be easily described as a globally-important seabird island. It is the only island in the eastern Pacific where Polynesian Storm Petrels are known to breed and, in recent years, has had small numbers of breeding Murphy's and Kermadec Petrels. Of special importance for the birders will be the colony of Christmas Shearwaters. Continue west this afternoon.

Friday, March 27: Easter Island

Catch the first glimpse of Easter Island as it appears on the horizon. During your time here, visit the Rano Raraku quarry, where the massive moai (statues) were carved. At Ahu Tongariki, see fifteen moai that were re-erected in the early 1990s. Explore the ceremonial village of Orongo, the sacred site of the ancient 'birdman' festivities, and the restored moai platforms at Tahai. As evening falls, depart for the storied Pitcairn Islands.

Saturday & Sunday, March 28 & 29: At Sea

The onboard lecture series continues to prepare for the upcoming visit to the Pitcairn Islands, the last British Overseas Territory in the Pacific. Attend lectures to learn about the island's endemic plants and animals. Hear about the islands' 50 or so inhabitants, almost all of whom are descendants of the HMS Bounty mutineers and the Tahitians who accompanied them. On deck, keep watch for whales, which may include Sperm and Humpback Whales.

Monday, March 30: Ducie Island, Pitcairn Islands, UK

Begin your four-day visit to to the Pitcairn Islands at perhaps the most important seabird island in the South Pacific, Ducie Island, home to over half a million breeding seabirds. For the birders and those that love wild and remote places, this will be a day of incredible memories, skies filled with countless birds, the screams of raucous tropicbirds and the brilliant blueness of the islands inner lagoon. Comprised of three main islets, the atoll is home to 100,000 pairs of Murphy's Petrels, the largest in the world, plus breeding Phoenix, Kermadec and Herald Petrels. A supporting cast of White (or Fairy) Terns, Grey Noddies, frigatebirds, tropicbirds, and Masked Boobies will ensure that our visit is not easily forgotten. Beachcombing and snorkeling are also recommended with the opportunity to snorkel over the wreck of the wooden mail ship Arcadia in the lagoon amongst schools of inquisitive Galapagos and White-tipped Reef Sharks.

Tuesday, March 31: Henderson Island

Henderson Island is a "makatea", a raised coral atoll, roughly seven miles long and three miles wide and seventy to eighty feet high. It is one of the very few makatea whose ecosystem has remained relatively pristine and little affected by human activity. Due to its ecological importance—it has ten endemic flowering plants, plus four endemic land birds, one endemic seabird and about a third of all its insects and gastropods are endemic (a rather remarkable diversity, given its size and remoteness)—it was designated a World Heritage Site in 1988. Conditions permitting, we hope to offer guided walks to view the islands endemic birds: the flightless Henderson Rail, Stephen's Lorikeet, the Henderson Fruit Dove and Henderson Reed Warbler. Seabirders will venture to the interior to look for the endemic Henderson Petrel. The shallow reef system will also provide the refreshing option of snorkeling with myriad rainbow-colored fish both large and small.

Wednesday, April 1: Adamstown, Pitcairn Island

Located halfway between Peru and New Zealand, Pitcairn was the perfect spot for the famed HMS Bounty mutineers and their Tahitian wives to hide in 1790. Today, go ashore—either by Zodiac, or, if conditions are too rough, by traditional Pitcairn longboat—and visit with some of the island's permanent inhabitants to get a sense of their daily lives. Listen to the distinct Pitkern dialect, a combination of 18th-century English and Tahitian, and explore the island—visit the museum, cemetery and school, and hike towards Fletcher Christian's cave. Birders should be on the lookout for the endemic Pitcairn Reed Warbler.

Thursday, April 2: Oeno Island

The fourth, and final, day in the Pitcairns is at Oeno Island, one of the two "atolls" of the group and the least visited of the four Pitcairn Islands. Known as "Holiday Island" by the Pitcairners, this palm-covered gem rises only eight feet above the turquoise ocean and is home to tens of thousands of nesting seabirds. It is a globally important seabird island. Cleared of rats about 20 years ago, Oeno is now home to the second largest Murphy's Petrel colony in the world, some 12,500 pairs, plus breeding Phoenix, Herald and Kermadec Petrels. Every bush seemingly has a nest under it. Other breeding species include Greater Frigatebirds, Red-tailed Tropicbirds, Brown and Grey Noddies and Sooty Terns. From afar the birds appear like a cloud of circling mosquitos over white sand beaches and palm-fringed lagoons. This is a South Seas paradise like no other. Weather and waves permitting we hope to make a Zodiac landing to the Pitcairners' Holiday Island.

Friday & Saturday, April 3 & 4: At Sea

After four days of hectic Pitcairn landings, put your feet up, relax, and enjoy the Pacific Ocean. Spend time on deck looking for some of the rarest, least known and least studied seabirds in the world, which should include: Phoenix, Herald, Murphy's and Kermadec Petrels. Tropicbirds and frigatebirds, plus White-belled Storm Petrels are also possible, and even such species as Royal, Salvin's and Buller's Albatrosses which are in transit between their New Zealand breeding grounds and their South American wintering area. White-headed and Soft-plumaged Petrels have also been seen on this leg of the voyage.

Sunday, April 5: Marotiri Island, Austral Islands

About 45 miles southeast of Rapa Iti, four volcanic rocks thrust skywards like twisted, arthritic fingers rising above the seemingly endless ocean. This is Marotiri, the most remote and ethereal of islands in all of Polynesia. According to local legend, the twisted spires were used from time to time to exile unwanted Rapans as punishment for crimes and wrong doings. Be on deck to experience the full drama of these almost never visited rocks, which for seabirders have earned almost mythical status due to the many thousands of nesting Murphy's Petrels, Kermadec Petrels, and Polynesia Storm Petrels. Other seabirds include, Rapa Shearwaters and Rapa Storm Petrels, Blue Noddies and Sooty Terns. Pending sea conditions, we hope to launch Zodiacs for a cruise.

Monday & Tuesday, April 6 & 7: Rapa Iti

Rapa Iti is the southernmost inhabited island of French Polynesia and is one of the most hauntingly beautiful islands in all of the Pacific, with wide, sweeping vistas of forested peak after forested peak. Take Zodiacs ashore to climb to one of the 28 ridge-top fortresses around the main village of Ahurei, the best of which is the fortress of Morunga Uta, which dates back to the 16th century. Described by the noted sociologist Christope Serra-Mallol as the "happiest people on Earth", the islanders are also famous throughout Polynesia for their singing. Join your fellow travelers and islanders at the local church for a singalong folkloric presentation. For the birders onboard, Rapa Iti is home to two endemic seabirds the Rapa Storm Petrel and the Rapa Shearwater. Both are enigmatic species we know almost nothing about, rarely seen, seldom photographed and among the rarest of all birds. The endemic Rapa Fruit Dove is also found here.

Wednesday, April 8: Raivavae, Austral Islands

Raivavae, your final stop in the Austral Islands, has been described as a small version of Bora Bora, sans the tourists. Land on its north shore after lunch and explore the island by local bus. See the aquamarine lagoon and 1,400-foot Mt. Hiro, the volcanic peak at Raivavae's center. A stop will be made at a private garden, where one of the few tiki carved on the island can still be seen. Once past the airport (built in the lagoon because there was not enough flat space on land), meet up with the ship's Zodiacs for a transfer across the sweeping lagoon to the motu, or islet, of Vaiamanu. This is your typical South Sea paradise—crystal-clear waters, pristine white sand beaches, pandanus and Coconut Palms. Snorkelers can enjoy a colorful variety of reef fish, and birders are sure to find Reef Herons, tropicbirds and noddies. Head back to the ship and continue to sail northwards.

Thursday, April 9: At Sea

Enjoy one last day at sea to edit and share photos from the trip, attend informal lectures and enjoy a final recap before the Captain's Farewell Dinner.

Friday, April 10: Pape'ete, Tahiti, French Polynesia / Disembark

After breakfast, disembark the Silver Explorer and set out for a morning exploration of the island's lush vegetation, endemic bird species or fascinating history. Arrive at the Tahiti Intercontinental Resort, nestled among tropical gardens and surrounded by turquoise water. Spend the afternoon snorkeling in the hotel's lagoon, relaxing or wandering the gardens before dinner at the hotel. Day rooms are reserved to relax and refresh before transferring to the airport for your late evening flights home.
Details
March 17 – April 10, 2020
Leaders

Peter Harrison, Shirley Metz, Jonathan Rossouw, Kevin Clement, Gerald Broddelez & John Buchanan
Rates starting from $15,270 per person Rate details

Chile to Tahiti, 2020

onboard Silver Explorer

| Suite Categories | | Per Person Rates |
| --- | --- | --- |
| Adventure Suite | | $15,270 |
| Explorer Suite | | $15,870 |
| View Suite | | $17,570 |
| Vista Suite | | $18,170 |
| Veranda Suite | | $22,270 |
| Medallion Suite | | $30,470 |
| Silver Suite | | $32,270 |
| Grand Suite | | $36,270 |
| Owner's Suite | | $40,370 |
| Solo – Adventurer | | $22,695 |
| Solo – Explorer | | $23,595 |
| Solo – View | | $26,145 |
| Solo – Vista | | $27,045 |

25 days

Trip Length

144 guests onboard Silver Explorer
Santiago

Start

Pape'ete

End
In addition to all accommodations, meals, activities and excursions, as noted in the itinerary; the tour rate includes all gratuities; complimentary room service onboard the vessel; select wines and premium spirits onboard the vessel; local beer and wine with dinner in Viña del Mar and Pape'ete, as noted in the itinerary; services of five Apex Expeditions leaders, as well as the full onboard lecture team and expedition staff; local guides; and airport transfers.
The Fine Print

Call us to reserve your spot on this exciting expedition!
Have a question? Call us at 206.669.9272 /
800.861.6425

. Prefer online?Get in Touch

Pitcairn Islands—home to the little-known Murphy's Petrel
On this voyage, we will encounter some of the rarest, least-known, and least-studied seabirds in the world. One such seabird is the Murphy's Petrel, which nests on rocky islets in the South Pacific. This species qualifies as Near Threatened on the IUCN Red List. Its numbers have been slowly declining within its moderately small range, but the eradication of rats on Oeno and Ducie in the Pitcairn Islands some 20 years ago, has secured the largest populations of Murphy's Petrels. Oeno Island is now home to the second largest Murphy's Petrel colony in the world, with 25,000 pairs. Ducie Island—perhaps the most important seabird island in the South Pacific—is home to 100,000 pairs, the world's largest.