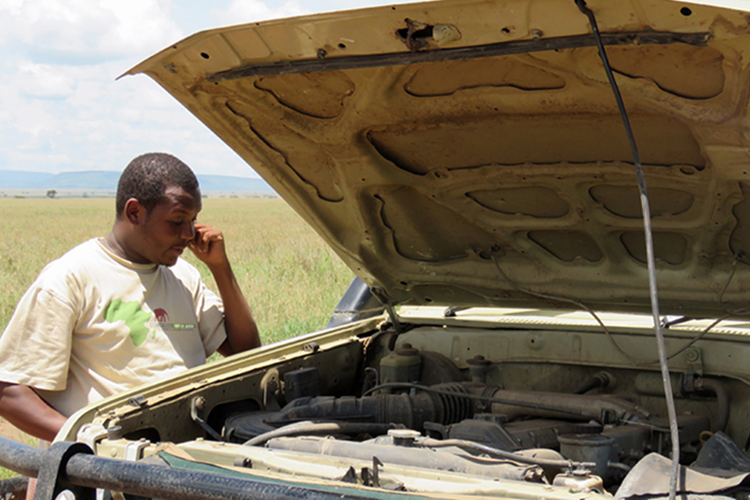 Tumi inspecting Anna, the 4x4's steering problem. © David Hoar
Anna the 4x4 safari vehicle. © David Hoar
Leopard photographed in the Serengeti. © David Hoar
Cheetah photographed in the Serengeti. © David Hoar
Most Epic Travel Calamity | A Story by David Hoar
Most Epic Travel Calamity
We had booked a two-week circle safari that began in Arusha, Tanzania, and would visit several of their National Parks (NP). It included a day in the Ngorongoro Crater before crossing the Serengeti to Lake Victoria, then north into Kenya at the Isebania crossing. We would meet a new guide there for the return through Maasai Mara and several Kenyan NP ending in Amboseli before crossing back into Tanzania and being returned to our hotel in Arusha. Tumi picked us up in a Toyota 4X4 pop-top safari vehicle and we were pleased to note it was a Toyota Land Cruiser. As we worked our way south towards Tarangire NP, we became acquainted and were introduced to vehicle, Anna, named after Tumi's mother. Tumi had been the primary driver and accumulated over 450,000 km driving safari trips. On our second morning, Tumi had stayed overnight with family as we luxuriated at "Ngorongoro Farmhouse" outside of the NP. He was not at the parking lot at 06:30 as planned and arrived about 30 minutes late after changing a flat—problem #1. We still had one good spare so continued with our amazing day in the Ngorongoro Crater.
Early afternoon, we headed west towards Kati Kati Tented Camp #2 in the Serengeti, encountering a cheetah who posed for us, and then circled us, providing great photo opportunities in the afternoon sun. Tumi did not show up at dinner and was not at breakfast. He arrived back about 07:30 explaining that he had noticed an oil leak on his day's end inspection. This was a cracked rear differential—problem #2—and he knew of a research camp about an hour away where he could get this welded; hence, his absence overnight.
I had noticed that there seemed to be a lot of slack in the steering and it was evident he also noticed this as he would swing the steering wheel back and forth on occasion and seem to puzzle at the behavior—we did not swerve but continued straight! Just before noon Tumi received a message that there was a leopard in a tree a few km away. His network of contacts, both by cell phone and radio, were constantly chirping and keeping us posted on sightings so we headed towards the kopje as we had yet to see a leopard in the Serengeti. Moments after turning around, the steering quit. I mean the steering wheel spun around and had no impact on travel direction, only the deep ruts of the track kept us going approximately straight! This was serious. We were in the midst of the Serengeti plain a long way from anything as far as we knew but Tumi popped the hood and it took only a moment to see that the upper steering shaft was spinning freely and not turning the lower shaft. The coupling spline had worn smooth and we were hooped it seemed.
Tumi phoned the Lion Research station where the differential had been welded and they sent out a vehicle which took about 30 minutes to arrive. The Toyota pick-up departed and returned about an hour later with a small portable welder in the back. With a lot of sputtering and backfiring, this unit was able to weld both shafts to the coupling and we could then follow the truck back to the Research Station. Here, the coupling was solidly welded using a big machine—solving problem #3. Anna's rigid steering assembly then directed us to the kopje and some 3-4 hours after the original sighting report, we were treated to a special experience with the leopard that had kindly remained in the same tree.
After another night at Kati Kati #2, we headed west for the 8 hour drive to Speke Bay Lodge but this too was not to be without complications. We were enjoying both animal and avian sightings when in the heat of the day Anna overheated—problem #4. Tumi popped the hood and made the mistake of loosening the radiator cap which exploded to "who knew where!" Besides a scalded hand, and spending a half hour scouring the area like a forensic team without finding the cap, the radiator now needed water, and a cap! Water, we had (a case of 2 liter bottles), but we now proceeded slowly west with frequent stops to top the radiator as Tumi again called in his network to purchase a replacement cap and hitch a ride eastward to meet us.
We met up at the Serengeti West gate and now picked up speed headed to our lodgings. Anna clearly had a radiator leak as temperatures rose precipitously at speed but we reached the lodge and Tumi left us there to have Anna repaired in town, a few km back. The next day we were due to meet our Kenyan guide early afternoon and it was about 140 km so Tumi arrived about 10 and we departed. In the middle of the busy market area of Bunda, Anna again died. The repaired radiator had failed and we still had more than 100 km to go. Problem #5 was insurmountable on our schedule so Anna was pushed to the roadside and abandoned in the care of a couple of locals while the forever pleasant Tumi hired an air conditioned taxi to take the three of us to the border crossing so he could deliver us to our Kenyan guide. We relaxed when we saw the relatively new Toyota Safari vehicle with about 8,000 km on its odometer. The return trip with Simon through Maasai Mara and several other NP ending in Amboseli NP was amazing and problem free. Later we learned that Tumi and Anna had made the return trip to Arusha with a new radiator. In spite of the mechanical issues, we had a marvelous trip, saw the "Big 5", tallied 225 bird species and added 80 to our life list.