The very first morning of the expedition brought us face to face with a rare sight: a famed Kalahari Black-maned Lion. Photo credit: Jonathan Rossouw
Lioness planning the next hunt. Photo Credit: Jonathan Rossouw
Striking Northern Black Korhaans were in explosive display overhead. Photo Credit: Jonathan Rossouw
Huge numbers of Kori Bustards, largest of all flying birds, stalked the lush grassland. Photo Credit: Jonathan Rossouw
The striking Shaft-tailed Whydah is a brood parasite on waxbills, which time their breeding to the summer seeding of the Kalahari grasses. Photo Credit: Jonathan Rossouw
Our arrival into the upper Okavango Delta couldn't have been more perfect, with floodwaters pouring in from the Angolan Highlands. Photo Credit: Jonathan Rossouw
Huge numbers of waterbirds, including the stately Wattled Crane, take advantage of the floodwater's bounty. Photo Credit: Jonathan Rossouw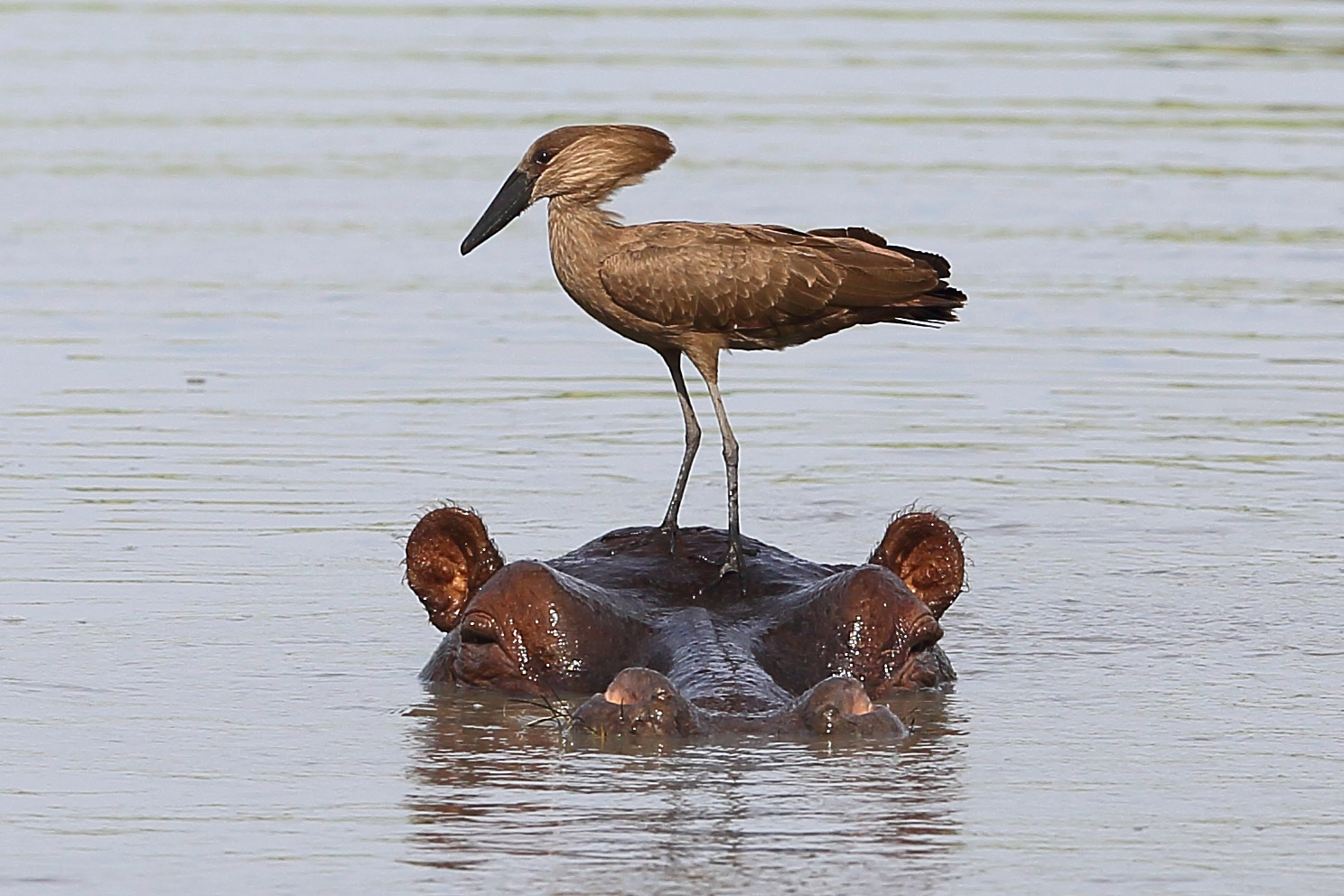 Hamerkops lose no chance to exploit the plethora of frogs and fish fingerlings, even if it means choosing an unconventional perch! Photo Credit: Jonathan Rossouw
The Verreaux's Eagle Owl, also known as the Giant Eagle Owl, is a voracious predator. Here, one takes flight with the remains of a Water Thick-knee, a species of nocturnal shorebird. Photo Credit: Jonathan Rossouw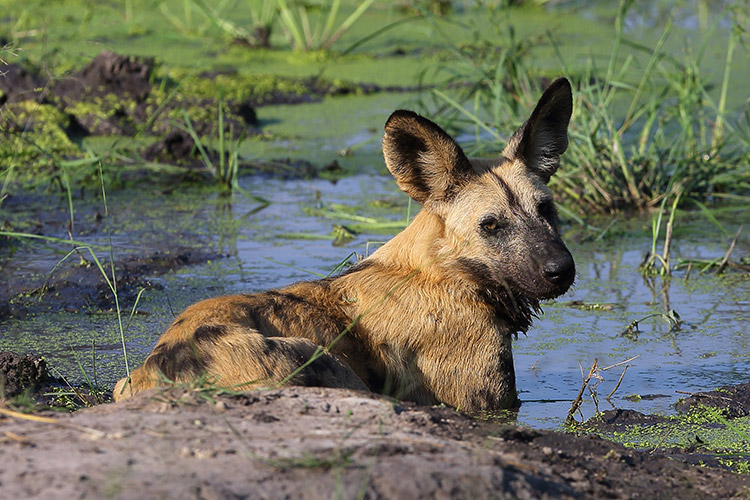 The Linyanti region lived up to its reputation as a fine place to find the attractive African Wild Dog, one of Africa's most endangered apex predators. Photo Credit: Jonathan Rossouw
The Mopane woodlands of the Linyanti also support a wide array of smaller creatures, such as this adorable Vervet Monkey baby. Photo Credit: Jonathan Rossouw
The glorious afternoons at Vumbura made for magnificent skyscapes, setting the scene for magical wildlife photography. Photo Credit: Jonathan Rossouw
Throughout the night the roaring grew closer, and we woke to the sight of two huge male Lions, watching them from our breakfast table in the first light of dawn. Photo Credit: Jonathan Rossouw
This magnificent 14-foot Southern African Rock Python provided further excitement. Photo Credit: Jonathan Rossouw
Another perfect Botswana sunset rounded out our experience of the Linyanti. Photo Credit: Jonathan Rossouw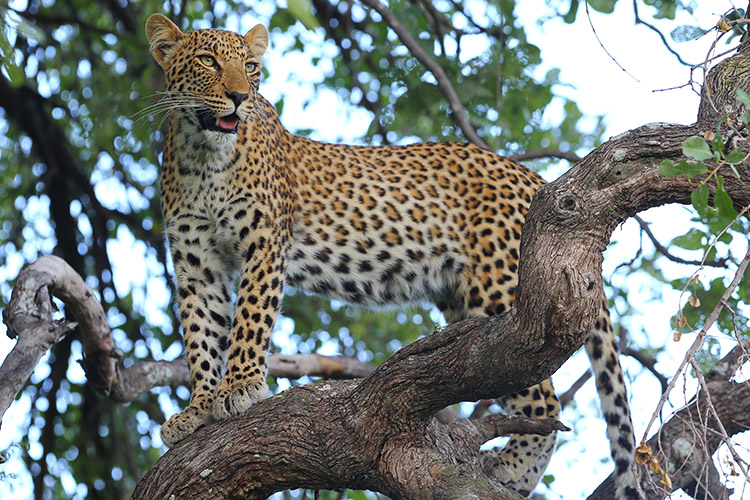 This 15-month old female Leopard explored the treetops. Photo Credit: Jonathan Rossouw
While her mother feasted on her fresh Southern Reedbuck prey in the thicket below. Photo Credit: Jonathan Rossouw
A day later, the kill was stolen by a lone wanderer Lion. Photo Credit: Jonathan Rossouw
And this incredible mother-daughter duo of Leopards kept us entertained throughout our time at Vumbura, with antics like clearing a flooded road in a single leap. Photo Credit: Jonathan Rossouw
To posing like a supermodel! Surely the world's quintessential feline! Photo Credit: Jonathan Rossouw
Field Journal: Botswana Safari in Green Season
These nostalgic words are being penned as we fly homewards over the mighty Okavango Delta,  at the end of what can only be described as an utterly sensational Botswana expedition in the green season. Glancing down on the myriad of glistening swamps, winding waterways and verdant grasslands, we are lured into an almost aching state of reflection, our minds flashing through a colorful reel of magical moments enjoyed over the last fortnight of action-packed Botswana safari days. A little lump develops in the throat as that mental film-show plays on. Is it really over…already? Saying goodbye to Botswana's wilderness is always so very hard.
Despite unusually late summer rains, the landscapes we traversed were literally bursting with life, with all four chapters of our Green Botswana safari tour showcasing this unadulterated abundance to tear-jerking perfection.
We first explored the remote Central Kalahari Game Reserve, reveling in the extraordinary beauty of lush savannas peppered with herds of fat Gemsbok, Springbok and Blue Wildebeest. The acoustic landscape was equally beguiling, with brilliant golden masked weaver birds buzzing amongst the thorn trees and striking Northern Black Korhaans, chest-deep in the waving grass, launching from termite mounds and taking to polished blue skies in full rapturous display. Monotonous Larks, fueled by testosterone and true to their names, even caroled on throughout the moonlit nights! The heaviest flying bird on Earth is the Kori Bustard and, this year, it seemed that every member of this giant tribe had assembled here in the central Kalahari, prowling for fresh locusts in the lush green grass. After delicious, fire-side dinners spent under stunning star-studded skies, dawn was soon heralded by the exotic sounds of yowling Black-backed Jackals, the cooing of Ring-necked Doves and the low hooting of Kurrichane Buttonquails, but the stand out auditory highlight was the collective, chest-rumbling roars of the resident lion pride. We were privileged to spend many hours during our three-night visit with these most majestic of felines, observing the amusing antics of playful cubs and the reckless hunting strategy of two sub-adults. But our gold-nugget memory of this normally parched land will surely be the regal majesty of the area's famed black-maned Lions, standing proud in the face of a rising and setting sun. All too soon, it was time to part company with the Wilderness Safari lodge team, bid farewell to the Bushmen guides who had taught us how to make fire with sticks and where to find a scorpion snack, and fly on to Tubu Tree camp, in the upper reaches of the great watery world of the Okavango Delta.
The fairytale tree houses of Tubu Tree placed us within the territory of a couple of those elusive and highly revered spotted cats, the leopards, of which our masterful guides found both mother and twelve month old son. The son remained hidden in long grass, slinking into deeper shelter upon hearing the unnerving raucous screams of a nearby baboon troop. His mother, however, allowed us a few moments of press-time before slipping effortlessly up into the dark recesses of a tree canopy, from where we could hear her snoring! But not to worry, the leopard show to match all was yet to come. We sipped our sundowners overlooking an endless swamp-scape, Red Lechwe antelope moving peacefully through the meadows alongside unprecedented numbers of the stately Wattled Crane. The sense of healthy abundance and exuberant life was palpable, seeming to make our gin and tonics taste that much sweeter. What a time to be on a Botswana safari adventure, as the floodwaters from the Angolan highlands are just beginning to slowly revitalize the delta!
Leaving the Okavango proper and flying eastwards towards the neighboring Linyanti floodplains, we felt the mounting anxiety of trying to locate the highly endangered African Wild Dog. Although the Kings Pool area is renowned for its healthy population of "painted wolves", the packs are highly mobile, often traveling over 50 miles a day in search of prey, and this characteristic makes tracking them down a matter of luck. But it appeared that luck was very much on our side: as we rounded the corner on our very first game drive, we found six of these beautiful dogs resting in the shade of a bush. Within a few minutes they woke, greeted one another, and set off on an afternoon hunt that saw us following frantically behind, the dogs chasing one Impala after another, leaping across roads and through bushes. Alas, for hungry predators the chase proved unsuccessful, but we were forced into yet more delighted celebration at our good fortune. And this was just the beginning, for the wildlife riches kept rolling in. During the darkness of our second night, two male Lions crossed into Botswana from Namibia's Caprivi Strip, and began roaring continuously from across the hippo pond. As the dawn light hit the land, we pinpointed their location and soon enough were off in the Land Rovers to get a closer look, whilst two of our party took to the air in a helicopter to film the goings-on. It wasn't long after leaving these fine males that we encountered an even rarer sight: a 14-foot Southern African Rock Python that gave us all many exciting memories! Between the baboon and warthog cameos, the herds of Impala, Burchell's Zebra and Red Lechwe, the fighting Waterbuck and breath-taking sunsets joined by elephants, hippos and African Fish Eagles, we couldn't believe that some of the best was still yet to come.
Our final camp, Vumbura Plains, situated on the eastern side of the Okavango Delta, offers astounding luxury alongside a picturesque swamp filled with grunting hippos and peeping Angolan Reed Frogs. But the sheer beauty of the area's mosaic of flooded grasslands, permanent Papyrus swamps, and forest islands was the perfect landscape finale, especially as thunderous afternoon cloudscapes rolled in and added untold glory to the unfolding panoramas. Our feline luck continued, with a female Leopard and her 15-month old cub clawing at a fresh kill of Common Reedbuck. Over the following three days, in between the journeys of giraffes, the herds of Cape Buffalo, the leaping lechwe, the traditional makoro rides, the roaring Lion encounters, and the candle-lit bush dinners, we photographed those two super-model Leopards in every conceivable way: snoozing in trees, on the hunt, atop a termite mound, scouting from a log, jumping over pools of water, and playing in the grass. Every day of our Botswana adventure we returned to our camp believing that the next day could not get any better, and every day we were wrong!
That's a Botswana safari for you, folks, and a GREEN Botswana may just be the very best of all!
Did you know that Apex Expeditions offers private safari tours? Contact us today for more details on how you can experience Botswana travel on your very own safari.