Our group of Apex travelers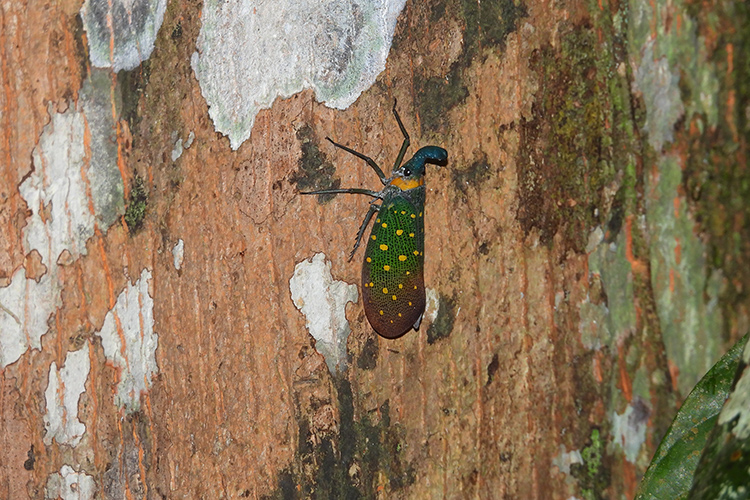 Lantern Bug at Danum, Borneo © Gerald Broddelez
Photographing Rhinoceros Beetles at Danum, Borneo © Gerald Broddelez
Rhinoceros Beetles mating at Danum, Borneo © Gerald Broddelez
Banded Broadbill at Danum, Borneo © Gerald Broddelez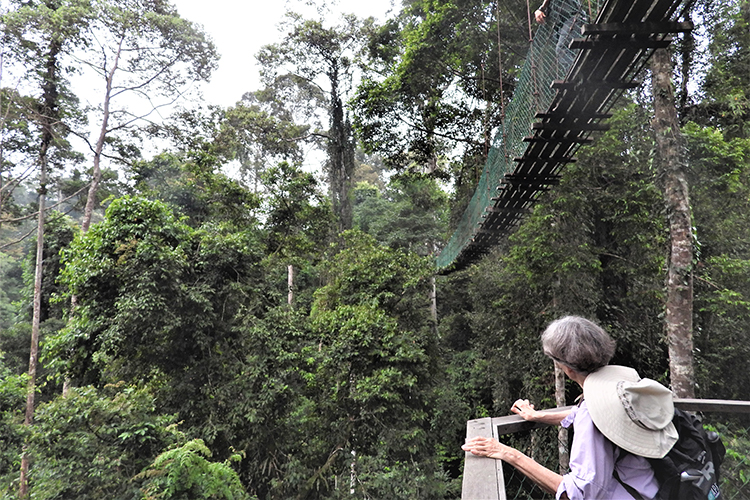 Canopy walkway at Danum, Borneo © Gerald Broddelez
Black-crowned Pitta at Danum, Borneo © Gerald Broddelez
Pygmy Elephants at Deramakot, Borneo © Gerald Broddelez
Buffy Fish Owl at Deramakot, Borneo © Gerald Broddelez
Diademed Roundleaf Bat at Deramakot, Borneo © Gerald Broddelez
Rhinoceros Hornbill at Deramakot, Borneo © Gerald Broddelez
Skink at Deramakot, Borneo © Gerald Broddelez
Gomantong Caves, Borneo © Gerald Broddelez
Gomantong Caves, Borneo © Gerald Broddelez
Bearded Pig at Kinabatangan, Borneo © Gerald Broddelez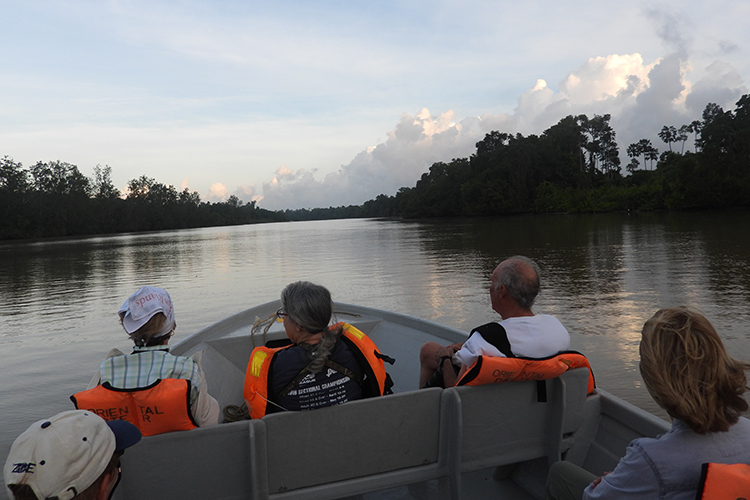 Kinabatangan, Borneo © Gerald Broddelez
Long-tailed Macaques at Kinabatangan, Borneo © Gerald Broddelez
Proboscis Monkey at Kinabatangan, Borneo © Gerald Broddelez
Male Proboscis Monkey at Kinabatangan, Borneo © Gerald Broddelez
Rhinoceros Hornbill at Kinabatangan, Borneo © Gerald Broddelez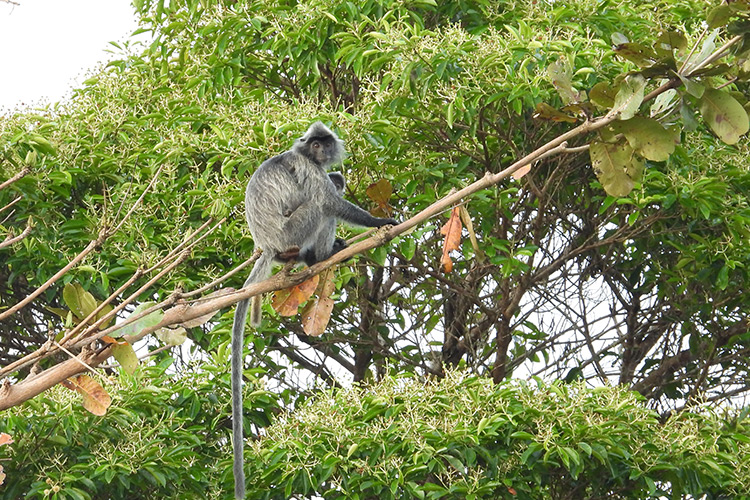 Silvered Langur at Kinabatangan, Borneo © Gerald Broddelez
Pitcher Plant at Mt Kinabalu, Borneo © Gerald Broddelez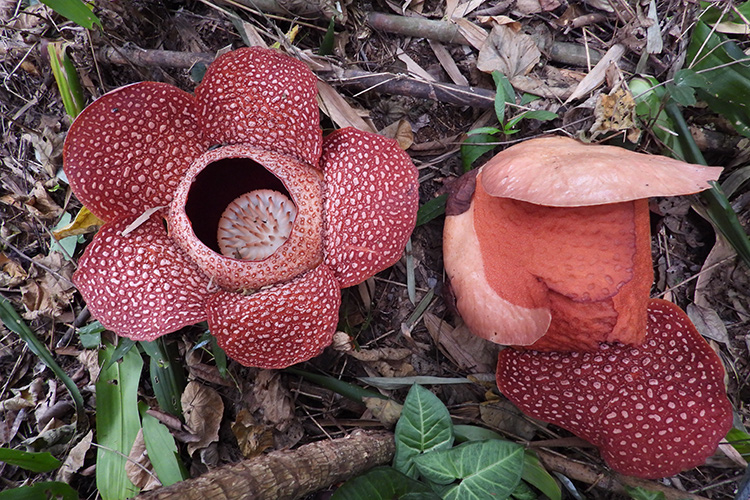 Rafflesia Flower at Mt Kinabalu, Borneo © Gerald Broddelez
Whitehead's Broadbill at Mt Kinabalu, Borneo © Gerald Broddelez
Keeled Green Pit Viper at Sepilok, Borneo © Gerald Broddelez
Orangutan at Sepilok, Borneo © Gerald Broddelez
Orangutan at Sepilok, Borneo © Gerald Broddelez
Oriental Dwarf Kingfisher at Sepilok, Borneo © Gerald Broddelez
Red Giant Flying Squirrel at Sepilok, Borneo © Gerald Broddelez
Red Giant Flying Squirrel at dusk, Sepilok, Borneo © Gerald Broddelez
Borneo Trip Journal and Photo Gallery
In February 2020, Apex travelers explored the mangroves, rivers, caves, and rainforests of Northern Borneo. Field leader, Gerald Broddelez, reports here on some of the trip highlights and shares his Borneo photos of the spectacular plant and animal life they encountered.
Danum Valley
A late afternoon in this incredible virgin rainforest gave us our first encounter with the "man of the forest." A young male Orangutan was feeding and swinging in the vines just a few feet away before deciding to come down and cross the road ahead of us. Wow! What a start for the many different animals that we would see on this expedition! A while later, we all had telescope looks at the brightly colored, endemic Black-crowned Pitta singing away from its perch several feet above the forest floor. The colorful Lantern Bug and huge Rhinoceros Beetles (that we observed mating) were among the many spectacular insects seen.
Afternoon outings along the canopied walkway gave us spectacular views of Red Giant Flying Squirrels soaring from tree to tree, closely watched by a family of Maroon Langur, Banded Broadbills and the very rare White-crowned Hornbill. Night drives turned up great sightings of Leopard Cat and Greater Mouse Deer.
Gomantong Caves
A short visit to these huge cathedral-like caves was another highlight of the trip. It is home to thousands of Swifts (including the ones harvested for bird nest soup) and 100,000 bats of more than 10 different species. These are visible from a wooden walkway high above the "moving" floor consisting of millions of critters! On the way in we found a single male and a mother and baby Orangutan giving us unsurpassed views!
Kinabatangan River
This is "the spot" for one of Borneo's strangest primates, the Proboscis Monkey. We were not disappointed as we soon found several cooperative groups of these long nosed monkeys feeding in the riverside trees overhead. We also had very good views of several Orangutans, Leaf Monkeys and both Crab-eating and Pig-tailed Macaques. Cruising in comfort along the river and its tributaries we found a good selection of other wildlife including the beautiful Rhinoceros Hornbills, a huge Saltwater Crocodile, rare Storm's Storks, Buffy Fish-Owl patrolling the river at night, and Bearded Pigs right by our accommodations.
Deramakot Reserve
This reduced impact logging forest with its nice chalets was our home for almost a week. We spent our time exploring the logging roads with our open "safari" style vehicles. Among the many highlights here were several groups of Bornean Pygmy Elephants, Leopard Cats, Red Langurs, Bornean Gibbon, Red-bearded Bee-eaters and a long and varied list of birds. The evening spotlighting sessions produced many rare and seldom seen mammals. Best of all were sightings of the Slow Lori, Mouse Deer, several Flying Squirrels, Bornean Colugo, Palm Civets, Diadem Round-leaf Bat and the rarely seen Banded Civet.
Sepilok
Here, we visited the world-renowned Orangutan and Sun Bear Rehabilitation Centers. We got close-up views of some of the adults and babies of both species as they came in for their morning feeding sessions.
During the evening we visited the canopy walkway and did a short walk in the nearby forest. Several "flying" squirrels were seen overhead while a Colugo and a beautifully colored Green Pit Viper gave us eyeball to eyeball views. An oriental Pygmy Kingfisher and a rare Malay Stink Badger were the highlights after dark!
Mount Kinabalu
Our last destination of the trip did not disappoint. We had a great morning exploring the rainforest around the headquarters seeing some extremely rare and beautiful birds such as the endemic Whitehead's Trogon and Whitehead's Broadbill as well as some of the near endemic Mountain Squirrels.
At the botanical gardens we found the rare and large Rajah Pitcher plant as well as a nice selection of orchids. That afternoon, we saw the world's biggest carnivorous flower, the Rafflesia. We rounded out a fantastic trip with an exclusive farewell dinner at the wonderful Shangri La Rasa Ria Resort.