Our year-in-review Apex@Home newsletter, December 2020.
Our first Apex@Home newsletter, April 2020.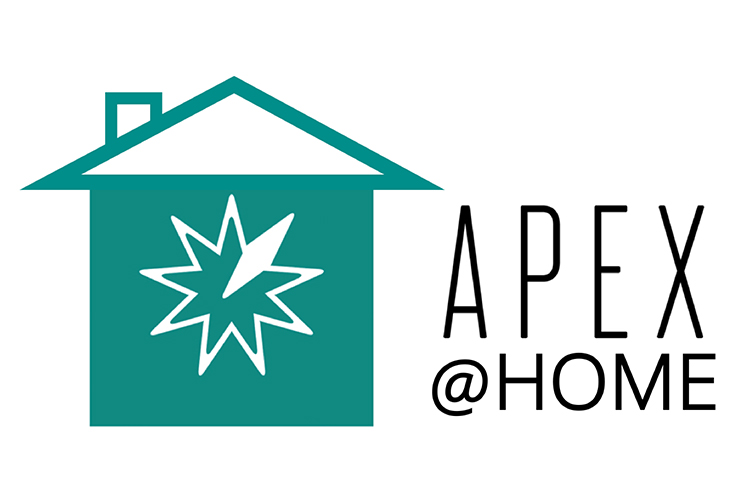 Our Apex@Home logo.
A Word About Apex@Home
We can't put Apex@Home to bed without a few final but very important words of thanks. These are for the masterminds who not only conceptualized a way of staying engaged while being home-bound but also managed to bring it to life in such a successful way! Because I am credited as the chief communicator whose name appears on each issue, many of you have thanked me for the laughs and entertainment, but I'm here to set the record straight. I assure you those thanks were passed along at every opportunity, but I believe it's time to bring the team into the spotlight.
Those who have had the pleasure to travel with Kevin Clement, often referred to as our Renaissance Man, will not be surprised to learn that Kevin is the genius creative mind behind the entire Apex@Home idea. But Kevin didn't stop there, he wore many hats through the course of 2020: chief wrangler of content from our naturalists, writer, storyboard creator, and video editor extraordinaire. I speak from personal experience when I say he is able to take the most disjointed, lackluster collection of video clips and turn them into something cohesive. I have known and worked with Kevin for many years but his talents and creativity with this series, blew me away.
Another key player was Karen Sinclair, our head of marketing, who we affectionally refer to as our marketing scientist. Few of you know Karen, as she is part of the office-based team, but we hope you'll get to meet her on a trip in the not too distant future. Karen had the unenviable task of taking Kevin's grand concepts and making them accessible to all of us in a seamless, user friendly way. She is the gatekeeper, so to speak, and while I know the pressure was often intense, she pulled it off brilliantly with each edition! Her passion and enthusiasm for the Apex brand are always contagious.
I also have a huge amount of gratitude to all our field leaders who contributed and will continue to share fun updates. We've been buoyed by their videos and thrilled to get a glimpse of their homes and families. Thank you Diogo, Duke, Gerald, Ingrid, Jonathan, Kevin, Liam, Marco, Peter, Richard and Shirley for your incredible efforts and contributions!
But most importantly, we couldn't do what we do without all the love and support we receive from you, our intrepid and keen explorers. Thank YOU!
If you missed any of our Apex@Home newsletters in 2020, you can find all of the articles, videos, contests, and more right here on the Apex Expeditions blog. Enjoy!