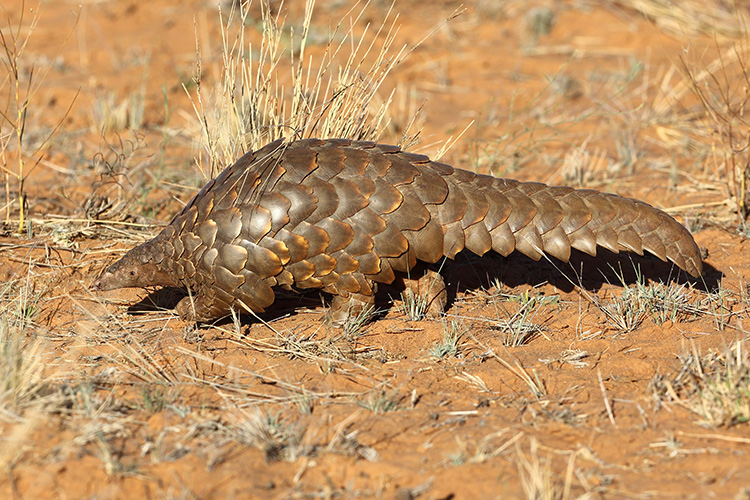 Ground Pangolin seen at Tswalu on Apex Secret South Africa expedition. © Jonathan Rossouw
A sunset celebration after having sighted the Ground Pangolin.
Apexers seeking the Ground Pangolin on Secret South Africa expedition.
Apex Adopts White-bellied Pangolin to support WildAid
Announcing our Baby Pangolin
On February 20, 2021, the world came together to celebrate World Pangolin Day, an opportunity to raise awareness about these unique mammals and their plight. We had a celebration of our own as we took the opportunity to announce the name of our baby Pangolin!
Last November, we joined the crowd gathered on Zoom for the WildAid Virtual Gala event, to honor 20 years of fighting illegal wildlife trafficking. That evening, Apex made the winning bid to adopt a male White-bellied Pangolin that will be released into a protected forest near Lagos, Nigeria. We needed a name for this adorable creature, so naturally, we turned to our Apex community for help.
We were overwhelmed by the responses we received, but one name stood out above the rest. We are pleased to announce that we have named the baby Pangolin, "Neil," a name suggested by one of our loyal Apex travelers, Karen Hoffman. Inspired by her fellow travelers, Karen wrote the words to a special song to celebrate spotting a Ground Pangolin on their Apex safari in South Africa—the lyrics of their creation, "Sweet Pangolin," were enthusiastically sung to the tune of Neil Diamond's classic 1969 hit, "Sweet Caroline."
"I had never seen a pangolin before and had a hard time envisioning it," Karen explained. "I was completely astounded when our incredible tracker found one late one afternoon and we had a mesmerizing experience walking with it as it fed. We definitely used the power of Black Rhino dung to summon up all the wonderful sightings! We were all so thrilled that we broke into song during sundowners which gave me the inspiration for the full lyrics. Here's part of the song in case you'd like to sing along:
Sweet Pangolin
Sand. Magic sand.
Rhino dung.
Wish from me…Wish from you.
Sweet Pangolin whoop, whoop, whoop
Never knew you'd be so good aardvark! aardvark! aardvark!
I've been inclined whoop, whoop, whoop
To believe we really would. See. You. Now.
Thank you to all of you who submitted names. Please join us in celebrating baby Neil—we wish him a long and wonderful life.
Learn More
Pangolins have become the most heavily trafficked wild mammal in the world. Up to 200,000 are estimated to be taken from the wild every year across Africa and Asia. To learn more about WildAid and their work to protect this mammal and eliminate demand for pangolin products, please visit their website at wildaid.org.