A truly special morning at Cierva Cove on the Antarctic Peninsula cruising through ice floes. © Giovanna Fasanelli
A Gentoo Penguin spotted while ice cruising in the Antarctic Peninsula. © Jonathan Rossouw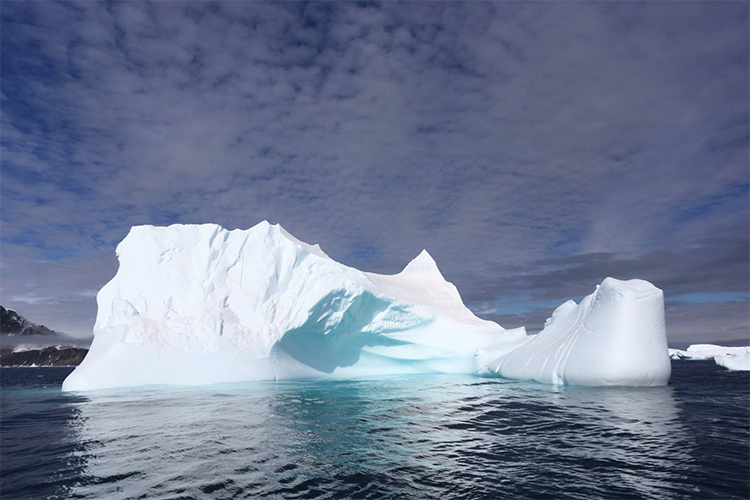 No two icebergs are ever the same but each is as beautiful as the next. © Jonathan Rossouw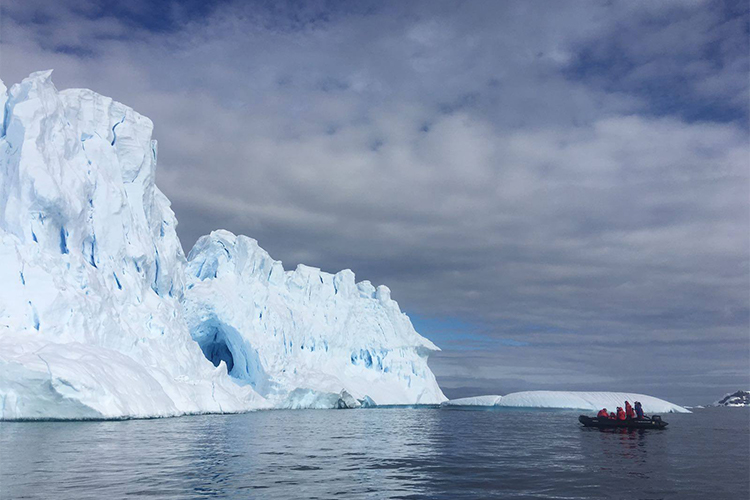 The sun pushed through and lit up the white wonderland of ice. © Giovanna Fasanelli
World of Ice Revealed in Antarctica
Naturalist and expedition team member, Kevin Clement, reveals the raw beauty of Antarctica ice on his recent Apex expedition aboard Silver Explorer. Today, he reports from Neko Harbor and the Neumeyer Channel. Read on!
Antarctica is the world capital of ice. Ice occurs here on such an enormous scale and in such an immense variety of forms, nowhere else even compares. The surface of the continent is more than 99 percent ice-covered. Only a few scraps of rock peek out from under the ice sheet, which is up to 15,000 feet thick, averaging about 6,000. It stores the equivalent of 60 years' precipitation on Planet Earth. That's 46,000 years' flow of the Mississippi River. The weight of that great mass, bearing down on the South Pole, makes the earth slightly pear-shaped.
Going ashore at Neko Harbor
We spent today in this World of Ice, surrounded by the glaciers of the Antarctic Peninsula, the icebergs of its passages, and the ice caps on its islands. In the morning we went ashore at a place called Neko Harbor, landing on a stony beach below a Gentoo penguin colony. To our left was a massively crevassed and very active glacier—so active that Expedition Leader, Russ Evans, warned everyone not to linger on the beach, as big waves generated by calvings often swept across it.
For a better view we hiked up onto the ridge behind the landing, thereby walking onto a glacier ourselves—as evidenced by the very open crevasse that the trail dipped into. Some previous visitor had broken through the snow crust and put a foot or a leg into it. Since then, the crevasse, of which we had been warned, has grown to a length of maybe 100 feet. I routed the trail I was establishing away from it. We also cruised around the harbor, the next cove, and the channel in our Zodiacs. It was glassy calm as we wove between the icebergs. We staff members had to assure guests over and over that no, these were not normal conditions for Antarctica.
Witnessing glorious Neumeyer Channel
Over lunch the ship cut across the relatively wide Gerlache Strait and headed toward a seemingly impenetrable wall of ice. A narrow passage opened up, and we threaded our way into it. This was the Neumeyer Channel, one of the most beautiful waterways in Antarctica. The sun shone down and glittered from the ice, whether it was floating, flowing, or falling from the face of a glacier. It was the kind of weather you pray for when you're visiting such a spectacular place; and it was exactly the kind of place you want to be when miraculously good weather comes your way.
As we rounded a bend, a collection of squat black and orange huts came into view. This was Port Lockroy, our destination for the afternoon. Once an active British base, Lockroy has become Antarctica's first museum, as well as a gift shop and post office. Postcards were mailed; gifts and souvenirs were bought; passports were stamped; and hopefully, something of the area's history was learned.
Sailing back up the Neumeyer, ice of every possible permutation all around, I remembered my first trip to Antarctica. I had lived for many years in Alaska, travelled widely in the Arctic, and climbed up a lot of glaciers, and I thought I had seen ice. But I was wrong. I had never really seen ice until I went to Antarctica. To see all the possibilities of ice, all of the myriad shapes and forms it can assume, you have to come to the Antarctic. You have to come to the World of Ice.
Travel with Kevin and the Apex expedition team in January on our Antarctica, South Georgia and Falklands Small Ship Cruise.