Antarctica, South Georgia & Falkland Islands
Chinstrap Penguins require snow-free ground for nesting and build their circular nests with stones, quite often stolen from other nests. © Peter Harrison
No two icebergs are ever the same, and one with penguins on it, such as these Adelies, offers the ultimate Antarctic photo opportunity. © Shirley Metz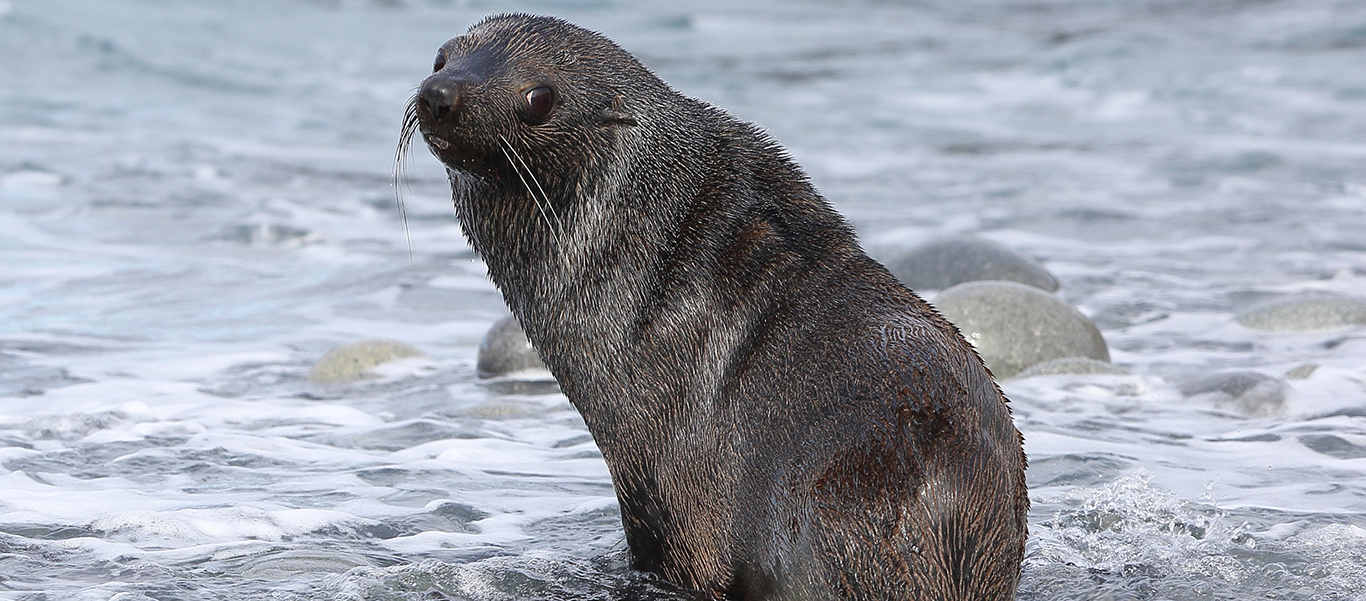 As the name suggests, Antarctic Fur Seals are restricted to Antarctic waters with 95% of the world population breeding on South Georgia. © Jonathan Rossouw
On Salisbury Plain, gaze at a blanket of yellow, orange, black and white at the King Penguin breeding ground, where up to 70,000 pairs reside. © Peter Harrison
The Antarctic Peninsula is highly mountainous with peaks rising to about 9,200 feet. These mountains are considered to be a continuation of the Andes of South America. © Jonathan Rossouw
Steeple Jason is home to the largest Black-browed Albatross colony in the world with well over 150,000 nests. © Peter Harrison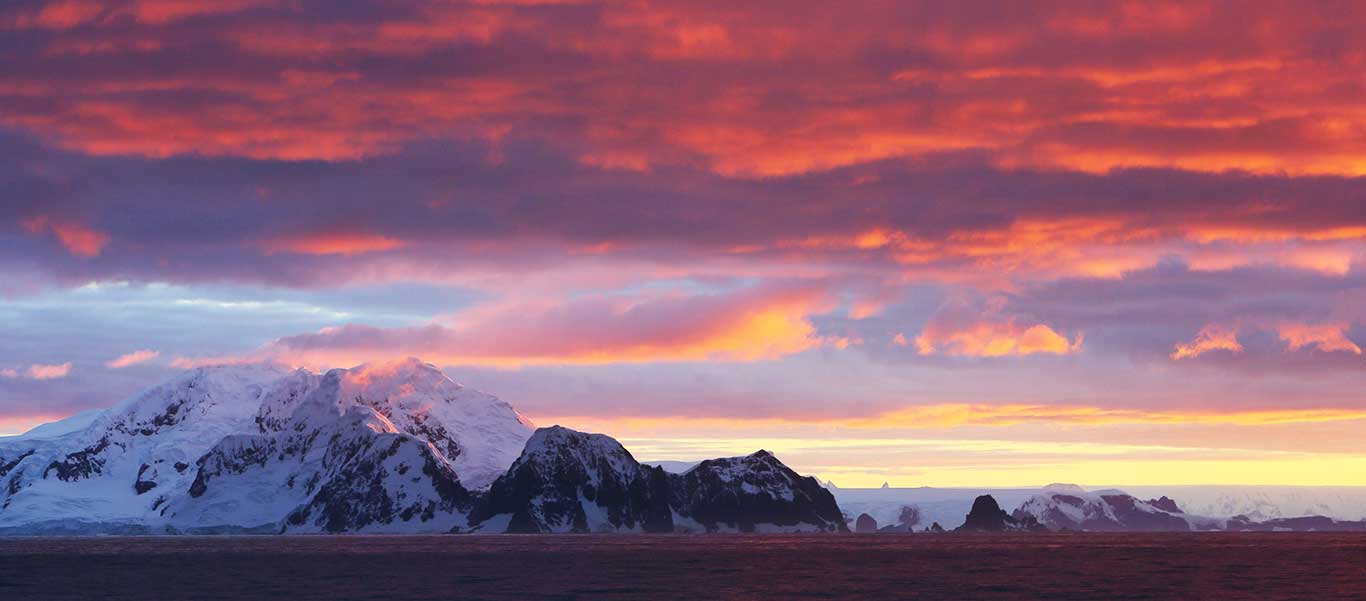 With long daylight hours and beautiful summer light at this time of year, there is ample opportunity to explore this otherworldly kingdom. © Jonathan Rossouw
Cruise to Antarctica, South Georgia & the Falkland Islands
Long before man set foot on Antarctica, it loomed large in our imagination. The ancient Greeks obsessed over a Terra Australis, a vast continent in the far south of the globe to "balance" the northern lands. And it stirs our passions even still, this mythical world of ice, rock, sea, and sky teeming with colossal icebergs and gargantuan whales. Fulfill your explorer's curiosity and follow the routes made famous by Shackleton and Amundsen on this 20-day journey aboard the luxury expedition vessel Silver Explorer. Visit massive albatross colonies in the Falkland Islands and Shackleton's grave in South Georgia, see pink-tinged glaciers at Elephant Island. Walk among tens of thousands of penguins and seals, and experience that place of legend, the endless white and blue of the Antarctic Peninsula. 


Destinations
Travel by Air
Travel by Road
Travel by Boat
Travel by Bullet Train
Travel by Rail
Travel by Dog Sled
Arrive Buenos Aires, Argentina

Arrive in Buenos Aires this morning where you will be met and transferred to the Park Tower Hotel. Depart the hotel this afternoon for a visit to the Costanera Sur Ecological Reserve. This evening, join your Apex expedition team for a welcome dinner and briefing. Overnight at the Park Tower Hotel.

Buenos Aires / Ushuaia / Embark Silver Explorer

After breakfast, transfer to the airport for your chartered flight to Ushuaia. Enjoy lunch upon arrival, then embark your expedition vessel, the Silver Explorer—your home for the next 18 nights. As you set sail down the Beagle Channel, look for Magellanic Diving Petrel, Imperial Shag, Rock Shag and Southern Giant Petrel while admiring the stunning peaks of the Martial mountain range.

At Sea

Attend informal lectures about the upcoming Falkland Islands and their magnificent endemic wildlife. Join naturalists on deck and search for the various seabirds and marine mammals that flourish in these krill-rich waters.

West Point and Saunders, Falkland Islands

Located some 300 miles east of southern Argentina, the exquisite Falkland Islands have more to offer than their history as the battleground of the famed British-Argentinian conflict. Teetering at the edge of the Antarctic eco-zone, their 800 miles of coastline are home to 63 species of birds and a plethora of South American Fur Seals, South American Sea Lions, and Peale's and Commerson's Dolphins, among other cetaceans. A morning landing at West Point Island reveals colonies of Black-browed Albatrosses that nest side-by-side with Rockhopper Penguins. During lunch Silver Explorer will reposition to Saunders Island, the second-largest of the offshore islands. Gentoo and King Penguins reside in the open dune and sand flat area, while Rockhopper Penguins, Imperial Shags and Black-browed Albatrosses frequent Mount Richards. Other key bird species are the Black-throated Finch, Ruddy-headed Goose and Falkland Steamer Duck.

Stanley

Though the Falklands are still disputed territory, culturally they are British through and through. This is immediately evident in Stanley, the Islands' capital and home to most of their 3,000 inhabitants. Stroll Stanley's distinctly British-feeling streets, lined with tin-roofed houses, rose gardens, and traditional pubs and visit the 19th-century Anglican cathedral.

At Sea

Attend lectures by your resident experts to prepare you for three action-packed days of landings on South Georgia. Between lectures, join your expedition team on deck to search for seabirds and cetaceans. As we draw ever-nearer to South Georgia, sightings of both seabirds and whales will increase and should include Atlantic, Soft-plumaged and Grey Petrels, and Great and Sooty Shearwaters. The show stealers are usually the strikingly-patterned Pintado Petrels that by now will be your constant companions. Albatrosses too, will be around the vessel and in your wake: Light-mantled, Sooty, Black-browed, Grey-headed, and the largest of them all, the majestic Wandering Albatross, whose wing span is usually over 11 feet. These birds roam the Southern Ocean, a vast, circumpolar water mass, and spend the first seven to ten years of their life at sea without ever returning to land. They are the most itinerant of all lifeforms. Marine mammals to look for on your approach to South Georgia include Fin, Sei, and Southern Right Whales together with Antarctic Fur Seals and Southern Elephant Seals.

South Georgia Islands

One look at South Georgia's towering mountains, and you'll understand its nickname of the 'Alps in mid-ocean.' Amid these breathtaking peaks, broken up by rolling grasslands, lies an astounding concentration of wildlife—Antarctic Fur and Southern Elephant Seals, and several albatross including Black-browed, Light-mantled Sooty, Grey-headed and the spectacular Wandering; plus King and Macaroni Penguins. South Georgia was a favorite of early explorers—Captain James Cook first stepped ashore in 1775, but perhaps more famous is Sir Ernest Shackleton's arrival in 1916, following the sinking of his ship, the Endurance. Flexibility in exploring South Georgia is key, as you take advantage of the long daylight hours and accommodate Mother Nature's whims.

The highlights of South Georgia are seemingly endless but a few unforgettable stops may include the following:

In Salisbury Plain, gaze at a blanket of yellow, orange, black and white at the King Penguin breeding ground, where up to 70,000 pairs reside along the beaches and hills.

Visit the abandoned whaling settlement in Grytviken, where penguins now walk through the streets, and visit Shackleton's final resting place to toast the great explorer.

Gold Harbour, is a picture-perfect bay with the Bertrab Glacier on one end, a sandy beach covered in King Penguins and Southern Elephant Seals, and tussock-studded hills worth hiking to for views of Light-mantled Sooty Albatross soaring overhead.

Admire spectacular icebergs surrounding Cooper Bay, then cruise by Zodiac for a closer look at Chinstrap, Gentoo, and Macaroni Penguins onshore.

At Sea

As you cruise the frigid Scotia Sea, warm yourself with rousing tales of the unimaginable odds Shackleton's men overcame while stranded over a winter on upcoming Elephant Island. Before turning in at night, be sure to stroll the deck and experience the sheer vastness of the Antarctic night sky and sea.

Elephant Island, South Shetland Islands

Located a mere 150 miles from Antarctica, the South Shetlands still manage to support some vegetation, as they are the most southerly members of the Scotia Sea Islands tundra ecoregion. Pink algae-flecked glaciers greet you as you approach Elephant Island but it's the jagged peaks that drop dramatically into the swirling seas that capture your attention. In 1916, when Shackleton's 22-man crew was stranded here, they lived beneath two upturned boats for 105 days until they were rescued. To witness the extreme conditions firsthand makes it almost unfathomable to imagine anyone lasting four days, let alone four months, and yet they did.

Antarctic Peninsula

With near constant daylight at this time of year, there is ample opportunity to explore this otherworldly kingdom. The Antarctic Peninsula is the northernmost part of the continent of Antarctica, and is irresistible for its spectacularly carved icebergs and calving glaciers, and for the possibility of up-close encounters with marine mammals, including Weddell, Southern Elephant, Crabeater and Leopard Seals, and Minke, Humpback, Sei and Fin Whales, as well as Orcas. Zodiacs allow for up-close encounters with this wildlife and, weather permitting, landings on shore, where you can walk among penguins, and perhaps visit a research station to see the multinational scientific activities taking place.

In the spirit of expedition cruising, flexibility is key, and your Expedition Leader will determine the best course each day. Taking into account the weather, ice conditions and wildlife activity, we hope to spend time at the following locations:

Brown Bluff, where hundreds of skua and Pintado Petrel nests hang above an ash beach strewn with extraterrestrial-looking boulders. Some 20,000 pairs of Adelie Penguins, and hundreds of Gentoo Penguins make their home on this beach.

See hauled-out Weddell and Antarctic Fur Seals on a Zodiac tour off Cuverville Island. Once ashore, walk past Gentoo Penguin nesting sites while looking out for Snow and Pintado Petrels.

Ice cruise along aptly-named Paradise Bay, with stunning views of mountains, glaciers and icebergs. It is also home to Argentina's "Base Almirante Brown" research station.

Walk amongst roaming Snowy Sheathbills and Gentoo Penguins on a visit to Port Lockroy, a British base constructed towards the end of World War II that was later used as a research station and is now both a museum and operating post office.

On Paulet Island, learn about Otto Nordenskjold, who over-wintered here in 1912, as you gape at the 80 to 90,000 breeding Adelie Penguins blanketing the terrain. On a nearby hill, view a massive colony of Antarctic Shags.

At Deception Island, navigate the narrow channel known as Neptune's Bellows, and enter into a volcano whose collapsed cone was flooded by seawater. Once inside, explore the island's whaling history with views of the ruins and old boilers used to make whale oil in the early 1900s.

Drake Passage

This 600-mile-wide channel separating the Antarctic Peninsula from Cape Horn is notorious among mariners for its high winds and rough seas. On the upside, much of these turbulent conditions are caused by the Antarctic Convergence, a natural boundary where cold polar water flows northward and warmer equatorial water moves southward, pushing massive amounts of nutrients to the surface and attracting a great number of seabirds and whales. Watch for Black-browed and Wandering Albatross, Sooty Shearwaters, and White-chinned Petrels. As the mountains of Tierra del Fuego come into view, be on deck to celebrate the end of your magnificent Antarctic journey.

Ushuaia / Buenos Aires

After breakfast, disembark the Silver Explorer and transfer to the airport for your charter flight to Buenos Aires and on to your international flights home.
Have a question? Call us at 206.669.9272 /
800.861.6425

. Prefer online?Get in Touch

The Centenary of Shackleton's Endurance Expedition
Polar explorer, Ernest Shackleton, believed that crossing the continent was the next great Antarctic 'first' to be accomplished. In 1914, with a crew of 27 men, Shackleton set sail for the Antarctic aboard the ship
Endurance
. Despite losing their ship in one of the most remote parts of the world, Shackleton's extraordinary leadership and relentless efforts brought all 28 men home in 1916. We will toast "The Boss" and recount this incredible story as we sail the same waters and visit several historical sites.