Jonathan photographing Kaempfer's Tody Tyrant, #8,881, at Volta Velha, Brazil. © Diogo Lucatelli
Araripe Manakin, #8,837, at Arajara Water Park, Brazil. © Jonathan Rossouw
Black-capped Screech Owl, #8,876, at Volta Velha, Brazil. © Jonathan Rossouw
Caatinga Parakeets, #8,834, Brazil. © Jonathan Rossouw
Caatinga Puffbird near Canudos, Brazil. © Jonathan Rossouw
Canudos Caatinga, Brazil. © Jonathan Rossouw
Diogo admiring Quixada Caatinga panorama. © Jonathan Rossouw
Hooded Gnateater, #8,823, Serra do Meruoca, Brazil. © Jonathan Rossouw
Itaimbezinho Canyon, Brazil. © Jonathan Rossouw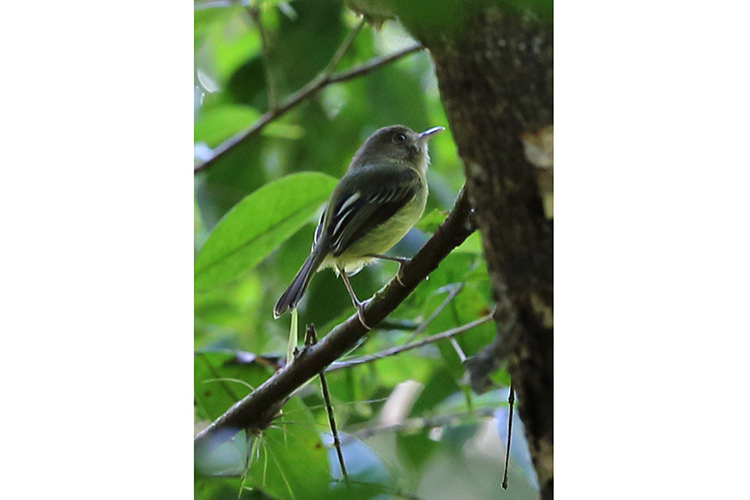 Kaempfer's Tody Tyrant, #8,881, at Volta Velha, Brazil. © Jonathan Rossouw
Lear's Macaw, #8,846, pair above their nesting cliff Canudos, Brazil
Lear's Macaws, Canudos, Brazil
Lear's Macaws in flight, Canudos, Brazil
Lear's Macaws, #8,846, Canudos, Brazil
Long-tailed Cinclodes, #8,866, at Sao Francisco de Paula National Park, Brazil. © Jonathan Rossouw
Long-tailed Cinclodes at nest cliff, Sao Francisco de Paula National Park, Brazil. © Jonathan Rossouw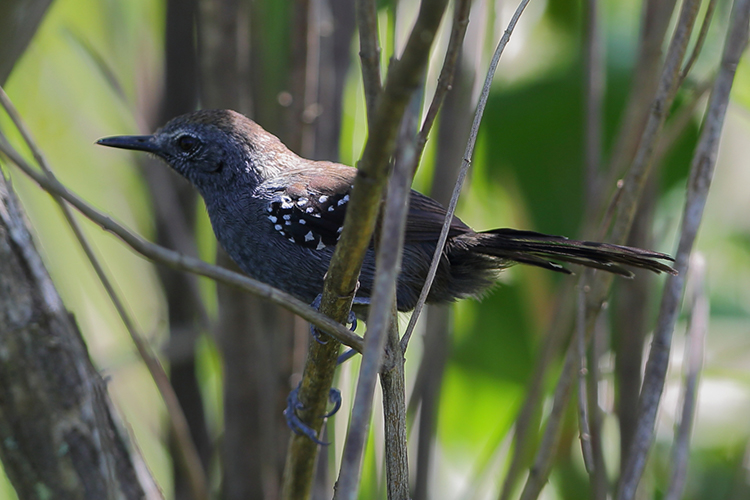 Marsh Antwren, #8,882, near Volta Velha, Brazil. © Jonathan Rossouw
Long-tufted Screech Owl, #8,875, at Sao Francisco de Paula National Park, Brazil. © Jonathan Rossouw
Ochre-backed Woodpecker, #8,836, at Quixada, Brazil. © Jonathan Rossouw
Pygmy Nightjar, #8,820, Brazil. © Jonathan Rossouw
Short-tailed Antthrush at Baturite, Brazil. © Jonathan Rossouw
The elusive Speckle-breasted Antpitta, #8,864, at Sao Francisco de Paula National Park, Brazil. © Jonathan Rossouw
Volta Velha Restinga woodland, Brazil. © Jonathan Rossouw
Ka-CHING-a! Birding Bounty in Brazil's Arid Northeast
Jonathan's 9,000 Bird Quest Continues
With my target of trying to see 9,000 world birds by November 2018 now clearly defined, the question was simple: where on Earth would I need to go to find 200 new birds, and FAST for my 9,000 bird quest?
I considered the options. How about an expedition into remote New Guinea? Tantalizing potential… but it's always slow going, and after numerous trips all over the "Bird Island", the unseen pickings are slim. A first trip to Taiwan? Easy birding, but August is typhoon season. Then an upcoming Apex tour-leading commitment made the decision for me: it HAD to be Brazil!
That Brazil is biologically diverse is well recognized, hosting within its borders both the largest of all the world's rainforests, the Amazon, and the largest of all tropical wetlands, the Pantanal. Together, these fabulously bird-rich habitats account for most of the country's staggering 1,900+ avian species.
But not all of it!
For along the north-east coast of Brazil are two equally important areas of endemism for the hungry world birder: the Atlantic forests, or Mata Atlantica, and separating these forests from the Amazon itself, a swathe of arid countryside, known locally as Caatinga. It was this latter zone that fascinated me most, a "Wild East" of Brazil dominated by tawny sandstone canyons and peculiar granite inselbergs, and blanketed in a blend of thorn scrub, columnar cacti and ground bromeliads. Most importantly, the avifauna is both utterly unique, and sizeable!
Brazil Bound
A short call to my Brazilian friend and Apex co-guide, Diogo Lucatelli, and a plan was hatched. I flew into Fortaleza, and together we blazed a trail south via the Baturite and Araripe plateaus and the legendary canyons of Canudos, to the highly endangered patches of remnant Atlantic forest along the coast of Alagoas and Bahia states.
Along the way, we racked up a truly incredible tally of rare and endemic birds. Glamorous specialties of the caatinga scrub like Ochre-backed Woodpecker, Caatinga Parakeet and Red-cowled Cardinal rubbed shoulders with more subdued, but no less fascinating, taxonomic oddities like Pygmy Nightjar and Great Xenops, while the highly isolated, taller forests of the so-called "sky-islands" delivered rarities like Grey-breasted Parakeet, Short-tailed Antthrush and the "strawberry and cream" Araripe Manakin, highly localized species with global populations in the mere hundreds.
Tracking Down the exquisite Lear's Macaw
But of all the memories, the one that stands out in my mind is the dawn that we spent overlooking the canyons of the Raso da Catarina. It was here, in 1978, that Helmut Sick, the doyen of Brazilian ornithology, finally tracked down the breeding grounds of the exquisite Lear's Macaw, a full century after it was first described to science. At the time, the population had been reduced by trapping for the cage bird trade to a mere handful in the wild, but through concerted conservation efforts, these numbers have since rebounded to over a thousand individuals.  To watch flocks of these glorious, indigo blue parrots circling up off their communal roosts against the rust and ochre-hued cliffs at dawn was one of the most poignant, atmospheric experiences imaginable.
When we finally emerged on the Bahia coast, eight days and many thousands of miles later, my list had leapt to 8,856… the Caatinga had been "Ka-CHING-a!", indeed!
Southern Brazil Delivers Beyond Expectation 
Immediately after leading our Apex Amazon and Pantanal expedition, Diogo and I resumed the search in Brazil's cool southern states of Rio Grande do Sul and Santa Catarina. We were extremely fortunate to be joined for a couple of days by my friend, Andy Whittaker, one of Brazil's most experienced field birders, focusing on the scenic, Araucaria­-studded forest and high grasslands inland of Porto Alegre, where a rash of great birds awaited us. Foremost for me was the sneaky Blue-bellied Parrot, though a duo of owls, and another of antpittas was equally rewarding. A final day in the critically-endangered restinga woodland of coastal Santa Catarina yielded Kaempfer's Tody-Tyrant, another bird "lost" and then "rediscovered" almost 100 years after its first description, along with Marsh Antwren and Marsh Tapaculo, two species amazingly only described for the first time in the last 10 years, both occurring within a short drive of major population centers!
I flew back home to Cape Town well pleased with my time in Brazil, the list standing on 8,884. A little over a hundred to go, with the southern Moluccas looming at the end of the year, and the Yucatan peninsula and Jamaica planned for early 2018!
Follow Jonathan's 9,000 Bird Quest
You can follow along as Jonathan's quest continues to unfold. Read about it on our blog or follow Apex on Facebook, Instagram or Vimeo for the latest updates!
Learn more about Jonathan and his upcoming expeditions.