The Coquerel's Sifaka is a sight to see whether dancing on land or flying mid-air. © Jonathan Rossouw
A Collared Lemur eyes our group while at the Saiadi Botanic Gardens. © Giovanna Fasanelli
The carnivorous Nepenthes Madagascariensis produces sweet nectar that attracts, traps, and then dissolves small insects. © Jonathan Rossouw
Ring-tailed Lemur babies, such as this one, will stay with their mothers until they are approximately two years old. © Jonathan Rossouw
This regional endemic, the Madagascar Paradise Flycatcher, was spotted near Ankarana National Park. © Giovanna Fasanelli
Watching the Verreaux's Sifaka dance across open spaces was one of the trip highlights. © Jonathan Rossouw
The endemic White-breasted Mesite walks the forests of Madagascar foraging for insects. © Jonathan Rossouw
The Henkel's Leaf-tailed Gecko spends most of its life in the trees, only venturing to the ground to lay eggs. © Giovanna Fasanelli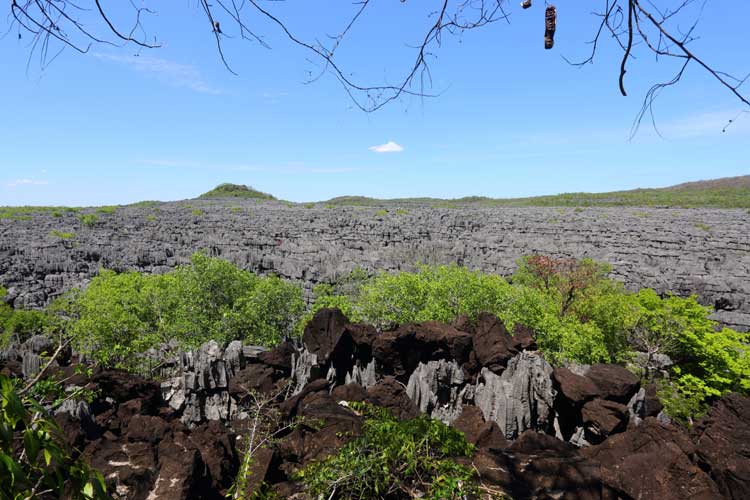 Vertical and horizontal erosion of the limestone causes a forest of stone called the Tsingy © Jonathan Rossouw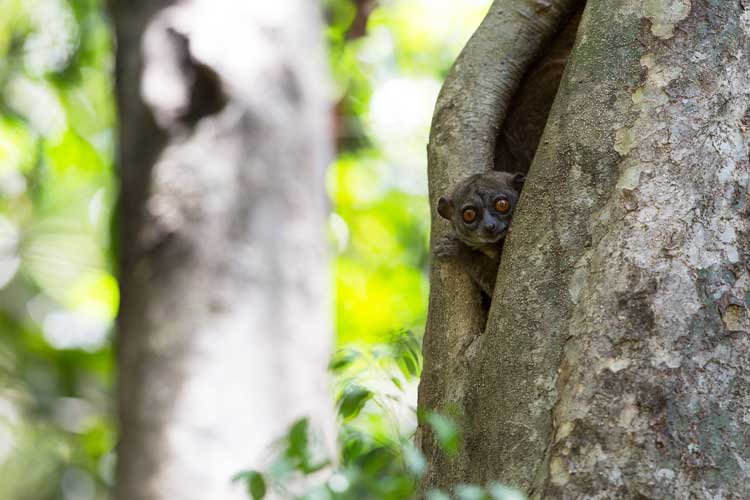 The endemic Ankarana Sportive Lepilemur is one of Madagascar's smallest lemurs weighing a whopping one pound. © Giovanna Fasanelli
Due to their small size and secretive nature many of the Brookesia genus chameleons were only discovered within the last thirty years. © Giovanna Fasanelli
A small group of Diademed Sifaka came into view one afternoon near Perinet. © Giovanna Fasanelli
The spectacular Amber Mountain Chameleon. © Giovanna Fasanelli
Indri declare their territory by singing so loud and with such passion that it takes one by surprise. © Jonathan Rossouw
Madagascar held creatures of all shapes and sizes including this Giraffe-necked Weevil. © Giovanna Fasanelli
The Madagascar Crested Ibis gave quite a show displaying its beautifully colored plummage. © Giovanna Fasanelli
Apex travelers spent an afternoon exploring the limestone caves near Anjajavy Lodge. © Jonathan Rossouw
Moramba Bay's eroded limestone and baobab tree lined shores are as unique as the land's flora and fauna. © Giovanna Fasanelli
Field Journal: Madagascar Tours Highlights 2015
Some 90 million years ago, the piece of the Gondwana puzzle known today as India broke loose from the east coast of Madagascar, leaving the world's fourth largest island lying in splendid isolation. Soon enough, animals began to arrive, either by air, swimming, or by rafting the distance on platforms of vegetation washed out from continental neighbors. The stage was set for one of the greatest radiations of life this planet has ever seen, millennia of evolution yielding over 12,000 species of flowering plants, around half of the world's chameleons and a spectacular number of amphibians. Even more impressive, perhaps, are Madagascar's lemurs, its tally of over 100 species placing it second only to Brazil in overall primate diversity. Add to these numbers the fact that over three quarters of every plant or animal species one encounters is found nowhere else on Earth, and one has a wildlife lover's wonderland, every day being a treasure trove of the most enthralling proportions. The tragic flip-side to this evolutionary miracle has been the arrival of humans on its shores, a mere two thousand years ago. Now numbering 23 million, our species has left a legacy of slash-and-burn agriculture, rice paddies and pastures where once were forests. Native wildlife is now restricted to pockets of indigenous vegetation, less than 5% of which still stands, making these relic populations all the more precious. There can be no more important destination for the discerning eco-traveller, and no more valuable a place to spend eco-dollars in support of conservation.
Using the capital city of Antananarivo as our hub for a series of loops out to some of the most critical wildlife hotspots, we commenced our Madagascar Expedition with a flight to Fort Dauphin, a scenic port town in the south that forms the gateway to Berenty Private Reserve. A few bumpy hours transitioned us from the windy south-eastern coast to the other-worldly Spiny Desert and riverine woodland of this much-vaunted lemur-watching site. Delicate, dancing Verreaux's Sifakas and gallant bands of Ring-tailed Lemurs, surely Madagascar's principal primate ambassador, surrounded our lodge from dawn until dusk, whilst walks along serene forest trails unveiled roosting White-browed Owls and vociferous Madagascar Flying Foxes. The night walk in the spiny forest was superlative fun, our spotlights illuminating three nocturnal lemur species leaping from one thorn-thronged octopus tree to the next. The landscaped lodge gardens showcased the unique and wonderfully weird botanical world, a perfect introduction to the many endemic plant families that characterise this rain-starved habitat.
Soon enough we were rattling, rolling and flying our way to Ankarana, near the island's northern tip, on a quest to explore the striking karst landscape known in Malagasy as tsingy, or "the place where one walks on tiptoes". This uplifted limestone has been eroded over millions of years to create a captivating topography of razor-sharp, arthritic spears that prevent all but the light-footed Crowned Lemurs from passing over its blade-like surfaces. The deciduous forest that surrounds these outcrops is thronged with towering baobabs, brightly-colored birds, goblin-like lepilemurs sleeping in their tree cavities and, amongst the most cryptic of all reptiles, the Leaf-tailed Geckos. Supreme masters of camouflage, these remarkable animals lie flattened against tree trunks, their markings and morphology rendering them virtually invisible, even when viewed from a few centimeters distance. Tracking down the White-breasted Mesite, one of only three members of a peculiar, endemic bird family, was another unforgettable experience, a confiding individual leaving us breathless as it walked right by our feet. This magical world lends itself to the formation of deep sinkholes and impressive cave systems, into one of which we descended on a quest to experience huge colonies of roosting Madagascar Fruit Bats, giant spiders and cave-loving geckos. Back at the park's campsite, our attention was drawn to a pair of Ring-tailed Vontsiras, attractive, chestnut-colored carnivores formerly considered to be mongooses but now known to be part of yet another Madagascar endemic family! A very sleepy Madagascar Scops Owl and a terracotta-colored Panther Chameleon followed hot on their heels, all of which had cameras going wild. Nothing could enhance these fascinating wildlife encounters, except celebrating it all with chilled Three Horse Beers in the lodge pool at sunset!
Next up was the montane forest of Amber Mountain National Park, and our morning visit could not have been more productive. Every few yards, we were brought to a screeching halt by one crazy critter after another, the most remarkable of which were the diminutive Brookesia chameleons. Miniature ant predators of the forest floor that measure a mere 20mm from nose to tail tip, these are amongst the smallest of all known vertebrates, and how the local guides could so easily spot these near-microscopic creatures beggared belief! The larger members of the chameleon clan also featured prominently, with the spectacular Amber Mountain Chameleon and dainty Blue-nosed Chameleon filling the frame, along with yet more leaf-tailed geckos and a gorgeous tree frog concealed in a wild ginger blossom. Our German host, Karl-Heinz and his Malagasy wife, Serena, sent us off with a delicious barbecue lunch in the garden, interrupted by their jousting pet Radiated Tortoises and a meeting with old Galileo, probably the largest Aldabra Giant Tortoise alive today!
After regrouping back in Tana and continuing on to overnight in the legendary mid-altitude eastern rainforest of Perinet Reserve, we found ourselves standing in the morning sunshine beneath a singing family of the largest of all extant lemurs, the much revered Indri. This pied, panda-like primate declares territory by singing a song reminiscent of humpback whales, only so loud and sung with such passion that it takes one by surprise. After spending a magical hour watching this pair and their playful offspring eat, groom and rest, we were alerted to the presence of another of Perinet's star performers: a small group of Diademed Sifakas. Almost as large as Indris and with soulful expressions and dense gold, grey and white pelage, these are surely one of the most magnificent of all the world's primates. A Collared Nightjar on its nest in a Bird's Nest Fern was a wonderful bonus, posing perfectly for our cameras. The pristine forest of Mantadia gave us an insight into primordial Madagascar, with serene streams meandering through verdant stands of endemic Pandanus trees, a chorus of tree frogs peeping from all around. A Madagascar Pygmy Kingfisher was the avian find of the morning, its bright orange and white plumage glowing in the forest interior.
Three idyllic days and nights at our final destination, the incredible beach resort of Anjajavay, passed in a kaleidoscope of memorable encounters, from watching the gorgeous Coquerel's Sifakas dance through shady tamarind groves to exploring the tsingy forests, giant baobabs sprouting their behemoth forms from within the cliffs of limestone. A pair of nesting Madagascar Crested Ibis delighted both birders and photographers alike, as this rare species busily fed upon insects in the leaf litter mere meters from our feet. A morning's cruise around scenic Moramba Bay showcased the beauty of this unique coastal habitat, statuesque red baobabs punctuating the skyline and undercut limestone islets playing host to mating Lesser Vasa Parrots and roosts of golden-furred fruit bats. As distant pirogues sailed through turquoise waters, we refreshed our bodies with a snorkel around some excellent coral reef, before returning to the luxury of our lodge for lunch.
Over final tea in the oasis garden, we tallied our animal list, an exercise that served to highlight the phenomenal diversity of all that we had experienced. Madagascar's forests had been everything we'd dreamed and trying to distill a single highlight proved too difficult for most. This extraordinary island, home to some of the world's most astonishing animals, had stirred within us all a sense of awe and affection. We could only but hope that what remains of this unique wilderness indeed has a meaningful future.
Explore this incredible island yourself on one of our upcoming Madagascar Tours.