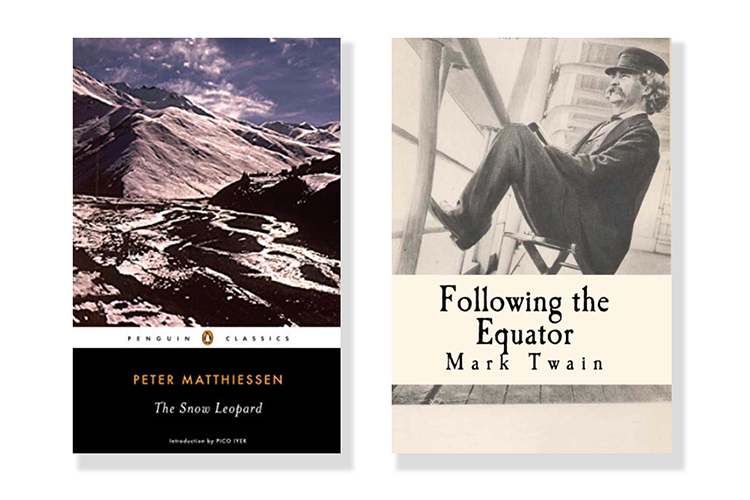 Kevin Clement's book recommendations
Gerald Broddelez's book recommendations
And More Book Recommendations from the Apex Team
Franz Kafka wrote: "I think we ought to read only the kind of books that wound and stab us…A book must be the axe for the frozen sea inside us." Ouch! We're not sure we'd take any book recommendations from Kafka…but we would from our field leaders, who are probably a lot more fun at a party than he was. So we asked them: What are you reading now? and what is your favorite travel or nature book of all time? Here's what Kevin and Gerald said.
Kevin Clement's recommendations
Reading Now: The Snow Leopard by Peter Matthiessen
Traveling in Mongolia in search of the eponymous creatures this last fall has inspired me to re-read Peter Matthiessen's The Snow Leopard. It's a brilliant combination of travel writing, field biology, and philosophy, with resounding insights in almost every paragraph. Okay, full disclosure: this time around I have actually been listening to the story in audiobook form. It's a fascinating listen, because Matthiessen recorded it himself, some 40 years after he wrote the book—a gravel-voiced octogenarian reflecting on the life-changing journey of his youth.
Best Travel Book: Following the Equator by Mark Twain
Best travel book of all time? This was a tough one. It sent me rifling through many shelves, and pulling out works by Conrad, Maugham, Kipling, and Darwin. But the one I settled on is Following the Equator. Mark Twain's insightful writing needs no recommendation from me; nor does his wit and humor. But what still amazes and delights me is the way he shifts from one to the other, seamlessly and unannounced. You are reading a tragic observation about man's inhumanity to man, and suddenly find yourself immersed in an ingenious tall tale. To me, that is quintessentially what life is like!
Gerald Broddelez's recommendations
Reading Now: Black Dragon River by Dominic Ziegler    
This is a personal journey down the Amur, one of Asia's great rivers that serves as a large part of the border between Russia and China. Dominic Ziegler follows a journey from the river's top to bottom, and weaves the history, ecology and peoples of this hard-to-visit area. For me the book brings back good memories of past trips I did successfully, in search of some of the world's rarest cats, the Amur Tiger, Amur Leopard and Amur Leopard Cat!
My Favorite Book: Handbook of the Mammals of the World  Lynx Edicions
This epic work of nine volumes documents every extant mammal species in the World, giving a detailed and updated account of each species. I can spend hours, days, reading through, and looking at, the thousands of pictures and plates, planning my next trips! A must have for any mammal lover, and although expensive, excellent value for money.