Apex celebrates 5th anniversary in 2019, having offered more than 100 expeditions, in over 60 countries on all seven continents.
Shirley Metz and Peter Harrison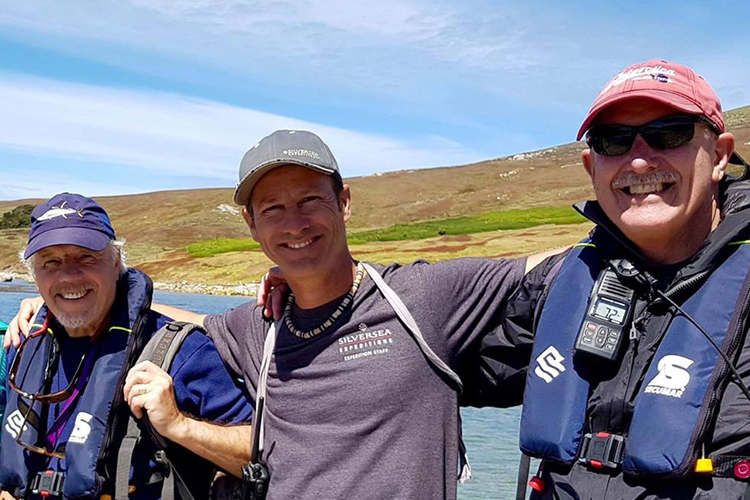 Peter Harrison, Jonathan Rossouw and Kevin Clement
Alicia Freyman and Carmin Arnot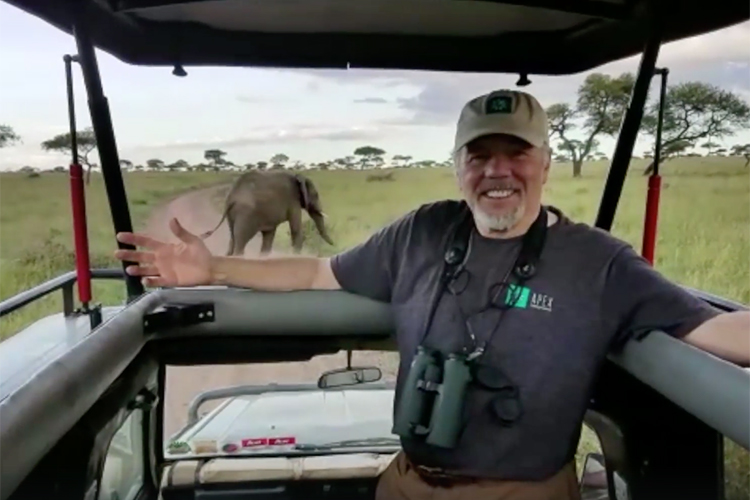 Peter Harrison
Jonathan Rossouw
Carmin Arnot
Peter Harrison and Carmin Arnot
Jonathan Rossouw
Carmin Arnot, Peter Harrison, Kevin Clement, Shirley Metz, Alicia Freyman and Jonathan Rossouw
Apex Celebrates 5 Year Anniversary
It's quite incredible to realize that it's already been FIVE years of Apex Expeditions. Just 5 years, yet more than 100 Apex expeditions in over 60 countries on all 7 continents, with thousands of Apex explorers creating innumerable, unforgettable memories! In celebration, the Apex founders gathered their most memorable experiences, most astounding wildlife encounters, and special reflections of the bond of trust and friendship that exists between them and has made Apex what it is today. Join us for a look back at the first five years!  
Carmin Arnot—Five Years of Shenanigans! 
With this group, there are almost too many memories to count so picking just one is the hardest part. My highlight goes back to when we were all hunkered down in the planning and ideas stage of what would become Apex Expeditions.
All the partners had gathered at Peter and Shirley's house and we were trying to get a consensus on our logo. We were considering a wide range of ideas that included a stylized 'A', mountain peaks, birds, hiking shoes—with both Kevin and Peter being artists, every idea took on several variations, so it was a lengthy discussion. If you know anything about this group, you'll know that the conversation ebbed and flowed with great passion with each person trying to get his or her favorite idea selected. The image of Shackleton's gravestone was shared and the idea of the star and compass rose was discussed at length, but we couldn't get a consensus. We finally retired, very late into the night, completely perplexed and defeated by one member of the team stubbornly refusing to agree.
We awoke the next morning and gathered around the table once again. Before anyone could speak, Peter looks at all of us with that wry smile of his and says: "Of course it has to be the nine-pointed star." Fits of laughter ensued. Peter had done it again, he made the process far more enjoyable and memorable for all. And we haven't looked back—we all love our logo and the symbolism behind it.
Jonathan Rossouw—Apex: The First 5 Years
From a personal perspective, these five years have been the most challenging but, ultimately, the most rewarding and downright exhilarating years of my life. Nothing gives me greater joy than sharing intimate wildlife encounters in the world's wildest places with Apex travelers. As I reminisce, so many highlights come flooding back.
Ethiopia, January 1, 2015, celebrating Apex's poignant inaugural expedition with a veritable tide of murmuring Geladas and regal, grazing Nubian Ibex against a backdrop of the Simien Plateau. Then, a mere two weeks later, high in the Himalayas of Ladakh, the joy and extreme relief of an exquisite pair of Snow Leopards silhouetted atop a ridge at dawn… Then, an equally breathless moment in the jungles of the Deccan Plateau, another two weeks on, as an immense male Tiger stalks past, just a few feet from our group, hushed and in awe… and, in the following months, Jaguars to Gorillas, Pumas to Indris, Spectacled Bears to Giant Anteaters, that first year whipping past in an avalanche of intense wildlife experiences.
At the end of our first year, the compulsive record-keeper in me couldn't help but tally the score: more than 350 large mammal and over 3,000 bird species shared with Apexers, reflecting an immense sample of Earth's glorious biodiversity! Equally rewarding was taking stock of our conservation contribution, from Ethiopian Wolf vaccination programs to Neotropical forest acquisitions, rat eradications on Subantarctic islands to Madagascar community conservation initiatives… our Apex dream had, very quickly, become a beautiful reality!
Since then, with the help of some stellar new experts in the field and in our Seattle office, our little company has grown in leaps and bounds, pioneering new and exciting wildlife quests worldwide, adding dive and snorkel explorations for Apex marine enthusiasts, and expanding into ship expeditions from the Antarctic to the Arctic, all the while retaining the Apex spirit of friendship and family that has made being part of this such a dream!
Kevin Clement—My Finest Day So Far with Apex Expeditions
While on a voyage to Antarctica, we sailed down the Peninsula and made a landing. As we went ashore in a small cove, we passed some drifting ice, but nothing too concerning. We visited the penguin colony; we hiked up to the peak; we took in the utterly spectacular surroundings. As the landing was wrapping up, suddenly the glacier across the channel produced a huge calving, dumping a tremendous amount of broken ice into the sea. Then the wind came up and shifted around to blow straight into our cove…and suddenly the pack was moving in on us.
Our Zodiacs now had to fight their way out through thick ice. The last boats with passengers had to push and shove and maneuver through the thickening pack, but they made it. The very last boat, with five of us staff members, didn't. Like explorers of old, we found ourselves thoroughly stuck in the now jam-packed cove. After some scouting and debate, we abandoned ship and leaped over the floes to get to shore. Our task was to make our way about a mile and a half along the rocky shore, to reach a point beyond the packed ice where our colleagues could get their Zodiacs in to shore.
The shoreline started out fairly easy, but soon became a series of short but sheer cliffs. We climbed over rocky promontories; crawled through penguin guano; edged along narrow ledges; clung to a rock face; and chopped through an overhanging snow mass with the shovels and paddles we had brought. All that, only to find that even more ice had moved in, and swallowed up our pick-up point. We had no choice but try to advance another half-mile. It was a race against time, or really against the ice, which was eating up more and more of the shoreline. In a classic suspense-filled action-adventure ending, we made it onto a Zodiac just before the ice closed in and trapped us again.
Back on the ship, we were battered, soaked, exhausted, and jubilant. I remembered something that I know about myself but hadn't thought of in a long time: I live for days like this. And that's why I name this as one of my finest days of the first years of Apex Expeditions. For that reason, and one other: that we did this as a team. My Apex teammates and I were confronted with an unexpected challenge; we faced the hazards and the difficulties together, worked hard side-by-side, and because of our mutual support and effort, won through. That's the kind of crew I like being part of.
Peter Harrison—It's Been a Grand 5 Years
It hardly seems possible that Apex Expeditions is already in its sixth year of operations. It has been a whirlwind of travel and adventure which has spanned all seasons and all continents. Was there a favorite? They were all my favorites! To me, an expedition offers the opportunity to travel to seldom-visited places and to share wildlife and adventure experiences with friends and like-minded individuals. If albatrosses and penguins are involved, so much the better.
My most recent Cape to Cape voyage, from Ushuaia, Argentina, to Cape Town, South Africa, with stops at the Falklands, South Georgia, and the Tristan groups, would have to rate as my most memorable Apex voyage. Our days were filled with penguins, too numerous to count, and no less than nine species of albatrosses, the largest, longest-lived, and most itinerant of all bird species. The highlight was our Zodiac landing and cruising at Tristan da Cunha and Nightingale, islands that only a handful of intrepid travelers have managed to reach. Where others may try, Apex Expeditions succeeds! I'm proud of our company and equally proud to be a part of such a wonderful team.
Shirley Metz—Seeking Out Hidden Corners of Adventure for our Guests
How to choose a favorite or exceptional travel experience out of all the memorable Apex Expeditions' trips that I've led in the past 5 years? Wow. Now that's a challenge.
I'm going to have to say that without a doubt, the Tanzania safari that Peter and I led in May 2017 has to rank at the top.  We had timed the safari so that we would be witnesses to one of the greatest wildlife spectacles on Earth—the westwards migration of the zebra, wildebeest, and gazelles.  However, we went in the "Green Season," just after the rains had fallen and the Serengeti's landscape was awash in a lush carpet of greens and wildflowers. One day we were moving camps when we couldn't believe our good fortune to come across a seemingly endless meandering congo line of African plains animals which stretched from horizon line to horizon line.  We fell into rank with the animals, as if we were part of the migration, passing giraffe, impala, buffalos, and lions along the way. We felt it a privilege to have become part of the 'greatest show on Earth!' 
In my wildest dreams I never thought that I could be so fortunate as to work alongside such professional colleagues whom I both respect and enjoy being with. Everyone, both in the Apex office and in the field, works tirelessly and with dedication to ensure that our expeditions run as seamlessly as possible.  We will continue seeking out those 'hidden corners' of adventure for our guests that are both unique and rewarding.  
Alicia Freyman—Grateful for the Whole Apex Community
I find myself amazed both that we've already been in business for five years and that we've only been in business for five years. We celebrate our anniversary on the day we made our website live, although we'd been hard at work for months prior getting expeditions in place and all the content created. We didn't have an office yet, so Carmin would come over to my house and we'd sit side by side at my desk and work through our huge list: creating maps, selecting images, resizing them, writing captions and fun facts. The day finally came when we were ready to launch. At around 3pm on April 15, 2014, we clicked the box and we were LIVE on the world wide web. We sent an email to all our partners letting them know and then…nothing happened. I'm not sure quite what we expected, but soon we were in fits of laughter about how unceremonious it was. The new Apex phone line rang and we looked at each other with eyes wide, then even more laughter ensued because it was Peter Harrison. We couldn't have been happier or more excited.
With five years now under our belt, one of my favorite aspects of our company is how much it feels like a tight little community. From the office, we love hearing all the highlights of our trips from our guests and leaders, but what we also love is when our clients are traveling to or through Seattle and call us up to see if they can come by for a visit. I can't think of a single company whose head office I would visit when I was on vacation, so it really means a lot to us that people are willing to take time out of their schedules to come and see or meet us. We love having the chance to get to know our guests!
Being a part of this company with partners that love, respect and care about each other has been one of the most rewarding experiences in my life. We've all agreed that among our guiding principles is that we have fun, and when we get together twice a year for our partners' meetings that is very clear. The excitement around the planning portions of our meetings is palpable and the way we all enjoy being together makes me both proud and happy. We are also so fortunate to have incredible people working with us in the office and the field who feel very much like a part of our family. I'm truly grateful for the whole Apex community.