Hudson Bay, Baffin Island & Greenland
onboard Silver Cloud
Recognizable by its stark white coloring, a Beluga Whale is born dark gray and can take up to eight years before turning completely white.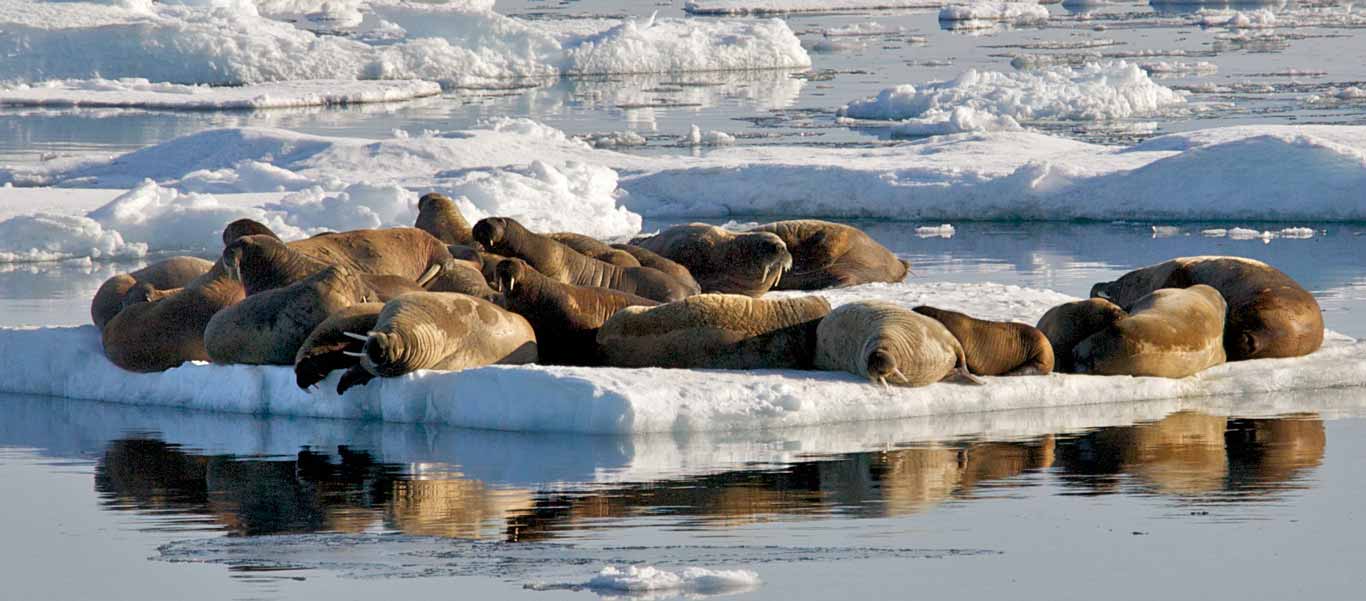 Walruses use their powerful tusks to haul themselves onto ice floes where they gather in herds to sunbathe and sleep. © Gary Krosin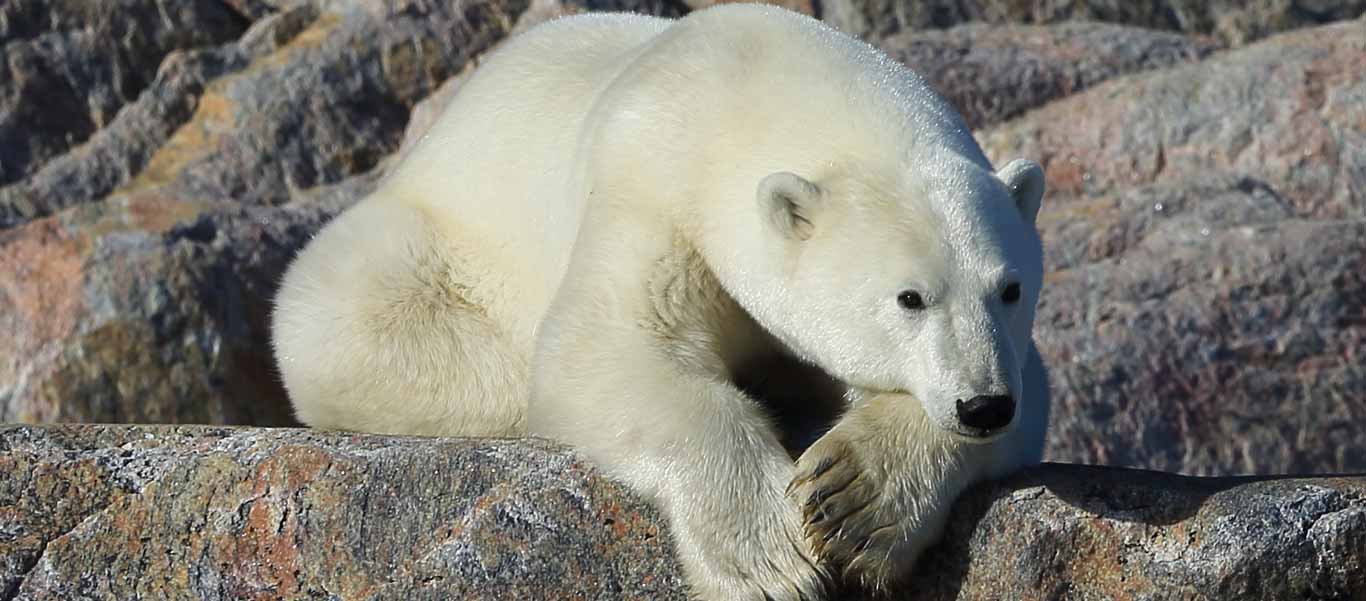 Polar Bears are the largest land carnivores in the world, feeding primarily on the fat of ice-dependent Ringed Seals and Bearded Seals. © Jonathan Rossouw
Aside from Polar Bears, Muskoxen are the largest animals to roam the Arctic tundra, and can weigh up to 800 pounds. © Gary Krosin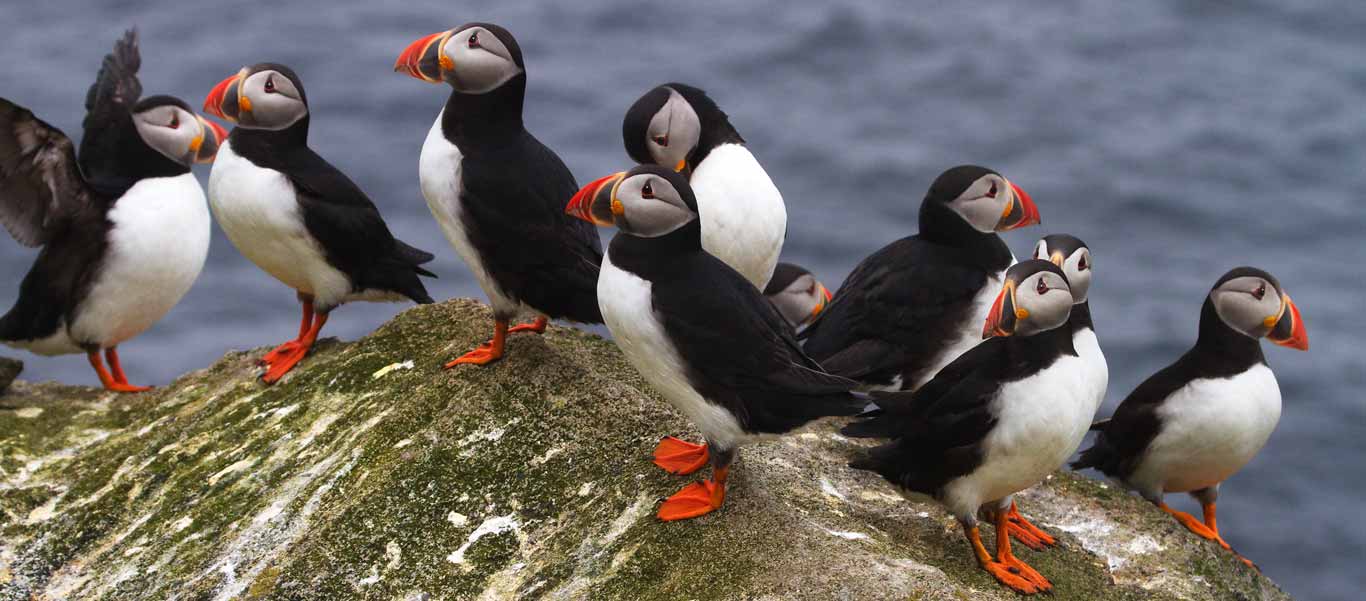 During the breeding season, the male puffin's large beak turns bright yellow and orange, earning these birds their nickname, "sea parrots." © Shirley Metz
With just 240 guests, the Silver Cloud is the most spacious and comfortable ice class vessel in expedition cruising. © Lacey Dawson
Canadian Arctic & Greenland Cruise
To see the High Arctic, after a lifetime spent imagining it, is an experience that is at once familiar and completely astounding. This is the realm of legends, from Norsemen to John Franklin, to Inuit communities that have thrived on the unforgiving ice for thousands of years. Join Apex on this 19-day Canadian Arctic & Greenland cruise, sailing by the legendary Northwest Passage and Nunavut. Get up close to Beluga Whales in the Churchill River. Visit ancient Thule ruins and the majestic fjords of Northeast Baffin Island, with a chance to spot Narwhal, Minke and Bowhead Whales, seals, Polar Bears and seabirds. Explore the crystalline icebergs and colorful cliffside villages of western Greenland. Sail on the celebrated ice-rated Silver Cloud and take advantage of the long daylight hours during the Arctic's most energetic season.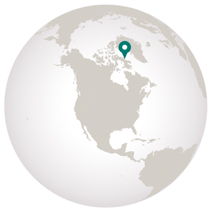 Destinations
Travel by Air
Travel by Road
Travel by Boat
Travel by Bullet Train
Travel by Rail
Travel by Dog Sled
Tuesday, August 4: Arrive Winnipeg, Canada

Arrive in this metropolis on the prairie and transfer to your hotel. Meet your fellow travelers and Apex expedition team over a welcome briefing and dinner. Overnight at the Fairmont Winnipeg.

Wednesday, August 5: Winnipeg / Churchill / Embark Silver Cloud

After breakfast, return to the airport for your charter flight north to Churchill, known worldwide as the "Polar Bear Capital of the World." Transfer to the port on Hudson Bay, where your ship and home away from home for the next 16 nights, the Silver Cloud, awaits. Enjoy lunch then settle into your cabin and attend a briefing. Dinner and overnight aboard the Silver Cloud.

Thursday, August 6: Churchill

Though it may be best known for its Polar Bears, Churchill is home to another wildlife spectacle from June through August, when up to 3,000 Beluga Whales gather, with their newborns in tow, to feed in the brackish waters of the Churchill River in front of town. Conditions permitting, spend the morning cruising in Zodiacs at the mouth of the river to get a closer look at these majestic creatures. Afterwards, enjoy lunch on board, then be on deck as the Silver Cloud departs Churchill for points north.

Friday, August 7: At Sea

Settle in for a cruise across the Hudson Bay. Spend time on deck with the expedition team, looking for seabirds, dolphins, seals and migrating Humpback, Fin and Blue Whales. Attend lectures on the natural and cultural history of Baffin Island, the largest island in Canada and the fifth largest in the world. Located in the Arctic territory of Nunavut, Baffin has been continuously inhabited by Inuit peoples for centuries and has been the subject of Norse exploration since pre-Columbian times.

Saturday, August 8: Cape Dorset, Baffin Island

Cape Dorset, called Kinngait, or "high mountain," in Inuktitut, is best known as the "Capital of Inuit Art" for its globally renowned native artists. It is a stark and beautiful hamlet on Dorset Island, off the southern shore of Baffin Island. Here, you have the opportunity to visit the West Baffin Eskimo Cooperative and learn about the printmakers' and carvers' processes, and how art became the economic mainstay of the community. Return to the ship this afternoon and continue east through the Hudson Strait.

Sunday, August 9: Lower Savage Islands

Late this morning, arrive at the Lower Savage Islands, a group of three main rocky islets off the southeastern tip of Baffin Island. Here, Polar Bears are known to spend the summer months, as they have plenty of land to roam while giving each other a wide berth, plus opportunities to feed, as the ice vanishes with the summer season's warming temperatures. Conditions permitting, spend the day cruising in Zodiacs through the narrow channels between the islands to search for bears and other wildlife among the unusual rocky formations.

Monday, August 10: Monumental Island / Lady Franklin Island

Early this morning, enter the Davis Strait, and arrive at the isolated island of Monumental. Weather permitting, cruise in Zodiacs around its exposed rocky cliffs, an excellent place to spot Black Guillemots, Gyrfalcons, and Peregrine Falcons. Walrus have been known to haul out here. We'll look for them here and on the many skerries to the east of the island. There is also a chance to spot a stranded Polar Bear. This afternoon, head to nearby Lady Franklin Island, named for the wife of Sir John Franklin, the Arctic explorer who died trying to discover the Northwest Passage. Lady Franklin is home to striking vertical cliffs of Archean rocks, likely some of the oldest stone in Canada. The waters around the island offer an abundance of seabirds, ducks, seals, and Walrus. With a bit of luck, it is possible to see Atlantic Puffins and even a rare Sabine's Gull.

Tuesday, August 11: At Sea

The lecture series continues with presentations on the fjords of Northeast Baffin. Be sure to join the naturalists on deck as they continue to search for whales, dolphins and seabirds.

Wednesday, August 12: Isabella Bay

Your first stop in Northeast Baffin, pending permission, will be the shoreline and islands of Isabella Bay, which was folded into Canada's Ninginganiq National Wildlife Area (NWA) in 2010, providing key protection for an estimated 1,500 to 2,000 Bowhead Whales that inhabit the area during the late summer and fall feeding periods. Bowheads have been recognized as threatened in Canada, and this is the first sanctuary in the world designed especially for them. Bowheads are known for their massive bony skulls, which they use to break through ice up to 24 inches thick to breathe. The Ninginganiq NWA also supports healthy populations of Polar Bears, Ringed Seals, King Eiders, Long-tailed Duck, Dovekies, Northern Fulmars and Narwhal.

Thursday, August 13: Sam Ford Fjord

The low light of sunrise is perfect for spotting the faint blow of the Narwhal in stunning Sam Ford Fjord. Adventure travelers and climbers alike have called this 68-mile waterway lined with vertical walls etched into the mountains by ancient glaciers, one of the most impressive sights in the world. A cruise up the fjord will give you more chances to spot bears, seals and whales.

Friday, August 14: Gibbs Fjord

Today, enjoy a spectacular cruise into Scott Inlet. Upon entering, feast your eyes on the impenetrable fortress of 4,000-foot walls, towers, and buttresses that is Sillem Island, dividing Gibbs and Clark Fjords. As you circumnavigate the ice-capped island, look for the rare Bowhead Whale and Narwhal, as well as Polar Bears and seals on the ice floes, and Caribou roaming the mainland. Stops will be made to stretch your legs, with a chance to see Thule ruins, Arctic wildflowers and staggering views of the surrounding glaciers.

Saturday, August 15: At Sea

Attend lectures on the wildlife and history of Greenland as you make the roughly 500-mile trip across Baffin Bay. Up on deck, watch for White-beaked Dolphins, Minke Whales, seals and Walrus. Birders may spot Pomarine Skuas, Little Auks, Thick-billed Murres, Northern Fulmars, and Glaucous Gulls.

Sunday, August 16: Qeqertarsuaq, Greenland

Be on deck early this morning as you arrive in Disko Bay, strewn with icebergs of every shape and size. Dock at Qeqertarsuaq, the only town on the 3,300-square-mile Disko Island, standing verdantly amid the stark white of the icebergs packed all around it. Basalt rock formations stand at odd angles around Qeqertarsuaq, and the hulking Lyngmark Glacier towers above it. In town, visit the church, called the Lord's Ink Pot due to its characteristic octagonal shape, as well as the museum, located in the old bailiff's house, which showcases everyday life during the colonial period, when the colony 'Godhavn' held a powerful position. Conditions permitting, enjoy a walk to a waterfall near the village.

Monday, August 17: Ilulissat

It's on to mainland Greenland, and Ilulissat, whose name means "icebergs" in the Kalaallisut language. A UNESCO World Heritage Site, the town sits beside the Ilulissat Icefjord, a magnificent waterway whose towering glacier calves up to 20 million tons of ice per day—one of the fastest and most productive glaciers in the world. In town, see a demonstration of ancient fishing methods and stop in at the small museum located in the former home of Greenlandic folk hero and famed polar explorer, Knud Rasmussen. The afternoon tour continues via fishing boat, to navigate amongst the brilliant white and turquoise icebergs that often clog the fjord's entrance. Alternatively, you have the option to purchase a helicopter excursion to see the magnificent Ilulissat Icefjord by air and land atop the mountain at Kangia, in the middle of the preserve.

Tuesday, August 18: Sisimiut

Further down the Greenland coast stands Sisimiut, a former whaling port and the second largest town in Greenland with a population of 5,600. Sisimiut's main trade is fishing, and the town accommodates a large fleet of trawlers and a modern shrimp-shelling factory. It is the southernmost town on Greenland's west coast in which sled dogs are used. Pass under a large arch made of Bowhead Whale bones to visit the historic district and town museum housed in a charming jumble of 18th-century wooden buildings. Stop in at one of the local handicraft workshops to see a sampling of the locals' beautiful native stonework and sealskin garments.

Wednesday, August 19: Nuuk

Established in 1728, Nuuk is Greenland's first town, and the current capital, housing nearly 30 percent of the nation's population. It's practically cosmopolitan compared to Greenland's other towns, but still possesses a plethora of charm. Enjoy a walking tour to see Inuit ruins, the home of Nuuk's missionary founder, Hans Egede, the parliament building, and the Church of our Saviour. At the Greenlandic National Museum, see the famous Qilakitsoq mummies and an outstanding collection of traditional dresses.

Thursday, August 20: Evighedsfjord / Kangaamiut

Look for Humpback, Minke and Fin Whales as you head north. You will come upon the nearly 50-mile-long Evighedsfjord, or "Fjord of Eternity," reaching up to half a mile in depth, with cliffs on each side that can exceed6,500 feet.Travel partway up Evighedsfjord, cruising to the first of 12 glaciers—Sermitsiaq, which is the widest and most unique, in that it flows into two fjords at once. Conditions permitting, take Zodiacs to the glacier and surrounding cliffs for a better look. Look for the area's abundant Caribou as you sail back out to the mouth of Evighedsfjord, where the hamlet of Kangaamiut stands. A visit to the town will give you a first-hand look into life in a small Greenlandic community—there are only 350 inhabitants here. This evening, enjoy a last toast to the adventure at a farewell dinner aboard the ship.

Friday, August 21: Kangerlussuaq / Reykjavík

Awaken at the port in Kangerlussuaq, and disembark. A former U.S. military base, Kangerlussuaq is located just above the Arctic Circle, and a short distance from the immense, 1,500-mile-long, 2-mile-high Greenland Ice Cap. Keep watch for your last glimpse of shaggy Muskoxen, Gyrfalcons, Peregrine Falcons, and Caribou as you transfer to the airport for your charter flight to Reykjavík. On arrival, transfer to the Canopy by Hilton Hotel for dinner and overnight.

Saturday, August 22: Reykjavík

After breakfast, transfer to the airport for flights homeward.
Have a question? Call us at 206.669.9272 /
800.861.6425

. Prefer online?Get in Touch

Meet the Canaries of the Sea
The Beluga is one of the most distinct species of whales, easily recognizable for its unusual stark white coloring and globular head. Also known as "sea canaries," Belugas are the most vocal of all whales, employing a diversified language of sounds that can be heard clearly on the surface of the water. At least 11 individual sounds, including whistles, squeaks, chirps, clicks, and trills have been documented. Belugas can also mimic a variety of other sounds. It is still unknown how Belugas can produce sounds despite having no vocal cords. But sounds are probably produced by movements of air between nasal sacs in the blowhole region.