Gerald Broddelez
We live in a wonderful world full of beauty and adventure, and my greatest joy is making sure people learn, and have the best possible views of the wildlife they came to see!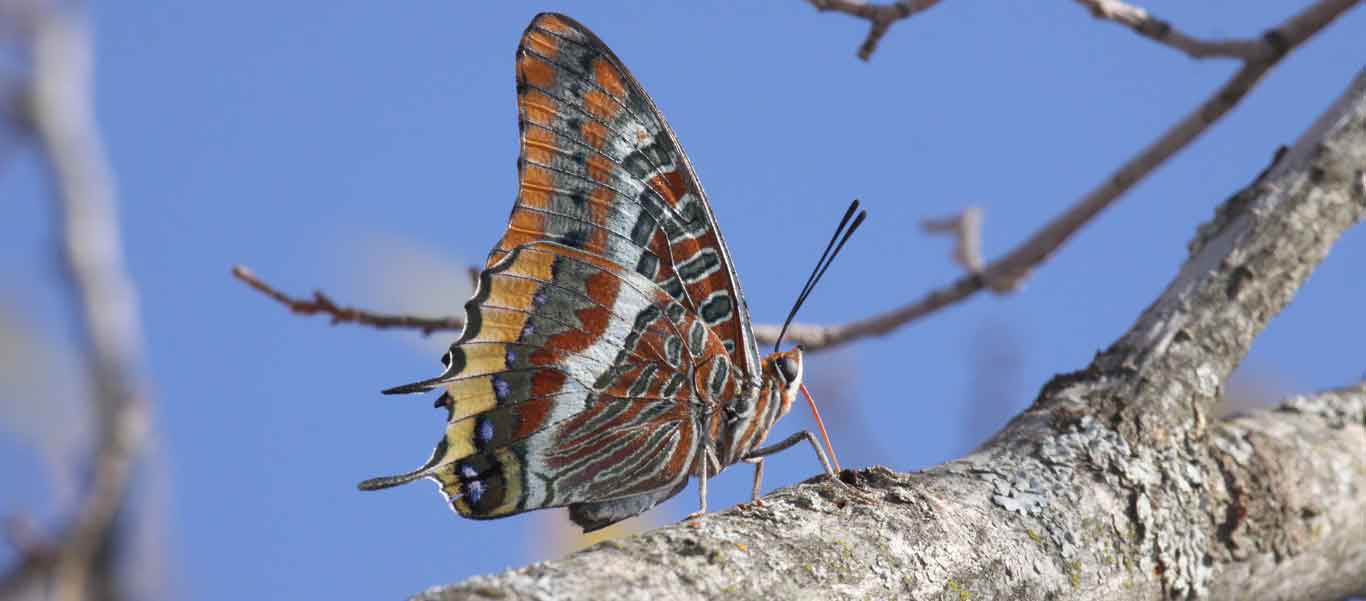 The Two-Tailed Pasha is found throughout Africa and the Mediterranean, usually near Strawberry Trees. It's one of Europe's biggest and prettiest butterflies. Its underwings make this butterfly so colorful and special!
While in Ghana's Ankasa National Park, I was lucky enough to find this nocturnal and arboreal Tree Pangolin during late afternoon, allowing face to face views! One of the most threatened species on Earth, not much is known about their lifestyle!
This new species of bat, the Escalera Bat, was only discovered a few years ago in a small area in Southern Spain. Proof that new discoveries can still be made even "next door".
I was able to participate in a White Rhino darting/tagging program in South Africa. A microchip was planted into the horn and DNA and blood samples taken to help the species survival in the wild.
Expedition Leader Gerald Broddelez
For over three decades, Gerald has been a dedicated leader of wildlife-focused expeditions, guiding adventurers to the most awe-inspiring corners of our planet. A seasoned Expedition Leader and lecturer aboard expedition ships, Gerald's journey has carried him across all the world's oceans, with his heart firmly anchored in the majestic realms of the high Arctic, the Antarctic, and Polynesia. With an unshakable devotion to nature and conservation, Gerald's odyssey has led him to over 170 countries and across every continent, where he has observed the wonder of more than 8,800 avian species, encountered over 1,500 magnificent mammals, and studied the vibrant butterflies of Europe. His love for the natural world goes far beyond exploration. As a cameraman and writer, his natural history documentaries have graced the screens of Belgian, British, and Azorean television networks, kindling a love for our planet's diverse life forms. In recent years, Gerald has expanded his mission, nurturing the next generation of nature guides through field training courses and by forming partnerships with local tourism boards in multiple European countries, sowing the seeds of a shared vision for sustainable and responsible travel. Belgium is home and in addition to speaking his first languages of French and Flemish, he is also fluent in English, German, and Spanish. Gerald's extraordinary journey reflects his boundless love for our world's wild wonders, and he hopes to inspire and lead the way towards a harmonious coexistence between humanity and nature.
A trip with Gerald is always a pleasure—superbly organized, with fantastic wildlife experiences accompanied by his great humor.
--Jane M., England
Gerald's Expeditions
Sub-Antarctic Islands of New Zealand with Macquarie Island (December 5–21, 2023)

The remote southern islands visited on this voyage are home to some of the most spectacular aggregations of endangered wildlife on the planet.
Oman & Jordan (February 27 – March 13, 2024)

Visit Oman's stunning World Heritage Sites, explore wetlands and coastal desert for migrating birds, and witness Jordan's ancient, rock-carved Petra.
Borneo (April 13 – 26, 2024)

From Orangutans to Proboscis Monkeys, Clouded Leopards to Rhinoceros Hornbills, discover Asia's richest forest fauna on an in-depth transect of this great island.

Azerbaijan, Georgia & Armenia (May 5 – 21, 2024)

From the Caspian Sea to the Caucasus Mountains, see a remarkable mix of cultural influences, ancient ruins, birding hotspots, and gorgeous mountain scenery.
Amazonian Brazil (June 1 – 17, 2024)

Cruise deep into the heart of the Amazon from Manaus to Santarém at the peak of the annual flood, searching for rare and sought-after primates and birds.
Spain (August 28 – September 11, 2024)

Cantabrian Brown Bear and Western Spanish Ibex compete with exceptional regional food, wine, and cultural heritage on our Spain expedition.
Western Mongolia (September 26 – October 12, 2024)

Attend the Golden Eagle Festival, stay in traditional ger camps, photograph wild horses, and search for Snow Leopards in the lower-altitude Altai Mountains.
Costa Rica to Chile (October 30 – November 18, 2024)

Costa Rica, Ecuador, Peru, and Chile—encounter staggering wildlife and cultural riches in national parks, and World Heritage sites along the West Coast of South America.
Ask Gerald a question about his upcoming expeditions?
Get in Touch

Insects!
The world of insects is full of incredible, astonishing, and bizarre stories. Each species has its own way of finding food, transforming into an adult, mating, and laying eggs. The ways in which they do this are infused with drama, theft, deception, parasitism, murder, and ingenious sex. Some steal each other's food, eat each other, lay their eggs in the caterpillars of another species, let their offspring be raised by their neighbor, disguise themselves, and even control each other's minds. The world of insects is pure horror and wonder!