Western Mongolia
September 21 – October 7, 2023
At Ölgii's annual Golden Eagle Festival, more than 100 skilled hunters will compete in tournaments that test the bond between hunter and bird. © Nomadic Journeys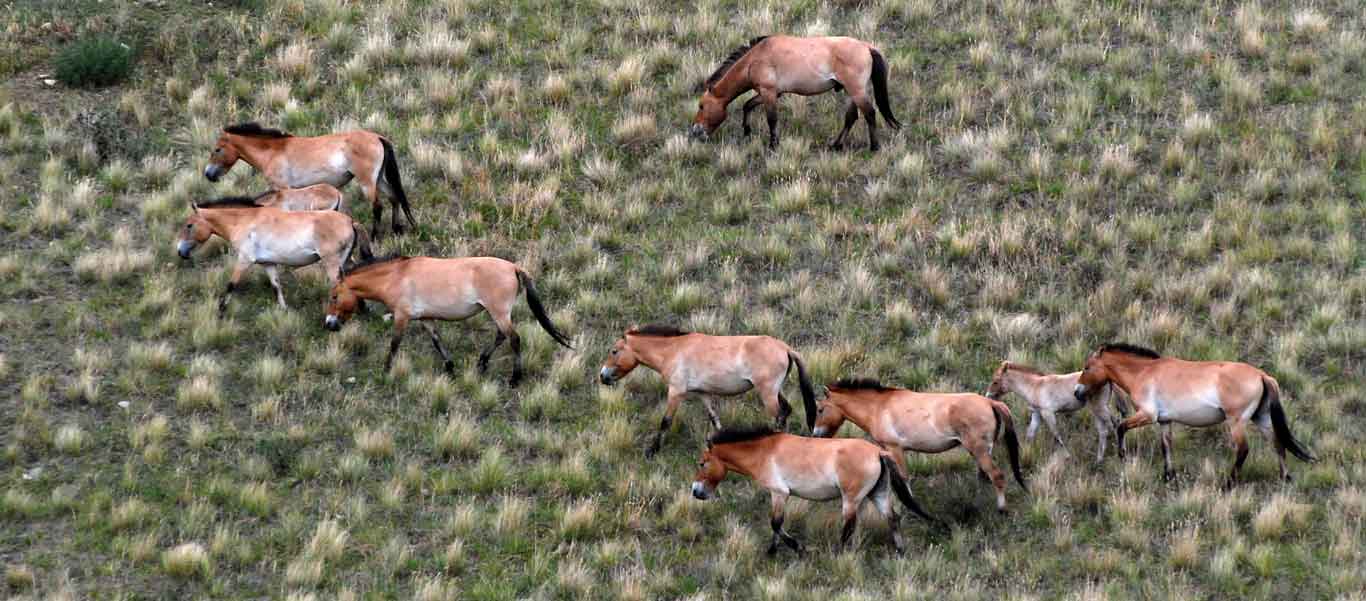 The critically endangered Przewalski Horse, or Mongolian wild horse, is the last surviving subspecies of wild horse. © Nomadic Journeys
Along the way, travelers will experience staying at a private Ger camp, the traditional Mongolian nomadic housing. © Kevin Clement
Argali are the largest of the wild sheep. The impressive horns and skull of a ram can be up to 13% of their total body weight. © Richard Reading
Bactrian Camels have two humps for storing fat and can drink up to a quarter of their body weight at one time. © Nomadic Journeys
Mongolia Tour with Golden Eagle Festival
Wedged between Russia, Kazakhstan, China and the rest of Mongolia, Western Mongolia has always been a patchwork of ethnicities and traditions. Wild, rugged and remote as it is, these traditions have endured longer than in most places on Earth. Here, customs such as eagle hunting and khöömii (throat singing) still thrive. Here, the great Snow Leopard still prowls and the world's last great wild horse, the Takhi, still roams on the plains. Join Apex on this special 17-day Mongolia tour, the only such tour incorporating both Snow Leopard tracking and the magnificent Golden Eagle Festival near Ölgii. Experience timelessness and vast wilderness in the true Wild West of Mongolia.


Destinations
Travel by Air
Travel by Road
Travel by Boat
Travel by Bullet Train
Travel by Rail
Travel by Dog Sled
Arrive Ulaanbaatar, Mongolia / Hui Doloon Hudag

Arrive this evening in the capital city of Ulaanbaatar, then transfer to the town of Hui Doloon Hudag. Upon arrival at the resort, settle into your private luxury Ger, the traditional Mongolian nomadic dwelling. This evening, gather with fellow travelers and Apex Expeditions leaders for a welcome briefing and dinner. Overnight at HS Khaan Resort.

Hustai National Park

Enjoy breakfast overlooking the vast plains before driving to Hustai National Park, established to protect Mongolia's wild horse, Przewalski's Horse, or Takhi in Mongolian. Continue into Hustai, looking for Maral, or Asiatic Red Deer, and the wild horses. Visit the remarkable neolithic gravesite of Öngöt before heading for the southwestern portion of the park for a magnificent valley hike. En route, look for Maral, Steppe Gazelle, Wild Boar and Corsac Fox. Dinner and overnight at HS Khaan Resort.

Hui Doloon Hudag / Hovd

Rise early for a return to the airport for your flight to Hovd (or Ölgii, depending on flight schedules), in the Bayan-Ölgii province, forming Mongolia's far western border with China and Russia. Upon arrival, explore the town, which has been a bustling center of trade since the Manchus built a military garrison here. For this reason, Hovd has some of the greatest ethnic diversity in Mongolia, with a Halkh majority and a dozen other Kazakh and Mongol ethnic groups represented. Dinner and overnight at Steppe Hotel.

Hovd / Jargalant

Today, depart for Khar Us Nuur National Park, a vast two-million-acre wilderness in the Great Lakes Basin, dominated by snow-capped Jargalant Khairkhan, or Mountain of Sacred Happiness. This isolated extension of the Mongol Altai mountain range offers a rich diversity of habitats ranging from high-mountain tundra and alpine meadows to high-mountain and arid steppe. A variety of rare species are supported here, including Siberian Ibex, Saiga Antelope, Black-tailed Gazelle, and a healthy population of the endangered Snow Leopard. Dinner and overnight for the next five nights at your private ger camp.

Jargalant

Today, explore Jargalant Khairkhan Mountain, hiking into Rashaant Valley with its ancient poplar trees, waterfalls and sacred spring. Along the way, watch for Siberian Ibex and Argali Sheep, the primary prey species of the Snow Leopard, one of the most elusive animals on Earth. Known as the "spirit of the mountain" to locals, Snow Leopards are challenging to see in the wild because of how well their spotted white fur blends in with their surroundings. Of the 4,000 to 6,500 Snow Leopards the World Wildlife Fund believes remain in the wild, roughly 1,200 are in Mongolia. Recent collaring and the installation of camera traps at Jargalant have increased the chances of finding their dens. With luck, catch a rare glimpse of this legendary, almost mythical creature. Dinner and overnight at your private ger camp.

Jargalant – Dörgön Lake & Mongol Sands

After breakfast, continue your exploration of Khar Us Nuur National Park. This park harbors more extensive sand dunes than the Gobi Desert, and they border directly on salt and freshwater lakes teeming with birds and fish. Today, head to the easternmost part, Mongol Sands. Hike around the Dörgön plains and look for critically endangered Saiga Antelopes, with their bizarre, characteristic bulbous noses. Saiga once roamed Pleistocene prairies with mammoths, but now hang precariously on the edge of extinction but for a few herds in Russia, Kazakhstan and Khar Us Nuur. At Dörgön Lake, see the spectacular Janjin Ovoo, a ritual stone shrine venerated by the locals. Domestic Bactrian Camels dot the landscape, as do large numbers of birds, many of which are endemic. Look for Asian Dowitcher, White Spoonbill, Ruddy Shelduck and Lesser Kestrel, and keep watch for the exceedingly rare Relict Gull. Large congregations of Pallas's Sandgrouse sometimes descend to the lakes to drink. Meet with local members of the Halkh Mongol ethnic group before return to your private ger camp for dinner and overnight.

Jargalant – Terkhiin Tsagaan Lake

Today, explore one of the country's most beautiful lakes, Terkhiin Tsagaan Nuur, also known as White Lake due to the thick layer of snow topping its frozen surface for the better part of the year. This mile-high freshwater lake, created when the Khorgo volcano erupted thousands of years ago, is surrounded by extinct volcanoes, forming a stunning landscape. On the northeast shore, you can see a dramatic and jagged silhouette of ovoos, or heaps of stones—hundreds of ovoos have been ritualistically created using the black lava rocks scattered across the terrain. According to tradition, when approaching an ovoo, one should circle it three times clockwise and add a few rocks to the ever-growing stack. The area offers excellent wildlife-viewing and you may spot Argali Sheep, Wild Boar, Pallas's Fish Eagle, Hooded Crane and Great Cormorant. Return to your private ger camp for dinner and overnight.

Jargalant

Drive back through Khar Us Nuur National Park where you'll have another opportunity to track the elusive Snow Leopards. Unlike other big cats, Snow Leopards are unable to roar. They expertly navigate rocky outcrops and ravines that provide the camouflage they need to silently ambush their favorite prey, Siberian Ibex and Argali Sheep. Also look for Black-tailed Gazelle, Grey Wolf and the area's birds including the Chukar Partridge, Altai Snowcock and Wallcreeper. Dinner and overnight at your private ger camp.

Jargalant / Ölgii

This morning, enjoy a dramatically scenic drive to Ölgii, the capital of Bayan-Ölgii province. Enjoy lunch in this windswept, frontier-feeling town of 30,000. A walk through its streets will give you the sense that it has more in common with Muslim–influenced Central Asia than Buddhist Mongolia: there are signs in Arabic and Kazakh Cyrillic, it has multiple mosques, and its local market is called a 'bazaar' rather than the Mongolian zakh. Dinner and overnight at Eagle Dreams Hotel.

Golden Eagle Festival, Ölgii

This weekend, find yourself front and center at Ölgii's Golden Eagle Festival, the largest gathering of eagle hunters in Mongolia, held every year to kick off the winter hunting season. Here, more than 100 skilled hunters, dressed in full traditional regalia and mounted on decorated horses, will compete in tournaments that test not only the bird's mettle or the hunter's acuity, but the bond between hunter and bird. You can also enjoy horse and camel racing, archery, traditional Kazakh music, and special equestrian events like Tenge Ilu, wherein the rider has to snatch a single coin from the ground in full gallop, and Kiz Kuar, or "girl chase," where a man and woman race on horseback while the woman whips the man. Dinners and overnights at Eagle Dreams Hotel.

Ölgii / Delüün

Today, travel overland in a convoy of four-wheel drive vehicles to Delüün, a traditional Kazakh village perched on the western edge of Khökh Serkhiin Nuruu ("Blue Goat") Strictly Protected Area in the rugged and perpetually snow-capped Altai Mountains. This afternoon, enjoy a briefing from the director of the reserve about its recent conservation efforts. Dinner and overnight for the next three nights at your private ger camp.

Altai Range

Take two full days to explore the area and search for wildlife in Khökh Serkhiin Nuruu, Ikh and Baga Yamaat Valleys and the newly-established Chigertei National Park on the Chinese border. The remoteness of the Altai mountains makes this one of the last strongholds for many species of rare and endangered ungulates and carnivores, including Siberian Ibex, Argali Sheep—the biggest wild sheep on Earth, Altai Deer, and Manuls. A mixture of game drives and moderate (though often steep) hikes will give you the best chance to find wildlife. Many activities will take place between 7,000 and 8,000 feet. You will also visit Kazakh nomads and learn of their longstanding tradition of hunting with Golden Eagles. Dinners and overnights at your private ger camp.

Delüün / Ulaanbaatar

Bid farewell to the Wild West and transfer to the airport for a flight back to Ulaanbaatar. You have the afternoon at leisure to explore the city and shop for local crafts. Dinner and overnight at Shangri-La Hotel.

Ulaanbaatar

Today, enjoy a guided tour of the city. Head to Gandan Khiid, one of Mongolia's most important monasteries, which nearly didn't survive the religious purges of 1937. Next, visit the Central Dinosaur Museum, housed in the former Lenin Museum, which contains an impressive collection of fossils found in the Gobi Desert. Explore the centrally located Sukhbaatar Square with lunch in a local restaurant, followed by a visit to the National Museum of Mongolia, which offers a sweeping overview of Mongolian culture, from stone-age petroglyphs to a wide array of traditional ceremonial costumes. This evening, enjoy a farewell dinner and overnight at Shangri-La Hotel.

Depart Ulaanbaatar

Transfer to the airport early this morning for your international flights home.
Details
September 21 – October 7, 2023
Leaders

Kevin Clement & Gerald Broddelez
$18,480

Per Person Rate

$21,440

Solo Rate

17 days

Trip Length

14 guests
Ulaanbaatar

Start/End
The Fine Print

Call us to reserve your spot on this exciting expedition!
Have a question? Call us at 206.669.9272 /
800.861.6425

. Prefer online?Get in Touch
The culture, traditions and people of Western Mongolia draw Kevin back time and again.
Gerald is looking forward to tracking the solitary and elusive Snow Leopard.

The Silent and Shy Snow Leopards of Mongolia
Known for its beautiful fur and elusive behavior, the endangered Snow Leopard is found in the rugged mountains of Central Asia. Very rare in most of its range, scientists estimate that just 3,500 to 7,000 individuals remain in the wild. Snow Leopards prefer to inhabit steep cliff areas, rocky outcrops and ravines that provide the camouflage they need to ambush unsuspecting prey. Unlike other big cats, Snow Leopards are unable to roar. They silently stalk their favorite prey, primarily wild sheep and goats. Their long and powerful hind limbs help Snow Leopards leap up to 30 feet, which is six times their body length. A long tail provides balance and agility and also wraps around the resting Snow Leopard as protection from the cold.