British Isles
onboard Sea Spirit
Sail around Bass Rock, the largest Northern Gannet colony in the world with 150,000 residents. Guillemots, Razorbills, and shags also abound here. © Peter Harrison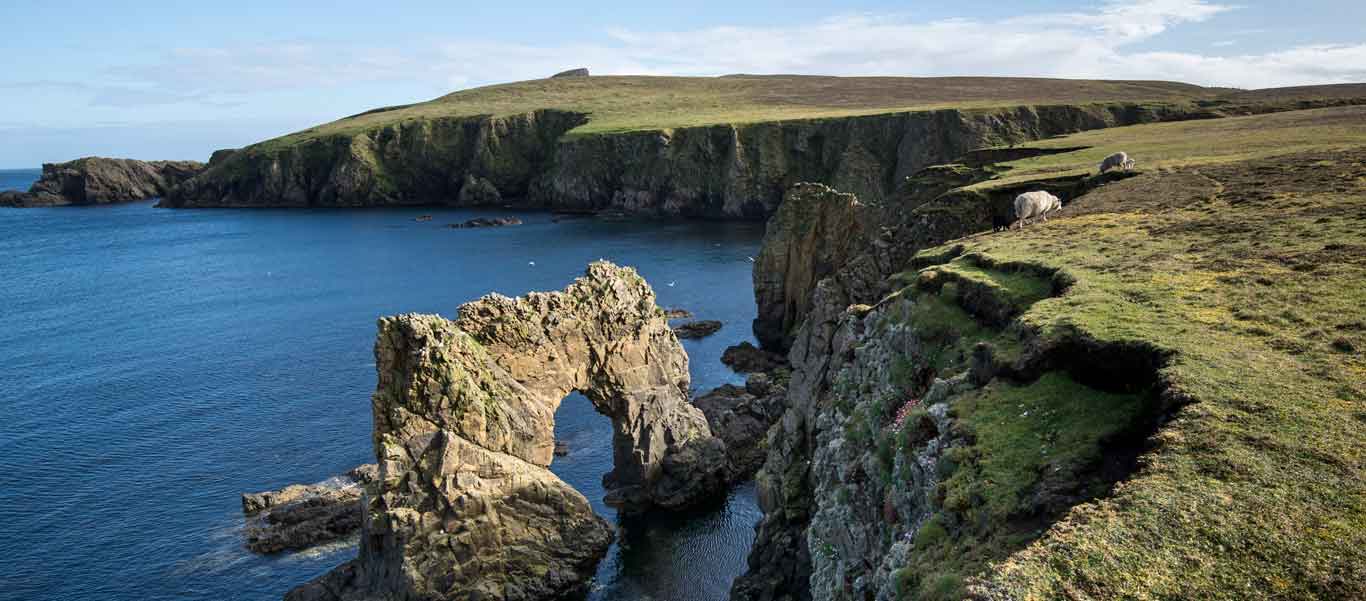 Comprised of rolling moorlands and rugged coastlines, Fair Isle is one of the best places to watch seabirds, especially puffins, at close range. © Anthony Smith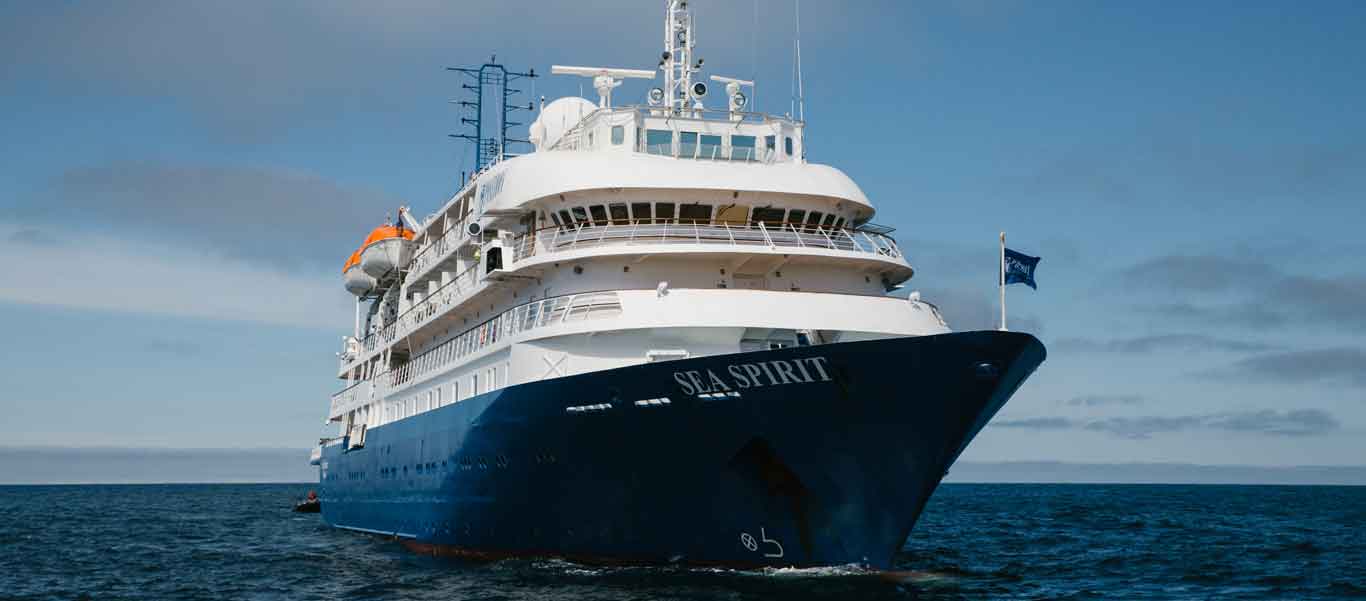 The 114-guest Sea Spirit is ideally suited for exploring. Her small size and maneuverability allow you to reach places inaccessible to larger ships.
Built in the 14th century, dramatically-situated Dunluce Castle juts out over the sea, affording visitors breathtaking views of the coastline. © Giovanna Fasanelli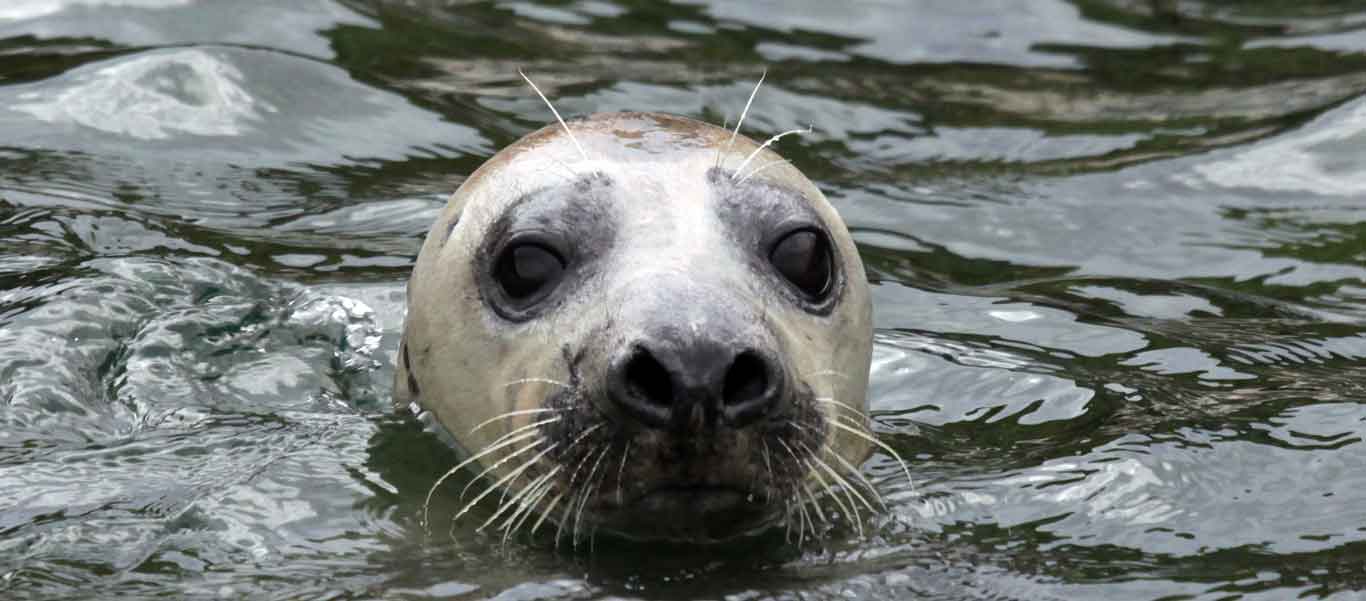 Great Saltee Island is not only a haven for seabirds, it's also home for a breeding population of Grey Seals, one of the very few in eastern Ireland. © Giovanna Fasanelli
The remains of a 6th-century monastery with its well-preserved beehive huts, are perched atop the island of Skellig Michael. © Giovanna Fasanelli
British Isles Cruise
Rarely seen by visitors or locals alike, the British Isles begs for a wider discovery of its offshore islets, rock stacks, lonely lighthouses, and hermitages. Long abandoned by the intrepid medieval settlers, Britain today boasts a plethora of island sanctuaries where time has stood still. This Apex itinerary offers a wonderful mixture of English gardens, seabird citadels, such as the Skellig islands, and even haunting Iona, claimed resting place of Macbeth. What makes this expedition so perfect is its timing. Towards the end of May, observe the start of what the locals call "Flaming June," summer arriving, at last. Seabirds will have completed their pre-laying exoduses, garden birds abound, and the wild flowers will be at their brightest and most fragrant. Join us on this finely-crafted British Isles cruise, perfectly-timed to explore the "wilder side" of Great Britain.


Destinations
Travel by Air
Travel by Road
Travel by Boat
Travel by Bullet Train
Travel by Rail
Travel by Dog Sled
Tuesday, May 21: Arrive London, England

Arrive at London's Heathrow Airport and transfer to your hotel in Paddington. Explore London at your leisure before meeting your fellow travelers and Apex expedition team for a welcome dinner and briefing. Dinner and overnight at the Hilton Paddington Hotel.

Wednesday, May 22: London / Plymouth / Embark Sea Spirit

After breakfast, head to the train station for a trip southwest to the port city of Plymouth. Enjoy lunch, and a tour of this charming, historical town. Birding enthusiasts can visit Dartmoor National Park, known for its blanket bogs, Upland Heath and Oakwoods. A wide array of birds breed here, including species that have declined elsewhere in the UK, such as skylarks, snipes, and rare Ring Ouzels and cuckoos. Migrant species include Pied Flycatchers, Wood Warblers and Common Redstarts. Non-birders can enjoy visiting Saltram House, one of Britain's best-preserved examples of an early Georgian mansion. The family's art collection is extensive, including several paintings by local favorite Sir Joshua Reynolds. This afternoon, embark the Sea Spirit, your home away from home for the next 12 nights. Be on deck as the ship sails out of Plymouth Harbor.

Thursday, May 23: Tresco, Isles of Scilly

The Scilly Archipelago lies just 30 miles off Cornwall but feels radically different than the rest of Britain. Its pace of life is slower, its weather milder, and it retains a stunning wild edge to it. As the ship approaches the 140 granitic islets that comprise Scilly, look out for dolphins, seabirds and even Basking Sharks. Come ashore at Tresco to visit the Bronze Age burial sites and 17th-century castle ruins at Tresco Abbey. Spend time in its exquisite subtropical gardens, boasting over 20,000 exotic plants from all corners of the world. Tour the Valhalla Museum, a collection of colorful figureheads salvaged from the islands' many shipwrecks. Return to the ship for lunch and set sail for Ireland.

Friday, May 24: Skellig Islands, Ireland

As the sun rises, catch your first glimpse of the steep, rocky and magnificently striking Skellig Islands, standing just 8 miles off Kerry in southwest Ireland. Seabirds claimed the Skelligs centuries ago, when the last monks abandoned their 6thcentury monastery, the remains of which are still perched atop the larger island, Skellig Michael. Little Skellig is home to a massive Northern Gannet colony, with nearly 30,000 breeding pairs present. Other species include Atlantic Puffins, European Storm Petrels, Northern Fulmars, Manx Shearwaters, Black-legged Kittiwakes, guillemots and Razorbills. The rich waters around the islands are home to Minke and Beaked Whales, dolphins, Grey Seals and Basking Sharks. Weather and permission permitting, a landing may be possible on Skellig Michael. There, you can climb the 670 steps to the top, to visit the old monastery's well-preserved beehive huts, now a UNESCO World Heritage Site.

Saturday, May 25: Saltee Island / Dunmore East

Wake up today off Ireland's southeast coast. The ship will dock at Dunmore East, a popular fishing village in County Waterford. From here, a short overland journey through scenic countryside will take you to the House of Waterford Crystal. A guided tour of the factory allows you to watch master craftsmen at work. Also nearby is Mount Congreve, a magnificent 18th-century Georgian estate with extensive, exquisite gardens.

Pending permission, spend the afternoon on the privately owned Great Saltee Island. Here, amongst the steep cliffs, sea caves and mud flats, find fulmars, gannets, shags, kittiwakes, guillemots, Razorbills and puffins, as well as Grey Seals, which breed here every year.

Sunday, May 26: Llandudno, Wales

This morning, arrive at the bustling seaside town of Llandudno in the north of Wales. From here, a short overland trip will bring you to Snowdonia National Park, home to 823 square miles of the wildest and most dramatic landscapes in Britain. Drive through the park to see its craggy mountains, stunning waterfalls, crystal clear lakes, dense woodlands and flowering meadows. Snowdonia is renowned for wildlife including otters, water voles, wild ponies and rare birds such as Dotterels, Merlins and Red Kites. Stop at the distinctively Welsh town of Betws-y-Coed, located in the Gwydyr Forest within the park. After lunch, visit the magnificent Conwy Castle, a well-preserved 13th-century fortress. Pass through the fortified gateways, climb the huge towers, and walk along the battlements for breathtaking views across the mountains of Snowdonia and the mouth of the River Conwy.

Monday, May 27: Portrush & Rathlin Island, Northern Ireland

Today, go ashore at the seaside resort town of Portrush, Northern Island. A quick overland trip will bring you to Giant's Causeway, three miles of hexagonal basalt columns of varying heights that descend like a staircase into the sea. Take a guided tour of the columns, looking for fulmars, petrels, shags, redshanks, guillemots and Razorbills along the way. Then, visit nearby Dunluce, arguably the most dramatically situated castle in Ireland. Built in the 14thcentury, Dunluce's remains jut out over the sea, affording visitors breathtaking views of the coastline.

Enjoy an afternoon landing on Rathlin, a small island six miles north of the Antrim Coast. Tens of thousands of nesting seabirds crowd the island's steep cliffs. Visit the local museum and learn of the island's history, including its most famous visitor, the fugitive Scottish king, Robert the Bruce, who found refuge in a cave here before returning to Scotland to reclaim the throne.

Tuesday, May 28: Inner Hebrides, Scotland

Wake up in Scottish waters today, and board Zodiacs to visit the uninhabited island of Staffa. Many more basalt columns will greet you here, including a well-known sea cave–Fingal's Cave. Mendelssohn immortalized Fingal's Cave in his Hebrides Overture, which pays homage to the eerie echo of the sea that comes from within. The basalt columns form a crude walkway, allowing visitors to explore deep inside the cave.

This afternoon, explore the small and sacred island of Iona, an early center of Celtic Christianity. In 563 AD, missionary St. Columba founded the Iona Abbey, and set about spreading Christianity throughout Scotland. Visit the Abbey's remains, as well as St. Oran, the adjacent graveyard, said to be the resting place of numerous medieval kings, including Macbeth.

Wednesday, May 29: Outer Hebrides, Scotland

The Outer Hebrides is a dramatically rugged island chain, the most isolated of which is St Kilda. This storm-ravaged island was continuously inhabited for at least two millennia by peoples of extraordinary hardiness. But as the modern world closed in after World War I, the remaining inhabitants chose to leave. Today, hike around the remains of their rough stone buildings and distinctive storehouses called cleitean. See colonies of puffins, murres, fulmars and kittiwakes; two early types of sheep, the Soay and the Boreray; and over 130 species of flowering plants.

Later, sail through the remote Flannan Islands, with the hopes of coming ashore at Eilean Mòr. Look for the colony of rare Leach's Petrels on the grassy slopes under the lighthouse. Commonly seen in the surrounding waters are Minke and Pilot Whales, as well as several species of dolphin.

Thursday, May 30: Kirkwall, Orkney Islands

Orkney is comprised of 70 mostly flat, green-topped islands, just across the Pentland Firth from Scotland's north coast. The Viking influence is still strong here, and an overland tour of Mainland, Orkney's largest island, will reveal well-preserved relics of the Viking days. See the Standing Stones of Stenness, the oldest Neolithic henge site in the British Isles. Walk through the 5,000-year-old Stone Age village site at Skara Brae and the nearby Ring of Brodgar. In the beautiful port town of Kirkwall, visit the magnificent Saint Magnus Cathedral, built in the Romanesque style by Vikings in the 12th century. After lunch, tour the Highland Park Distillery and see how they malt their own barley, and dry it in a peat kiln. Return to the ship, and head due north toward the Shetlands.

Friday, May 31: Isle of Noss, Mousa & Lerwick, Shetland Islands

Wake up in the Shetland Islands, Britain's most northerly outpost, and close enough to Norway to give it a distinctly Norse feel. Cruise along the Isle of Noss, where the weather has notched ledges into towering sandstone cliffs, making perfect nesting sites for some 80,000 seabirds. Next, take Zodiacs ashore on Mousa, home to an unusually well preserved 40-foot broch, or dry stone structure, dating from about AD 200.

After lunch, arrive at the southernmost tip of the largest of the Shetlands. Here stands Jarlshof, a remarkable archaeological site. Various periods of occupation from 2500 BC to AD 1500 can be seen here, with Viking longhouses standing alongside the brochs and wheelhouses of preceding eras. Atop the site is a medieval farmhouse, named 'Jarlshof' in a novel by Sir Walter Scott. Next, visit the historic lighthouse at nearby Sumburgh Head. The grassy slopes above it are particularly good for enjoying close encounters with puffins amongst beautiful wildflowers. Travel overland to Lerwick, Shetland's main town, and visit the museum. You may choose to enjoy dinner in town, as the ship will overnight pier-side.

Saturday, June 1: Fair Isle

Fair Isle lies far south of the other Shetland Islands, nearly halfway to the Orkneys, and, as such, it is one of the most isolated of all the British Isles. Comprised of rolling moorlands and rugged coastlines, it is famous among birders for its abundance of British seabirds and numerous records of eastern rarities and migrants. It is also one of Europe's best places to watch seabirds, especially puffins, at close range. Enjoy a morning of birding and ambling among Fair Isle's abundant wildflowers, followed by a visit to its museum and the local community center for tea with some of the 70 inhabitants of the isle. Here, you may have the chance to purchase some of the island's renowned hand-knitted sweaters.

Sunday, June 2: Isle of May & Bass Rock / Leith

The Isle of May is located just 5 miles off mainland Scotland, at the mouth of the Firth of Forth. Take Zodiacs to the small bird observatory and feast your eyes on tens of thousands of puffins, guillemots, Razorbills, shags, cormorants, Eider Ducks and terns. En route to Leith, sail around Bass Rock, the largest Northern Gannet colony in the world, with 150,000 residents. Guillemots, Razorbills, and shags also abound. Sir David Attenborough has called Bass Rock "one of the wildlife wonders of the world." This evening, arrive in Leith, the port for Edinburgh. Toast to your journey at a farewell dinner, and overnight pier-side.

Monday, June 3: Disembark Leith and Depart

After breakfast, disembark in Leith and transfer to the airport for your international flights home.
Have a question? Call us at 206.669.9272 /
800.861.6425

. Prefer online?Get in Touch

Meet the Colorful Clowns of the Sea!
Atlantic Puffins spend most of their lives at sea, but return to land to form breeding colonies during spring and summer. They usually pair with the same partner, reuniting at the same burrow site each year. Females lay a single egg and both parents share incubating duty. When the chick hatches, its parents take turns feeding it by carrying small fish, like herring or sand eels, in their beaks—in fact puffins are one of the few birds able to do so thanks to a unique hinge to their beaks. During the breeding season the male puffin's beak turns bright yellow and orange, earning these birds their common nicknames: "sea parrots" or "clowns of the sea."