India: Tigers & Snow Leopards
February 28 – March 16, 2023
Unlike most members of the cat family, tigers seem to enjoy water and are strong swimmers. © Jonathan Rossouw
With the densest fur of all big cats, Snow Leopards are specially adapted to frigid, high-altitude conditions. © Surya Ramachandran
Take in the jaw-dropping views of some of the most remote, rugged and scenically magnificent terrain on Earth. © Giovanna Fasanelli
Bharal, or Blue Sheep, are the favorite winter prey of Snow Leopards. © Jonathan Rossouw
Wild Boars have poor eyesight, but with their long, straight snout, these animals have a powerful sense of smell. © Jonathan Rossouw
The Royle's Pika, also called the Himalayan Mouse Hare, uses rocky cliffs to take refuge and escape from predators. © Giovanna Fasanelli
Tigers & Snow Leopards India Safari
More than a wilderness adventure, more than a safari, this is a true pilgrimage in search of two of the world's most legendary, and most elusive, Big Cats. Join Apex Expeditions on a special Tigers and Snow Leopards India Safari to explore the wildlife bastion of Kanha National Park, where prime Sal forests and grasslands are home to one of India's largest populations of Bengal Tigers. Then journey to Ladakh, high in the Himalayas, where at this time of year the Grey Ghost of the Mountains, the Snow Leopard, descends from the snowy fastnesses in pursuit of its ungulate prey. En route, you may also encounter highly endangered Dhole, or Asiatic Wild Dog, and Barasingha, or Swamp Deer, as well as Gaur, Himalayan Ibex, Tibetan Wolf, Himalayan Snowcock, Bearded Vultures and more, all subjects in these regal felines' realms.


Destinations
Travel by Air
Travel by Road
Travel by Boat
Travel by Bullet Train
Travel by Rail
Travel by Dog Sled
Tuesday, February 28: Arrive Delhi, India

Arrive in this cacophonous capital city and transfer to your hotel. The day is yours to explore this vibrant cultural melting pot. Delhi consists of two starkly different worlds: upscale New Delhi was built as the seat of government for the British Raj; Old Delhi served as the capital of the Mughal Empire. You can choose to explore both, taking a rickshaw ride through the dizzying streets of Chandni Chowk, passing the historic Red Fort and winding through medieval bazaars to visit the beautiful Jama Masjid. Gather this evening for a welcome dinner and briefing at your hotel. Overnight at the Andaz Delhi Hotel.

Wednesday, March 1: Delhi / Raipur / Kanha

After breakfast, head to the airport for your flight south to Raipur, situated on the Deccan Plateau in central India. The majority of the day will be spent driving past rich farmland and colorful villages to Kanha National Park. This 366-square-mile preserve was established to save the endangered Barasingha, or Swamp Deer, before being declared part of the Project Tiger network. One of the largest and most diverse national parks in India, Kanha is an ideal habitat for both tigers and their prey. Arrive at Kanha Jungle Lodge at the edge of the park for dinner and overnight.

Thursday–Saturday, March 2–4: Kanha

Kanha's magnificent Sal forests are home to prolific wildlife, notably one of India's largest populations of Bengal Tigers, and the next three days will focus on experiencing firsthand this most regal of big cats. Beginning every day before dawn, enter the park with morning mists still hanging in the air. At sunrise, the forests resound with bird song. Be especially alert to the warning barks of Sambar, Chital, or Barking Deer, that may lead you to a tiger padding through the forest. While seeing tigers will undoubtedly be foremost in your mind, you may also cross paths with packs of elusive Dhole, or Asiatic Wild Dog, Golden Jackal, Jungle Cat, Wild Boar or the impressive Gaur.  At this season, ponds in the meadows are thronged with migratory waterfowl and shorebirds, while Crested Serpent Eagles and Oriental Honey Buzzards circle overhead, and flocks of brilliant Scarlet Minivets enliven the treetops. This remote part of Madhya Pradesh still preserves its native traditions, and between your morning and afternoon safaris you may choose to visit a nearby Baiga tribal village for a taste of local life. The lodge is also renowned for its fine Indian cuisine and holds regular cooking demonstrations. Be sure to take time to look up at the magnificent night skies as well. Dinners and overnights at Kanha Jungle Lodge.

Sunday, March 5: Kanha / Jabalpur / Delhi

Enjoy one last dawn safari. After breakfast, depart for a drive through Madhya Pradesh to Jabalpur. Transfer to the airport for a flight to Delhi. Dinner and overnight at the Andaz Delhi Hotel.

Monday, March 6: Delhi / Leh

Rise early and transfer to the airport for a dramatic flight north over the snowy Himalayas to the former kingdom of Ladakh. The capital city of Leh, once a stop on the Silk Road, is often called Little Tibet or the Land of Lamas, due to the influence of Tibetan Buddhism here. The barren, rugged terrain is enlivened by brightly painted gompas, fluttering prayer flags and the ancient and mighty Indus River, from which the very country got its name. There is much to explore here, but take it easy for now—at 11,500 feet high, Leh requires a couple days' acclimatization before it can be fully enjoyed. Dinner and overnight at The Grand Dragon Ladakh Hotel.

Tuesday, March 7: Leh

Continue to acclimate to the altitude today. If you're up for small walks, you may choose to visit Leh's main monastery, Sankar Gompa, or the white spired Shanti Stupa, built by Japanese monks in the 1980s to promote world peace. If you feel ready, join the group for a sunset visit of Leh Palace. Built in the same style as the Potala Palace in Lhasa, Tibet, this nine-story edifice has been Leh's dominant structure since it was built in the 17th century by the Ladakhi royal family. It has been essentially unoccupied since the royals were stripped of power in 1846 but commands a stunning view over the Indus Valley to the Ladakh Range beyond. Dinner and overnight at The Grand Dragon Ladakh Hotel.

Wednesday, March 8: Leh / Ulley

Today, drive west, discovering some of Ladakh's oldest villages tucked into the foothills and floodplain of one of the world's longest rivers. Pass through the small town of Nimmu, where the Indus and Zanskar Rivers meet. Head north past Likir, one of Ladakh's famous monasteries, the Zanskar Range providing a backdrop of indescribable Himalayan splendor. Wind up a narrow valley, following the Ulley Chhu stream. This is prime Snow Leopard country, and the expedition crew will be scanning the hillsides for silhouettes. It is also excellent for Ibex, and with luck, you may spot one of these handsome Himalayan mountain goats standing vigil on one of the impossibly narrow outcroppings overhead. Ulley village, a hamlet comprised of just a handful of houses, has only recently been developed for Snow Leopard tracking, and has quickly gained a reputation not just for the high numbers of this most prized of Big Cat, but also as one of the best areas to see the main prey of the Snow Leopards, Himalayan Ibex and Urial, or Red Sheep, as well as Tibetan Wolves, Red Fox, Bearded and Himalayan Griffon Vultures and Golden Eagles. Dinner and overnight at Snow Leopard Lodge Ulley.

Thursday–Monday, March 9–13: Ulley

Snow Leopards have a reputation as the most elusive big cat on Earth due to a combination of their exquisite camouflage and their remote and often rugged habitat. Until now, seeing a Snow Leopard meant a full-scale camping expedition, often involving arduous trekking and long hours in subzero temperatures. The beauty of the Snow Leopard Lodge is its unique combination of a base camp with creature comforts deep in prime Snow Leopard habitat, and a team of spotters and trackers with deep experience of the movements and habits of these stealthy predators. Our visit is timed for the prime season of the year when the Ibex have been pushed from the peaks by the deep snow, followed closely by the Snow Leopards. Five full days will be dedicated to tracking these Grey Ghosts, as well as the other wildlife that frequents the area. Meet for breakfast each morning to discuss the day's plan with your naturalist team. Search for wildlife in vehicles and on foot, during short walks to vantage points or possible sighting areas. Return to the lodge for a warm lunch, then head back out until dusk. Enjoy evening talks on the work being done by the community to conserve their natural heritage. Dinners and overnights at Snow Leopard Lodge Ulley.

Tuesday, March 14: Ulley / Leh

This morning, bid farewell to Ulley and depart for the scenic drive back to Leh. Enjoy the afternoon browsing the Leh markets for traditional artifacts, or explore the bird-rich scrub along the Indus River, watching for the striking Ibisbill and dapper White-winged Redstart. Dinner and overnight at The Grand Dragon Ladakh Hotel.

Wednesday, March 15: Leh / Delhi

After breakfast, transfer to the airport for a flight to Delhi. This afternoon, you may choose to head out onto the hectic streets, watching out for the carts and cycle-rickshaws, cows and macaques, with which you'll be sharing the road. Visit Humayun's Tomb, the multi-hued forerunner to the Taj Mahal, or trace your way through the city's layered history at the ruined forts of Tughlaqabad, Siri, Purana Qila and Shajahanabad. In New Delhi, amble past the stunning Indian Parliament building, or relax with a refreshment at a swanky café, being sure to save room for some Dilli-ka-Chaat, the city's famously delicious street-food snacks. Farewell dinner and overnight at the Andaz Delhi Hotel.

Thursday, March 16: Delhi / Depart

Transfer to Delhi airport very early this morning for your international flights home.
Details
February 28 – March 16, 2023
Leaders

Jonathan Rossouw & Liam Rainier
$14,470*

Per Person Rate

$18,345**

Solo Rate

17 days

Trip Length

13 guests
Delhi

Start/End
In addition to all tour services from arrival in Delhi through departure from Delhi as described in the itinerary, the trip prices includes all gratuities; services of an Apex Expeditions leader for every 7 guests, plus local guides throughout; flights Delhi to Raipur, Jabalpur to Delhi, Delhi to Leh and Leh to Delhi, as noted in the itinerary; plus local beer and wine with lunch and dinner daily.
*The per person sharing rate of $14,470 is the rate that includes a room at Snow Leopard Lodge with a separate, but private, bathroom. For a room with an ensuite bathroom, the per person sharing rate is $15,270.
**The solo rate of $18,345 is the rate that includes a room at Snow Leopard Lodge with a separate, but private, bathroom. For a room with an ensuite bathroom, the per person sharing rate is $19,945. Space is limited.
The Fine Print

Call us to reserve your spot on this exciting expedition!
Have a question? Call us at 206.669.9272 /
800.861.6425

. Prefer online?Get in Touch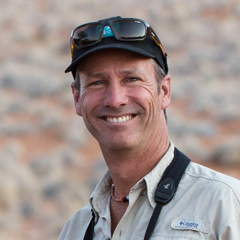 Jonathan is excited to return to Ladakh to lead your quest to see the exquisite Snow Leopard.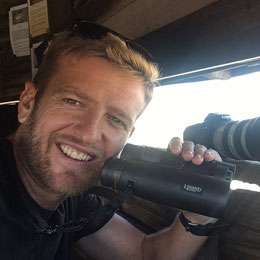 Liam will share his passion and expertise for big cats and their unique behaviors.

Royle's Pika: Whistling-Hare of the high Himalayas
Inconspicuous were it not for their vocalizations, the pikas are a characteristic component of the fauna of Northern Hemisphere high mountain regions. Commonly known as "whistling hares" due to their shrill, alarm calls or "mouse-hares" on account of their diminutive size and tail-less appearance, the pikas are neither mouse nor hare, belonging to their own family, the
Ochonitidae
. They do not hibernate during the depths of winter, surviving instead on food stores they assemble during the summer months. In the Himalayas, the sight of a curious Royle's Pika enlivens any hike in the mountains.