Namibia
September 1–15, 2024
Through a combination of extreme physiological and behavioral adaptations, the Gemsbok is capable of surviving in regions totally lacking in surface water. © Jonathan Rossouw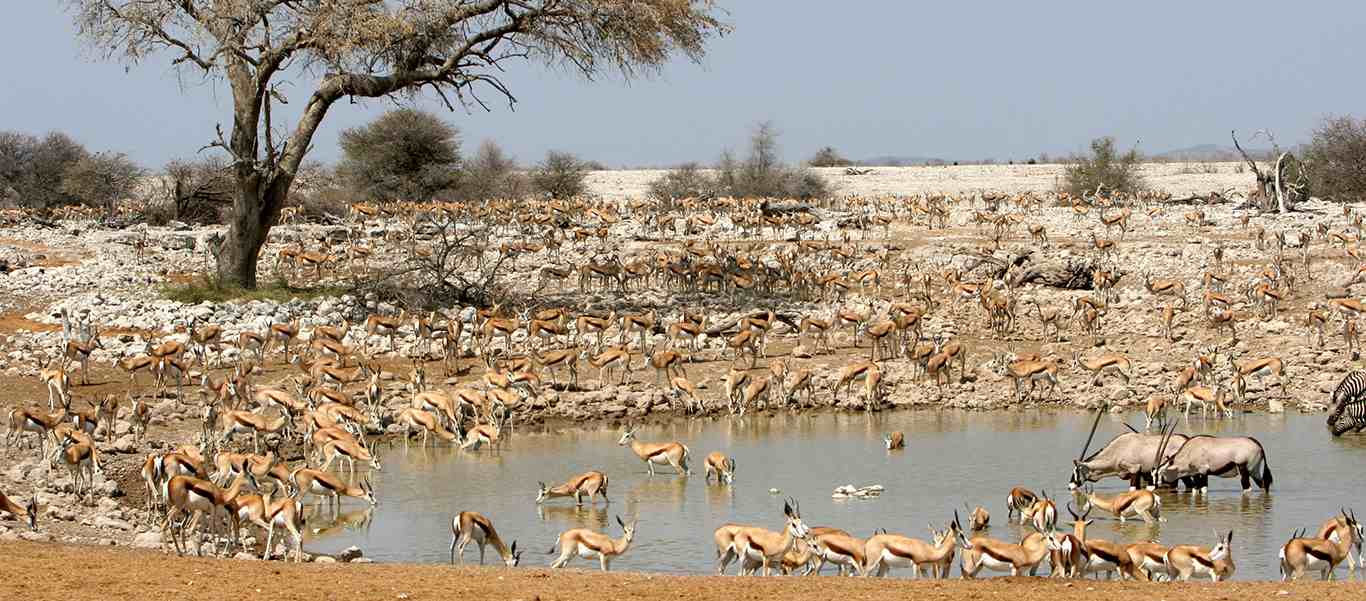 Toward the end of the dry season, waterholes around Etosha Pan create some of the greatest wildlife spectacles on the African continent. © Jonathan Rossouw
Brown Hyenas tend to scavenge rather than hunt and can be spotted along the Skeleton Coast shoreline, especially near Cape Fur Seal colonies. © Martin Harvey
The rugged Kunene region is home to the only desert-adapted elephants south of the Sahara. © Jonathan Rossouw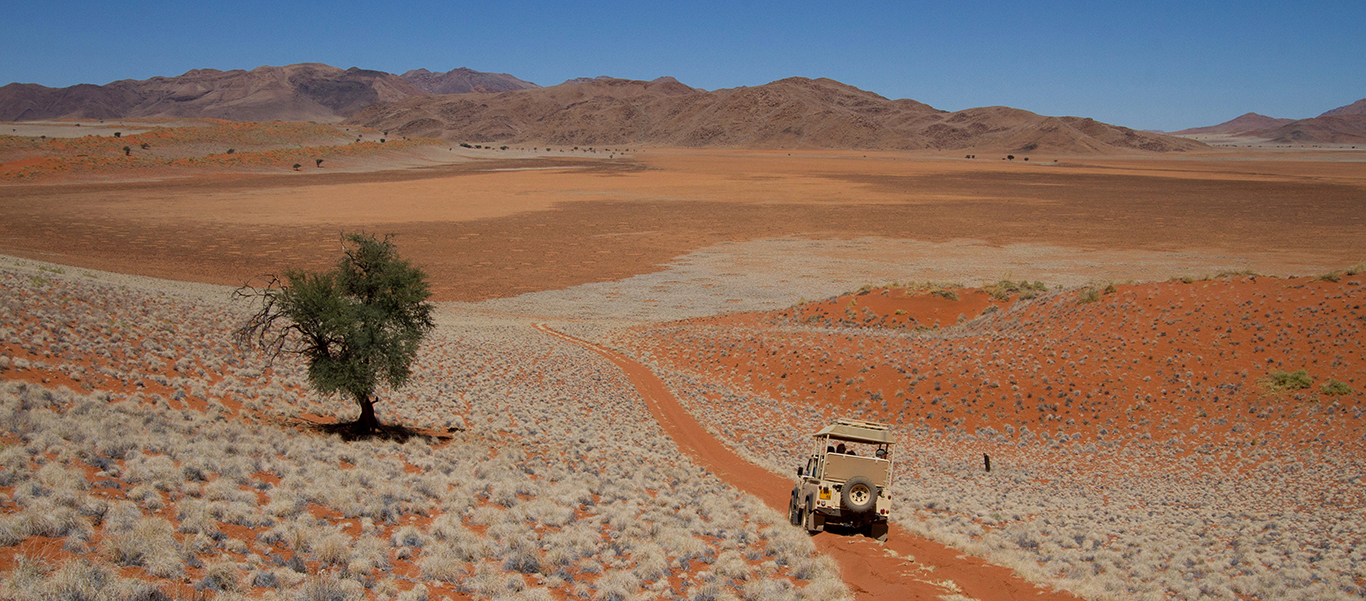 A Camelthorn stands as a lonely sentinel in a sea of Bushman grass in the vast NamibRand, Southern Africa's largest private nature reserve. © Giovanna Fasanelli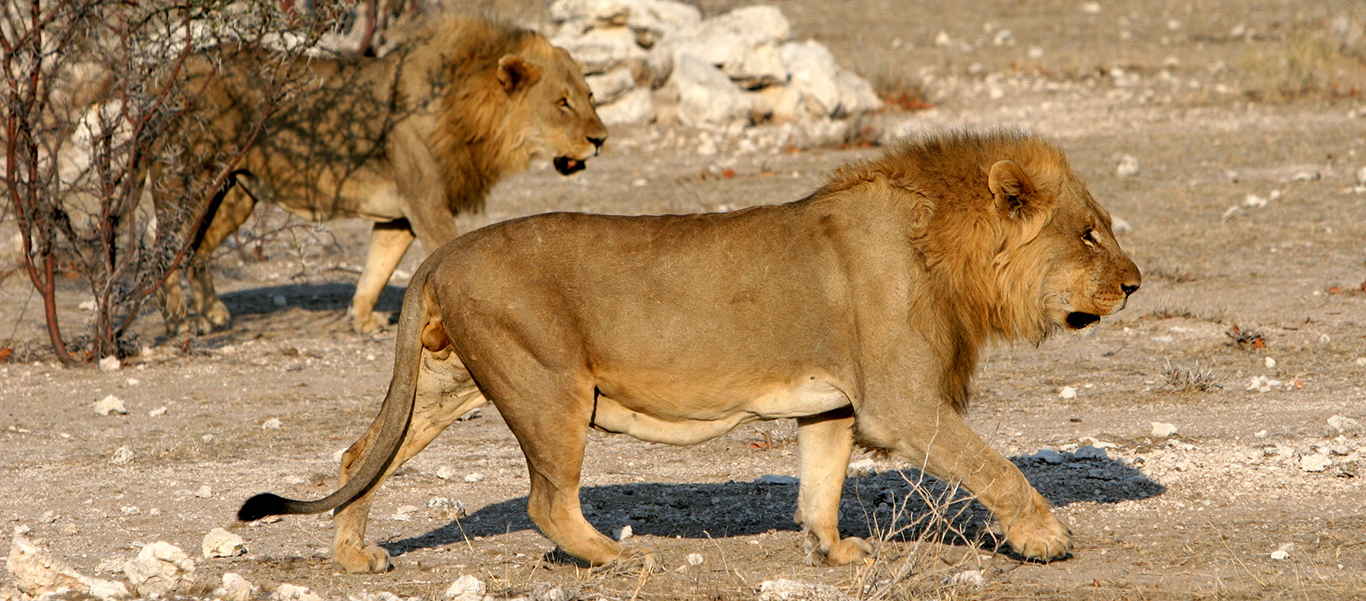 The legendary Etosha National Park boasts Namibia's healthiest population of Lions. Although dominating the feeding at a kill, Etosha's male lions participate in under 5% of all hunts. © Jonathan Rossouw
Striking and statuesque, the Himba are a hardy people who adhere staunchly to their semi-nomadic, pastoralist way of life. © Jonathan Rossouw
Namibia Safari
As the driest country south of the Sahara, Namibia showcases the extraordinary fusion of an unforgiving land with a unique, thriving ecosystem. The scarcity and unpredictability of rainfall has shaped a remarkable living landscape of unparalleled beauty, contrasts and intrigue. Celebrated for its astonishing scenery, abundant wildlife and fascinating cultures, this desert-dominated country offers a startling array of experiences. Behold the arresting beauty of the Namib's towering red sand dunes; observe the electric activity of wildlife-packed waterholes in Etosha National Park; track desert-adapted elephant within the breathtaking rockscapes of Damaraland; encounter one of the world's last, true nomadic tribes, the Himba; witness the raw and rugged Skeleton Coast; and star-gaze under bejeweled night skies. Join Apex on this alluring Namibia safari to discover a country gathering well-deserved recognition as one of Africa's most sought-after travel destinations.


Destinations
Travel by Air
Travel by Road
Travel by Boat
Travel by Bullet Train
Travel by Rail
Travel by Dog Sled
Windhoek

Arrive into Hosea Kutako International Airport, Namibia, and transfer thirty minutes outside of Windhoek to Omaanda, a boutique lodge set in the heart of the 22,000-acre wildlife sanctuary Zannier Reserve. After checking into the lodge, enjoy its panoramic views stretching to the distant Khomas Hochland Plateau. Regal Southern Oryx, rare and localized Hartmann's Mountain Zebra, and agile Springbok are just some of the wildlife you may see during your stay. This evening, enjoy your first Namibian sundowners and welcome dinner. Overnight at Omaanda.

NamibRand Nature Reserve

Following breakfast, depart Namibia's capital and take to the air, flying southwards deep into the striking NamibRand Nature Reserve, where you will spend the next three nights at Kwessi Dunes. This afternoon head out on a dune drive for an introduction into the Sand Sea of the Namib Desert, searching for desert species like Springbok, oryx and Namibia's only true avian endemic, the Dune Lark. End the evening with a sundowner overlooking the dunes before returning to Kwessi Dunes for dinner and overnight.

NamibRand Nature Reserve

Over the next two days, explore this truly breathtaking area in search of a charming array of diminutive desert-adapted denizens such as Tenebrionid beetles, White Lady Spiders, Namaqua Chameleons and Namib Golden Moles, that bring to life the secrets of survival in this waterless world. Along the foothills of the Great Escarpment, search for mountain species like Hartman's Mountain Zebra, Klipspringer, and Verreaux's eagles as they prey on the numerous Rock Hyrax. We'll also search for Africa's smallest raptor, the pygmy falcon, that lives in symbiosis with the bird who is responsible for making the largest nests in Africa, the Sociable weaver.

A pre-dawn departure into Namib-Naukluft National Park, one of Africa's largest conservation areas, places you within reach of the Earth's tallest red sand dunes. These reach their apogee around the dead-end watercourse known as Deadvlei, where seductively-sculpted lines and dream-like contrasts of color and shadow make for a photographer's Utopia. Add to the perfection of this otherworldly landscape herds of Springbok, statuesque Gemsbok, and Ostrich families wandering amidst fields of golden grasses. Overnights at Kwessi Dunes.

Okonjima

Leave the red dunes behind and fly north to the internationally-renowned game reserve of Okonjima, nestled amongst the slopes of the Omboroko Mountains. Home to the pioneering predator-conservation project, the Africat Foundation, this 55,000-acre reserve boasts a thriving wildlife community. Using radio telemetry, track resident Leopard, whilst learning of Africat's commitment to the long-term preservation of Namibia's large carnivores. The area's rich Acacia thornveld and broken sandstone ridges also supports a diverse avifauna, including such highly-prized Namibian endemics as Monteiro's Hornbill and Damara Rockjumper. After dark, a floodlit blind allows rare glimpses of some of the continent's most elusive nocturnal creatures, notably South African Porcupine and the irascible Ratel, or Honey Badger. Dinner and overnight at Okonjima Bush Camp.

Onguma Plains

After a morning game drive at Okonjima, continue your journey northwards to the stunning Onguma The Fort. Strategically located at the eastern end of Etosha National Park, Onguma is your home for the next two nights and a perfect base for exploring the eastern side of this wildlife-rich area.

Onguma Plains – Etosha National Park

An early start takes you into Etosha National Park, Namibia's most famous wildlife reserve. During this season, after months of little rain, the land is dry and the animals' thirst draws them to waterholes in spectacular aggregations. Focus your attention on these scattered springs, where Southern Giraffe jostle for space alongside hundreds of Plains Zebra, Blue Wildebeest, Greater Kudu, Eland, stately Gemsbok, Springbok and the localized, endemic Black-faced Impala. Activity is often electrifying, as predators, large and small, patiently await timely hunting opportunities, whilst dust-bathing elephants coat their bodies in clouds of white clay. Overnight at Onguma The Fort.

Etosha National Park and Ongava Game Reserve

Today's adventure entails an epic transect of this iconic wildlife Mecca. As you journey westward across Etosha National Park, the concentrations of animals grow ever more impressive, with some springs literally heaving with a constant procession of life. In the late afternoon, arrive in the 125-square-mile private reserve of Ongava, famous for its healthy population of Black Rhinoceros and Black-faced Impala. Dinner and overnight at Andersson's at Ongava.

Etosha National Park and Ongava Game Reserve

Ongava shares a common boundary with Etosha, allowing for a full day of exploring the park's western side. Here you'll encounter very different scenery and vegetation, and hopefully glimpse the Hartmann's Mountain Zebra among the park's prolific wildlife. Return to camp and spend time in the hide situated on the edge of a waterhole providing unrivalled opportunities for viewing the endangered Black Rhinoceros alongside its larger cousin, the White Rhinoceros. Dinner and overnight at Andersson's at Ongava.

Damaraland

The drive from the parched savanna plains of the north into the rugged Kunene Region is akin to entering an open-air geology museum, the broken landscape fashioned from 560-million-year-old Damara granites, schists and marbles. Take time to view game and absorb the vastness of the scenery along the way.  Your home for the next two nights is Mowani Mountain Camp, lying camouflaged within massive granite boulders. Arrive in time for sunset cocktails with unparalleled panoramic views. Dinner and overnight at Mowani Mountain Camp.

Damaraland

Your morning focuses on tracking the region's famous desert-adapted elephants, herds of which frequent the dry riverbed of the Huab. Adjacent rocky hillsides are home to the scarce Hartmann's Mountain Zebra, along with agile Kaokoland Rock Hyraxes and the unusual Dassie Rat. This unique wildlife spectacle unfolds against a backdrop of dramatic topography: table mountains of multi-hued sandstone contrasting starkly with azure skies, and ancient watercourses snaking through vast tracts of wilderness. It is within this primordial landscape that the early Bushmen held dominion, etching their legends on the flat red rocks of Twyfelfontein, now a UNESCO World Heritage site. Spend the afternoon appreciating these ancient engravings, along with the country's most famous botanical oddity, the primitive Welwitschia. Dinner and overnight at Mowani Mountain Camp.

Skeleton Coast

Following an early breakfast, drive north to Sesfontein. Living within this unforgiving environment are people known as the Himba, who have clung fiercely to their traditions and semi-nomadic way of life. Covering their bodies in a layer of ochre-red pig grease and sporting long, mud-encrusted dreadlocks, these striking pastoralists are amongst Africa's most intact tribal groups. Stop to experience their beguiling culture.

Next, depart for your charter flight to Möwe Bay and an exploration of the virtually uninhabited Skeleton Coast. The beaches here are strewn with bleached whale bones and the wrecks of over a thousand ships, from wooden Portuguese galleons that were submerged hundreds of years ago to modern steel-hulled vessels. Onshore, towering sand dunes and wind-swept plains extend as far as the eye can see. Spend three nights nestled between the sand dunes at the Shipwreck Lodge, with sweeping views of the Atlantic.

Skeleton Coast

Spend the next two days traversing the Skeleton Coast. An early morning drive to the Möwe Bay area reveals more of this rugged and alluring coastline. Here you'll encounter the Cape Fur Seals that line the rocky shore in large, thriving colonies. With luck, you may witness Brown Hyenas or Lions stalking seals along the shoreline. Explore Huarusib River Valley with its steep canyon walls of black and red volcanic rock. Hidden in the river's narrow gorges, find dozens of "clay castles", unusual geological formations created by the gradual erosion and deposition of clay. Embark on a sundowner drive to the Roaring Dunes where the desert's voice can be heard. Overnights at Shipwreck Lodge.

Skeleton Coast / Windhoek / Depart

Following a leisurely breakfast, drive to Möwe Bay to board your afternoon private charter flight to Windhoek, arriving in time for evening independent international connections.
Details
$25,970

Per Person Rate

$29,830

Solo Rate

15 days

Trip Length

12 guests
Windhoek

Start/End
The Fine Print

Call us to reserve your spot on this exciting expedition!
Have a question? Call us at 206.669.9272 /
800.861.6425

. Prefer online?Get in Touch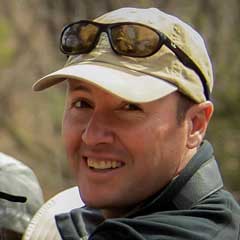 Namibia speaks to Marco's passions—species adaptations in harsh and extreme habitats along with the art and science of tracking.

Whose Dunes Are They Anyway?
The world-famous dunes of Namibia's Namib-Naukluft Park are amongst the highest in the world, some towering 700 feet above the desert floor. Their origin can be traced to the headwaters of South Africa's Orange River, in the Lesotho highlands. Over millions of years, this mighty, 1,400-mile-long river has deposited countless grains of sand into the Atlantic Ocean, only to be swept northward by an icy Benguela Current and eventually deposited onshore by strong wind and waves. Their stunning hues of pink, orange and red are a result of high concentrations of oxidized iron and garnet, the oldest dunes possessing the deepest colors.