Scoping for the heavily camouflaged wildlife that lives in the Himalayas requires patience. © Giovanna Fasanelli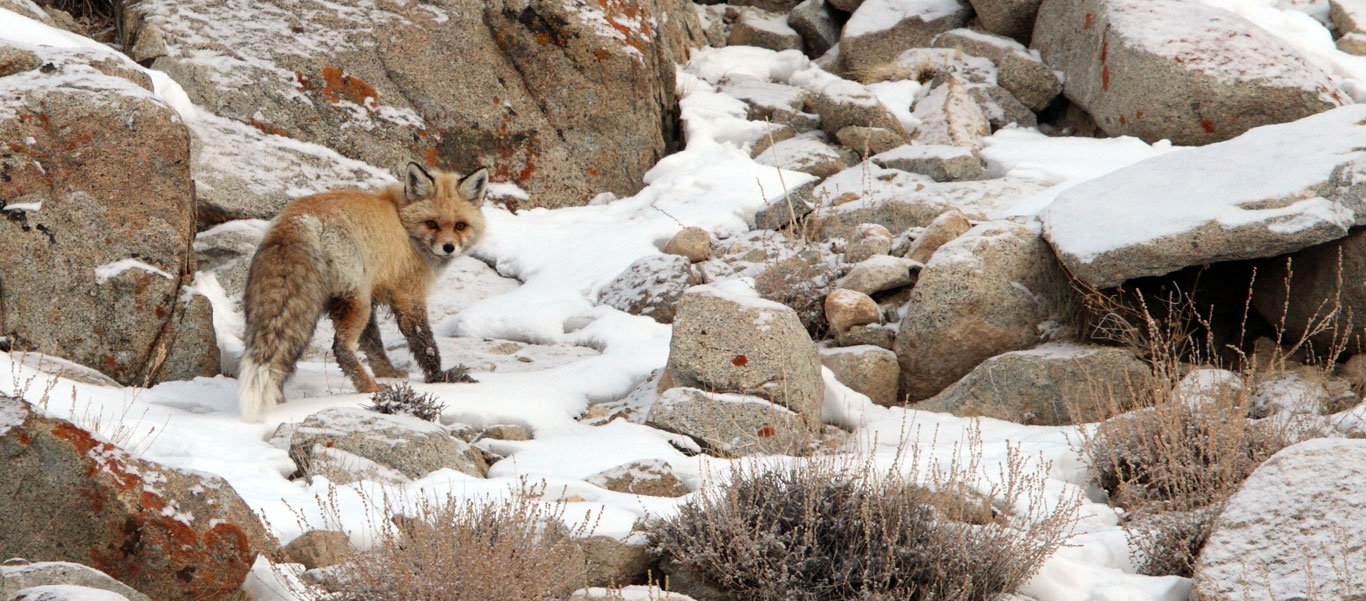 A trotting Red Fox catches our eye as we scan the dramatic Himalayan landscape. © Jonathan Rossouw
A monk in contemplation at Thikse Monastery © Giovanna Fasanelli
Evenings are spent in the relative warmth of our tents, while outside the legendary Himalayan stars seem close enough to touch. © Jonathan Rossouw
Leh Castle offers magnificent vistas over the valley towards the 20,000-foot-high, tortured crags of the Zanskar range. © Jonathan Rossouw
Bharal, or Blue Sheep, are the favorite winter prey of Snow Leopards. © Jonathan Rossouw
The Thikse Monastery is located on a hill slope, with it's buildings arranged in order of importance from top to bottom. © Giovanna Fasanelli
India Snow Leopard Tour
Epic. Few journeys in life can truly be described as "EPIC." A quest to see a Snow Leopard in its natural realm is one such expedition. Exceedingly scarce, exquisitely beautiful, the "Grey Ghost of the Himalayas" is also the most elusive of the big cats. To see one requires exploring some of the most remote, rugged and scenically magnificent terrain on Earth during the Himalayan winter. It is at this time that this apex predator follows its hardy prey of wild sheep and ibex off the inhospitable, inaccessible peaks and into the range of our spotting scopes, binoculars and camera lenses. This is a journey to experience what a mere handful of nature enthusiasts have ever experienced, a pilgrimage to wildlife-watching's "Holy Grail." Epic, indeed!


Destinations
Travel by Air
Travel by Road
Travel by Boat
Travel by Bullet Train
Travel by Rail
Travel by Dog Sled
Friday, November 25: New Delhi

Arrive in New Delhi, India's capital and one of the world's most vibrant cultural centers. Transfer to the Radisson Blu Hotel for a welcome dinner, briefing and overnight.

Saturday, November 26: New Delhi / Leh / Uley

Depart on an early flight from New Delhi, with sunrise over the Himalayas revealing a scene of indescribable winter splendor. Arrive in Leh, the capital of Ladakh, in the northern Indian state of Jammu-Kashmir. Depart by road down the Indus Valley and past dramatic vistas of the Zanskar Mountains en-route to the remote village of Uley. Snow Leopard conservation initiatives, including education on minimizing livestock losses, compensation schemes and homestay ecotourism, have been highly successful in the Uley Valley, with the Snow Leopard population slowly recovering from centuries of persecution and the big cats are now regularly encountered throughout the area. We'll also make a special effort to locate Siberian Ibex, which occurs here in groups up to twenty strong. Sable-colored animals with blond saddles and sporting massive, bow-shaped horns exceeding five feet in length, these are the largest and most impressive of all the world's wild goats. Enjoy dinner and overnight in an Uley homestay with a local family.

Ladakhi hospitality originated centuries ago when nomadic traders would dine and overnight with local villagers. Living in a land of few hotels, the people of Ladakh still consider hosting strangers an integral part of their culture, and your Uley homestay is an extension of this proud tradition. Offering an intimate, first-hand experience of life in Uley, from animal husbandry to local customs to cooking techniques, this will be a cultural highlight of our visit to Ladakh.

Sunday, November 27: Uley / Leh

After breakfast, make the scenic journey back to Leh. Situated at an altitude of 11,500 feet at the edge of the Tibetan plateau, Leh commands panoramic views over the upper Indus Valley. Strategically located between the Ladakh and Zanskar mountain ranges, Leh was an important way station along the "Silk Road" for centuries and reflects its history in a fascinating blend of Tibetan Buddhist and Islamic elements. Visit the active Thikse Monastery, with its 39-foot gilded copper statue of Sakyamuni Buddha, marvel at the Buddhist wall paintings and scrolls within Leh Palace's labyrinthine corridors, or stroll the bazaars in search of Buddhist artifacts, cashmere garments or turquoise beaded jewelry.

Below town, thicker scrub along the Indus River harbors the attractive White-winged Redstart and, with luck, close scrutiny of the frozen banks may reveal the Ibisbill, one of the world's most distinctive shorebirds. A late afternoon visit to the lonely ruins of Leh Castle offers magnificent vistas over the valley towards the 20,000-foot-high, tortured crags of the Zanskar range. Overnight at the Grand Dragon Hotel.

Monday, November 28: Leh / Zinchan / Hemis National Park

Wake early, excited at the day's prospects, the great mountain ramparts beckoning. Crossing the Indus River downstream from Leh, our convoy of Jeeps will snake through a barren but starkly beautiful landscape, ever upwards into Hemis National Park. Prayer flags flutter at the roadside and we'll stop to appreciate the scenic grandeur. At the summer sheep corrals of Zinchan, the vehicles can go no further and we bid our drivers farewell and continue on foot. Following our mule train and luggage up the frozen stream of the Husing River, we'll be engulfed by the magnitude of the Himalayas, finally rounding a spur to find the cluster of tents that will be our home for the next five nights. A trusty team of cooks, trackers and camp hands will meet us and help us settle in; Himalayan veterans, their vast collective experience and expertise are integral to the success of our mission. As the shadows fall across the valley, hot beverage in hand, we'll commence our first of many vigils, scanning the towering slopes for any sign of the "grey ghost!" Overnight Husing Base Camp.

Tuesday, November 29: Hemis National Park

Utterly dwarfed by the landscape, at an altitude of 13,500 feet, our Husing camp is strategically positioned at the junction of three subsidiary valleys, in an area where camera trap surveys have revealed a population of no fewer than nine resident and two transient Snow Leopards.

We commence our tracking pre-dawn, as these hours are peak activity periods for the cats. After breakfast, set off in search of fresh tracks or scat, watching the Bharal, or Blue Sheep, for nervous behavior, and listening for a panicked Himalayan Snowcock exploding from a distant ridge – all clues to the whereabouts of our feline focus. Bharal are the favorite winter prey of Snow Leopards. Highly adapted to an existence in the relative safety of jagged crags and scree-filled slopes, they blend a goat-like agility with the fleet-footed ability of wild sheep.

Finding a highly camouflaged cat in the immensity of these mountains requires keen eyes, knowledge of their movements and, above all, dogged determination, and we'll persist with our searching until the last light fades on the highest ridges. Evenings are spent in the relative warmth of the communal dining tent, sharing our impressions of the day, while outside, the legendary Himalayan stars seem close enough to touch. Overnight at Husing Base Camp.

Wednesday–Monday, November 30–December 5: Hemis National Park

Following a hearty breakfast each morning, await the latest information from our trackers, which will determine our chosen vantage point for the day's scanning. As we acclimatize to the altitude, we may choose to ascend part way up the surrounding slopes, increasing our views over the surrounding areas. Steep terrain makes for perfect viewing, often spanning 270 degrees, with the crisp, dry air allowing crystal-clarity of animals seen at distances approaching a mile.

Distractions from our primary task are few but a trotting Red Fox may catch our eye, while whistles from Royle's Pikas echo from jumbled rock piles. Few birds survive in these extremes, although small coveys of Chukar Partridge are occasionally glimpsed scuttling up a slope, while overhead, lone Golden Eagles and garrulous flocks of Red-billed Choughs are often seen soaring along the cliffs. At this time of year, Snow Leopards prepare for mating, patrolling and marking their territories.

If our Snow Leopard quest has been successful, we may take a day hike further up the valley to the ancient settlement of Rumbak, where a welcoming community offers insights into the traditional way of life of rural Ladakhis. Overnight at Husing Base Camp.

Tuesday, December 6: Hemis National Park / Zinchan / Leh

After a final farewell to our loyal camp team, we hike out of the park to meet our vehicles at Zinchan, retracing our journey to Leh, where hot water and heated bedrooms make for a welcome change from the rigors of camp life! Overnight at the Grand Dragon Hotel.

Wednesday, December 7: New Delhi

After breakfast transfer to the airport for our flight back to New Delhi. On arrival at our hotel, enjoy a leisurely lunch before setting out on an afternoon tour of New Delhi. The city is known for its formal parks, wide boulevards, magnificent Parliament Building, the Rashtrapati Bhawan and the India Gate. Visit Qutab Minar, the 237-foot-high tower dating back to the 13th century and Humanyun's Tomb (built in the 16th century and architecturally the fore runner of the Taj Mahal). Farewell dinner and overnight at the Claridges Hotel.

Thursday, December 8: New Delhi

Transfer to the airport for your early morning flight homeward.
Have a question? Call us at 206.669.9272 /
800.861.6425

. Prefer online?Get in Touch

Royle's Pika: Whistling-Hare of the high Himalayas
Inconspicuous were it not for their vocalizations, the pikas are a characteristic component of the fauna of Northern Hemisphere high mountain regions. Commonly known as "whistling hares" due to their shrill, alarm calls or "mouse-hares" on account of their diminutive size and tail-less appearance, the pikas are neither mouse nor hare, belonging to their own family, the
Ochonitidae
. They do not hibernate during the depths of winter, surviving instead on food stores they assemble during the summer months. In the Himalayas, the sight of a curious Royle's Pika enlivens any hike in the mountains.