Colombia
November 16 – December 1, 2022
Caño Cristales takes on a striking red color from June through November, as Macarenia clavígera, a rare flowering water plant, blankets the riverbed. © Metropolitan Touring
The low and guttural sound produced by Howler Monkeys is believed to be the loudest of all land animals and can be heard over two miles away. © Gary Krosin
In the heart of Bolívar Square is Catedral Primada, Bogotá's first church, built in 1539 by Spanish conquistador, Gonzalo Jiménez de Quesada. © Metropolitan Touring
This colorful, male Clown Grasshopper Paramastax poecilosoma can be found in the cloud forests of northwest South America. @ Kevin Clement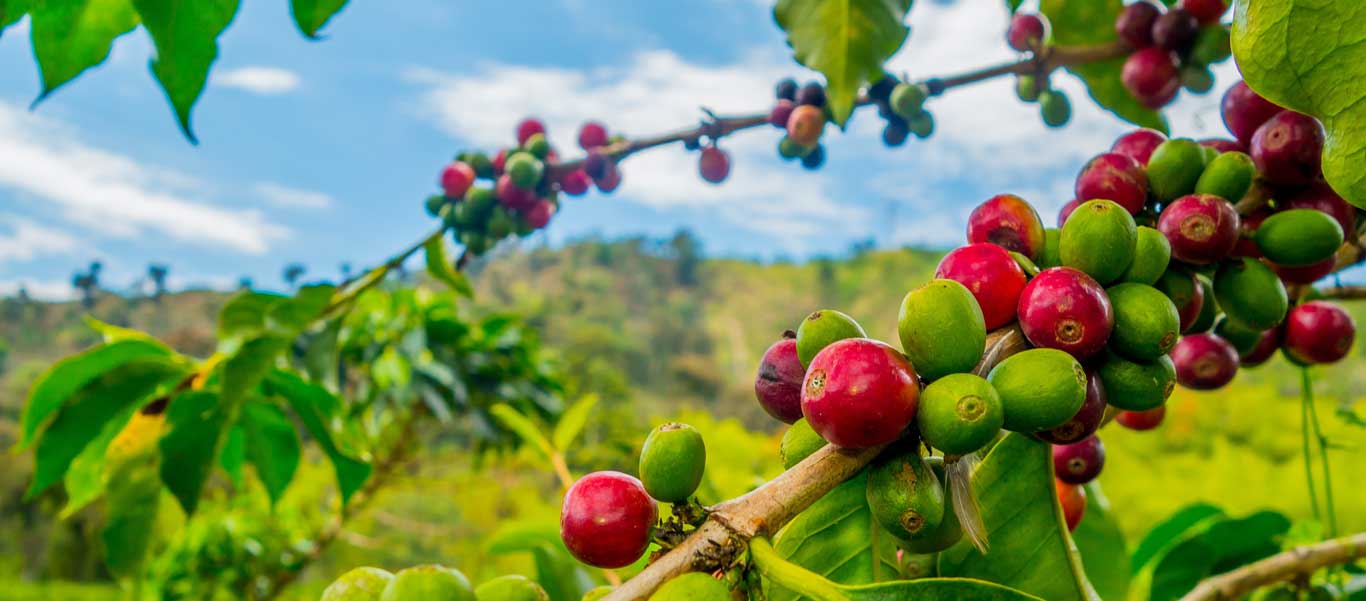 Besides having the ideal climate and elevation, Colombia is one of the few countries that only grows Arabica beans, resulting in a rich, mild-flavored coffee. @ Metropolitan Touring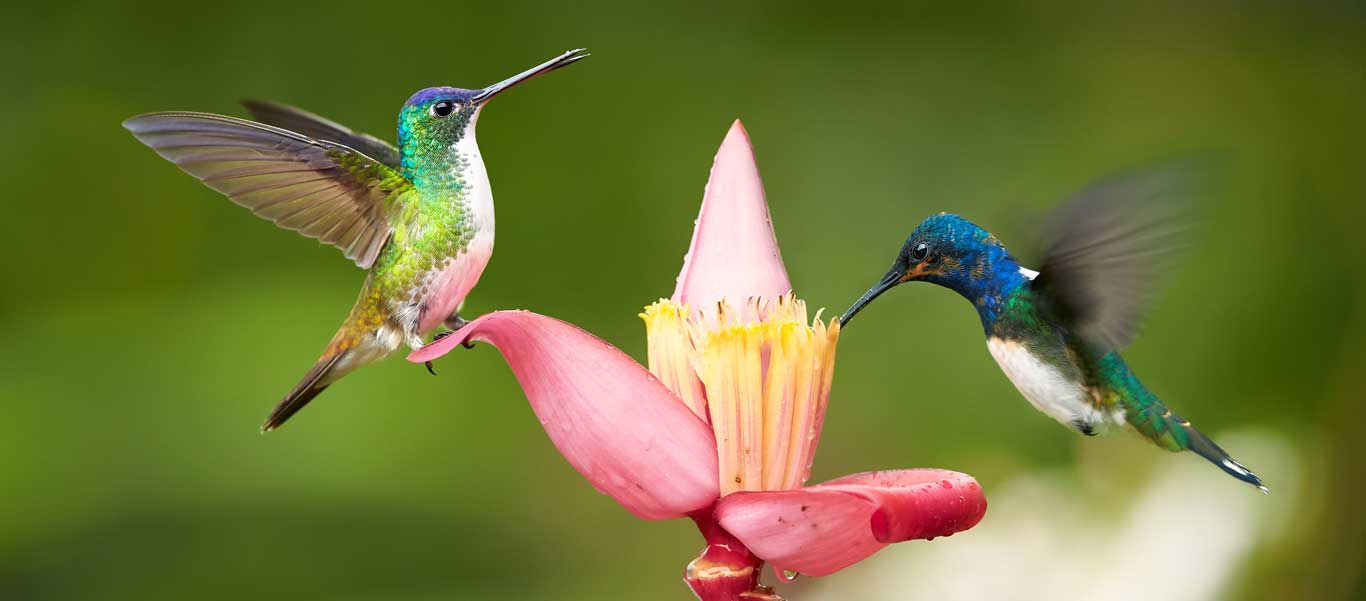 Found in high elevation forests, the male White-necked Jacobin has a blue head and chest, and sharply contrasting white abdomen and nape.
© Metropolitan Touring

Colombia Nature & Cultural Tour
Colombia, a country once torn by strife and long closed off from the outside world, is a study in contrasts—from pristine rainforests echoing with bird calls, to lively modern cities like Barranquilla and Bogotá; from snow-capped peaks to verdant coffee-growing valleys; golden beaches to rainbow-colored rivers flowing alongside vast Serengeti-like savannah. Join Apex on this 16-day Colombia tour, carefully crafted to showcase exquisite colonial architecture, ancient ruins and vibrant local culture, as well as stunning natural spaces and wildlife—with more bird species than any other country on Earth. Colombia travel reveals a diverse and friendly country. Now is the time to visit before the rest of the world catches on.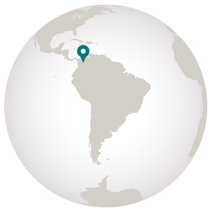 Destinations
Travel by Air
Travel by Road
Travel by Boat
Travel by Bullet Train
Travel by Rail
Travel by Dog Sled
Arrive Bogotá, Colombia

Arrive in Bogotá, a vital and sophisticated capital city that sits at 8,660 feet, cradled by the magnificent Andes. Transfer to your hotel in the heart of the cobbled historic downtown. Overnight at Sofitel Victoria Regia.

Bogotá

Meet your expedition leader and fellow explorers over breakfast at the hotel before heading out on a city tour, starting in the colonial quarter of La Candelaria. Amble past 300-year-old homes toward Plaza de Bolívar. Some of the city's most significant buildings surround this square, including La Catedral Primada, the Presidential Palace and National Capitol, and the colonial churches of El Sagrario and San Agustín. Visit the Museo del Oro, containing more than 55,000 pieces of pre-Columbian gold. After lunch, drive out of town to a hummingbird observatory for hot chocolate and a stroll to spot some of the 14 species of hummingbird buzzing around. Dinner and overnight at Sofitel Victoria Regia.

Serranía de la Macarena National Park

This morning, transfer to the airport for a flight south to La Macarena, deep in the Plains, or Llanos, region. Just across the Guayabero River from town stands the immense Serranía de la Macarena National Park, the unique meeting point for the flora and fauna of the Orinoco, Amazon and the Andes. Head straight to the park facilities for a briefing on local conservation efforts, then spend the afternoon visiting the Cristalito and Guayabero Rivers. The group may split up according to activity level for walks or hikes in the area. Enjoy lunch at a local outdoor kitchen. Dinner and overnight at the rustic Hotel La Fuente.

Serranía de la Macarena National Park

Over the next two days explore the Serranía de la Macarena National Park. Embark on a many-tiered journey to the famed Caño Cristales, known affectionately as the "Liquid Rainbow" or "River of Five Colors" for the brilliant yellows, greens, blues, blacks, and especially reds caused by the endemic Macarenia clavígera plant that blankets the riverbed at this time of year. To get there, head to the dock by your hotel and take a boat down the Guayabero River. Look for monkeys—there are 8 species present here—as well as Hoatzín and caimans. About 20 minutes in, board 4×4 vehicles and head over the mountains to the spring of Cajuche, the starting point for a moderate hike that takes you along the river, climbing over driftwood, then through the forest toward Caño Cristales. Swim in the many natural pools along the river. Notice the hollowed-out riverbed rocks, or "giant's kettles," along the way. The next day, traverse rivers and hiking trails to reach the Lake of Silence. From the vantage point of canoes, search the forest-fringed lake for bird life. Dinners and overnights at Hotel La Fuente.

El Dorado Nature Reserve

This morning, transfer to the airport for a flight north (via Bogotá) to Santa Marta, the "Pearl of America," nestled between the sparkling Caribbean Sea and the dramatic Sierra Nevada, the world's highest coastal mountain range. Transfer to 4×4 vehicles and continue straight up to 6,200 feet to El Dorado Reserve's lodge. The reserve is known worldwide for its magnificent endemic bird populations. Spend the rest of the day exploring the lodge grounds, looking for very rare Black-fronted Wood-Quails in the compost pile, and endemic Santa Marta Screech-owls and Santa Marta Antpittas at a feeder, as well as Black-backed Thornbills, Santa Marta Woodstars, Santa Marta Blossomcrowns and more. Enjoy dinner at the lodge, followed by the coaxing of Lemurine Night Monkeys and Kinkajous down from the trees for a feeding. Overnight at El Dorado Lodge.

El Dorado Nature Reserve

Overall, twenty endemic bird species have been found at El Dorado; exploring at various elevations is key to seeing as many of them as possible. Start very early this morning, heading up the Cuchilla de San Lorenzo to look for Santa Marta Parakeets, Rusty-headed and Streak-capped Spinetails, Santa Marta Bush-tyrants, Santa Marta Mountain Tanagers, Yellow-crowned Whitestarts, Santa Marta Warblers, White-tipped Quetzals and Santa Marta Foliage-gleaners, all endemic or near-endemic to this reserve. Drop down to the Experimental Station for an attempt to lure in the elusive Santa Marta Antpitta. Return to the lodge for lunch and spend the afternoon exploring the lodge trails. The views from the lodge are simply spectacular, with humid montane forest stretching in all directions and down to the Caribbean below. Dinner, Kinkajou feeding and overnight at El Dorado Lodge.

Tayrona National Park

After breakfast, head down the mountains to the coastal area of Santa Marta. Santa Marta is South America's oldest European-founded town, dating back to 1525, and its historic center has been meticulously restored. Eat lunch in town before heading to Tayrona, possibly the best-known national park in Colombia, covering over 50 miles of golden beaches and montane rainforest. Dinner and overnight at Villa Maria Hotel.

Tayrona National Park

Apart from the park's natural beauty, it's also rich in cultural history, as it was home to thriving pre-Columbian tribes. After breakfast at the hotel, take a guided tour of ancient Taironaka ruins. See remnants of their intricate drainage systems, terraces, stairs and houses, as well as a small museum housing more than 300 pieces of pottery found on site. After lunch at the reserve, head to the adjacent Rio Don Diego and climb into inner tubes for a relaxing float down the river. Return to the hotel, and take the afternoon at leisure, or join in a hike to the beach, with views over the jungle-clad mountains. Dinner and overnight at Villa Maria Hotel.

Tayrona National Park / Cartagena

Birders have deemed this area the "Northern Colombia Birding Trail." Early this morning, search the lush vegetation on the grounds of the hotel to look for birds such as Scrub Greenlet and Buff-breasted Wren. Today head along the Caribbean coast to the romantic and superbly preserved Cartagena, standing behind an impressive eight miles of colonial stone walls. Check into your hotel, then head out for a sunset cocktail at one of the baluarte bars located on the city walls. Dinner and overnight at Hotel Bastión.

Cartagena

This morning, start your city exploration from up high, visiting the Augustinian Convento de la Popa, located at Cartagena's highest point, followed by the Castillo de San Felipe de Barajas, considered the greatest fortress ever built by Spaniards. Travel through the upscale Bocagrande district, then head to old El Centro for a walking tour. Enter through the imposing Clock Tower Gate and walk through the Plaza de los Coches and Plaza de la Aduana. Head to Plaza de Bolívar, home to the Government Palace, newly restored Catedral, and Palacio de la Inquisición. End your tour at the baroque Convento de San Pedro Claver, named for a Jesuit priest who spent his life ministering to slaves. Enjoy lunch at a local restaurant on Plaza Bolívar and take some time this afternoon at leisure. This evening, embark a sailboat for a sunset cruise before dinner in a local restaurant. Overnight at Hotel Bastíon.

Pereira

Early this morning, transfer to the airport for a flight south to Pereira, in the Zona Cafetera, Colombia's principal coffee-growing area on the foothills of the western and central ranges of the Cordillera de los Andes. This area was designated a UNESCO World Heritage Site in 2011. After lunch in Pereira, transfer to the Sazagua Hotel for check-in. Spend the afternoon exploring the lush tropical gardens that surround the hotel. Dinner and overnight at Sazagua Hotel.

Pereira – Valle de Cocora

After breakfast, depart for the Cocora Valley. Hike among the towering Quindío Wax Palms, Colombia's national tree and the tallest palm in the world, reaching up to 200 feet. Continue into the cloud forest, looking for the endemic Yellow-eared Parrot, Chestnut Wood Quail and Masked Trogon, among many other birds. Join in the Ritual de la Palma, or planting of a wax palm, as part of restoration efforts. This afternoon, transfer via World War II Willys Jeeps to neighboring Filandia, a shining example of local colonial Bahareque architecture. Tour Filandia's colorful, centuries-old buildings along Plaza de Bolívar and the surrounding streets lined with restaurants and shops. Return to Pereira for dinner and overnight at Sazagua Hotel.

Pereira – Otún Quimbaya Wildlife Sanctuary

Early this morning, head east, stopping in La Florida for buñuelos, or cheese fritters. Transfer to 4×4 vehicles and continue up the mountain to Otún Quimbaya Flora and Fauna Sanctuary. This reserve is considered one of the best in Colombia for birding. Upon arrival, hike along the river trail looking for Cauca Guans, Torrent Ducks, Multicolored Tanagers, Green Jays and Red-ruffed Fruitcrows, along with Howler Monkeys, Mountain Tapir and Central American Agoutis, or Guatín. Enjoy lunch at the visitor center, then depart for a tour of nearby Finca del Café. Walk the plantation trail and learn about the coffee-making process, from bean to cup. Return to Pereira for dinner and overnight at Sazagua Hotel.

Pereira / Bogotá

This morning fly back to Bogotá for one final night. After lunch at a local restaurant, visit Museo de Botero, named for Fernando Botero, Colombia's most famous artist. Over 120 of his pieces are on display, as well as his personal collection by Picasso, Renoir, Dalí, Degas, Chagall, Matisse, Monet and Giacometti.  Take the rest of the afternoon at leisure. This evening toast the trip with fellow travelers at the farewell dinner. Overnight at Sofitel Victoria Regia.

Depart Bogotá

Transfer to the airport for your international flights home.
Details
November 16 – December 1, 2022
$16,970

Per Person Rate

$21,240

Solo Rate

16 days

Trip Length

12 guests
Bogotá

Start/End
The Fine Print

Call us to reserve your spot on this exciting expedition!
Have a question? Call us at 206.669.9272 /
800.861.6425

. Prefer online?Get in Touch
With its fascinating mix of nature, culture and birdlife, Colombia is one of Kevin's favorite countries to explore.

Andean Condors—the largest flying birds in the world
Andean Condors are enormous. With a wingspan of over 10 feet, they are considered the largest flying bird in the world. Even with their impressive wingspan, Andean Condors sometimes have a hard time staying aloft due to their hefty size—fully grown adults can reach up to 33 pounds. These birds prefer to live in windy areas where they can use warm air currents, to help them gain altitude. By gliding from thermal to thermal, a condor may need to flap its wings only once every hour. Andean Condors are vultures, using their sharp eyesight to spot a carcass from high in the air. Once their next meal is located, they can wait more than four days for the right moment to start feeding, slowly descending once they are sure they're alone.