Rowley Shoals, Ningaloo Reef & Komodo Island
Dive and snorkel amongst the stunning coral formations of Rowley Shoals Marine Park to see Green Turtles, Giant Clams, and perhaps a Great Hammerhead Shark.
The Komodo Dragon's preferred prey is the Timor Deer. This large reptile can eat up to 80% of its body weight at a time. © Jonathan Rossouw
The Reef Manta Ray is found mainly near coral and rocky reefs, and feeds by filtering sea water to catch its favorite food, zooplankton. © Giovanna Fasanelli
Walk Komodo Island's Pink Beach where tiny fragments of red coral combined with white sands produce a striking pink color along the shoreline.
Dive and snorkel amongst Manta Rays and thousands of colorful reef fish, such as Humphead Wrasse, Giant Trevally, and schools of fusiliers. © Giovanna Fasanelli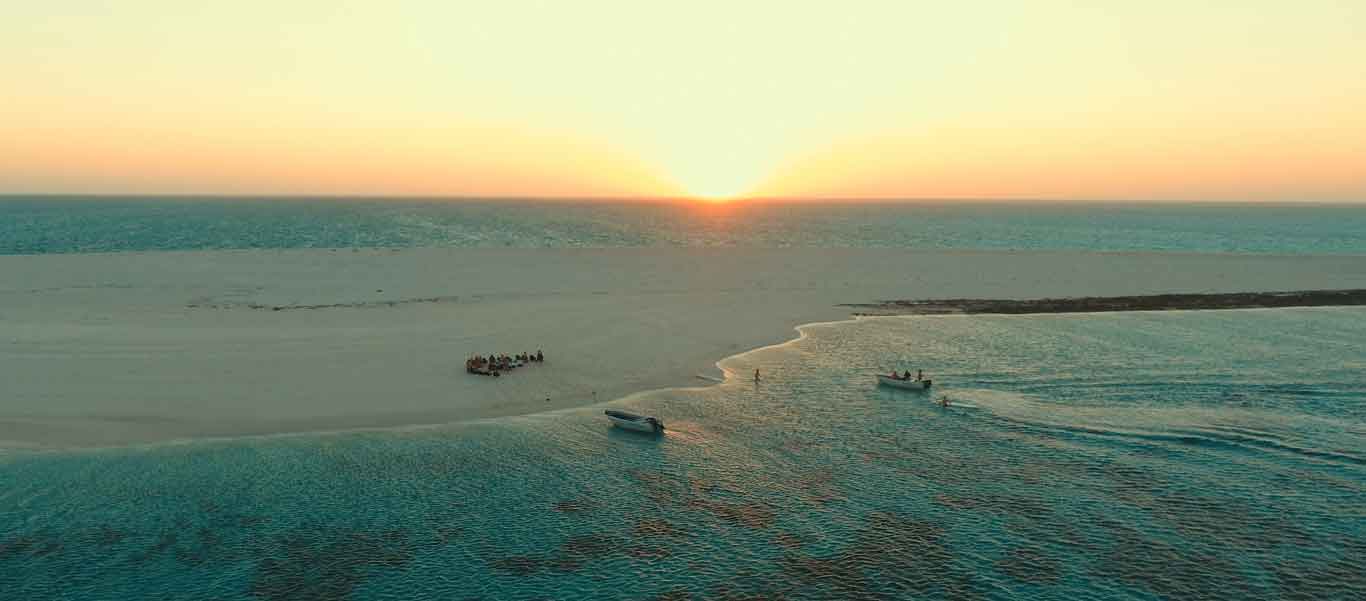 After a day of exploring the underwater caves, walls and alleys around Clerke Reef, enjoy a rewarding sunset on the beach at Bedwell Island.
Western Australia & Komodo Diving
Color abounds on this journey along the coasts and islands of Western Australia and Indonesia. From the red-hued landscapes of the Kimberley, to the kaleidoscopic coral reefs of Australia's Rowley Shoals and Ningaloo, to the pink sand beach on Komodo Island, this trip is a visual feast, both above and below the water. Dive and snorkel among thousands of colorful reef fish, turtles, sharks, Manta Rays and schools of tuna and Maori Wrasse. Visit exquisite corners of Western Australia's Outback and see rare Black-footed Rock Wallabies and birds galore. Walk among prehistoric-looking Komodo Dragons on Rinca Island. Join Apex on this 18-day adventure to some of the world's most vibrant marine environments and coastal parks.


Destinations
Travel by Air
Travel by Road
Travel by Boat
Travel by Bullet Train
Travel by Rail
Travel by Dog Sled
Sunday, November 12: Arrive Broome, Australia

Arrive in this frontier town, clinging to the Kimberley's far western edge, and transfer to your hotel. Enjoy a welcome dinner with fellow travelers and your expedition leaders. Overnight at Cable Beach Club Resort.

Monday, November 13: Broome / Embark Great Escape

After a leisurely breakfast, head to Willie Creek Pearl Farm to get to know the processes involved in the area's cultured pearl industry, from the seeding of an oyster to the grading of a pearl. After lunch back at the hotel, set out for an afternoon of prime area birding. Over 300 species have been found in the mangroves, mudflats, pindan woodlands and coastal scrub around Broome, the area being particularly renowned for its shorebirds, boasting over 50 species, a full quarter of the world's total! Watch for the sought-after Asian Dowitcher and Broad-billed Sandpiper amongst the vast throngs of migrant waders, along with dashing White-bellied Sea-Eagle, and diverse mangrove and woodland birds, from fantails and flycatchers to honeyeaters and whistlers, or perhaps even the elusive Little Bronze-Cuckoo. Late this afternoon, head to the harbor to embark the Great Escape, your mobile base for exploring Rowley Shoals. Be on deck as you set sail into the aquamarine Indian Ocean.

Tuesday–Friday, November 14–17: Rowley Shoals

Wake up this first morning about 170 miles west of Broome, in the Rowley Shoals Marine Park, encompassing some of the world's most pristine coral atolls. For the next four days, dive and snorkel in the warm, clear water and see many of the over 200 species of coral and almost 700 species of fish that have been recorded here. Explore the underwater caves, walls and alleys around Clerke Reef, and take in the sunset on the beach at Bedwell Island, enjoying the songs of its glamorous Red-tailed Tropicbird colony. Next, head to Mermaid Reef Marine Reserve for more marine exploration. Hawksbill and Green Turtles are delightfully common, and the likes of indicator species like Giant and Potato Groupers, Leopard and Spotted Coralgroupers, Humphead Wrasse, schools of tuna and mackerel. Numerous Giant Clams bear testimony to the protected nature of these remote reefs. We may even be lucky enough to find the endemic (and rare) Western Australian Sculpin, or Great Hammerhead Shark. Enjoy a twilight dive on the last night, before cruising back to Broome.

Saturday, November 18: Broome / Perth

After breakfast, disembark in Broome and transfer to the airport for the flight to Perth. Dinner and overnight at International Over The Water Hotel.

Sunday, November 19: Perth / Learmonth / Exmouth

Transfer back to the airport this morning for a flight north to Learmonth, then an overland drive to nearby Exmouth, gateway to the 2,700-square-mile Ningaloo Coast, deemed a UNESCO World Heritage site in 2011 for its staggering geological and biological diversity. After lunch, set out to enjoy your first glimpse of the underwater world of the Ningaloo Marine Park by snorkeling along one of its renowned beaches. Dinner and overnight at Mantarays Ningaloo Beach Resort.

Monday, November 20: Exmouth

Light out on a boat this morning for a full-day of snorkel and dive activities on the spectacular Ningaloo Reef. At 160 miles long, it is Australia's largest fringing coral reef and the only large reef positioned very close to land. Known as a biodiversity hotspot, it harbors colorful profusions of reef fish, turtles, dolphins, nudibranchs, and more. Afterwards, head to Vlamingh Lighthouse for a picnic dinner and unforgettable view of the sunset over the Coral Coast, followed by a turtle rookery tour, with a good chance of finding nesting turtles. Overnight at Mantarays Ningaloo Beach Resort.

Tuesday, November 21: Exmouth

Enjoy a full-day exploration of the massive and endlessly dramatic Cape Range National Park, with its limestone cliffs, deep canyons and pristine beaches. Start out early for a boat tour of the Yardie Creek Gorge. See Black-footed Rock Wallabies on the sheer cliffs above, as well as Ospreys and bowerbirds flying overhead. Visit Mangrove Bay Bird Hide to see Collared Kingfishers, Mangrove Whistlers, and Yellow White-eyes, or enjoy a refreshing snorkel in the crystalline waters of Turquoise Bay or Oyster Stacks. In the late afternoon, head to Giralia, a former sheep station-turned-national park perfectly situated on the Exmouth Gulf. Enjoy a special Aussie barbeque dinner under the stars in this exquisite Outback setting. Overnight at Mantarays Ningaloo Beach Resort.

Wednesday, November 22: Exmouth

This morning, an hour-long boat trip will take you to the Muiron Islands, known as the "Magical Muirons" for their exceptional snorkeling. En route, look for dolphins and Dugongs—like manatees, and most closely related to the now-extinct Stellar's Sea Cow. If sea conditions allow it, the drift snorkel between the two main islands is stunning, and affords you the chance to see the many soft corals, Gorgonian sea fans and sponges that are unique to these islands, as well as turtles, Manta Rays, and glassfish. Enjoy lunch onboard, and return to town for dinner and overnight at Mantarays Ningaloo Beach Resort. 

Thursday, November 23: Exmouth / Learmonth / Perth

After breakfast, transfer to the airport for a flight back to Perth. Take a guided tour of Kings Park, a botanical garden with beautiful displays of Western Australia's varied and spectacular flora. Dinner and overnight at Pan Pacific Hotel.

Friday, November 24: Perth / Labuan Bajo (Flores) / Sebayur Besar

Bid farewell to Australia today as you travel by air to Labuan Bajo on Flores Island, Indonesia. A short boat trip will bring you to Sebayur Besar, a small private island located between Flores and Komodo. Dinner and overnight at Komodo Resort Diving Club, located just 200 meters from Komodo National Park.

Saturday–Tuesday, November 25–28: Sebayur Besar and Komodo

For the next four days, take full advantage of this pristine paradise. Dive and snorkel amongst Manta Rays and thousands of colorful reef fish, such as Humphead Wrass, Giant Trevally, and schools of fusiliers, emperors and surgeonfishes; walk the sugary white sand beaches of Sebayur and Komodo's curious pink-hued beach; at sunset on Kalong, see hoards of Sunda Flying Foxes—fruit bats endemic to the area—as they head into the night in search of food. And, of course, feast your eyes on the eponymous dragons of Komodo National Park, as well as Timor Deer and wild pigs on Rinca Island. Dinners and overnights at Komodo Resort Diving Club.

Wednesday, November 29: Labuan Bajo / Depart

Enjoy one last breakfast on the island before transferring to Labuan Bajo's airport for your independent international flights home.
Have a question? Call us at 206.669.9272 /
800.861.6425

. Prefer online?Get in Touch

Scientists Reveal Komodo Dragon's Venomous Bite
Exceeding 10 feet in length and armed with vicious teeth and long claws, the legendary dragons of Komodo are the island's apex predators, capable of killing animals the size of wild Water Buffalos! The most startling recent discovery, however, is that in addition to highly infectious saliva, they actually produce a venom that accelerates the weakening of their quarry after the initial attack.