Cape to Cape
with South Georgia and Tristan da Cunha Islands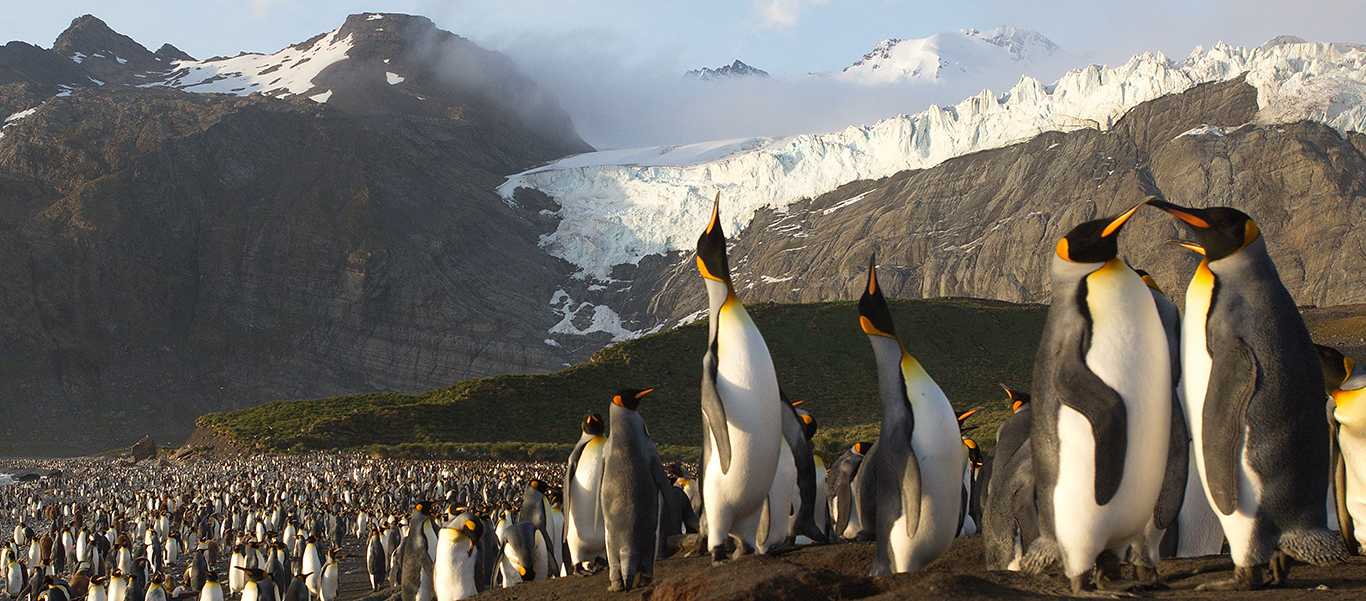 South Georgia Island, the concentration of wildlife is astounding and the scenic backdrop is without parallel. © Peter Harrison
A Wandering Albatross can measure over 11 feet wing tip to wing tip, can live to be over 60 years and is capable of flying over 2 million miles throughout their lifetime. © Peter Harrison
Steeple Jason is home to the largest Black-browed Albatross colony in the world with well over 150,000 nests. © Peter Harrison
The Northern Rockhopper Penguin has the dubious distinction of being the most difficult of the penguin species to observe in the wild. © Peter Harrison
Endemic to the Tristan da Cunha archipelago, the majority of the world's Tristan Albatross population, around 1,500 pairs, nest on Gough Island. © Gary Krosin
A Light-mantled Sooty Albatross nesting on South Georgia Island. Except when breeding, its habitat is entirely marine, foraging from the edges of the Antarctic pack-ice to about 40°S. © Peter Harrison
Volcanic Tristan da Cunha Island has a north-south length of 7 miles and the highest point is Queen Mary's Peak at 6,765 feet. This picture-perfect volcano shaped island is also the most remote inhabited island in the world with a permanent population of 297. © Gary Krosin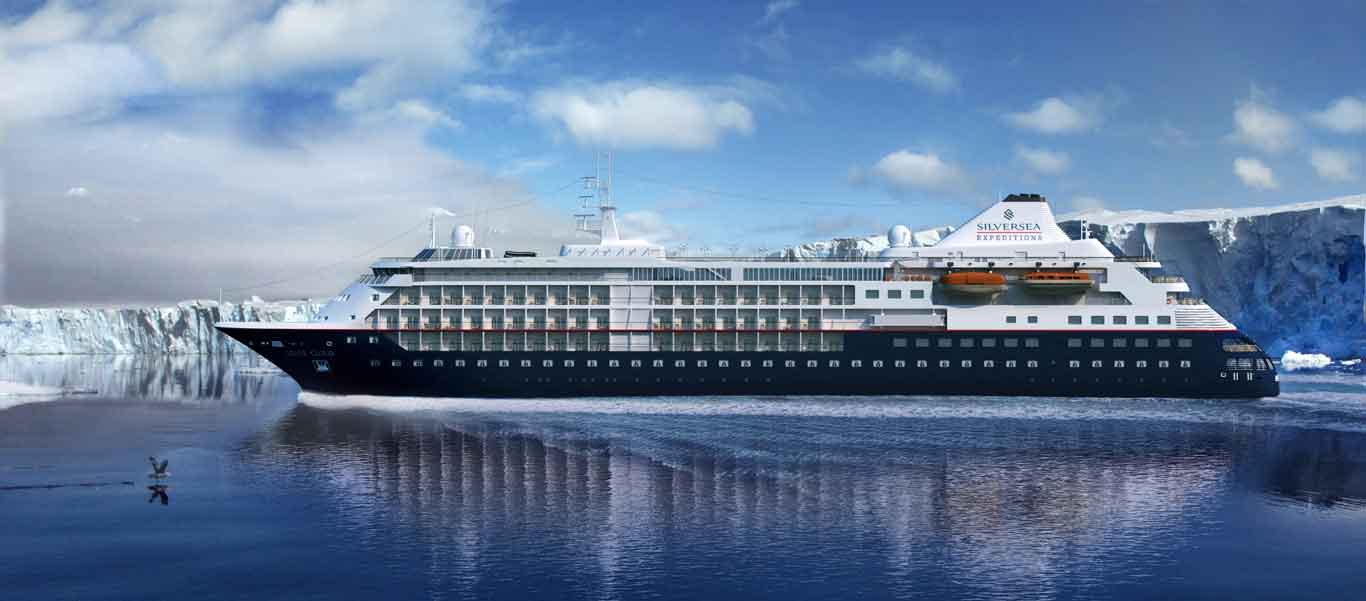 200-guest Silver Cloud, designed specifically for navigating waters in some of the world's most remote destinations, offers plenty of deck space for observing natural wonders.
South Georgia and Tristan da Cunha Islands Cruise
We are thrilled to announce the ultimate South Atlantic adventure. This impressive journey sets sail from the seas of Cape Horn, with stops at some of the most rugged and seldom visited destinations on Earth, and ends in Cape Town, South Africa. In addition to the Falkland Islands and South Georgia, the forgotten islands of the South Atlantic include Gough, Tristan da Cunha, Nightingale and Inaccessible islands. This unforgettable voyage will bring you face to face with some of the most impressive concentrations of wildlife on the planet, including eight species of penguin and seven species of albatross. Visit Steeple Jason, home to one of the largest albatross colonies on Earth. Walk among hundreds of thousands of King Penguins on majestic South Georgia, and set foot on rugged Tristan da Cunha, home to Northern Rockhopper Penguins and the most remote human community in the world. Join Apex Expeditions on this rousing journey from Cape to Cape!


Destinations
Travel by Air
Travel by Road
Travel by Boat
Travel by Bullet Train
Travel by Rail
Travel by Dog Sled
Tuesday, February 27: Arrive Santiago

Arrive in Santiago, Chile, where you'll be met and transferred to the Sheraton San Cristobal Hotel. The afternoon is at leisure with lunch on your own. Gather this evening with your Apex expedition leaders and fellow travelers for a welcome briefing and dinner and the hotel. Overnight at the Sheraton San Cristobal Hotel. 

Wednesday, February 28: Santiago / Ushuaia / Set Sail

Transfer to the airport this morning for your charter flight to Ushuaia, the capital of Argentine Tierra del Fuego. Closer to the South Pole than to northern Argentina, Ushuaia is known as "the end of the world" and has a fitting frontier town feel to match this title. On arrival, enjoy lunch and then transfer to the harbor to embark the Silver Cloud, your home for the next 21 nights. Be sure to be on deck to toast your voyage as you set sail down the Beagle Channel and bid farewell to the South American continent.

Thursday, March 1: At Sea, South Atlantic

Be out on deck early as you enter Estrechio de le Maire with Tierra del Fuego to port and rugged Staten Island to starboard. Seabirds abound here, thousands upon thousands of them ranging in size from diminutive Grey-backed Storm-petrels—birds that can literally fit into the palm of your hand—to Wandering Albatrosses—veritable giants with wingspans in excess of 11 feet. This will be one of the best opportunities to encounter both Northern and Southern Royal Albatrosses that breed only in New Zealand, together with such South American species as Grey-headed and Black-browed Albatrosses. By mid-morning South America will be in your wake as you head northeast across the nutrient-rich waters of the South Atlantic. The onboard lecture series will begin with introductory lectures on the wildlife and history of the South Atlantic.

Friday, March 2: Steeple Jason & West Point, Falkland Islands

Arrive this morning at perhaps the richest, and arguably the most dramatic, of all of the Falkland Islands. Steeple Jason is home to the largest Black-browed Albatross colony in the world. The colony stretches for a staggering three miles—as far as the eye can see—and holds well over 150,000 nests. Seventy percent of the world's total population nest here. Each cone-shaped guano nest will have a large, corpulent chick, with plenty of feeding action to ensure astounding photographic opportunities. Other species on Steeple Jason include huge colonies of Gentoo, Magellanic and Rockhopper Penguins, Falkland King Cormorants, Striated Caracaras, Tussac Birds, Southern Giant Petrels, and even Peregrine Falcons. This afternoon, time permitting, visit West Point Island where rolling moorland and steep cliffs make for great photographic opportunities, but the main attraction is the Devil's Nose, a cliffside colony of Black-browed Albatrosses nesting side-by-side with feisty Rockhopper Penguins. Magellanic Penguins and Magellanic Cormorants can also be found on the island, and the hospitable island managers are always happy to answer your questions and share their stories.

Saturday, March 3: Stanley

Though the Falklands are still disputed territory, culturally they are British through and through. This is immediately evident in Stanley, the Islands' capital and home to most of their 3,000 inhabitants. Stroll Stanley's distinctly British-feeling streets, lined with tin-roofed houses, rose gardens, and traditional pubs and visit the 19th-century Anglican cathedral. Many homes are painted in bright colors, adding visual appeal to this distant outpost.

Sunday & Monday, March 5 & 6: At Sea / South Georgia Island

The lecture series continues with presentations by the onboard lecture team, who will introduce the rich history and wildlife of approaching South Georgia Island. Be sure to join the naturalists out on deck to search for whales, dolphins and a host of seabirds. Moving ever to the east, birds will include six species of albatross and our first pterodroma petrels in the guise of Atlantic and Soft-plumaged Petrels. Smaller petrels will include Blue Petrel; Fairy, Antarctic and Thin-billed Prions; plus such well-known species as Greater Shearwater, Pintado Petrel, and Southern Fulmar. Weather permitting, arrive at South Georgia Island in the early evening on the second day at sea. 

Be on deck for the approach to South Georgia, an island without equal, with one of the greatest concentrations of wildlife on the planet. It is a small, crescent-shaped island—a little over 100 miles in length—with snow-capped peaks that rise to over 10,000 feet, and with more than 100 glaciers racing to the sea. Often dubbed "home of the albatross," no less than four species breed here including the handsome, Light-mantled Sooty Albatross and, largest of them all, the Wandering Albatross.

Tuesday–Friday, March 6–9: South Georgia Island

Flexibility is the key to all successful South Georgia visits, as weather and conditions can change rapidly and without warning. Your expedition team is the most experienced in the business and will ensure that your days at South Georgia will be some of the very best of your entire life! Be awe-struck at the numbers of seals, both Elephant and Fur, on the beaches; at the colonies of King Penguins, some approaching 100,000 pairs strong; at the magnificent scenery—the snow-capped mountains, the occasional off-shore iceberg, and broad green bands of Tussac. The concentration of wildlife is astounding and the scenic backdrop is without parallel. For the connoisseur there are also large colonies of Macaroni and Chinstrap Penguins; Snow Petrels and Weddell Seals to photograph; and the world's most southerly songster to see—the South Georgia Pipit.

Weather depending, visit such well-known sites as Salisbury Plain, St. Andrews Bay, and Gold Harbour, plus a visit to Grytviken for a visit to the gravesite of South Georgia's most famous visitor, Sir Ernest Shackleton.

Saturday–Monday, March 10–12: At Sea, Tristan da Cunha Archipelago Bound

The onboard lecture series resumes with recaps on South Georgia and presentations in anticipation of the exciting days ahead at the Tristan da Cunha archipelago. For birders these days at sea, as the bow turns northeast and heads toward the 40th Parallel, will be some of the most exciting of the voyage. As each hour passes, encounter more and more birds that call Tristan and Gough their home. Atlantic, Soft-plumaged and Kerguelen Petrels will be your constant companions as you scour the waves for the endemic Spectacled Petrel and Tristan Albatross. Advanced birders will be looking for Broad-billed Prions, Great-winged Petrels, and White-bellied, Black-bellied and White-faced Storm-petrels. 

Tuesday, March 13: Gough Island

Gough Island is a UNESCO World Heritage Site, and while no landings are permitted, pending weather and government permission, Zodiacs will be launched to cruise this rarely-visited island. Gough is an impressive island with 1,400-foot-high cliffs rising sheer out of the ocean like the ramparts of a giant's castle. The narrow, cobbled beaches are crammed with huge Elephant Seals and frisky Antarctic Fur Seals. Seabirds abound here—millions upon millions of them. On our previous visit we were treated to memorable views of Sooty Albatross perched on grassy cliffs, a swirling maelstrom of Yellow-nosed Albatrosses, giant petrels and Greater Shearwaters. Spectacled Petrels soared over us, and White-bellied Storm-petrels danced on the water around our Zodiacs. Several Gough Buntings were seen in the shoreline vegetation, and the endemic Gough Moorhens were easily seen scavenging around the Northern Rockhopper Penguin colonies. For the seabirders, however, the endangered Tristan Albatross was bird of the day.

Wednesday, March 14: Tristan da Cunha

Tristan sits just about halfway between South America and Africa. Its closest neighbor is the island of St. Helena, some 1,200 miles to the north. Tristan's remarkable volcano is reputed to be about one million years old and soars 6,760 feet above the sea, forming an imposing land mass that looms over the small settlement of Edinburg and its 300 or so inhabitants. This was the site of the 1961 volcanic eruption that forced the evacuation of the island's entire population for two years. Several options are available today and include a geologist-led walk to St. Mary's Peak, a visit to the Settlement, which will ensure meetings with the islanders and perhaps even a visit to St. Mary's School. For the fit and hardy, there will be a walk to the cliffs beneath the islanders' potato patches where frame-filling encounters with Sooty and Atlantic Yellow-nosed Albatrosses can be enjoyed as they patrol the cliffs, at eye level.

Thursday, March 15: Nightingale & Inaccessible Islands

For many this will be the stand-out highlight of the entire voyage, a chance, weather permitting, to set foot on wild and rugged Nightingale Island—a once-in-a-lifetime experience, and home to most of the world's Northern Rockhopper Penguin population. Comical and demure, these diminutive penguins have lavish yellow head-plumes and garnet-red eyes and bills. Other species to look for will be the masses of Greater Shearwaters, Little Shearwaters, Sooty and Atlantic Yellow-nosed Albatrosses. Endemic land birds should include Nightingale Bunting and Tristan Thrush. Of special interest will be to look for the critically-endangered Grosbeak Bunting now reduced to just a handful of birds.

During lunch we make the 14-mile journey to Inaccessible Island where we hope to make a short afternoon landing to search for the Inaccessible Rail—a small, flightless bird only found here. 

Friday–Monday, March 16–19: At Sea, Cape Town Bound

After the excitement of landings in the Tristan Archipelago, the lecture team will recap the experiences and complete the onboard lecture presentations, as you head towards the Cape of Good Hope and the continent of Africa. Join the team of naturalists on deck as they share their excitement and enthusiasm for the surrounding ocean life. Wake companions will include several species of albatross with a host of now-familiar petrels and shearwaters.

Tuesday, March 20: Cape Town

Be on deck for the approach to Table Bay and Cape Town's legendary flat-topped Table Mountain, then spend the day exploring the natural wonders of Cape Town. Choose to ascend Table Mountain by cable car and hike in the protected area, having a look at the many endemic plants and animals. Later, travel by bus to Signal Hill for dramatic views over Table Bay and Cape Town. Or, depart on an excursion to see an African Penguin colony at Boulders Beach. The scenic drive to Boulders Beach will go along the Atlantic seaboard, then continue through the prestigious suburbs of Bishopscourt and Constantia into the region where South Africa's wine industry began over three centuries ago. At one of the local wine estates, enjoy a formal wine tasting paired with canapés. 

In the evening you are free to explore the vibrant Victoria & Alfred Waterfront in Cape Town Harbor on your own. Spend one final night onboard celebrating the remarkable journey from the seas of Cape Horn to those of the Cape of Good Hope, an Atlantic odyssey like no other.

Wednesday, March 21: Cape Town

After breakfast, disembark the vessel with transfers to the airport for homeward flights or onward travels.
Have a question? Call us at 206.669.9272 /
800.861.6425

. Prefer online?Get in Touch

300,000 Of Them Live On The World's Loneliest Island
Penguins are among nature's most endearing creatures. Comical and feisty, they live extraordinary lives, some in the most remote and rarely visited regions of the world. They are the only avian order in which all species are both flightless and aquatic. Until recently there were thought to be 17 species of penguins. Recent taxonomic revisions however have split the rockhopper group into three species earning the Northern Rockhopper Penguins of Gough and Tristan da Cunha the dubious distinction of now being the most difficult of the world's penguin species to observe in the wild. Just one more reason to join the Apex Cape to Cape departure in 2018.