Uruguay, Argentina & Paraguay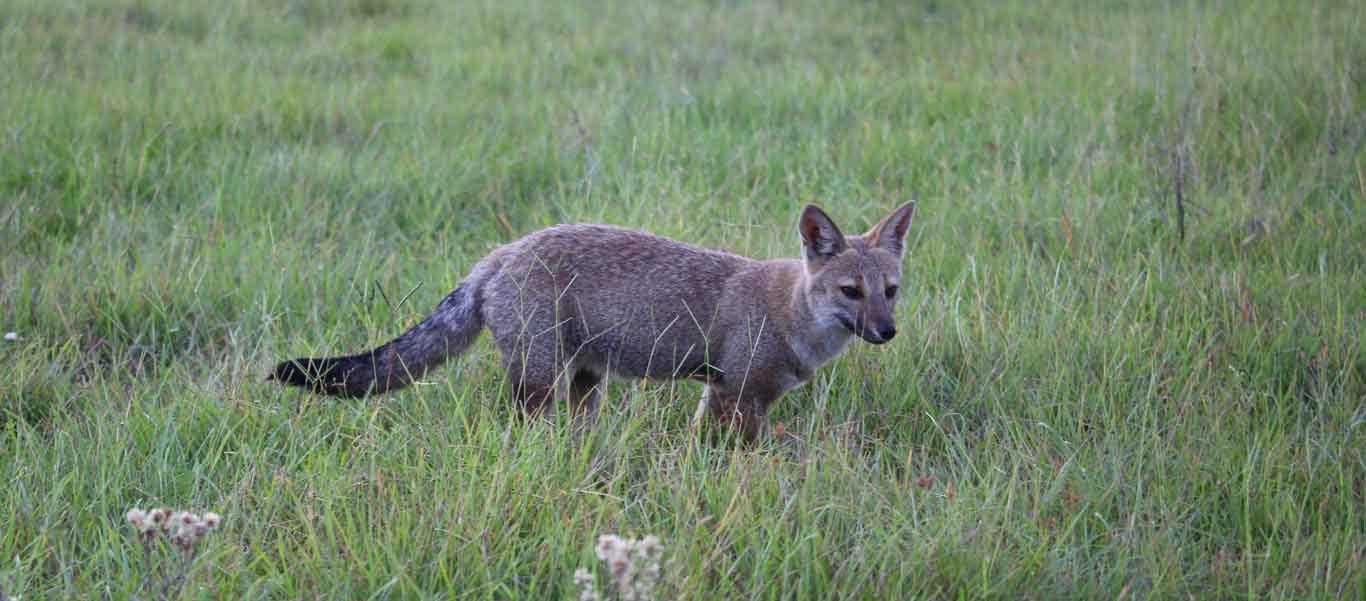 While the Crab-eating Fox does hunt for crabs in the wet season, it is best described as an opportunistic hunter, preferring insects, rodents and birds when available. © Kevin Clement
Founded in 1680, Colonia del Sacramento, Uruguay, is a picturesque town filled with old colonial buildings and cobbled streets.
The Capybara and Wattled Jacana have a mutually-beneficial association, known as cleaning symbiosis. The Wattled Jacana removes and eats parasites from the Capybara. © Kevin Clement
The Chacoan Peccary was first described in 1930 based on fossils and was originally thought to be extinct, before being discovered in 1971. © Kevin Clement
Paraguay's small village of Trinidad is best known for its Jesuit Mission originally constructed in 1706 and abandoned in 1768 with the Jesuit expulsion from Spanish colonies. © Kevin Clement
As its name suggests, the Broad-snouted Caiman's most notable physical characteristic is its well-adapted snout, which is used to rip through dense marsh vegetation. © Kevin Clement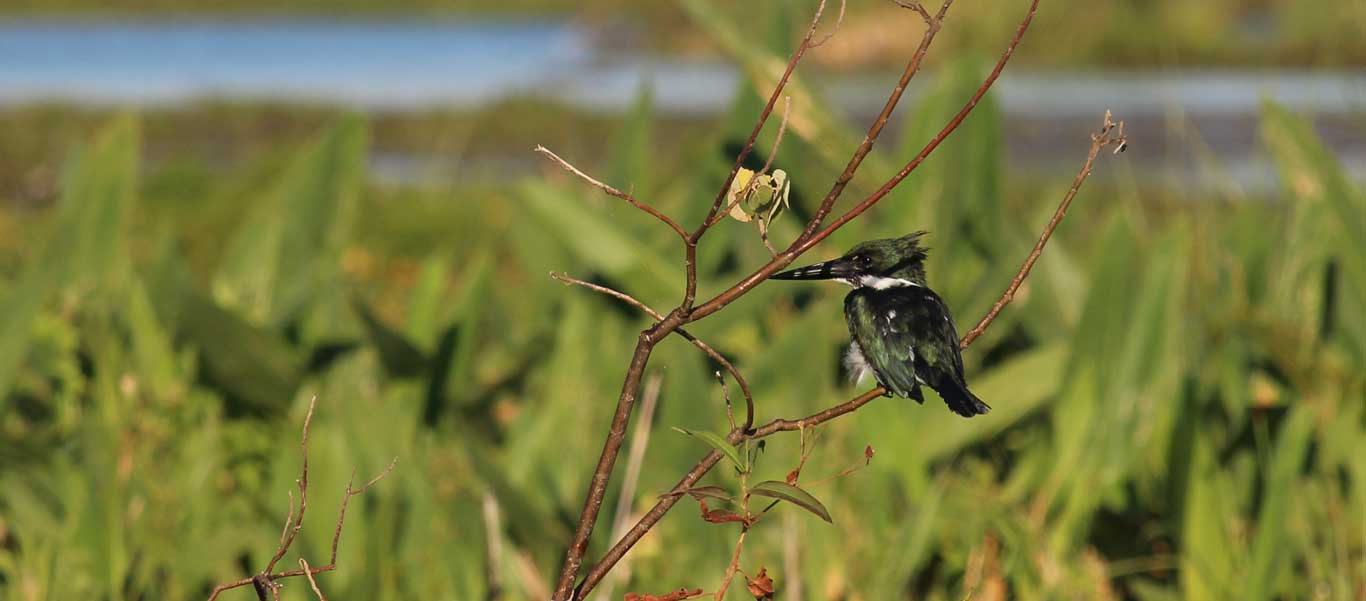 The Iberá Wetlands are ideal habitat for the Amazon Kingfisher, which favors lakes and slow-flowing rivers. © Kevin Clement
Travel to Argentina, Uruguay, Paraguay
Wildlife enthusiasts who have visited Brazil, Patagonia, and Peru often feel they've "done" South America and subsequently overlook travel to Argentina, Uruguay and Paraguay. Uruguay and Paraguay are countries brimming with wildlife and fascinating cultural monuments, and the sites here tend to be quieter and more pristine due to the relative lack of tourism. Let Apex show you the "heart of South America," from the charming colonial cities of Uruguay to the striking ruins of the Jesuit Reductions and birding tours in Gran Chaco in Paraguay; from the endemic birds of the humid Atlantic Forest to the Capybaras and caimans of the Ibera Wetlands in northeastern Argentina. Variety—of animals and landscapes—abounds on this 15-day journey through the less-traveled side of South America.


Destinations
Travel by Air
Travel by Road
Travel by Boat
Travel by Bullet Train
Travel by Rail
Travel by Dog Sled
Tuesday, August 15: Arrive Montevideo, Uruguay

Arrive in this vibrant Uruguayan capital and transfer to your hotel, situated on a beautiful section of the Rambla, overlooking the Bay of Montevideo. Meet your fellow travelers and expedition leader for a welcome dinner and briefing. Overnight at the Hotel Cala di Volpe.

Wednesday, August 16: Montevideo / Colonia del Sacramento, Uruguay

This morning, tour Montevideo's Old City, the epicenter of its lively cultural scene. See the mix of baroque, colonial and classical buildings dating as far back as the 1720s. Visit the bronze monument to Montevideo's founder in the very Parisian-feeling Zabala Square. Take in the vibrant arts and crafts scene on pedestrianized Sarandí Street. After lunch, drive a couple hours west to Colonia del Sacramento, Uruguay's oldest city, just across the Plata River from Buenos Aires. A highlight for travel to Uruguay, Colonia is known for its sunsets, so a sunset dinner in town is a must this evening. Overnight at the Radisson Colonia del Sacramento.

Thursday, August 17: Colonia del Sacramento, Uruguay

This morning, enjoy a walking tour of Colonia's historic district, a UNESCO World Heritage site, dating back to the 17th century, and one of the gems of Uruguay travel. As Colonia was a provincial town, pirate hangout, and contraband port, its buildings lack the grandiosity of other colonial cities, but its charm lies in the twisting cobblestone streets, crumbling stone houses, and towering lighthouse. After lunch, drive out of the city to Real San Carlos, a bizarre sports resort complex built at the turn of the 20th century, which, at its height, included a luxury hotel, hippodrome and massive 40,000-seat bullring. Only the hippodrome remains in operation, but the crumbling Moorish-style bullring is visually quite interesting. Enjoy dinner back in town, followed by overnight at the Radisson Colonia del Sacramento.

Friday, August 18: Ibera Wetlands, Argentina – Rincon del Socorro

Many equate Argentina travel with Patagonia, Tango, the wine lands, and of course the cattle-raising "Gaucho." We've prepared a different perspective for you, unlike most typical Argentina tours. Rise early this morning for a trip to the spectacular Ibera Wetlands in northeastern Argentina. Start with a ferry ride across the Plata River to Buenos Aires. Transfer to the airport for a charter flight to Mercedes and settle in for an overland trip to Rincon del Socorro, a 3,000-acre former cattle ranch-turned-private conservation area located within the natural reserve. Leave your luggage in the beautifully restored estancia and head out for an orientation and nature walk on the grounds. Learn of the species reintroduction programs going on here for animals such as Jaguars, tapirs and Collared Peccaries, among others. Look for rare Yellow-breasted Cardinals, flickers, Black-crowned Night Herons, Capybaras, and caiman. Return to the estancia for dinner and overnight at Rincon del Socorro.

Saturday, August 19: Ibera Wetlands – Rincon del Socorro, Argentina

Ibera is the second largest wetlands in the world and one of the more impressive places to visit in Argentina—the sheer quantity of wildlife here is staggering. Start early today with a morning bird walk. Keep a lookout for the magnificent Strange-tailed Tyrant, extinct on most of its former range, but still viewable here at Ibera. You may see Burrowing Owls, Saffron Finches, Bare-faced Ibis, and Roadside Hawks. After lunch, head out to the marshes further afield and see swallows and screamers, more owls, caiman, Pampas Fox, Capybara, Marsh Deer and Black Howler Monkeys. As night falls, drive back spotlighting for nighttime wildlife. See numerous species of fox, deer, and large colonies of Plains Vizcacha, large rodents related to the Chinchilla. Dinner and overnight at Rincon del Socorro.

Sunday, August 20: Ibera Wetlands – Posada de la Laguna, Argentina

After breakfast, drive a short distance north to Posada de la Laguna, located directly on a large lake within Ibera. Freshen up in the elegant Correntine-style house, then head to Caranday Harbor, right off the lodge's garden, for a boat tour of the lake. Look for Capybaras, Yacare Caiman, Maned Wolf, Marsh Deer and over 350 bird species, including rarities such as Rufous-sided Crake, White-headed Marsh Tyrant and Scarlet-headed Blackbird. Dinner and overnight at Posada de la Laguna.

Monday, August 21: Ibera Wetlands – Posada de la Laguna, Argentina

After breakfast, take a boat to the ranger station and enjoy a presentation on the native flora and fauna, and the history and culture of the local people. Hike a trail that takes you directly through Black Howler Monkey territory. After lunch, take a canal cruise and marvel at the sheer number of caiman along the banks. This evening, look for Crab-eating foxes, raccoons, armadillos, Capybaras and owls on a night drive. Dinner and overnight at Posada de la Laguna.

Tuesday, August 22: San Rafael National Park, Paraguay

This morning, head into Paraguay, referred to locally as the "Heart of South America." Enjoy lunch in Encarnacion, a tourism hub due to its wide beaches. Outside of town lie the Jesuit Reductions—enclaves built in the 17th and 18th centuries to "civilize and save" the native Guarani people. Reductions here were interesting because the Guarani were not expected to adopt European lifestyles. Their culture was actually preserved by concentrating them in these missions. Savor a visit to the ruins at Trinidad, the biggest of the Reductions. A cacophony of bird song greets you on the walk along the senderos of Hotel Tirol. Look for Blue and Band-tailed Manakin, Chestnut-eared Aracari, Surucua Trogon, Red-ruffed Fruitcown, and Rufous-capped Motmot. Continue to the 300-square-mile San Rafael National Park, the largest remaining block of humid Atlantic Forest in Paraguay. Overnight at ProCosara Lodge.

Wednesday, August 23: San Rafael National Park, Paraguay

Agriculture has taken over most of the lands outside this park, so much so that southern South America's sub-tropical Atlantic Forest is considered one of the five most rapidly disappearing habitat types on Earth. Organizations like ProCosara are fighting to save this terrain, as it is home to over 400 bird species, including the Bare-necked Bellbird, the national bird of Paraguay, the Russet-winged Spadebill and the Sharp-tailed Tyrant. Rise early today for a guided bird walk along one of the many surrounding trails. Be sure to have your camera ready as you feast your eyes on the toucans, trogons and tanagers that abound here. You are also likely to get great views of Brown Capuchin Monkeys skittering in the forest canopy. Enjoy an evening walk searching for nocturnal species before dinner and overnight at ProCosara Lodge.

Thursday, August 24: Asuncion, Paraguay

After breakfast, set off on a scenic drive along the Circuito de Oro toward Asuncion. The Circuito is a network of towns established in Franciscan times, each with its own appeal. Visit the Jesuit Art Museum in San Ignacio, with powerful statues carved by Guarani during the Reduction period. See the still-operational chapel at the Jesuit Reduction of San Cosme y Damian, where a priest named Buenaventura Suarez used handmade telescopes to make advanced astronomical observations and predictions of lunar cycles and eclipses a hundred years into the future. Peruse handicrafts in San Miguel, the "wool capital of Paraguay," and Itagua, the center of intricate Paraguayan lacework. Arrive in Asuncion, Paraguay's sprawling capital, for dinner and overnight at Hotel Portal del Sol.

Friday, August 25: Gran Chaco, Paraguay

This morning, drive along the Trans-Chaco Highway toward Loma Plata, with stops along the way at key birding and cultural sites. Eat the renowned empanadas at Pirahu while looking for storks, spoonbills and bats in the small wetlands behind the restaurant. Take a stroll through Buffalo Bill's, an attempt at a sun-and-fun resort that has lately fallen into decay and been reclaimed by caiman and vegetation. Arrive at the Central Chaco Lagoons, deemed an "Important Bird Area" because of all the migrating water birds that alight here. This time of year, ducks and Chilean flamingos are likely to be visiting. Check into the Laguna Capitan, set amidst the lagoons, and enjoy a night drive, keeping an eye out for armadillos, rabbit-like Chaco Mara, Geoffrey's Cat, Crab-eating Raccoons and White-lipped Peccaries. Overnight at Laguna Capitan.

Saturday, August 26: Gran Chaco, Paraguay

Take an early morning guided walk and several game drives today to look for this area's renowned wildlife including several exciting bird species such as the Chaco Earthcreeper, Golden-billed Saltator, Jabiru, and Many-colored Chaco Finch. Enjoy another nocturnal species excursion in search of mammals, which are bolder in this area of the Gran Chaco than in most of Paraguay. There is even a chance to spot a Lowland Tapir or Puma, as we have now entered their known territory. Overnight at Laguna Capitan.

Sunday, August 27: Loma Plata, Paraguay

After a last bird walk, proceed back along the Trans-Chaco Highway, and stop in Fortin Toledo, an important site of the 1930s Chaco War, a protracted fight between Paraguay and Bolivia over this region. The Proyecto Tagua, a captive breeding program for the threatened Chacoan Peccary, is also located here, and visitors can see examples of all three peccary species: Chacoan, Collared, and White-lipped. After lunch in Loma Plata, take a tour of the town, the main settlement of the Menno Colony, established by Canadian Mennonites in 1926. The community has since adopted modern customs and machinery but horse carts, instead of cars, are still plentiful and a proud tie to their heritage. After dinner, head to a remote spot north of town for another chance to spot tapirs and Puma. Overnight at Loma Plata Inn.

Monday, August 28: Asuncion Paraguay

After breakfast, drive back to Asuncion, stopping for bird viewing and handicraft shopping along the way. This afternoon, take a guided tour of Asuncion, one of South America's oldest cities (established in the mid-16th century). See the Casa de la Independencia Museum, where the Paraguayan declaration of independence was signed in 1811. Marvel at the beauty of the Cathedral of Asuncion and the Government Palace. This evening, toast to your journey at a farewell dinner in town. Overnight at Hotel Portal del Sol.

Tuesday, August 29: Depart Asuncion Paraguay

After breakfast, transfer to the airport for your international flights home.
Have a question? Call us at 206.669.9272 /
800.861.6425

. Prefer online? Get in Touch

Wet and Wonderful
The Iberá Wetlands are a vitally important fresh water reservoir and the second-largest wetland in the world, after Brazil's Pantanal. The mix of swamps, bogs, lakes and lagoons are known for their staggering biodiversity. Notable species include the Maned Wolf, Pampas and Swamp Deer, caiman, Pampas Fox, Capybara, and Black Howler Monkeys. The area's ornithological richness is represented by 350 bird species.