The existence of the white-coated Kermode or Spirit Bear was a closely guarded secret kept by the First Nation's people for generations. © Ignacio Yúfera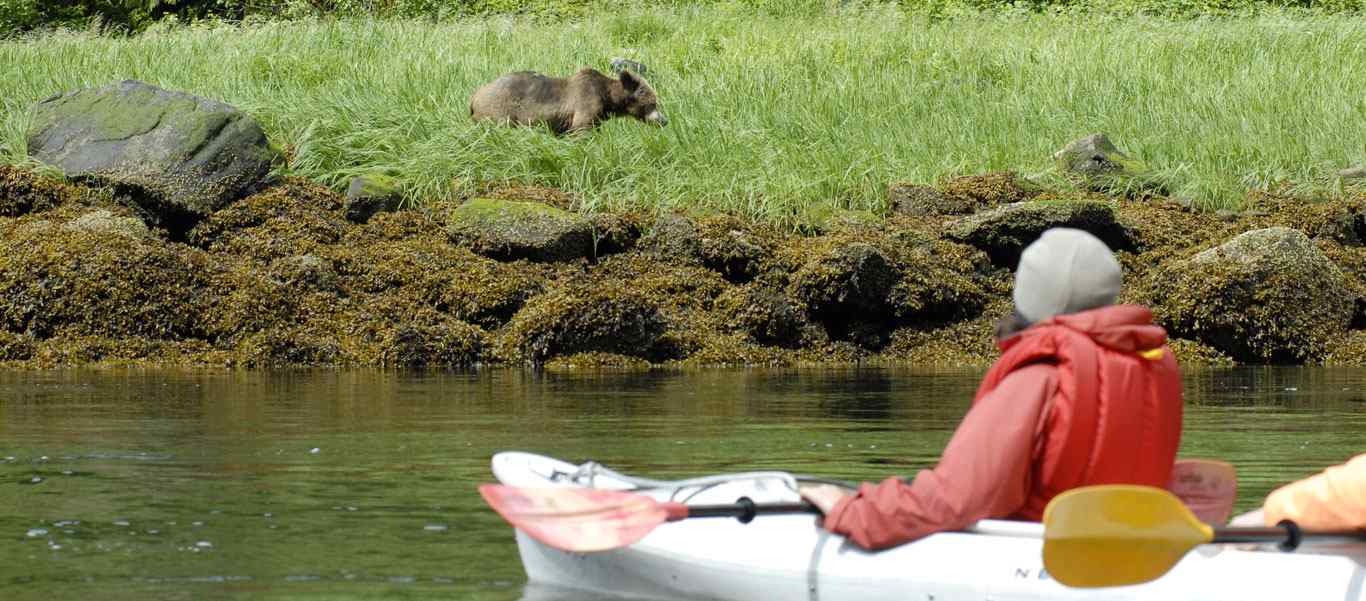 Kayaking in calm, protected waters amidst beautiful coastal scenery offers a unique, eye-level viewing opportunity of the wildlife along the shoreline.
Grizzly Bears or Brown Bears are found in North America, Asia and Europe, giving them one of the widest ranges of bear species. © Tom Rivest
Humpback Whales migrate farther than any other mammal on Earth, traveling close to 3,000 miles between their breeding and feeding grounds. © Douglas Neasloss
Native to North America, the American Black Bear (Ursus americanus) is the continent's smallest and most widely distributed bear species. © Ignacio Yúfera
Canada Spirit Bear Tour
On the untouched islands and misty valleys of Canada's far western edge, shrouded by towering forests of spruce and fir, a rare and ghostly creature lives: the local Gitga'at people call it mooksgm'ol, or Spirit Bear, for its stark white coat. Its official name is Kermode Bear, and it exists only here, in the remote and rugged "forgotten coast" of British Columbia. Join Apex Expeditions on a Canada Spirit Bear tour through a labyrinth of ancient moss-draped woods and stunning fjords in the Great Bear Rainforest and Princess Royal Sound. Follow wildlife biologists and First Nations guides to Spirit Bear viewing locations. Plus, search for Grizzly and Black Bears, wolves, and eagles in one of the largest remaining tracts of unspoiled temperate rainforest left in the world.


Destinations
Travel by Air
Travel by Road
Travel by Boat
Travel by Bullet Train
Travel by Rail
Travel by Dog Sled
Tuesday, August 28: Arrive Vancouver, British Columbia

Arrive into Vancouver, British Columbia (B.C.), and transfer to your hotel. Enjoy a welcome dinner with your fellow travelers and overnight at the Vancouver Fairmont Airport Hotel.

Wednesday, August 29: Vancouver / Bella Bella / Klemtu

This morning, fly from Vancouver to Bella Bella, a remote island village in central B.C., the traditional home of the Heiltsuk First Nation and the gateway to the Great Bear Rainforest. Among the most biologically productive coastal rainforests on the planet, the Great Bear Rainforest harbors some of the oldest and largest trees, including Sitka Spruce, Red Cedar, Western Hemlock, and Amabilis Fir. Transfer to the marina for a short water taxi to the native village of Klemtu, and on to the Spirit Bear Lodge. This evening, enjoy dinner, followed by a presentation on bear ecology. Dinner and overnight at Spirit Bear Lodge.

Thursday–Saturday, August 30–September 1: Klemtu

Enjoy three full days at this secluded waterfront lodge. Each day after breakfast, expert guides will lead you to prime bear viewing sites, by land and water, ensuring you every vantage point and angle on these magnificent creatures. The salmon spawning season should be in full swing, and Grizzly and Black Bears will be vying for the best fishing opportunities. Between bear viewings, enjoy interpretive rainforest hikes or a sea kayak excursion to explore the shoreline south of Klemtu. The area is home to many mammals, including Grey Wolves, River Otters, Pine Martens, and Mink, and the salmon run attracts a great number of Bald Eagles, Buffleheads, Barrow's Goldeneye, Belted Kingfisher and other fish-eating birds. You may also visit the spectacular waterfalls in Carter Inlet, see the ceremonial Big House at the Dis'ju site, and enjoy evening presentations on coastal ecology and local First Nations culture. Dinners and overnights at Spirit Bear Lodge.

Sunday, September 2: Klemtu / Bella Bella / Terrace

Soak up the surrounding forest on one last walk, before catching the water taxi back to Bella Bella and transferring to the airport for a flight north to Terrace. We hope to fly directly to Terrace, but may need to fly via Vancouver if schedules and aircraft availability change. Dinner and overnight on the salmon-rich Skeena River at Yellow Cedar Lodge.

Monday, September 3: Terrace / Embark SV Island Solitude

After breakfast, a short drive will take you to Kitimat Marina, and the Island Solitude, the custom 72-foot ketch that will be your home base for the next seven nights. After settling into your cabin, head up on deck as you set sail, traveling down the Douglas Channel toward Campania Sound and Whale Channel, so called for the abundance of Humpback Whales that congregate here on their summer migration. Keep a watchful eye for bears, deer, Wolverines, Coastal Black Wolves, Golden and Bald Eagles, and the endangered Marbled Murrelet along the shoreline. Dinner and overnight on Island Solitude.

Tuesday–Sunday, September 4–9: Great Bear Rainforest

Spend the next five days cruising the intricate waterways of the 12,000-square-mile Great Bear Rainforest, only officially recognized (and protected) by the B.C. government in 2016. In the spirit of expedition cruising, flexibility is key, and your captain and expedition leader will determine the best course each day. Spend each night in a different secluded anchorage aboard the Island Solitude.

Highlights of the voyage include time on and around Princess Royal Island, the largest island on B.C.'s coast and among the most remote and rugged on Earth. The island has no permanent residents, no maintained roads and no trails. Spend a day in the rainforest with a Gitga'at First Nations guide, looking for Black Bears and the legendary white Kermode Bear. These bears are actually a race of Black Bear, in which a genetic variation, expressed in about ten percent of the population, results in pure white individuals. Nearly half of the remaining 400 Kermodes known to exist live right here on this island, but they remain elusive, and viewing them takes patience.

Sail into Bishop Bay Hot Springs, located in the intriguingly named Devastation Channel, and enjoy a magnificent soak. Head deep into the coastal Kitimat Range to explore the Fiordland Conservancy Area, a large marine park dedicated to protecting the glacially gouged fiords that characterize this portion of Canada's Pacific coast. Explore lush estuaries at the base of sharply plunging glacier-topped mountains. See salmon spawn in the many coastal rivers and creeks, attracting Grizzlies and Black Bears.

Monday, September 10: SV Island Solitude / Bella Bella / Vancouver, Depart

Enjoy a farewell breakfast on the Island Solitude before disembarking at Bella Bella. Transfer to the airport for a flight to Vancouver, then connect with your international flights homeward.
Have a question? Call us at 206.669.9272 /
800.861.6425

. Prefer online?Get in Touch

Why is the Spirit Bear's Fur White?
Easily recognized by its white fur, the legendary "Spirit Bear" (also known as the Kermode Bear) is a unique, genetic variation of the American Black Bear. The white fur comes from a recessive gene which both parent bears must have for their cub to be white. The parents themselves don't have to be white. The Spirit Bear is found almost exclusively in the densely-forested islands of Canada's Great Bear Rainforest. It's estimated that 400 Spirit Bears live here, with two islands in particular hosting the largest numbers—on Princess Royal Island, one in ten black bears is white, and on Gribbell Island, one in three is white.