Chimpanzees have opposable thumbs and a firm grip allowing them to pick up stems, twigs, branches, leaves and rocks to use them as tools. © Jonathan Rossouw
The Hippo's eyes and nostrils are located high on its head, which allows it to see and breathe while submerged for up to 16 hours a day. © Chada Katavi
Lions are the only cats that live in groups, or "prides," family units that may include up to three males, a dozen females, and their young. © Marco Tonoli
Towering behind the Greystoke Mahale lodge, the Mahale Mountains are home to one of the largest known populations of wild Chimpanzees left on the planet. © Greystoke Mahale
African Elephants are the largest land animals. Adults consume up to 300 pounds of food in a single day to sustain their massive bodies. © Kigelia Ruaha
With strong legs and a powerful bite, the Nile Crocodile is Africa's largest freshwater predator, capable of taking down zebras, wildebeests, and small Hippos. © Chada Katavi
The Cape Buffalo is one of the most abundant of Africa's large herbivores, sometimes congregating by the thousands. © Jonathan Rossouw
Southern Tanzania Safari & Mahale Mountains
Southern Tanzania traditionally receives less publicity than the more famous Serengeti and Ngorongoro Crater, but its staggering biodiversity, scenic variety and untrammeled feel have seen it emerge as a firm favorite among discerning wildlife lovers. The region's game-viewing showpiece is the 21,000-square-mile Selous Game Reserve, a vast tract of wilderness that supports the world's largest surviving populations of Lion, Buffalo, Hippo and Sable Antelope. Other highlights include the baobab-studded woodland and rugged slopes of Ruaha National Park, the teeming seasonal floodplains of Katavi National Park, and the superb Chimpanzee-tracking of Mahale Mountains National Park, the latter set on the shore of Lake Tanganyika. Leave the crowds behind, and join Apex on an expertly-guided Southern Tanzania safari that flies between all four of these iconic wildlife destinations, exploring them at a sufficiently relaxed pace to appreciate all they have to offer.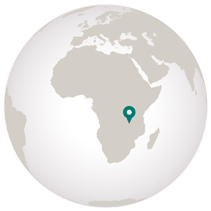 Destinations
Travel by Air
Travel by Road
Travel by Boat
Travel by Bullet Train
Travel by Rail
Travel by Dog Sled
Wednesday, September 16: Arrive Dar es Salaam

Arrive today in Tanzania's commercial hub, the historic Indian Ocean harbor city of Dar es Salaam. Transfer to the central Kivukoni neighborhood, with its beautiful Bavarian-style 19th-century Lutheran Church and bustling Swahili waterfront. Enjoy a welcome dinner with your fellow travelers and overnight at the Hyatt Regency Dar es Salaam.

Thursday, September 17: Dar es Salaam / Selous Game Reserve

Transfer back to the airport for a short morning flight to Selous Game Reserve—a UNESCO World Heritage Site. Your base in the Selous is Sand Rivers Lodge, which enjoys a privileged position above a wide, sandy bend in Tanzania's largest river: the hypnotic Rufiji. This vast conservation area is one of the few in Africa that can be explored on a combination of guided hikes, motorboat trips and games drives, and a four-night stay allows an afternoon and three full days to make the most of these options. Dinner and overnight at Sand Rivers Selous.

Friday–Sunday, September 18–20: Selous Game Reserve

The sluggish, palm-lined Rufiji is the archetypal African waterway, best explored by boat. Pass sandbanks lined with gape-jawed Nile Crocodiles, shallows teeming with grunting Hippos, and lush islands massed with thirsty African Elephant herds, before heading into the spectacular 350-foot-deep Stiegler's Gorge with its acrobatic troops of Angola Colobus. The river is a showcase for the Selous's fabulous birdlife: waders and shorebirds, such as Yellow-billed Stork and White-crowned Plover, pairs of African Fish-Eagle and Palmnut Vulture perched photogenically on Borassus palms, dazzling seasonal breeding colonies of Northern Carmine and White-fronted Bee-eaters, and the lovely Trumpeter Hornbill and Purple-crested Turaco in the riparian woodland.

Tear yourself away from the river, and the surrounding woodland, interwoven with a network of beautiful lakes, supports healthy numbers of Masai Giraffe, Plains Zebra, Lichtenstein's Hartebeest, Impala, Warthog and various other ungulates, as well as a small population of the elusive Black Rhinoceros. Game drives come with a decent chance of spotting the endangered African Wild Dog (25 percent of the world's free-ranging population is centered on the Selous), as well as experiencing diurnal Lion kills towards the end of the dry season, when prides congregate around the lakes waiting to pounce on any grazer unfortunate enough to pass within range. Guided walks focus more on the 'small stuff'—birds, insects, and reptiles—but also provide a good chance of close-up game encounters. Dinners and overnights at Sand Rivers Selous.

Monday, September 21: Selous Game Reserve / Ruaha National Park

After breakfast, transfer to the Sand Rivers airstrip for a flight northwest to Tanzania's largest and wildest national park. A favorite with seasoned safari-goers, the 7,800-square-mile Ruaha protects a rugged thirstland of boulder-strewn ridges, dense Miombo woodland and semi-arid plains studded with the bulbous silhouettes of ancient baobabs. Upon landing at Ruaha, enjoy a short game drive en route to Kigelia Ruaha, a small secluded camp named after, and shaded by, the lush sausage trees, Kigelia africana, that dominate the riparian woodland along the seasonal Ifuguru River. After a relaxed lunch, wait for the afternoon heat to subside before an evening game drive. Dinner and overnight at Kigelia Ruaha.

Tuesday & Wednesday, September 22 & 23: Ruaha National Park

Two days of game drives and guided walks reveal Ruaha's exceptional biodiversity. This is elephant territory par excellence, with a population currently estimated at 15,000. Large family herds are frequently seen crossing the Great Ruaha River, a wildlife magnet that also provides refuge to plentiful Nile Crocodiles and Hippo pods as it flows along the park's southeastern boundary for 100 miles. Ruaha is known for its unusually large Lion prides, often comprising 15 or more individuals, while Leopards are frequently observed climbing baobab trees or sunning on rocks, and Cheetahs stalk the grassland plains dubbed the Little Serengeti.

Because it is transitional to the southern Miombo woodland and northern Acacia savanna, Ruaha supports an unusually diverse ungulate fauna. In addition to the widespread Impala, Defassa Waterbuck, Bushbuck, Buffalo, Plains Zebra and Masai Giraffe, this is the most southerly haunt of Grant's Gazelle and Lesser Kudu, and also home to the splendid twisty-horned Greater Kudu and more elusive Roan and Sable Antelopes, species seldom encountered in northern Tanzania. A bird list of almost 600 species includes several national endemics—Black-collared Lovebird, Ashy Starling, Ruaha Hornbill and Ruaha Chat—along with the most northerly population of the colorful Crested Barbet, whose loud sustained trill is one of the park's characteristic sounds.

Thursday, September 24: Ruaha National Park / Katavi National Park

Transfer to the airstrip for a flight west to remote Katavi, Tanzania's third-largest national park, and a shoo-in contender for the accolade of East Africa's best-kept game-viewing secret. A classic dry-season destination, Katavi is practically inaccessible during the rains, but as its seasonal swamps subside, it offers superb wildlife watching on wide, grassy floodplains meandered through by the life-sustaining Katuma and Kapapa rivers. Your base here is Chada Katavi, an unfenced tented camp set in a bird-rich Acacia glade that overlooks the Chada floodplain and comes alive at night with the thrilling calls of competing Lion prides and hyena packs. Dinner and overnight at Chada Katavi.

Friday–Sunday, September 25–27: Katavi National Park

Game drives focus on the Chada floodplain, a wide-open vista where thousand-strong Buffalo herds are frequently seen in the same sweep of binoculars as smaller groups of elephant, Lion, Masai Giraffe, Lichtenstein's Hartebeest, Topi, Impala, Bohor Reedbuck and Defassa Waterbuck. The dense surrounding Miombo woodland is often slower going, but offers a chance of Leopard, Common Eland, Sable and Roan Antelope. A mammalian highlight is the dry-season concentrations of several thousand Hippos that amass in a series of muddy spring-fed pools below Ikuu Ranger Post, lying cheek-to-jowl with some hefty Nile Crocodiles. Large, water-associated birds are well represented—Yellow-billed and Saddle-billed Storks, Pink-backed Pelican and numerous herons, egrets and waders—while flocks of Yellow-throated Sandgrouse chuckle as they come to drink at the rivers at dawn and dusk. Dinner and overnight at Chada Katavi.

Monday, September 28: Katavi National Park / Mahale Mountains National Park

Enjoy one last morning game drive before transferring to the airstrip for a flight to Africa's premier Chimpanzee-tracking destination: Mahale Mountains National Park. A complete change of scene from Katavi, Mahale has a magical setting of soft, sandy, jungle-lined beaches lapped by the near-transparent waters of Lake Tanganyika. After landing at the airstrip, a traditional sailing dhow takes you to your lodge, the stunning lakeshore Greystoke Mahale. Dinner and overnight at Greystoke Mahale.

Tuesday & Wednesday, September 29 & 30: Mahale Mountains National Park

Tracking Chimpanzees—humanity's closest living genetic allies—is the main activity in Mahale. The forests here support a healthy population of 1,000 wild Eastern Chimpanzees, including the 60-strong Mimikere Community, which was first habituated by Japanese researchers in the 1960s, now providing visitors the once-in-a-lifetime opportunity to walk in the midst of these intelligent, sociable and thoroughly fascinating creatures. No less than eight smaller primate species have also been recorded, with Yellow Baboon, Ashy Red Colobus, and Blue, Red-tailed and Vervet Monkeys frequently encountered close to camp. Superb all-round birding is boosted by several charismatic forest species—among them Ross's Turaco, Trumpeter Hornbill, Crested Malimbe, Bamboo Warbler, and the globally threatened Kungwe Apalis. Between walks, take a refreshing dip or snorkel in Lake Tanganyika, which stands at an altitude of 2,536 feet on the Rift Valley floor below the jungle-clad slopes and wild crags of an 8,070-foot escarpment. Home to more than 500 fish species, this magnificently scenic inland sea ranks as the world's longest and second-deepest freshwater body, and it is also credibly claimed to be the least polluted lake on the planet. Enjoy sundowners on the beach, and dinners and overnights at the stunning Greystoke Mahale.

Thursday, October 1: Mahale / Dar es Salaam

After breakfast, transfer to the airstrip for your flight to Dar es Salaam. Upon arrival, transfer to Hyatt Regency Dar es Salaam for dinner and overnight.

Friday, October 2: Dar es Salaam / Depart

After breakfast, transfer to the airport for your international flights home.
Have a question? Call us at 206.669.9272 /
800.861.6425

. Prefer online?Get in Touch

More Than a Lot in Common
The Chimpanzee is our closest relative, sharing about 98% of our genes. They are highly social animals, living in communities that can number anywhere from 10 to more than 100 individuals. Like humans, Chimpanzees communicate with facial expressions, gestures, and sounds. They also touch each other a great deal by kissing, embracing, patting on the back, and touching hands. These intelligent creatures have opposable thumbs and a firm grip, allowing them to pick up objects to use as tools. Twigs can be shaped and used to fish termites from their nests and leaves are bunched together to hold drinking water.