Melanesia
onboard Silver Discoverer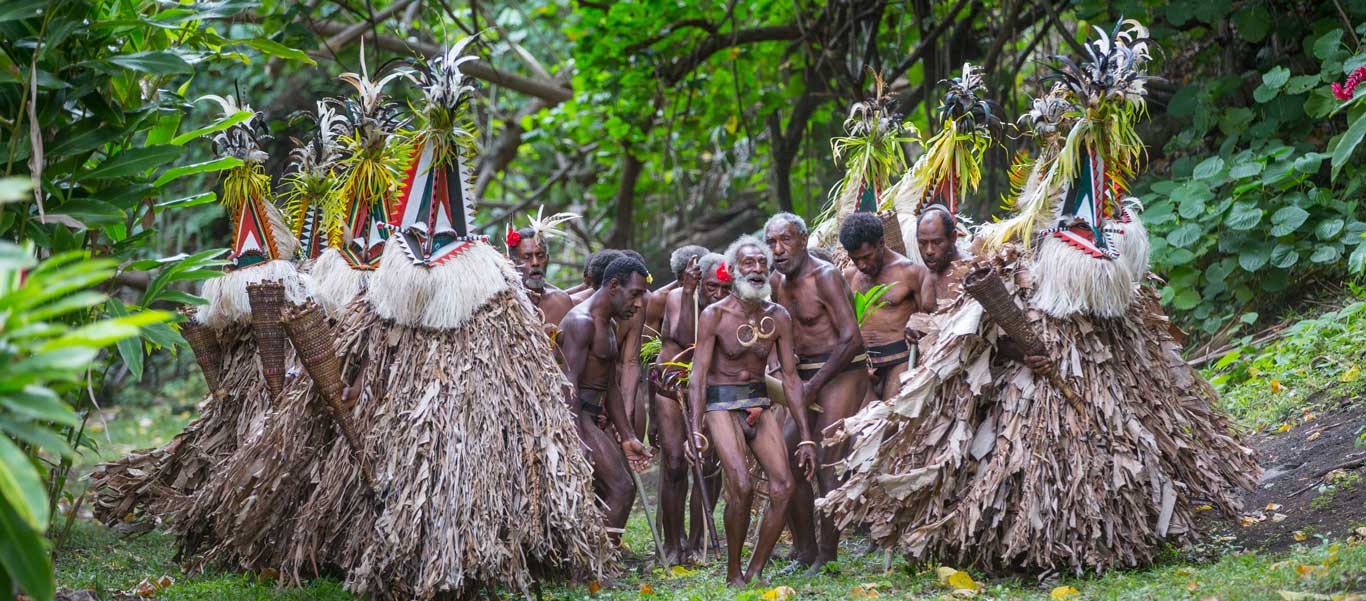 On Ambrym Islands, the very special Rom dance, is usually only performed during men's secret society meetings. © Richard Sidey
Both above and below the crystal-blue waters, this Melanesia adventure offers incredible cultural and natural diversity. © Richard Sidey
Villagers will welcome you with traditional dance and song on some of the most idyllic islands imaginable. © Richard Sidey
The Silver Discoverer is the ideal vessel for exploring Melanesia. Her shallow draft allows her to navigate closer to shore with Zodiacs to explore even further. © Richard Sidey
Snorkelers and divers on this Melanesia voyage will visit some of the best coral reefs on Earth, all teeming with life. © Giovanna Fasanelli
Fergusson Island is famous for its DeiDei Geyser—natural hot springs that periodically "erupt" with vapor steam. © Richard Sidey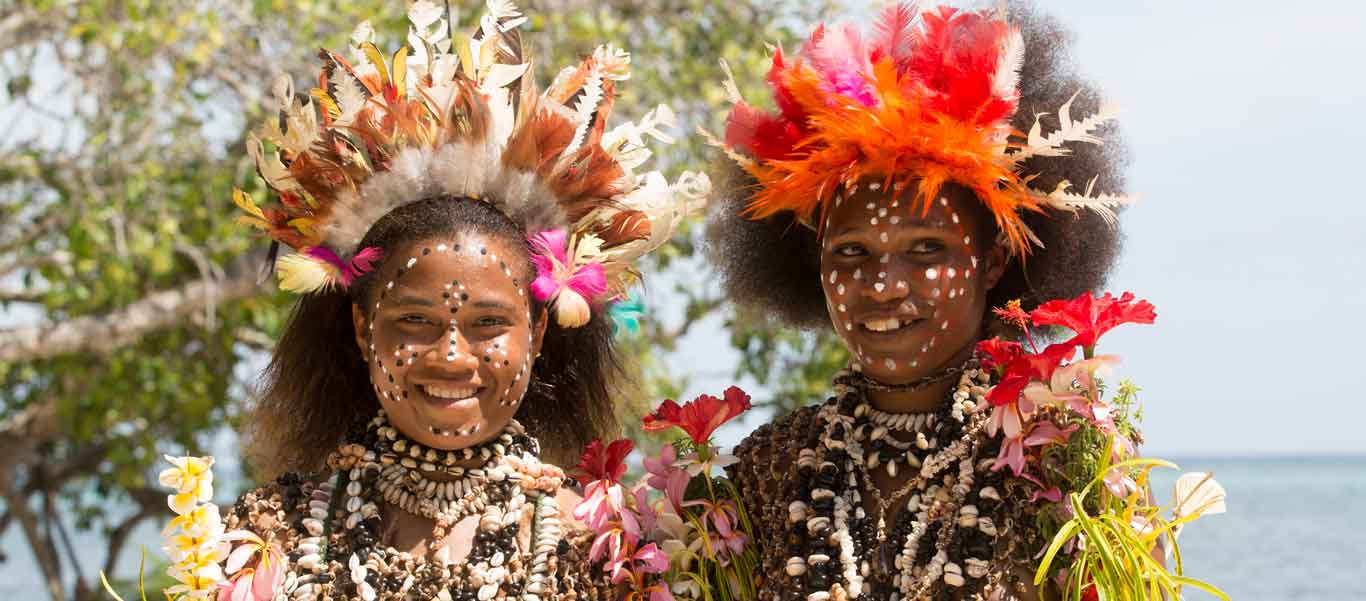 Visit Kafure Village where you're welcomed with traditional dance and song. © Richard Sidey
Solomons, Vanuatu, Papua New Guinea Cruise
Diversity is the catchphrase on this Melanesian adventure—both above and below the crystal-blue waters. From the thousand living languages, to the astoundingly varied coral gardens; from some of the world's most active volcanoes to interesting historical sites. Join Apex on this 19-day expedition to Vanuatu, the Solomon Islands and Papua New Guinea, where delights await every traveler interest. Snorkelers and divers can visit some of the best coral reefs on Earth. Birders can look for several endemic species, including the Solomon Island Sea Eagle and Melanesian Megapode. History buffs can enjoy retracing the footsteps of explorer Captain Cook and examining artifacts from the famed Kula Ring. Step aboard the Silver Discoverer and delve into the vibrant cultures and landscapes of these many storied islands.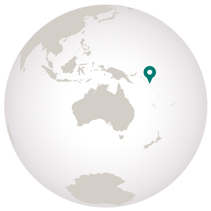 Destinations
Travel by Air
Travel by Road
Travel by Boat
Travel by Bullet Train
Travel by Rail
Travel by Dog Sled
Monday, October 23: Port Vila, Vanuatu

Arrive in Port Vila, the capital and largest city of the archipelago of Vanuatu, where you will be met and transferred to the Warwick Le Lagon Hotel. The afternoon is at leisure. Gather this evening to meet your fellow adventurers and Apex expedition team for a welcome dinner and briefing.

Tuesday, October 24: Port Vila

Port Vila is on the island of Efate and your day's explorations are dedicated to exploring beyond the city. The island offers several good snorkel and dive sites for underwater enthusiasts who may even run into some dugongs along the way. Birders will delight in exploring the island's tropical rain forests in search of the coveted Red-bellied and Tanna Fruit Doves. Return to the Warwick Le Lagon Hotel for dinner and overnight.

Wednesday, October 25: Port Vila / Embark Silver Discoverer

Spend a final morning relaxing at your hotel before transferring to the Silver Discoverer for lunch. After settling into your cabin, be out on deck as you set sail in the late afternoon with a toast to the adventures ahead.

Thursday, October 26: Aniwa Island and Tanna Islands

Aniwa is a small coral atoll in the southernmost province of Vanuatu. Here, volcanic activity has formed a reef quite recently, and a unique one, as it is growing on top of a lava flow. Swim, snorkel and dive among coral in countless colors and a great variety of reef fish, from Moorish Idols to White-tip Reef Sharks. This afternoon, visit Port Resolution on nearby Tanna Island to get a taste of local culture. Enjoy a dance ceremony and explore the village, before an evening trek up Mount Yasur—its activity was first recorded by Captain James Cook in 1774, and has continued uninterrupted since. Depending on its activity level, you may be able to hike to the top and look into the crater. Small explosions and clouds of fumaroles and ash are often observed. Plan to be there at nightfall, when the volcanic activity turns into a breathtaking fireworks display.

Friday, October 27: Makura Island

Enjoy a leisurely morning with lectures from your onboard experts before reaching Makura, in Vanuatu's central Shefa Province. Makura is quite small, but is the peak of an old volcano whose rim remnants are believed to be neighboring islands Emae and Mataso. Visit the small village and pristine beaches in the northwest of the island, then snorkel and dive, or join a hike to the top of the island.

Saturday, October 28: Ambrym Island

Early this morning, gaze upon the west coast of Ambrym, one of the most volcanically active islands of the New Hebrides volcanic arc. Go ashore on one of its black sand beaches, near the village of Ranon. There, be treated to the very special Rom dance, which is usually only performed during men's secret society meetings. Enjoy one of the local string bands and hope to see some of Vanuatu's sand drawings. Although some might simply see them as aesthetically pleasing drawings, UNESCO has recognized them as a local "writing" system and inscribed them on the Representative List of Intangible Cultural Heritage of Humanity.

Sunday, October 29: At Sea

Enjoy a day cruising the Coral Sea, looking for sea birds, dolphins, and whales as we head northwest toward the Solomon Islands. Attend lectures to prepare you for this upcoming destination – learn about the Solomons' flora and fauna, the early history of European exploration in the area, and the fascinating anthropological work done in the region.

Monday, October 30: Santa Ana, Solomon Islands

Today, the ship will enter Port Mary, the bay in front of Ghupuna, Santa Ana's (or Owaraha's, in the local language) main village. After a short welcome on the beach, then head to the athletic field to be entertained with traditional songs and dances by members of the island's three villages. Enjoy a walk through the tidy village, with its palm-thatched houses on stilts and two sizable Protestant churches. The late morning will be spent on the beach in front of Ghupuna, swimming, snorkeling or diving in the pleasant, warm waters. In the afternoon Silver Discoverer will continue westward, while your lecturers introduce you to your next destination.

Tuesday, October 31: Mbike Island and Roderick Bay

Be out on deck in the morning as we approach the Sandfly Passage to reach Mbike, a small privately owned island in the Florida Islands (a part of the Solomons). Once on Mbike, a picture-perfect beach will invite you to swim and snorkel, while the extensive coral reefs, teeming with tropical fish and exceptional dive sites, will beckon our divers as well. Underwater delights include Feather Stars and colorful nudibranchs, Vase Sponges and sea fans, Lionfish and octopus. Those ready to move on can embark on a Zodiac snorkel safari into nearby Roderick Bay, surrounded by beautiful small islands with forested hills. This afternoon, cruise westward to reach the Solomon Islands' Western Province.

Wednesday, November 1: Njari Island

The small coral cay of Njari has one of the highest counts of fish and coral varieties in the Indo-Pacific. Dock nearby and take Zodiacs ashore. Playful dolphins may accompany you on your way. Snorkeling and diving here have revealed such treasures as Damsel Fish, Blue-green Chromis, Parrot Fish, Trigger Fish, and huge numbers of Anemone, or Clown Fish. Coral gardens of staghorn and finger corals, and beautiful large coral fans line the reef. This afternoon, board the ship for lunch and head west for Papua New Guinea.

Thursday, November 2: At Sea / Rabaul, Papua New Guinea

Attend lectures on a variety of topics about Papua New Guinea and New Britain, a large, mountainous island off mainland Papua New Guinea. In the late afternoon, the ship will enter Blanche Bay on New Britain's east coast and pass the impressive Tavurvur Volcano. Set off this evening to see the Baining Fire Dancers, a highlight of any visit to the township of Rabaul. Of all the ceremonies and rituals performed in Papua New Guinea, the Baining people of New Britain offer one of the most captivating. Male dancers in large, elaborate masks that depict animal and bush spirits circle a giant bonfire in a ritual that builds to a crescendo through the night. Return to the ship in the late evening and set sail.

Friday, November 3: Garove Island

Garove is one of the largest of the volcanic Witu Islands off northern New Britain. Copra, the dried meat of the coconut that's used to extract coconut oil, is produced in large amounts on Garove, as is cocoa. Enter the island via the flooded remains of an ancient caldera. This afternoon, the ship will anchor inside the caldera, surrounded by steep and lush, green cliffs. Be greeted by outrigger canoes, which will lead us ashore to the rhythms of a "sing-sing." Follow the local clan performers to the school, and then to the church for a presentation of traditional dances. Afterwards, hikers might want to trek to the higher levels of the village for scenic views.

Saturday, November 4: Tami Island

The Tami Islands are a small archipelago belonging to Papua New Guinea's Morobe Province. Tami Islanders are known for their elaborately carved, oblong-shaped wooden bowls, cult figure carvings, and ornate ceremonial masks. The small community of islanders live simply, and Kala Village has just a single primary school and small medical aid post. The "sing-sing" here is loud and punctuated by the beating of 'kundus', hand-held hollowed wooden drums with monitor lizard skin at one end. The beaches and reefs also have much to offer snorkelers and divers, including large schools of bright surgeonfish.

Sunday, November 5: Kafure Village, Tufi

Tufi, located on the southeastern peninsula of Cape Nelson in Papua New Guinea's Oro Province, is situated on a tropical fjord and surrounded by uncharted coral reefs. Take Zodiacs into the smooth waters of the Kwapurina Fjord and transfer to local wooden dugout canoes. With local villagers as your oarsmen, float under canopies of ancient mangrove forests, which are home to Tufi's wide range of colorful birds and butterflies. Return to the entrance of the fjord and Kafure Village, where the villagers will welcome you with traditional dance and song. Tufi natives are known to wear tapa cloth, made from the bark of mulberry trees from the local forest. There will be an opportunity to observe the making of tapa before a leisurely afternoon on one of the local beaches to swim, snorkel and dive.

Monday, November 6: Fergusson and Dobu Islands

Fergusson is one of the biggest and most mountainous of the D'Entrecasteaux Islands in Milne Bay Province. Here, birders are in for a treat as they may spot Sulphur-crested Cockatoos, Eclectus Parrots, and the stunning Curl-crested Manucode. Fergusson is famous for its DeiDei geyser—natural hot springs that periodically "erupt" with vapor steam. Villagers will accompany us to the hot springs, where they will tell ancestral tales about this natural display of power. This afternoon, visit the smaller Dobu Island. Neighboring islands feared the Dobu Islanders because they were believed to be great sorcerers. The risk is well worth it, however, due to the area's spectacular underwater offerings—healthy coral gardens cover the sea floor and boast a large diversity of Butterflyfish. Snorkelers and divers can look for many different species of echinoderms, including the blue Linckia Sea Star, feather stars, and sea cucumbers.

Tuesday, November 7: Samarai Island

Samarai, on the southern tip of PNG, was once a bustling trading port. In fact, this tiny island was once the second largest city in Papua New Guinea. The town, now in ruins, once held attractive colonial buildings, churches, schools, and even a movie house. At the onset of the War in the Pacific (1941 to 1945), Samarai was evacuated and many of the buildings were purposely destroyed to keep Japanese forces from moving in. In 2006, the island was declared a National Historical Heritage Island, and there are hopes that some of the buildings may be restored. Coming into the jetty by Zodiac might be slightly surreal—it's one the most modernized communities we'll come across on this voyage, and quite densely populated compared to the surrounding islands. Explore the village's splendid market. This evening, enjoy the Captain's Farewell cocktail hour and dinner as we sail toward Australia.

Wednesday, November 8: At Sea

This leisurely day at sea will be spent crossing the Coral Sea one last time. Stroll the outer decks looking for dolphins and other cetaceans, and join the expedition team to recap the journey.

Thursday, November 9: Cairns, Australia

Be on deck early this morning as we arrive into Cairns. Enjoy a final breakfast before disembarking the Silver Discoverer. Spend the day exploring the Daintree Rainforest, then enjoy a farewell dinner and overnight at the Shangri-La Hotel.

Friday, November 10: Cairns / Depart

Transfer to the airport for early morning flights home.
Have a question? Call us at 206.669.9272 /
800.861.6425

. Prefer online? Get in Touch

Resourceful or Lazy? You Decide.
Of all the world's birds, the megapodes boast perhaps the most unusual breeding strategy. Rather than directly incubating their eggs like others in the avian world, these big-footed, chicken-like creatures lay in soil with an external heat source, either decomposing plant material assembled into compost heaps by the birds themselves, on beaches heated by the sun, or, in the most extreme case of the Melanesian Megapode, in volcanically warmed earth!