A nudibranch uses its head tentacles, which are sensitive to taste, touch and smell, to sniff the current for its next victim. © Giovanna Fasanelli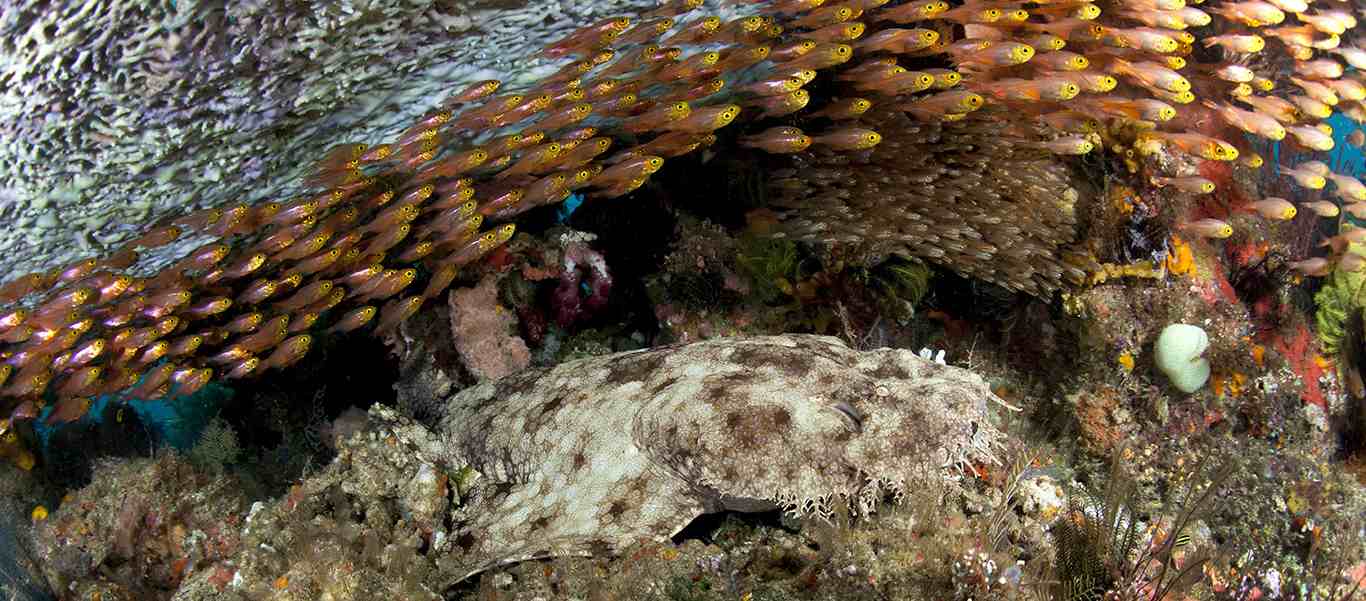 You have to look carefully to spot the Tasselled Wobbegong (Eucrossorhinus dasypogon), a species of carpet shark with impressive camouflage.
Largest of the rays, Mantas move gracefully through the water using wing-like movements of their pectoral fins, which drive water backwards. © Gerald Rambert
This pygmy seahorse is extremely well camouflaged, with pink and red tubercles, on the similarly-colored Gorgonian it inhabits. © Giovanna Fasanelli
Spend nine nights aboard the award-winning, 120-foot Indo Siren, exploring the Raja Ampat Archipelago. © Owen Raggett
The Coral Triangle hosts an incredible variety of soft corals, so called because they do not produce calcium carbonate skeletons. © Giovanna Fasanelli
Raja Ampat Diving
To visit the Indonesian islands is an extraordinary experience, both above and below water. For snorkelers and divers, Indonesia's northeast seas are considered to hold the richest variety of marine species on the planet. Join Apex as we explore the deep, warm waters of Indonesia's Bunaken and Raja Ampat Marine Parks, where the Pacific meets the Indian Ocean. Feast your eyes on many of the 1,600 species of reef fish and over 600 species of hard coral on offer here. Trek the jungle-cloaked islands, home to rare orchids, birds of paradise, and one of the world's smallest primates, the tarsier.


Destinations
Travel by Air
Travel by Road
Travel by Boat
Travel by Bullet Train
Travel by Rail
Travel by Dog Sled
Manado

Arrive in Manado and transfer to the serene beachfront Tasik Ria Resort for a welcome dinner. The evening is yours to explore the property and relax.

Manado

Among the first of Indonesia's marine parks, Bunaken National Park is a biodiversity hotspot, even within the "Coral Triangle". It covers over 300 square miles in the deep, warm waters of the Sulawesi Sea and is a diving mecca, known for its pristine coral reefs, and steep drop-offs packed with life—schooling fish, gliding sharks, Napoleon Wrasse, Bumphead Parrotfish, nudibranchs and crustaceans galore. Over the next two days, dive at four of the best "walls" within the reserve. There will be plenty to marvel over for divers and snorkelers alike. Dinner and overnight at Tasik Ria Resort.

Manado

Today, continue exploring the underwater majesty of Bunaken, or take a full-day excursion to Tangkoko National Park, covering 33 square miles of terrain ranging from beach to the cloud forests of 4,400-foot Mount Dua Saudara. Tangkoko protects over 100 species of mammal and almost 250 bird species, over 100 of which are endemic to Sulawesi. Here, hike forest trails in search of troops of Crested Black Macaques and the Spectral Tarsier, one of the world's smallest primates (measuring under 5 inches). Birders may spot the spectacular Knobbed Hornbill, Lilac-cheeked and Green-backed kingfishers, Yellow-billed Malkoha, and Grosbeak Starling. Dinner and overnight at Tasik Ria Resort.

Manado / Sorong / Kri Island

This morning, bid farewell to Manado and fly to Sorong, one of the busiest harbor towns in West Papua and the gateway to the exquisite Raja Ampat, or Four Kings, named for the four main islands of the extensive West Papuan archipelago. A boat ride across the Dampier Strait will take you to Kri Island, a perfect home base from which to explore the archipelago's most stunning northern sites. The global bull's-eye of marine diversity—it is quite possibly the richest coral reef ecosystem on Earth—Raja Ampat offers the underwater naturalist a cornucopia of marine wonders, the likes of which you won't see elsewhere. This afternoon, celebrate your arrival with a snorkel off the legendary Kri 'House Reef,' where you can quite easily see Green Turtles, Bluespotted Stingrays, Blacktip Reef Sharks, and possibly the endemic Raja Ampat Epaulette, or Walking, Sharks. Dinner and overnight at Sorido Bay Resort.

Kri Island

Three full days are the bare minimum to explore the 30-plus outstanding dive sites located in close proximity to the resort. Snorkel or dive among coral gardens, walls, and mangroves between Gam & Kri Islands, including the famous Cape Kri, home to one of the largest concentrations of fish in the archipelago's northern region. Sites such as Blue Magic, Sardines & Mios Kon are home to a staggering array of marine creatures, from Manta Rays to schools of barracuda and sweetlips, cryptic Leaf Scorpionfish, and pygmy seahorses. Dinners and overnights at Sorido Bay Resort.

Indo Siren, Raja Ampat

To allow for more thorough exploration of Raja Ampat, we leave dry land today and embark the 120-foot Indo Siren, which will be our mobile base for the next 9 days. We may begin with further coverage of Waigeo, largest of the "Four Kings", before looping south through the cryptic-critter-rich sites surrounding Batanta Island and the soft coral-rich lagoons and walls of the Misool group. Depending on conditions, we may cover such famous sites as Melissa's Gardens, where there's a good chance of seeing the strange and impressive Tasselled Wobbegong Shark; Manta Sandy, where the Manta Rays come by the droves to be cleaned; The Passage, an incredible saltwater river that separates Gam from the larger Waigeo; and a plethora of sites scattered through the western and southern portions of the archipelago. In addition to boasting a truly astounding assortment of creatures, these sites also showcase some of the islands' most spectacular underwater topography, notably at sites like Boo Windows and The Candy Store. On any given day, we will offer four dives or snorkels. We will mix up our dive and snorkel sites in order to cover the full array of marine ecosystems on offer and maximize the number of marine creatures we encounter. With concerted effort from divers and snorkelers alike, our aim is to find in excess of 400 species of fish and, who knows, possibly even break the magical figure of 500 species of fish!

Sorong / Disembark Indo Siren

Disembark the Indo Siren this morning in Sorong and transfer to the airport for your international flights home.
Have a question? Call us at 206.669.9272 /
800.861.6425

. Prefer online? Get in Touch

The Bull's-Eye of Marine Biodiversity
The breathtaking Indonesian archipelago known as Raja Ampat, "Four Kings", lies within the Bird's Head Seascape. It is here where numerous scientific surveys have determined the bull's-eye of marine biodiversity to lie: 1,500 reef fishes and three quarters of the world's soft and hard corals call these pristine coral reefs home. Being situated at the current-fanned transition zone between the Indian and Pacific Oceans is just one of the reasons Raja Ampat offers such a cornucopia of animal life, with dozens of new species to science uncovered in recent years.