Travel in 4x4s across a stunning desert landscape of rippling red dunes, some hundreds of feet high, to your secluded camp at Wahiba Sands.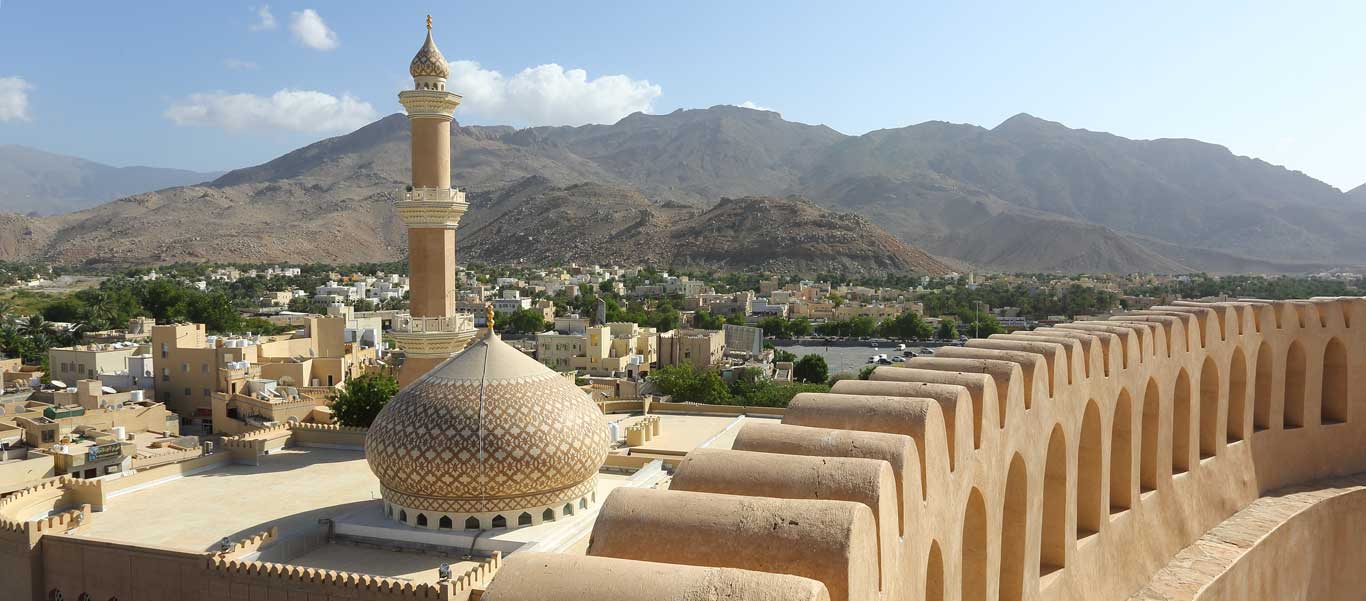 Explore the maze of rooms at the 17th-century Nizwa Fort, an architectural beauty offering stunning views to those who climb its 130-foot-high tower. © Jonathan Rossouw
Built in the 3rd century BC, explore the rose-hued fortress city of Petra with its palaces, temples and tombs carved directly into the sandstone cliffs.
The summit of Jebel Shams, Oman's highest point, offers spectacular views into the 3,000-foot-deep Wadi Nakhr, "the Grand Canyon of Arabia." © Jonathan Rossouw
A dramatic landscape of unique rock formations, natural arches and rippled red sand dunes awaits you at Wadi Rum, the Valley of the Moon.
Between 20,000 and 30,000 Green Turtles return annually to lay their eggs on the protected white sand beaches of Ras al Jinz.
Oman & Jordan Tour
Mystery shrouds Oman, tucked quietly beside nations that make far more headlines, and are far less amenable to travel. Oman travel packs a rich variety of experiences in its narrow borders, from sparkling cities to ancient villages; red dunes to lush, cliff-side orchards. Join Apex Expeditions on this Oman and Jordan tour, brimming in history, architectural marvels, and the wafting scent of perfume. See Green Turtles at one of the largest nesting sites on the Indian Ocean, Bonelli's and Verreaux Eagles in subtropical Dhofar Province, and ancient Frankincense trees in their natural habitat. Another friendly haven, Jordan offers the awe-inspiring ruins at Petra and floating in the fabled Dead Sea. Step back in history on this expedition through the many layers and landscapes of the Arabian Peninsula.


Destinations
Travel by Air
Travel by Road
Travel by Boat
Travel by Bullet Train
Travel by Rail
Travel by Dog Sled
Arrive Muscat, Oman

Arrive this evening in Oman's charming capital city, wedged between mountains and sea, and transfer to the lush Chedi Muscat Hotel for your overnight.

Muscat

Rise early for an optional birding excursion to the impressive Al Ansab Lagoons and Wetlands, covering seven square miles within the city. Birds here include Striated, Gray and Purple Herons; Terek and Wood Sandpipers; Kentish, Lesser and Greater Sandplovers; and Bluethroats. Afterwards, join up with the rest of the group at Muscat's exquisite Grand Mosque. Modest from the outside, the main prayer hall is lavish, with a 200-foot-long Persian carpet, purported to be the second largest in the world—it took 600 women four years to weave it. Next, enjoy a stroll through Bait al Baranda, housed in a 1930s residence, with well-crafted exhibits highlighting the cultural history of Oman. After lunch, visit Bait Adam, a privately-owned museum with an impressive collection of traditional Omani weapons, jewelry and costumes. Return to Chedi Muscat Hotel for an official welcome dinner and overnight.

Muscat

This morning, head to the colorful Old Muscat Harbor to board your vessel for a cetacean cruise along the edge of the continental shelf, which happens to lie just offshore. The waters here are extremely productive, and both Humpback and Sperm Whales are commonly seen. Bottle-nosed, Risso's and Spinner Dolphins are also plentiful, often in pods of many hundreds. Birds here include Arabian Shearwater, Jouanin's Petrel, Greater Crested and Bridled Terns, plus Swinhoe's and Wilson's Storm-petrels. Spend time off the islet of Al Fahal, whose rugged cliffs are home to Sooty Falcons, Ospreys, Red-billed Tropicbirds and Masked Boobies. After lunch at the harbor, visit the imposing Sultan's Palace, then walk the bustling aisles of the Old Muscat Souq, and enjoy the magnificent wafting scents of coffee and frankincense. Return to Chedi Muscat Hotel for dinner and overnight.

Muscat / Ras al Jinz

After breakfast, embark by 4×4 on a sweeping five-day overland safari. Head south along the coast, stopping en route for photography and birding. Sightings may include Egyptian Vultures, Steppe and Eastern Imperial Eagles, Green Bee-eaters and Indian Rollers. Enjoy lunch at a seaside restaurant, followed by a visit to the picturesque town of Sur. Visit the craftsmen at the last surviving dhow-building yard in the Sultanate, and observe the artistry that goes into building these beautiful, hulking boats. Late this afternoon, arrive in Ras al Jinz, the easternmost point of the Arabian Peninsula. Between 20,000 and 30,000 Green Turtles return annually to lay their eggs on the white sand beaches here. With luck, witness both egg-laying females and hatchlings, as they scurry to the sanctuary of the nearby ocean. Dinner and overnight in the Carapace Rooms, Ras Al Jinz Turtle Reserve.

Ras al Jinz / Wahiba Sands

You may choose to rise before dawn for more turtle watching. After breakfast, board your 4x4s and head south through coastal desert. Camels are commonplace here, as well as Peregrine Falcons, Menetries's Warblers and Desert Whitethroats. Further south, the landscape begins to change to a washboard of rippling red dunes, some hundreds of feet high, dotted with the vibrant greens of date palm oases. This is home of the Bedu, people of the camel. Today, you have the opportunity to visit a Bedu family and learn of their culture and traditions, and the ever-popular Omani pastime—camel racing. This time of year marks the start of the sport's season, and, if fortunate, you may see a race. Afterwards, follow guides in an exciting, and somewhat hair-raising, 4×4 convoy across the dunes to your secluded camp. Dinner and overnight at Desert Nights Camp.

Wahiba Sands / Bahla / Misfat al Abriyyin / Al Hamra

Rise early to photograph the crisp dawn shadows on the dunes, then enjoy an open-air breakfast. Head north in your 4x4s to the breathtaking World Heritage site at Bahla, one of the oldest villages in Oman. Take in the miles-long walls which create an irregular skyline of medieval towers, bastions and ramparts. Afterwards, head into the mountains for a visit to Misfat al Abriyyin, a beautiful jumble of earth-colored stone buildings clinging to the mountainside, gardens overflowing with bright clumps of fruit trees and bougainvillea. This is traditional Oman at its most magical. After lunch, see the abandoned Persian ruins at Ghul, then hang on for the series of hairpin switchbacks that lead up to the summit of Jebel Shams, Oman's highest point. The final few miles are especially spectacular, with breathtaking views into the 3,000-foot-deep Wadi Nakhr, "the Grand Canyon of Arabia." Dinner and overnight at The View Oman in Al Hamra.

Al Hamra / Nizwa / Saiq Plateau

After breakfast, begin the 4×4 trek down the mountain, southeast to the beautiful town of Nizwa, the "Pearl of Islam," located on a broad plain surrounded by a thick palm oasis. Nizwa's 17th-century fort is perhaps the most visited site in Oman, and the views from its 130-foot-high tower are stunning. Tour the nearby souq, famed for its silversmiths, then enjoy lunch at a local restaurant. This afternoon settle in for a memorable ride up to the Saiq Plateau, the green jewel of the Al Hajar mountain range, standing some 8,000 feet above sea level. Here, fruit orchards cling to the mountain slopes, watered by plentiful natural springs and aflaj irrigation systems. Small villages dot the terrain, overlooking spectacularly dramatic gorges and wadis. Dinner and overnight at Anantara Al Jabal Al Akhdar Resort.

Saiq Plateau / Muscat / Salalah

After breakfast, climb into your 4x4s and begin a spectacular descent down a sheer and impossibly steep slope toward Wadi Bani Awf. This mountain track is considered by many to be one of the most memorable and challenging off-road drives on earth. Arrive at the airport in Muscat for an afternoon flight south to Salalah in colorful, subtropical Dhofar Province. On arrival, transfer to Al Baleed Resort Salalah by Anantara for dinner and overnight.

Salalah

This morning, you may join an early birding outing to East Khawr, a lagoon with large numbers of waders such as Little and Temminck's Stints; Kentish Plovers; White-winged Black Terns; and Curlew, Marsh, and Broad-billed Sandpipers. After breakfast, visit the magnificent ruins of Khor Rori, once the easternmost outpost on the ancient Frankincense route. This afternoon, see one of the world's largest sinkholes at Tawi Atair, roughly translated to "well of birds," and for good reason: Tristram's Starling, Cinnamon-breasted Bunting, Abyssinian White-eye and Bonelli's Eagles are all common. A few miles further east is the Jabal Samhan Reserve, one of the last known homes of the Arabian Leopard, as well as the Arabian Gazelle, Cape Hare, Arabian Wolf and Verreaux's Eagle. On the way back to Salalah, stop at Wadi Darbat, a lush lake that hosts an impressive variety of birds. Enjoy dinner in town, and overnight at Al Baleed Resort Salalah by Anantara.

Salalah

After breakfast, head west to visit the Raysut rubbish dump. Here, hundreds of Steppe Eagles spend the winter feeding, along with smaller numbers of Imperial Eagles, Abdim's Stork and Pintail Snipe. Continue along the winding road west, past herds of camels and cattle on the high plains overlooking Salalah, and stop at the Tomb of Job, which claims to hold the remains of the venerated prophet. See the massive blowholes at the white sand beach in Mughsail, then continue towards Oman's border with Yemen, with its breathtaking cliffs and valleys. Here, see Frankincense trees in their natural habitat. Hike into one of the valleys to take in the sights and smells of the 'holy incense' growing amid the dry and craggy terrain. Return to Salalah's port for lunch, then explore the Hafa Souq before returning to Al Baleed Resort for dinner and overnight.

Salalah / Amman, Jordan

This morning, head to the Museum of the Land of Frankincense, located within the UNESCO World Heritage site of Al Balid in Salalah. Learn of the geography and history of the ancient Frankincense trail, and Oman's rich maritime trade. Next, transfer to the airport for a flight to Amman, Jordan's capital city, via Muscat or Doha (depending on flight schedules). Dinner and overnight at Fairmont Amman.

Amman / Wadi Rum

After breakfast, set out southward toward Wadi Rum. Stop at Mt. Nebo, where Moses is said to have seen the Promised Land. The Moses Memorial Church, perched on the summit, commands spectacular views of the Dead Sea, Israel and the Palestinian Territories beyond. Continue a few miles further to Madaba, best known for its Byzantine-era mosaics. Walk the friendly streets and see the most famous of these mosaics—the map on the floor of St. George's Church. Enjoy a traditional regional lunch at the unique Hikayet Sitti restaurant in town, before continuing on to Wadi Rum. Toast to the extreme desert sunset with cocktails, then enjoy dinner and overnight at the extraordinary SunCity Camp.

Wadi Rum / Petra

Awaken early to watch the sun rise from atop a camel, as you ride some of the path that Bedouins have been traversing for millennia. After breakfast, take some more time to explore the area, then transfer by vehicle north to Wadi Musa, the small town that stands beside Petra. Enjoy lunch at your hotel, followed by a visit to Siq al Barid, colloquially known as Little Petra. The Nabataean ruins here are thought to be remains of a trading suburb and resupply post for camel caravans visiting Petra. Many of the intricate cisterns used for water collection remain intact. Return to Wadi Musa, taking in the breathtaking views of Petra from afar, and enjoy a cooking demonstration and dinner at Petra Kitchen in town. Overnight at Movenpick Resort Petra.

Petra

Spend the day experiencing Petra, the great Nabataean city built in the 3rdcentury BC. Here, palaces, temples and tombs were carved directly into the sandstone cliffs.Despite a series of earthquakes that led to the city's demise, most of its structures remain remarkably intact. Hike in along the high-walled Siq, coming out at the iron-laden tomb known as the Treasury. Explore the more than 40 tombs that line the Street of Facades, then head to the 7000-seat Theatre. Climb a stairway to the cliffs above to see the Royal Tombs, with some of the best carving in Petra. Visit the Great Temple, and the imposing Qasr al Bint, the only freestanding structure in the Ancient City. Enjoy lunch at Basin Restaurant, then take an optional hike up to the Monastery, with its staggering views over Petra's rock formations. Hike back out and return to the Movenpick Resort for dinner and overnight.

Petra / Dead Sea

After breakfast, drive north to the lowest point on Earth, the Dead Sea, located 1,410 feet below sea level. Enjoy lunch at your hotel, perched on the beach, then take the afternoon at leisure. Head to the spa for a treatment using Dead Sea minerals, or float in the sea itself. This evening, share a farewell dinner with your fellow travelers and expedition team. Overnight at Kempinski Hotel Ishtar Dead Sea.

Dead Sea / Amman

Depart very early this morning to transfer to the Amman airport for your international flights home.
Have a question? Call us at 206.669.9272 /
800.861.6425

. Prefer online?Get in Touch

The Land of Frankincense
The Boswellia tree is a stumpy, rather unsightly tree resembling a large tumbleweed. This tree however, better known as the Frankincense tree, produces the most heavenly fragrance. Frankincense is derived from the gummy sap that oozes from the tree when its bark is cut. The leaking resin hardens into translucent, golden-hued crystals that are scraped off the trunk in tear-shaped droplets (also known as Frankincense tears). When dried, the sap is burned as incense and has a lemony, musky scent. Frankincense has been sought after since ancient times, primarily for medicinal purposes and to make incense and fragrances used for burials, sacrifices and important rituals. Today, Frankincense is a symbol of Omani hospitality, its fragrant resin burned to welcome guests throughout the country.