Named for the golden color of its water, the 105-foot Gullfoss, or "Golden Falls," in the Hvítá River canyon is one of Iceland's most iconic waterfalls.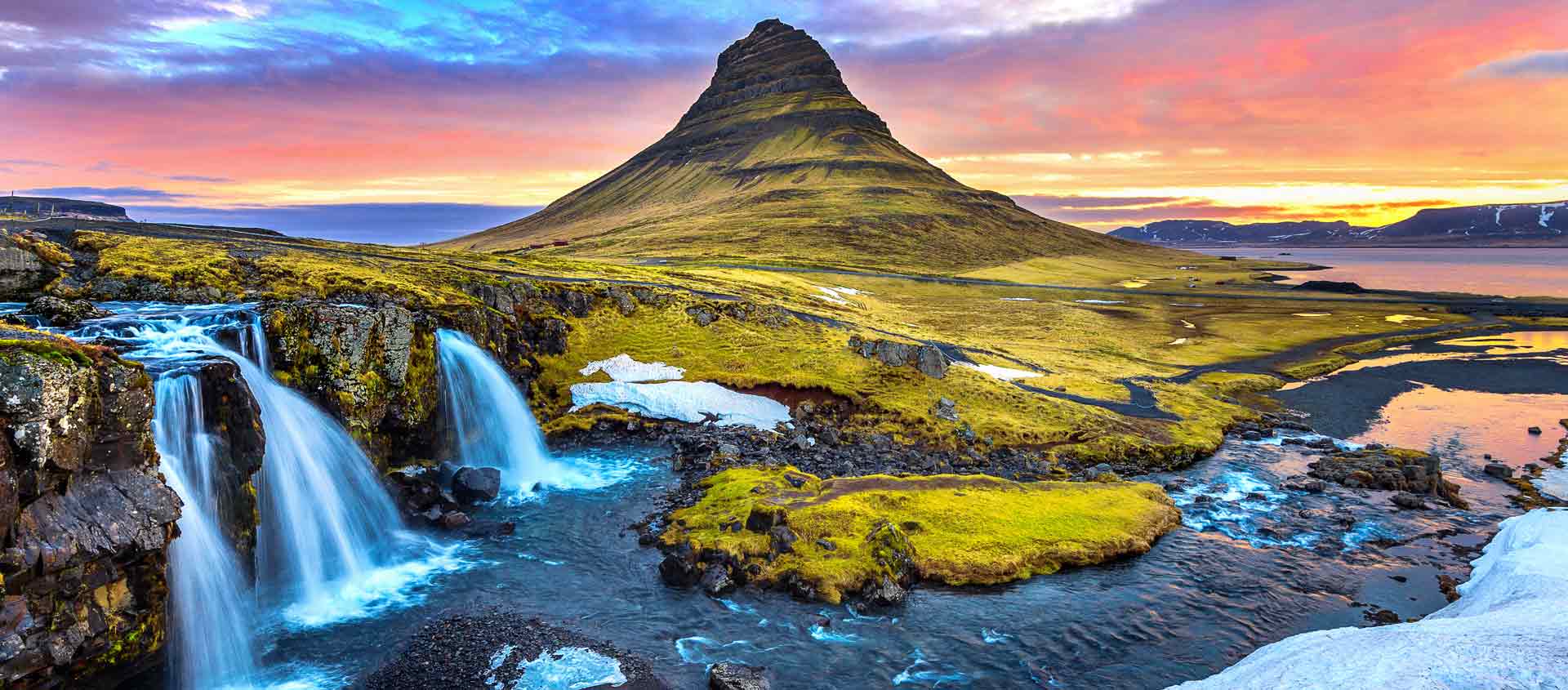 Kirkjufell, or 'Church Mountain', is a distinctly shaped peak on the north shore of Iceland's Snæfellsnes Peninsula, a short distance from the town of Grundarfjörður.
Seen while exploring the "Golden Circle," in Iceland's Southern Region, Strokkur is an active geyser that erupts every 6-10 minutes.
At a latitude of approximately 64° north, Iceland is ideally located to see the aurora borealis, or northern lights, one of the world's most spectacular natural wonders.
Þingvellir National Park is located in a rift valley created by the drifting apart of the North American and Eurasian tectonic plates.
The horses of Iceland are the original Viking horses and one of the purest horse breeds in the world.
Iceland in Spring Tour
"I have fantasies of going to Iceland, never to return," Edward Gorey once famously wrote. It's a sentiment shared by many a visitor to this land of fire and ice, drawn in by the cinema of its landscapes, the poetry infused in its culture—qualities that are enhanced and distilled by visiting in the quiet of early spring, the season of snow, ice, and the ethereal northern lights. To travel around this magical island at that time of year is to experience constant novelty, from snow-covered spires of volcanic rock to ice-crusted thermal pools; from quaint fishing villages to a cutting-edge capital city. Join Apex on this 13-day Iceland in Spring Tour, walking on glaciers, hiking to frozen waterfalls, exploring ice caves, watching for the aurora, and contemplating just how a place can stir such strong feelings. Soak in the drama that is Iceland, where the landscape is as alive as the people, at a time when tourists are few and wonders are plentiful.


Destinations
Travel by Air
Travel by Road
Travel by Boat
Travel by Bullet Train
Travel by Rail
Travel by Dog Sled
Wednesday, March 30: Arrive Reykjavík, Iceland

Arrive early in Reykjavík, Iceland's vibrant capital city, and transfer to your centrally-located hotel. Take the morning to settle in, then meet your fellow travelers and expedition team at a welcome lunch, followed by a tour of Perlan, or "The Pearl," on Öskjuhlíð Hill. Originally a cluster of hot water tanks, Perlan was converted into an exhibition hall, planetarium, and observation deck. This afternoon, get acquainted with the city's layout on a guided orientation tour, seeing the National Museum of Iceland and the iconic Hallgrímskirkja Church. This evening, head 20 miles outside the city to a northern lights observatory, Aurora Basecamp, for a barbecue dinner in a geodesic dome, followed by the chance to see the aurora borealis. Overnight at Hotel Canopy by Hilton Reykjavík.

Thursday, March 31: Reykjavík

After breakfast, explore the "Golden Circle," the heart of Iceland's Southern Region. First, visit Þingvellir National Park, a protected national shrine within the rift valley where the Eurasian and North American tectonic plates meet. This is also the site of Alþingi, Iceland's parliament founded in 930 and the oldest surviving parliament in the world.  Next, head to Friðheimar Tomato Farm, which manages to produce a full ton of tomatoes every day despite the dark winters. Visit their Icelandic pony stables followed by lunch at the restaurant. Next, visit the 100-foot Gullfoss, or "Golden Falls," which gets its name from the golden color of its water as it churns up sediment and from the rainbows that often form above it. The last stop is the Geysir geothermal area. Geysir is the geyser for which all others are named, and is surrounded by bubbling cauldrons of superheated mud, steaming pools, and Strokkur, a geyser that erupts every 6-10 minutes. On the way back to your hotel, stop seaside for dinner in Stokkseyri village. Overnight at Hotel Canopy by Hilton Reykjavík.

Friday, April 1: Reykjavík

Today, tour the Borgarfjörður District.  Along the way, stop in the picturesque Borgarnes village on the Borgarfjörður Fjord, then head to Deildartunguhver, the most powerful hot spring in Europe. If you take a shower anywhere within a 40-mile radius of the spring, you have already bathed in its hot water. Next, head to lunch at the upscale Hotel Húsafell, followed by a dizzying drive nearly to the top of Langjökull, Iceland's second largest glacier. This afternoon, visit Hraunfossar & Barnafoss waterfalls before returning to Reykjavík for dinner by the old harbor. Overnight at Hotel Canopy by Hilton Reykjavík.

Saturday, April 2: Reykjavík / Vík í Mýrdal

After breakfast, journey to the south coast, towards Vík í Mýrdal—or just Vík—the southernmost village in Iceland. En route, visit Sólheimajökull Glacier, an outlet glacier from the main ice cap Mýrdalsjökull. Take an easy glacier walk and see living proof of climate change in the newly formed, and rapidly growing, glacial lagoon in front of Sólheimajökull. Stop for lunch in Skógar and visit the nearby waterfall and Folk Museum. After lunch, visit Skógafoss waterfall, then take a walk along stunning Reynisfjara Black Beach. End your day in exquisite Vík, nestled in the middle of Myrdal Valley, between the high peaks of the Reynisfjall and Myrdalur Mountains and the sea. Dinner and overnight at Hotel Vík.

Sunday, April 3: Vík í Mýrdal / Hnappavellir

After breakfast, take a 4×4 expedition to the natural ice caves of Mýrdalsjökull. This giant ice cap hides Katla Volcano in its depths, allowing for the incredible opportunity to go deep into the glacier and explore its winding ice tunnels. Head back into Vík for lunch and The Lava Show, a re-creation of a volcanic eruption, where molten lava is poured into the showroom and over ice. See the molten lava flowing, hear it sizzling, and feel the intense heat that radiates from it. This afternoon, continue east to Skaftafell, in the massive Vatnajökull National Park. Hike to Svartifoss waterfall—its black basalt columns make it easily one of the most beautiful waterfalls in Iceland—and towards Svínafellsjökull glacier, with its deep blue ice, gleaming white snow, and veins of black ash, memories of eruptions past. Head to the nearby Fosshotel Glacier Lagoon for dinner and overnight.

Monday, April 4: Hnappavellir

Today, visit two glacial lagoons within Vatnajökull National Park. Fjallsárlón is the smaller of the two, and teems with glittering, newly calved icebergs. Listen for the loud, booming groan of these monoliths as they collide. Jökulsárlón is one of the deepest lakes in Iceland, and also dotted with countless statuesque icebergs. Stroll on the famed Diamond Beach, so called because of the many icebergs that have washed ashore here, shimmering like jewels along the black sand. For lunch, head to Höfn í Hornafirði, a fishing village at the base of the Vatnajökull glacier. After lunch overlooking the harbor, take 4x4s up the glacier, the largest in Europe at over 3,000 square miles. Enjoy a snowmobile tour, driving your own machine if you choose, exploring the spectacular ice formations. Take in the jaw-dropping views of Hvannadalshnúkur, the country's highest peak. Dinner and overnight at Fosshotel Glacier Lagoon.

Tuesday, April 5: Vatnajökull / Akureyri / Mývatn

This morning, drive to Höfn for a charter flight to Akureyri, the country's second most populous city and the "Capital of North Iceland," situated on the longest fjord in Iceland, Eyjafjörður. Visit this jaunty town and enjoy lunch at a local restaurant. Head to the spectacular Goðafoss waterfall. In the year 1000, the Lawspeaker Þorgeir Ljósvetningagoði made Christianity the official religion of Iceland. After his conversion, Þorgeir is said to have thrown his statues of the Norse gods into this waterfall. Afterwards, drive east to the exquisite lake district of Mývatn. Check into your hotel, then spend the rest of the afternoon relaxing in the natural baths of Mývatn, a large active geothermal area situated just 65 miles south of the Arctic Circle. Dinner and overnight at Fosshotel Mývatn.

Wednesday, April 6: Mývatn District

Spend the day exploring the area around Lake Mývatn, which may be frozen this time of year. Visit Krafla Volcano, one of the country's most explosive, having gone off 29 times since the country was first settled. Head to nearby Dimmuborgir, or the "Black Fortress," an expanse of lava that solidified into dramatic towers, caves and hidden chambers, looking more like a medieval castle than a natural rock formation. Nearby Námaskarð is a true geothermal wonder of hot sulfuric mud springs and steam vents. Natural black rivers and bubbling pools spew steam in a color-rich mineral landscape that looks like it is from outer space. Enjoy lunch and a dairy tour at Vogafjós Farm, then visit the Skútustaðir crater field, formed some 2,300 years ago when molten lava flowed over a wetland. The hot lava boiled the water and the steam pressure caused explosions, creating clusters of these rare pseudocraters. Dinner and overnight at Fosshotel Mývatn.

Thursday, April 7: Mývatn District

After breakfast, drive to the quaint fishing village of Húsavík. Climb onto Icelandic horses and enjoy a seaside ride. Enjoy lunch in town, then drive to Ásbyrgi (Shelter of the Gods), a remarkable horseshoe-shaped canyon. Viking settlers believed it to be a hoof-print formed by Sleipnir, Odin's eight-legged flying horse. Others say it is the capital of Iceland's Hidden People. Hike to the pond at the end of the canyon, surrounded by birch forest. Drive to Hljóðaklettar, or "Echo Rocks," a collection of basalt columns and arched caves that are known to create eerie echoes and reverberations. Continue on to Dettifoss waterfall, referred to by some as "The Beast" in comparison to "The Beauty" of Goðafoss. Dettifoss is Europe's most powerful waterfall, and large, too, at 300 feet across. Dinner and overnight at Fosshotel Mývatn.

Friday, April 8: Mývatn District / Siglufjörður

This morning, drive to Siglufjörður Village, the former capital of herring fishing in the North Atlantic. When herring abruptly disappeared from Iceland's north coast in the late sixties, Siglufjörður declined, but it is finding new attention from travelers smitten by its hiking trails, picturesque marina, and proximity to countless natural diversions. Stroll the town's idyllic streets. Enjoy lunch at Torgið Restaurant, followed by a visit to the town brewery and the fascinating Herring Era Museum. Attend a "herring show," stepping back in time as the herring girls salt and pack the fish into barrels, smoke their cigarettes, and gossip about handsome fishermen. Dinner and overnight at Sigló Hotel.

Saturday, April 9: Siglufjörður / Snæfellsnes Peninsula

After breakfast, head west toward Snæfellsnes. This will be a full-day drive, with scenic stops along the way: in the seaside Blönduós village, the old town presents a snapshot of 19th century Iceland, as many of the original houses still stand. Further along, see Þrístapar, or "Triple Hillocks." A beautiful landscape in its own right, Þrístapar is best known as the site of a double beheading in 1830. The couple was accused of murder, and their heads placed on stakes as examples for all.  This turned out to be the last execution in Iceland. Enjoy lunch in Hvammstangi village and look for seals off the cliffs. Continue on to the Snæfellsnes Peninsula, which stretches 55 miles into the Atlantic, and is famed for its glacier-capped volcano, which Jules Verne set as the entrance to the Center of the Earth in his classic story. Dinner and overnight at Hotel Búðir on the south side of the peninsula.

Sunday, April 10: Snæfellsnes Peninsula

Spend the morning exploring the majestic peninsula of Snæfellsnes. First, drive to the beautiful fishing village of Arnarstapi. Beside Hellnar town stands Valasnos, a freestanding rock with one of Iceland's most peculiar caves, Badstofa, located inside. Head into the National Park and see the basalt cliffs of Lóndrangar, nicknamed "the rocky castle." Hike down to Dritvík Cove, once an important fishing center. Pass by Djúpalónssandur, or the Black Lava Pearl Beach, covered with thousands of finely polished small black stones, then arrive at Dritvík Cove, still strewn with iron remnants from a British trawler that wrecked here in 1948. After lunch on the harbor at Ólafsvík Village, depart on a whale-watching boat.  At this time of year, these waters offer one of the best opportunities anywhere to spot Killer Whales, which arrive to pursue spawning herring. This afternoon, drive to the picturesque village of Grundarfjörður, with the famous, spire-like Kirkjufell, or "Church Mountain," looming large behind it. Enjoy a farewell dinner in Grundarfjörður, then return to Hotel Búðir for the night.

Monday, April 11: Snæfellsnes Peninsula / Reykjavík / Home

Head back to Reykjavík this morning. Enjoy lunch with your fellow travelers and have some free time to explore the city. This afternoon, head to the airport for your international flights home.
Have a question? Call us at 206.669.9272 /
800.861.6425

. Prefer online?Get in Touch

Geysir—The Greatest of Them All
Iceland's Geysir, often called the Great Geysir, is the geyser for which all others are named—a name derived from the Icelandic verb, "geysa" or "to gush." A geyser is a vent in the Earth's surface that periodically ejects a column of hot water and steam. They are a fairly rare phenomenon and only form where certain hydrogeological conditions exist—areas of geologically recent volcanic activity and a source of hot rock below. Geysers erupt when superheated groundwater, confined at depth, becomes hot enough and expands into the much more voluminous steam, causing a "steam explosion." Today, Geysir is mostly dormant, though other hot springs in the Geysir geothermal area are quite active. Strokkur is the most active, spouting hot water as high as 100 feet into the air every few minutes.